Innovation managers are responsible for keeping their companies ahead of the curve in their respective markets. And to make it happen, trend monitoring is absolutely necessary. With the right strategy and resources, you can be sure that your company is constantly creating products and services that the customers want. Let's explore trend monitoring and how it helps innovation managers like yourself excel in this competitive marketplace.
What is Trend Monitoring?
Trend monitoring is a process of tracking and analyzing the latest developments in a given industry or technological field. It helps in identifying emerging trends and allows innovation managers to understand their competitive position, as well as their risk profile.
By keeping an eye on the latest developments, managers can quickly evaluate the impact of the trends on their business. Moreover, trend monitoring helps innovators to create more effective marketing strategies. It lets them target their campaigns to the right audience at the right time. Thus, maximizing their reach and ensuring that their message is heard by relevant people.
Trend monitoring reveals data-driven insights to make informed decisions. For example, It can be used to spot threats before they become a problem. This empowers innovators to mitigate potential risks before they become a problem.
Don't forget to check this out: 5 Top Trend Intelligence Use Cases
Benefits of Trend Monitoring for Innovation Managers
By leveraging trend data, innovation managers gain valuable insights into their competitors, market trends, and their own product line. This information can be used to develop strategies that will keep them ahead of the competition and ensure that their products remain relevant in the ever-changing marketplace. Here's why trend monitoring is essential for innovation managers:
1. Understand Competitors & Their Products — Trend data provides insight into your competitors and their products, allowing you to identify where they are in the market and how much they are changing. This knowledge can be used to develop strategies that will keep you ahead of the competition.
2. Identify Future Trends — Trend monitoring enables innovation managers to stay one step ahead of the competition by identifying future trends that can drive the next phase of their business growth. This allows them to make predictions about upcoming market demands, as well as anticipate customer needs before they arise.
3. Unlock Opportunities — Insights into customer behavior trends and the competitive landscape lets innovation managers unlock new opportunities for innovation. By leveraging trend monitoring data, they can identify areas where they can create differentiated products or services that will be more attractive to customers.
4. Evaluate Pricing Strategies — Trend data allows you to assess how your competitors are pricing their products and services. You can use this information to determine whether or not to lower your prices in order to remain competitive.
5. Monitor Your Own Product Line — Trend data also provides you with valuable insights into your own product or product line. By tracking new trends and customer preferences, you can ensure that your products and services remain relevant.
Read this next: How does Data-Driven Product Intelligence Support Innovation
6. Make Informed Decisions — With trend monitoring, innovation managers can make informed decisions based on up-to-date data. They can track the progress of their entire business and understand how different initiatives will resonate with customers. This helps them to ensure that their innovation initiatives are on target.
7. Foster Collaboration — Trend monitoring also provides a platform for more effective collaboration between innovation leaders and business managers. By having access to the same data, they can work together to identify potential new trends and develop strategies for responding to them.
8. Drive Innovation — Thus, overall, trend monitoring helps innovation managers to drive innovation through better decision-making and strategic planning. This helps them to remain competitive in a rapidly changing marketplace and stay ahead of the curve.
Read this next: How does Trend Analysis drive Innovation
Understanding the Marketplace with Trend Monitoring
As an innovation manager, it is important to stay up-to-date with the market trends to stand out in this competitive marketplace. There are different trends to explore that can help you improve your products or services, as well as measure your performance relative to your competition. Additionally, trend monitoring can give you insights into the preferences of your target audience and allow you to further refine your marketing approach. So. it is essential to understand what the market is looking for to offer it better than your competitors. To do this, trend monitoring is your best friend!
Also read: How Data-Driven Trend Intelligence Future-Proofs Your Business
With trend monitoring, you can see what customers are looking for and how they are consuming your product or service. This information can be used to improve the quality and features of your products or services, as well as adjust pricing points to reflect the current market demand. This will make sure that you are offering the best possible products or services to your customers. Thus, you stay ahead of the competition and continue to grow your business.
Additionally, trend monitoring can be especially helpful during a crisis. In challenging times, it is important for innovators to understand how their technology stacks up against competitors for emerging trends. Trend monitoring can help innovators assess the current state of their marketplace, identify emerging threats and opportunities, and develop strategies to mitigate the threat.
Stay Ahead of the Technological Curve with StartUs Insights' Trend Intelligence Solution
As artificial intelligence (AI) continues to progress, data is playing a larger role in the innovation process. The good news is that you can use data to generate valuable insights into your target market.
Wondering how?
We, at StartUs Insights, develop a Trend Intelligence solution that gives you access to 29 500+ trends and technologies. This allows you to:
Anticipate Future Trends & Business Opportunities — We deploy advanced analytics to hundreds of thousands of trusted sources on startups, emerging technologies, and industry trends to provide you with accurate insights into trends impacting your industry in a short amount of time.
Stay Up to Date — Monitoring the business ecosystem continuously ensures the identification of emerging technologies, trends, and opportunities. Our service provides you with regular updates on recent developments through Trend Intelligence Reports, Innovation Maps, and Real-time Databases.
Also read: Identify Innovations Early with the Best Trend Intelligence Platform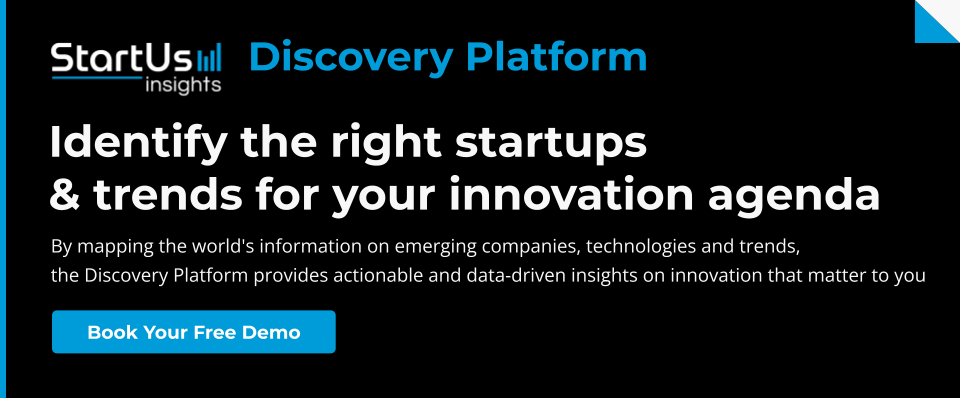 What else do we have in store for you?
We also provide you with an Innovation Scouting Platform that helps companies like yours to keep a tab on the market — what's new, what's changing, what has the maximum scope, and much more.
Using our big data and AI-powered software, we:
Analyze billions of data points from various startups and technologies
Map the data with AI and expert knowledge
So, what does this mean for you?
Discover Opportunities Before Others — Our proprietary technology enables you to discover relevant startups, technologies, and business cases early on. Hence, you can empower your business units with actionable, data-driven insights.
Detect Pivotal Changes — We continuously monitor the startup ecosystem to detect pivotal changes.
Map the World of Tomorrow — Our advanced data mapping process provides you with a bird's-eye view of the emerging technology landscape. Use our comprehensive Innovation Maps for effective decision-making.
This structured data and analysis helps you improve your company's innovation management process. We ensure that your decision-making process is built on the most recent insights available.
Looking for data-driven trend intelligence?
✕