Technological advancements in the manufacturing sector play a vital role in the growth of the world economy. Emerging manufacturing trends include industrial automation, smart factories, additive manufacturing, and artificial intelligence (AI). However, in the aftermath of the COVID-19 pandemic, manufacturing companies are looking to maintain productivity with reduced manpower.
Hence, startups and scaleups are developing smart sensors, immersive technology gadgets, and wearables that eliminate the need for the physical presence of workers. Simultaneously, companies are shifting to sustainable materials and green energy sources to reduce the carbon footprint of manufacturing facilities and products.
What are the trends in the manufacturing industry?
Innovation Map outlines the Top 10 Manufacturing Trends & 20 Promising Startups
For this in-depth research on the Top Manufacturing Industry Trends & Startups, we analyzed a sample of 7978 global startups & scaleups. This data-driven research provides innovation intelligence that helps you improve strategic decision-making by giving you an overview of emerging technologies in the manufacturing sector. In the Manufacturing Industry Innovation Map, you get a comprehensive overview of the manufacturing innovations & startups that impact your company.
These insights are derived by working with our Big Data & Artificial Intelligence-powered StartUs Insights Discovery Platform, covering 3 790 000+ startups & scaleups globally. As the world's largest resource for data on emerging companies, the SaaS platform enables you to identify relevant technologies and industry trends quickly & exhaustively.
Tree Map reveals the Impact of the Top 10 Current Trends in Manufacturing (2024)
Based on the Manufacturing Innovation Map, the treemap below illustrates the impact of the 10 new trends in manufacturing in 2024. Although the COVID-19 pandemic made progress in manufacturing economies sluggish, the establishment of a new normal boosted the demand for finished products around the world. The current situation makes manufacturing companies invest time and money into technological innovations in manufacturing that reduce resource wastage and machine downtime.
Startups and scaleups tackle these challenges through solutions that implement industrial automation and AI-based decision-making systems. In addition, the application of the Industrial Internet of Things (IIoT) and immersive technologies enable remote monitoring and maintenance of industrial assets. Additive manufacturing is also gaining a foothold in the manufacturing ecosystem, transforming it from a prototyping method to a decentralized mass production tool.
Global Startup Heat Map covers 7978 Manufacturing Startups & Scaleups
The Global Startup Heat Map below highlights the global distribution of the 7978 exemplary startups & scaleups that we analyzed for this research. Created through the StartUs Insights Discovery Platform, the Heat Map reveals high startup activity in the US and India, followed by Western Europe.
Below, you get to meet 20 out of these 7978 promising startups & scaleups as well as the solutions they develop. These manufacturing technology startups are hand-picked based on criteria such as founding year, location, funding raised & more. Depending on your specific needs, your top picks might look entirely different.
Interested to explore all 7900+ manufacturing startups & scaleups?
Top 10 Manufacturing Trends in 2024
1. Industrial Automation
Since the dawn of the first industrial revolution, advances in processes and equipment focused on enhancing manufacturing through automation. By minimizing human involvement in repetitive and perilous tasks, factories boost safety and also save substantial costs. However, the capital investment and complexity associated with automated systems have historically posed challenges. Thankfully, recent breakthroughs in control systems and robotics have made automation more accessible and cost-effective.
As a result, robotic automation is emerging as the most pivotal technology within the manufacturing industry's evolving landscape. Industrial automation streamlines an array of production processes, encompassing material handling, assembly, painting, and various machining and finishing operations. This transformative trend enhances efficiency and opens doors to increased productivity and scalability for manufacturing enterprises worldwide.
E1ectr0n develops Collaborative Assembly Robots
e1ectr0n is a US-based robotic automation startup that develops a robotic arm for low-volume manufacturing. pr0t0n is the startup's 6-axis robotic arm that is capable of carrying out repetitive assembly tasks. The robot supports two training methods – precision movements using a game controller and specific tasks through keyboard coding.
During training, the operator moves pr0t0n through the assembly process using one of the training methods and records the steps. Then, pr0t0n repeats each step in the process. The system also offers the provision to add or delete steps as needed. pr0t0n is suitable for automated dispensing and screwdriver operations, aiding production lines to amplify the efforts of trained assemblers.
Gideon Brothers automates Shop Floor Logistics
Gideon Brothers, a Croatian startup, offers scalable and user-friendly intelligent material handling solutions for streamlining industrial workflows. The company integrates its proprietary AI- and 3D vision-based module into its fleet of autonomous mobile robots (AMRs). The 3D vision module enables the AMRs to perceive, comprehend, locate, and efficiently navigate within indoor and outdoor environments.
Equipped with cameras and built-in sensors, these robots provide critical data to the localization system. They continuously generate detailed real-time 3D environmental models. This real-time adaptation enables AMRs to operate alongside human workers and machinery safely. The advanced visual perception system further automates key tasks such as material transport, lifting, feeding, and collaborative actions on the production line.
2. Additive Manufacturing
Additive manufacturing offers a rapid and efficient means of transforming a concept into a finished product. With the support of computer-aided design (CAD), it liberates product design from constraints. This enables unconventional and intricate designs that are cost-prohibitive with traditional manufacturing methods. The versatility of additive manufacturing extends to various industries, including aerospace, healthcare, automotive, and consumer goods.
While traditional methods of additive manufacturing face challenges in supporting mass production, ongoing innovations in 3D printing are working to bridge this gap. Consequently, it makes the transition from conventional manufacturing processes more cost-effective. This emerging trend opens the door to mass customization and also promotes localized and distributed manufacturing, as well as on-demand production.
Xact Metal scales Affordable Metal 3D Printing
Xact Metal is a US-based startup providing 3D metal printing solutions. Using laser-based metal powder-bed fusion technology, it selectively fuses thin metal powder layers to craft parts directly from 3D CAD models. The printers feature a high-speed digital galvanometer system, significantly boosting metal additive manufacturing speeds.
Xact Metal's XM Series of printers specifically address prototyping, tooling, and low-volume casting needs for small-to-medium businesses. The startup's solution 3D prints components using various metals and is equipped with user-friendly software for quick machine setup, control, and real-time monitoring.
Nematx develops 3D Polymer Printing Technology
Nematx is a Swiss startup that specializes in the 3D printing of high-performance polymers. The startup's Nematic 3D printing technology creates high-performance end-use parts that are superior to the current benchmarks in 3D printing. It uses liquid crystal polymer (LCP) as reinforcement in the polymer matrix which provides high inertness and fire resistance and is easier to recycle.
Additionally, LCP undercuts carbon fiber manufacturing with a low raw material cost. This makes it suitable for manufacturing high-end parts for the aerospace, medical, and electronics industries. The startup integrates the technology into a retrofit 3D printer head simplifying its adoption into existing machinery.
3. Artificial Intelligence
Modern manufacturing equipment yields an abundance of data, encompassing process and performance parameters. Extracting valuable insights from this data holds the key to optimizing production, scheduling maintenance, and effectively managing assets. Unfortunately, manual data analysis is time-intensive while standard computer software often falls short in recognizing trends and drawing logical conclusions.
AI, a pivotal player in the realm of manufacturing trends, offers a solution to the challenge of swiftly analyzing vast datasets and deriving actionable insights. AI revolutionizes multiple facets of manufacturing operations. It spans inventory management, supply chain visibility, cost reduction in warehousing, and quality control. Additionally, AI's application in predictive maintenance ensures that manufacturing companies operate with minimal or zero unplanned shutdowns.
Zeominds builds Predictive Maintenance Solutions
Zeominds is an Indian startup that provides AI-based products and services. ZeoAnalyzer is the startup's AI-based software that enables predictive maintenance of industrial equipment and assets. It provides real-time stream analytics by leveraging data from IoT sensors to detect early signs of equipment failure and performance degradation.
ZeoAnalyzer also promptly generates reports and alerts, allowing maintenance managers to schedule timely repairs and replacements. Further, it integrates with ERP systems to provide spare part details. With ZeoAnalyzer, companies significantly reduce maintenance costs and enhance machinery productivity
Deevio implements Computer Vision-based Quality Control
Deevio is a German startup that develops end-of-line quality control solutions applying AI and computer vision technology. AI-Box is an edge computer with an AI-driven inspection workflow to solve visual inspection tasks at the production line. It configures the cameras and triggers light and camera to take images that allow for a detailed surface inspection.
Then, the system executes a deep learning algorithm that labels the image as "Ok" or "Not Ok" using deep neural networks. In contrast to the traditional rule-based inspection, Deevio's AI undergoes training on previously labeled images. This solution automates visual inspection tasks and stores valuable information for quality analysis.
4. Industrial Internet of Things
The Industrial Internet of Things involves the integration of interconnected sensors, devices, and instruments throughout the manufacturing process. These devices provide real-time data and connectivity, allowing manufacturers to monitor and control their operations remotely. The data from IIoT also enables advanced solutions like predictive maintenance.
IIoT enhances efficiency, reduces costs, and improves worker safety by streamlining processes and asset management. This technology revolutionizes manufacturing, making it more data-driven and agile, ultimately leading to increased productivity and competitiveness in the industry.
Viga Lab offers IIoT Platforms
Viga Lab is a Chilean startup developing IIoT platforms that connect companies to their machines. The startup's solution visualizes, analyzes, and acts effectively on the performance of the factory. Its sensors monitor if machines are operating and at what capacity, as well as are compatible with both digital and analog machines.
The software provides a web platform, a Supervisory Control and Data Acquisition (SCADA) system, and a mobile application to operate and visualize the connected factory. The solution thus enables plant managers and engineers to view the factory performance remotely using a computer or a smartphone.
United Memory Technology makes RAM Chips for IIoT Devices
United Memory Technology is a Chinese fabless company that manufactures a DDR3 small outline dual in-line memory module (SODIMM) RAM for IIoT devices. It features an operating temperature of up to 95 degrees Celsius, 4Gb capacity, and 1866 Mbps speed.
Industrial businesses leverage the startup's chip to accelerate in-house IoT device development. Moreover, it allows manufacturers to tailor IoT devices to industrial environments for applications like AIoT, data processing, and more, ultimately increasing factory productivity.
5. Immersive Technology
Immersive technologies such as augmented reality (AR) and virtual reality (VR) are rapidly emerging as influential trends in the manufacturing industry. AR overlays essential information onto machinery, guiding operators through complex assembly processes and maintenance tasks. This reduces the risk of errors and enhances worker efficiency.
On the other hand, VR enables product prototyping, simulations, and training applications, providing manufacturers with innovative ways to improve design, training, and collaboration. These immersive technologies bridge skill gaps and also increase productivity and streamline manufacturing processes, making them crucial in the evolving manufacturing landscape.
Keon Digital provides AR-based Industrial Training
Keon Digital is a UK-based startup that develops customized AR solutions for businesses to deliver modernized training methods and product demonstrations. AR for manufacturing offers a better way to communicate and deliver easily consumable work instructions by overlaying digital content onto real-world equipment.
The startup's application produces accurate 3D models to allow employees to familiarize themselves with the equipment before operating. It increases workforce efficiency and safety, improving the operational performance of factories. Keon Digital's AR-based methods also reduce training costs and improve new hire productivity.
Weviz facilitates Virtual Prototyping
Weviz is a French startup that develops 3D real-time collaborative visualization software for industrial applications. Its virtual prototyping tool, Weviz VR, makes true-to-life 1:1 VR models. These models serve as invaluable tools for rigorous design validation and ergonomic assessments, before design finalization.
Complementing this, Weviz Review, a real-time review platform, allows design teams to collaborate with stakeholders across departments, from manufacturing to marketing. Elevating the experience further is Weviz Studio, enabling real-time model validation under lifelike conditions. All these solutions eliminate unnecessary prototyping costs for validation, reducing the overall development cost.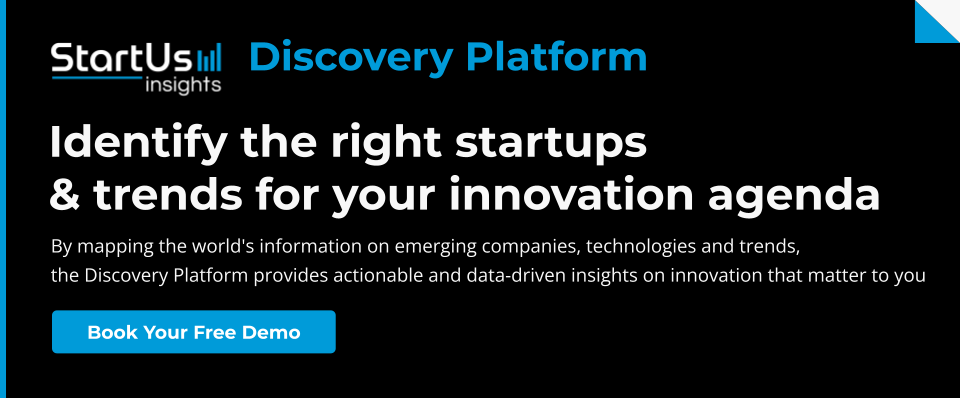 6. Big Data & Analytics
Big data and analytics involve the systematic collection, storage, and analysis of vast amounts of data generated during the manufacturing process. This data ranges from machine performance metrics and production rates to supply chain logistics and customer feedback. Manufacturers leverage advanced analytics tools and machine learning algorithms to extract valuable insights from this data. These insights empower them to make data-driven decisions, optimize processes, reduce waste, and enhance product quality.
One significant application of big data and analytics in manufacturing is predictive maintenance. By monitoring machine data in real-time, manufacturers predict when equipment is likely to fail and schedule maintenance proactively. This minimizes downtime, boosts operational efficiency, and ultimately leads to substantial cost savings. In this way, analytics solutions ensure agile and efficient manufacturing operations.
DatenBerg allows for Big Data-driven Decision Making
DatenBerg is a German startup that uses big data and analytics to simplify the decision-making process of complex production processes. Its software collects data from diverse sources for visualization, comparison, and evaluation. This approach uncovers vital links between input data and product quality, aiding process enhancements.
The company's big data platform also features AI-driven algorithms to craft predictive models. They enable proactive interventions, empowering manufacturing enterprises to avoid rejections and unforeseen machine downtime, increasing efficiency and productivity.
Technotery tracks Key Manufacturing Data Indicators
Technotery is an Indian startup that offers turnkey IT solutions for multiple industry verticals. Its software solution converts raw data from multiple sources in the manufacturing unit into a usable format. This data translates into an input for data visualization and business intelligence tools leading to a better understanding of the operational data.
Technotery allows businesses in the manufacturing industry to determine Key Data Indicators (KDI) and uncover hidden trends and patterns from large amounts of data. The startup's solution leads to effective maintenance management, high operational efficiency, and cost reduction.
7. Cloud Computing
Manufacturers utilize cloud Computing to host IT infrastructure in remote servers to store, manage, and process data and applications. This mitigates the need for expensive IT infrastructure costs and maintenance. One key benefit of this approach is enhanced flexibility and scalability, allowing for rapid adjustments in response to changing production demands. This flexibility improves efficiency and reduces costs.
Another advantage is improved collaboration and data sharing. Cloud-based platforms facilitate real-time communication and data exchange between different manufacturing units. This streamlined collaboration accelerates decision-making and enhances overall productivity. Furthermore, cloud-based solutions improve data security and disaster recovery capabilities, reducing the risk of data loss and leaks.
Hefx provides Cloud-based Asset Management Solutions
Hefx is a Brazilian startup offering cloud software for managing assets and maintenance operations of a production line. The startup's online solution gathers machine data for in-depth cloud-based analysis and orchestrates precise intervention plans, preventive maintenance strategies, and calibration schedules.
This way, manufacturers are able to ensure reduced unplanned equipment downtime and decreased maintenance expenses as well as a slowed depreciation rate. As a result, Hefx improves asset life to enable efficient, cost-effective, and sustainable production lines.
Ridge builds a Distributed Cloud Infrastructure
Ridge is a US-based startup that develops an application programming interface (API) that connects all the components of a distributed cloud infrastructure. The API platform enables interoperability with any hybrid or multi-cloud computing environment. Ridge's solution enables facilities in diverse locations to have reliable, low-latency connectivity to the cloud.
The distributed infrastructure of Ridge's cloud service ensures that multi-site manufacturing companies have their resources available even in remote locations. Thus, the startup overcomes the challenges of data and knowledge sharing for manufacturers operating multiple plants.
8. 5G
5G technology provides faster and more reliable connectivity for data-intensive applications like AI, IoT, and more. With its high-speed data transmission capabilities, low latency, and high capacity, manufacturers deploy a multitude of IoT devices for real-time monitoring and control. This enables predictive maintenance, reduces downtime, and enhances overall operational efficiency.
Additionally, 5G facilitates remote work and collaboration. With high-quality video conferencing and AR applications, experts provide remote assistance, training, and troubleshooting. Furthermore, 5G supports the deployment of autonomous robots and drones within manufacturing facilities, automating tasks and increasing productivity. As a result, it will deliver agile, efficient, and connected production.
Celona enables 5G Network Performance Optimization
Celona is a US-based startup that develops an end-to-end 5G local area network (LAN) solution for the connectivity needs of AI, industrial automation, and edge computing applications. It Celona Platform features an AI-powered assistant that recommends designs for 5G LAN dimensioning depending on the capacity requirements and device densities.
The assistant also monitors the network to ensure optimal performance. Further enhancing its capabilities, the Celona Orchestrator feature handles SIM provisioning and device access control. This ensures reliable access to dependable connectivity for autonomous vehicles and factory robots.
Qucell establishes Private 5G Networks
Qucell is a South Korean startup that makes devices to set up private 5G networks in various scenarios, including smart factories and buildings. The Qucell Indoor mmWave module supports mmWave and delivers high-performance indoor wireless service enabling low-latency and high-bandwidth data transfer. This expedites advanced manufacturing technologies in smart factories demanding real-time computing.
HeMS is another offering from Qucell which is a fully automated management system for the fast roll-out and easy self-configuration of smart cell networks. It also has an easy and flexible interface for monitoring and management of smart cells. Qucell thus reduces capital expenditure by providing better coverage, in turn, avoiding the need for extra cells.
9. Wearables
Wearables are emerging as a transformative trend in the manufacturing industry, offering benefits in terms of safety, efficiency, and productivity. Such wearable devices, ranging from smart glasses and helmets to exoskeletons and wristbands, are equipped with advanced sensors and AR capabilities. For instance, wearables enhance worker safety by delivering real-time alerts and guidance, enabling employees to avoid accidents and potential hazards.
AR-enabled wearables, such as smart glasses, overlay crucial information directly onto a worker's field of view (FOV), improving their decision-making and reducing errors. Moreover, wearables aid in optimizing production processes by providing workers with access to data, instructions, and remote assistance. This leads to faster troubleshooting, reduced downtime, and increased overall efficiency on the factory floor.
Motion Miners aids Worker Activity Optimization
Motion Miners is a German startup that provides solutions for analyzing the motion of workers for process optimization. It enables automatic and anonymous analysis of manual work processes with regard to their ergonomics and efficiency. Employees wear these wearables on their wrists or waists to anonymously record various activities. The startup also provides tracers and beacons for location-based analysis.
Motion Miners' AI software automatically analyzes the data using deep learning algorithms and optimizes the waiting, travel, and handling time in processes on shop floors. It also analyzes the ergonomics of the processes by detecting unhealthy stooping, overhead work, or walking distances. The analytics dashboard further acts as an infection prevention tool by identifying contact hotspots on the factory floor.
Tended provides Wearables for Worker Safety
Tended is a UK-based startup developing wearable solutions to enhance workforce safety. The startup uses ultra-wideband technology in its wristbands to deliver accurate employee location. Its hub monitors the distance between devices and provides vibration alerts if the wearers get too close, ensuring social distancing. The wearable's sensors detect trips, falls, or impacts, and monitor movement continuously.
Its wearable marks employees as safe if motion is detected and also provides employees with a panic alarm to alert the management in case of emergencies. The startup offers a secure dashboard to monitor employee safety in real time, identify workplace risks, and respond to emergencies. This further allows factories to sustain a constant connection with the workforce.
10. Green Manufacturing
Sustainable manufacturing revolves around eco-conscious practices and processes that minimize the environmental footprint of production. This approach prioritizes resource efficiency, reduced waste generation, and the use of renewable energy sources. One of the core principles of green manufacturing is the implementation of cleaner technologies and the reduction of greenhouse gas emissions.
Manufacturers are increasingly adopting renewable energy solutions like solar and wind power to power their operations, reducing their reliance on fossil fuels. Green manufacturing also focuses on product design for sustainability, emphasizing the use of recyclable materials and reducing product waste throughout its lifecycle. This includes designing products for easy disassembly and recycling, contributing to the circular economy.
4D Pioneers develops Sustainable Additive Manufacturing Solutions
4DPioneers is a French startup that uses additive manufacturing of high-performance materials to create sustainable products. The startup uses its structured development strategy for selecting the correct modeling, materials, and printing processes for manufacturing companies. The process evaluates materials to choose the one with high performance and durability and with a minimum impact on the environment.
The effectiveness of material selection in maintaining sustainability depends on the printing process. The appropriate printing process ensures a sustainable flow in the production process. By making decisions based on a green future, 4DPioneers minimizes the contribution of manufacturing to environmental pollution.
Skynano produces Green & Functional Nanomaterials
Skynano is a US-based cleantech startup that utilizes carbon emissions as a chemical feedstock to manufacture high-value functional materials. Its patent-pending technology offers commercial viability to carbon conversion technologies using secondary material from greenhouse gas inputs. The startup's technique relies on electrochemistry to create an efficient process to convert atmospheric carbon dioxide into useful functional nanomaterial.
Skynano's nanomaterial has superior mechanical, thermal, and electronic properties in comparison to traditional materials. This way, the startup supplies manufacturing companies with high-performance materials at a low cost and also acts as an effective carbon capture method. This allows the manufacturing industries to reduce their reliance on virgin materials and cut down carbon emissions.
Discover all Future Trends in Manufacturing
The Top 10 Manufacturing Trends drive operational efficiency, informed decision-making, and sustainability within manufacturing firms. Collaborative robots, autonomous mobile robots, and smart factories enhance productivity while cutting labor expenses. Additive manufacturing fosters innovative design possibilities previously constrained by traditional methods. IIoT devices and platforms also offer real-time asset monitoring, improving shop floor transparency for higher management.
These trends collectively redefine manufacturing practices, promoting growth, cost-effectiveness, and eco-conscious operations. The Manufacturing Trends & Startups outlined in this report only scratch the surface of trends that we identified during our data-driven innovation & startup scouting process. Identifying new opportunities & emerging technologies to implement into your business goes a long way in gaining a competitive advantage.
Looking for emerging manufacturing startups & technologies?
✕