Global Startup Heat Map highlights 10 Telecom Startups to Watch in 2023
Through the Big Data & Artificial Intelligence (AI)-powered StartUs Insights Discovery Platform, covering over 3 790 000+ startups & scaleups globally, we identified 1783 Telecom startups. The Global Startup Heat Map below highlights the 10 telecom startups you should watch in 2023 as well as the geo-distribution of all telecom startups & scaleups we analyzed for this research. Based on the heat map, we see high startup activity in Europe and the US, followed by India. These 10 hand-picked startups work on solutions ranging from signal breach detection and low latency connectivity to network traffic analytics and telecom asset recovery.
Interested to explore all 1700+ telecom startups?
As the world's largest resource for data on emerging companies, the SaaS platform enables you to identify relevant technologies and industry trends quickly & exhaustively. Based on the data from the platform, the Top 5 Telecom Startup Hubs are in London, New York City, Bangalore, Singapore, & Barcelona. The 10 hand-picked startups highlighted in this report are chosen from all over the world and develop solutions for signal breach detection, low latency connectivity, network traffic analytics, and telecom asset management.
10 Telecom Startups to Watch in 2023
The telecom sector is undergoing a major transformation with technological advances revolutionizing the way companies operate. From signal breach detection to 5G network deployment, telecom asset recovery to zero-trust device security, and network traffic analytics to telecom quantum key distribution, companies are investing in innovative technologies to enhance their offerings. Low latency connectivity, telecom infrastructure analytics, connectivity procurement, and connectivity management are also crucial trends to drive efficiencies and streamline operations. Let's explore these top trends in the telecom sector for 2023 and beyond, and how they are impacting the industry.
SecurityGen enables Signal Breach Detection
Italian startup SecurityGen develops a platform that performs continuous proactive telecom network security assessments. Its platform features AI-enabled breach and attack simulation. The platform automates the process of inspection and detection of telecom networks. Moreover, the software-as-a-service (SaaS) platform requires no additional software, reconfiguration, or maintenance costs with constant uptime and availability. Besides, SecurityGen's other solutions include an intrusion detection (IDS) platform and a next-generation firewall (NGFW). They combine visibility with intelligence and high-powered analytics. These platforms enable telecom providers to build, reinforce, and roll out secure and robust network operations, with a focus on 5G networks.
Inorsa enables Automated 5G Network Deployment
US-based startup Inorsa automates the process of deploying 5G networks through AI. Its automation platform analyzes project documents for errors, validates data, and generates near-complete drawings. Additionally, the platform implements quality control and standardization practices across all documents for convenient access and organization. It then performs structural analysis of towers, mounts, rooftops, pole leads, and solar designs. Inorsa's solution automates telecom networking for fiber, macros, small cells as well as indoor and outdoor networks.
RECOVAR advances Telecom Asset Recovery
UK-based startup RECOVAR develops a smart all-in-one telecom and information technology (IT) asset recovery software. The software contains a web dashboard with the location of inventories through inspections and a mobile application that simplifies inventory management. It also standardizes and streamlines the asset recovery processes while collecting a comprehensive audit trail with performance and trend analytics. RECOVAR's solution assists telecom field engineers by providing them with directions, note management, and capturing images and signatures needed for inspections.
OneLayer facilitates Zero-Trust Device Security
US-based startup OneLayer delivers enterprise-grade security for private long-term evolution (LTE) and 5G communication networks. Its platform offers real-time visibility of all connected devices, including their device type, location, vulnerabilities, activity, and inter-networks identities match. Besides, the platform features context-based segmentation, anomalous behavior detection, and zero trust authentication while enabling automatic new device admission and connectivity. Moreover, OneLayer's solution uses either on-premise or cloud environments with minimalistic processing to secure private cellular networks.
Net AI offers Network Traffic Analytics
Net AI is a UK-based startup that makes a traffic analytics platform to reduce capital and operating expenses for mobile operators. Its AI-driven traffic decomposition solution, Microscope, provides real-time telecom service demand estimation, segments traffic into service streams, and predicts network traffic volume. Net AI also offers NetSibula, an AI-assisted uncertainty and cost forecasting software. These solutions not only reduce costs for new telecom networks but also enhance existing network management platforms through cloud computing.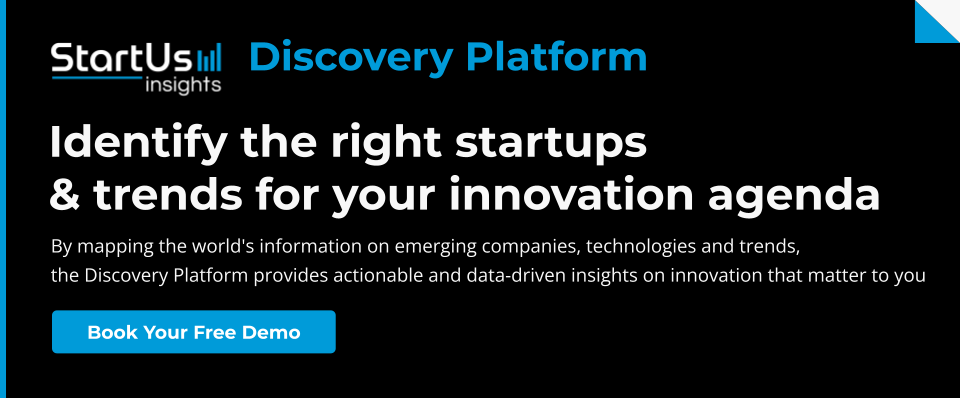 QTI streamlines Telecom Quantum Key Distribution
QTI is an Italian startup that develops reconfigurable QKD architectures for industrial communication networks. Its product Quell-X is a QKD system that generates quantum-secured keys. This lets networks identify unwanted harmful eavesdroppers in the communication link. It also works in any network configuration such as point-to-point links and other advanced network topologies. The startup's other products include Quell-XC, an end-to-end encryption system, and Quell-XR, which generates raw key data for custom post-processing protocols. The technology finds a wide range of applications including data center security, medical data protection, governmental and financial data security, and more.
Latence Technologies offers Low Latency Connectivity Forecasts
Lantence Technologies is a Canadian startup that develops a real-time, cloud-based monitoring and prediction solution for 5G and private cellular networks. Its container-based solution uses active monitoring to track, predict and monetize 5G and private LTE quality and latency. The startup's other solution, QoS Agent, collects network quality of service measurements. Reflector responds to requests and Analyzer collects, stores, and performs real-time data analysis. The startup's solutions monitor communication networks to ensure industrial equipment, robots, and other connected devices receive stable low latency connectivity.
Shapemaker provides Telecom Infrastructure Analytics
Shapemaker is a Norwegian startup that makes cloud-based software for civil engineering analysis of telecommunication infrastructure. The startup's analysis combines AI, cloud computing, parametric modeling, geotechnology, structural engineering, remote wind sensing, and terrain data. Shapemaker's range of products supports the structural analysis and design of self-supported tower structures, foundations, monopole structures, supporting mounts, and antenna-supporting structures. They support the development and roll-out of new telecommunication infrastructure by optimizing civil engineering design and facilitating design standardization.
Ynertia simplifies Connectivity Procurement
German startup Ynertia develops a connectivity procurement platform for enterprises to buy and manage connectivity services. The platform lets enterprises shop for new connectivity services or bid for existing services and provides tailor-made quotations in an easy-to-use dashboard. It provides quotes from multiple vendors and presents the most relevant and unbiased quotes and assists in signing contracts. Besides, the platform displays all contracts, implementations, expiry dates, spending, changes in networks, upgrades, contract extensions, and service cancellations. Ynertia's solution enables enterprise managers to quickly and efficiently manage all their connectivity procurement requirements.
Cobira aids in Connectivity Management
Danish startup Cobira creates a connectivity management platform that provides real-time visibility and control of SIM card inventories. The platform offers telecom service providers with a software-as-a-service-based tool to track their sim and device inventory. Additionally, it lets them configure and provision SIM cards and connectivity services in accordance with the relevant connectivity-based use cases. Besides, the platform features monitoring and automation tools, an extendible architecture, and follows OpenAPI Specification (OAS). In this way, the solution reduces the complexities of mobile networks and telecom agreements.
Discover All Emerging Telecom Startups
The telecom startups showcased in this report are only a small sample of all startups we identified through our data-driven startup scouting approach. Download our free Telecom Innovation Report for a broad overview of the industry or get in touch for quick & exhaustive research on the latest technologies & emerging solutions that will impact your company in 2023!
Looking for emerging telecom startups & technologies?
✕
Get your free Telecom Innovation Report
We'll deliver it straight to your inbox!
✕