Global Startup Heat Map highlights 10 Pharma Startups to Watch in 2023
Through the Big Data & Artificial Intelligence (AI)-powered StartUs Insights Discovery Platform, covering over 3 790 000+ startups & scaleups globally, we identified 2 783 pharma startups. The Global Startup Heat Map below highlights the 10 pharma startups you should watch in 2023 as well as the geo-distribution of all 2 783 startups & scaleups we analyzed for this research. The heat map reveals high startup activity in the USA, followed by UK and Europe. These 10 hand-picked startups work on solutions ranging from drug design and development to bioprinting and cell culture solutions.
Interested to explore all 2 700+ pharma startups?
10 Top Pharma Startups to Watch in 2023
RECEPTOR.AI develops a Drug Design Platform
UK-based startup RECEPTOR.AI offers a software-as-a-service (SaaS) platform for rapid and precise drug design. It features a user-friendly interface and enables automation, planning, and control of all aspects of drug discovery projects. With over 40 AI methodologies, the modular platform architecture makes drug design more flexible and customizable. Receptor.AI's experimentally-proven platform also integrates biological assays to deliver high-quality medicines. This enables researchers to generate a virtual chemical space with synthesizable compounds using structure-based AI methodologies and chemical simulation techniques. Further, the platform performs AI-powered virtual screening to determine promising bioactive compounds without requiring ligands as a template. The platform's scalable hybrid cloud infrastructure thus allows pharma companies to efficiently implement large-scale drug discovery projects.
Cellartgen aids Organoid Disease Modeling
South Korean startup Cellartgen develops organoid disease models. The startup utilizes organoid culture technology to mimic organ-specific bio environments. This allows for the modeling of rare and intractable diseases such as non-alcoholic steatohepatitis (NASH), Alzheimer's Disease, and pulmonary fibrosis (IPF). Through the use of organoid co-culture technology, Ceratgen implements in vitro models with the structure and function of multiple organs, including the brain-blood barrier. These multi-organ models allow for the understanding of mechanisms and the discovery of related drugs, all while minimizing clinical costs and time. With this disease modeling approach, the startups provide an efficient platform for patient-specific drug discovery.
Systemic Bio makes a Hydrogel Bioprinting Platform
US-based startup Systemic Bio improves drug discovery with its innovative bioprinting technology. The startup's platform, h-VIOS, creates vascularized organ models using hydrogels and human cells for preclinical drug testing. It allows for the creation of up to thirty-two vascularized hydrogels in one plate, including primary cells, cell lines, and stem cells. By integrating vascular networks into the 3D-printed hydrogels, h-VIOS accurately replicates complex human organ architecture, providing more accurate data on drug efficacy and safety. This technology offers several benefits to the pharmaceutical industry, including reduced costs and time required for preclinical testing, and faster identification of drug candidates.
OminiWell develops a 3D Cell Culture Platform
Australian startup OminiWell offers a 3D cell culture platform. It is an extracellular matrix-based (ECM) system that enables pharmaceutical companies to grow microtissues in similar sizes in situ, to evaluate cell-cell and cell-matrix interactions. This technology enables the creation of a 3D cell structure that accurately replicates an individual's biological system. Moreover, this provides an ideal platform for the optimization and testing of personalized drug combinations. By growing complex mini-organ tissues in the lab, OminiWell accelerates drug discovery, reducing the need for animal testing and shortening the time to market for new drugs.
ATEM Structural Discovery facilitates Cryogenic Drug Discovery
South Korean startup ATEM Structural Discovery develops cryogenic electron microscopy (cryo-EM) for drug discovery. The startup's platform leverages artificial intelligence (AI) to provide insights into the molecular structures of target proteins. By visualizing these structures in near-atomic detail, it identifies and optimizes drug candidates that bind with the highest affinity and specificity. This increases the likelihood of the success of drugs in clinical trials. Unlike traditional drug discovery methods, cryo-EM is less time-consuming, cost-effective, and more accurate. This enables pharma companies to optimize drug discovery processes and bring life-saving therapies to patients faster.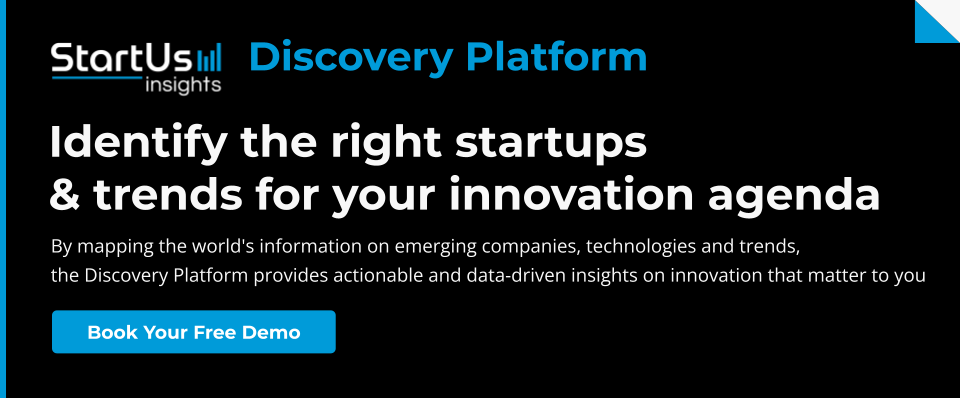 Protai innovates in Proteomic Drug Discovery
Israeli startup Protai offers a proteomics-centered drug discovery platform. It provides a complete disease and modality-agnostic pipeline, from data collection through target identification to drug discovery and development. The technology works by leveraging high-resolution large-scale datasets, such as mass spectrometry proteomics, protein-protein interactions, and different structural populations of proteins. By using ML algorithms, the startup precisely discovers and characterizes modulators that reshape the outcome of complex diseases. The platform also utilizes data across a variety of therapeutic agents. This makes it easier for pharmaceutical firms to discover more effective drugs.
VAROS advances Immersive Reality Organ Visualization
VAROS is a US-based startup working on patient education with its immersive reality mobile application. The app provides personalized, immersive visualizations of the liver and other organs, helping patients better understand their bodies and health. It also includes a subject-specific adherence feature and a web-based graphics editor for clinical study enrollment. By incorporating augmented reality (AR) and virtual reality (VR) cross-compatibility into their app, VAROS enables pharma companies to improve patient adherence and understanding. This also enables them to gain better success in clinical trials for new drugs and therapies.
RxPack provides Easy-To-Use Drug Dispensers
RxPack is an Italian startup that makes pharmaceutical dispensing solutions. It provides propelled and nebulized drug delivery devices that are easy to use and patient-friendly. Based on aerosol and spray delivery platforms, the startup manufactures a range of dispensers, including pressurized-metered dose inhaler (pMDI) valves and actuators. They are suitable for solutions and suspensions. These dispensers support nasal, oral, inhalation, and topical applications as well as are capable of supporting spray orifices of various diameters. The valves have sealing and moisture barrier properties, making them suitable for use with different types of propellants such as HFA 152a. RxPack's pharmaceutical drug dispensing devices thus offer greater efficiency and convenience to patients.
Medusa Pharmaceuticals advances Novel Drug Reinvigoration
UK-based startup Medusa Pharmaceuticals develops a drug reinvigoration technique to combat antimicrobial resistance (AMR). It involves combining repurposed therapeutics with existing drugs, enabling existing drugs to overcome resistance barriers and effectively combat AMR pathogens. This technique is particularly effective on key pathogens, such as tuberculosis and AMR Pseudomonas aeruginosa, which are responsible for high mortality rates in patients. By reinvigorating existing tested drugs, the startup reduces the risk of adverse side effects, expedites the drug approval process, and efficiently targets a wide range of AMR pathogens.
HeartBeat.bio streamlines Cardiovascular Drug Screening
HeartBeat.bio is an Austrian drug discovery startup that makes a 3D screening platform for heart failure and cardiomyopathies. It is based on cardioids, self-organizing cardiac organoids that mimic the human heart's physiology. This enables large-scale in-vitro analysis of clinical parameters associated with various cardiac diseases. The platform also combines AI and hardware solutions to deliver high throughput and reproducibility. Consequently, this approach allows for drug screening at a cost comparable to conventional cell-based in-vitro models. It also offers predictive screening for cardiotoxicity testing, leading to more relevant drug candidates. HeartBeat.bio's platform thus reduces the time and cost of cardiovascular drug development for pharmaceutical companies.
Discover All Emerging Pharma Startups
The pharma startups showcased in this report are only a small sample of all startups we identified through our data-driven startup scouting approach. Download our free Pharma Innovation Report for a broad overview of the industry or get in touch for quick & exhaustive research on the latest technologies & emerging solutions that will impact your company in 2023!
Looking for emerging pharma startups & technologies?
✕
Get your free Pharma Innovation Report
We'll deliver it straight to your inbox!
✕