Thousands of new startups are founded every year – emerging companies with the potential to disrupt the construction industry. To give you a head-start on emerging technologies & startups that will impact the construction sector in 2023, we analyzed a total of 3 867 global construction startups & scaleups. Meet 10 of the most promising startups to watch!
Global Startup Heat Map highlights 10 Construction Startups to Watch in 2023
Out of 3 867, the 10 construction startups to watch are chosen through the Big Data & Artificial Intelligence (AI)-powered StartUs Insights Discovery Platform, covering over 3 790 000+ startups & scaleups globally. As the world's largest resource for data on emerging companies, the SaaS platform enables you to scout relevant startups, emerging technologies & future industry trends quickly & exhaustively.
The Global Startup Heat Map below highlights the 10 construction startups you should watch in 2023 as well as the geo-distribution of the other 3 862 startups & scaleups we analyzed for this research. We hand-picked the 10 highlighted construction startups based on our data-driven startup scouting approach, taking into account factors such as location, founding year, the relevance of technology, & funding, among others.
Interested to explore all 3 800+ construction startups?
Mesh provides Digital Rebar Solutions
Swiss startup Mesh offers robotic rebar solutions. The startup's robotic fabrication technology combines formwork and reinforcement as a part of computerized design and fabrication. It produces complex or curved reinforcement cages using industrial robots, robotic end-effectors, and digitally integrated periphery. The startup then fills the resulting 3D steel mesh functions with a specific concrete mix without utilizing conventional formwork. Construction companies use Mesh's technology to create intricate forms and structurally optimize concrete structures.
Recloud simplifies BIM & Point Cloud Comparison
Spanish startup Recloud digitizes construction site control through its BIM and point cloud comparison software. The software utilizes 3D scans to automatically detect deviations between models and construction sites. Then, it creates reports of the deviations, classifying and sharing them for adjusting the project plans. Further, the platform provides a heat map mode that aids in studying deviation gradients in terrains and surfaces. Recloud's software thus enables precise and digital control of on-site construction operations.
LUYTEN advances Construction 3D Printing
Australian startup LUYTEN manufactures PLATYPUS, a mobile concrete printer. It uses contour crafting technology to produce layers of mortar along a predefined path. The printer comes equipped with the startup's proprietary extruder, TURSIOPS, which features an anti-clog mechanism for high-speed large prints. The modeling software draws the blueprint of the construction project from where the 3D printer processes it. The concrete mix is loaded in the printer and the robotic arm and rails are set up to begin printing the structure layer by layer. LUYTEN uses its acoustic and optical non-destructive testing technology for real-time quality checks and fault detection. PLATYPUS thus reduces project completion time and cost while decreasing construction site CO2 footprints.
Constream facilitates Construction Invoice Management
Polish startup Constream provides a construction enterprise platform built on transparent, immutable, and auditable data using hyperledger technology. Its e-invoice management feature allows construction firms to synchronize cost and sales invoices in one place. This enables them to automate document flows as well as control and authorize contractor payments. The system assigns invoices to projects to manage costs and facilitate efficient project management. Then, business intelligence tools analyze the allocation of invoices to different approval workflows, providing insights into financial performance. The platform also sends emails, SMS, and web push notifications on incoming and outgoing invoices to enable status tracking. Further, it allows construction businesses to define their own invoice authorization process. And, the metadata associated with each invoice makes it distinct and effortless to recognize and monitor its progress.
MF Drone develops a Photogrammetry Cloud-Processing Solution
French startup MF Drone offers a photogrammetry cloud-processing solution. The construction companies send their site images and the startup provides photogrammetry products such as orthomosaic, 3D models, and point cloud. This way, construction companies avoid expenses on software licenses and in-house product development. The startup's calculation servers recreate models from several images faster compared to conventional workstations. Further, it incorporates GPS tracking points into the models for improved accuracy and functionality.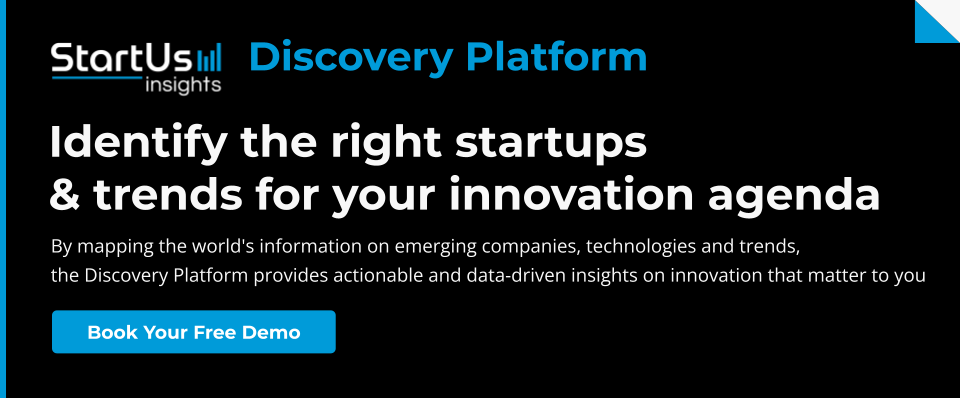 AMATEC creates High-Density Gypsum
Canadian startup AMATEC develops high-density gypsum. The startup's technology increases the density of conventional gypsum for using it as a building material. Further, it supports high-speed manufacturing as well as requires less time to harden and reach its handling strength. The high-density gypsum is also compatible with solar heating. This advanced building material is cost-effective and an eco-friendly alternative to gypsum applications in the construction sector.
CM1 enables Construction Site Monitoring
German startup CM1 makes geo-referenceable, sensor-supported construction site light. It uses differential global navigation satellite system (DGNSS) technology and collects information on the location and area of road construction sites in real-time. The startup further connects traffic systems to the internet of things (IoT) to provide insights into the infrastructure. Additionally, the startup's cloud backend collects and analyzes beacon position data using AI algorithms. This information is made available to users through its web platform or application programming interface (API) to monitor site safety.
BuildPass aids Construction Site Management
BuildPass is an Australian startup that develops construction site management software. It allows builders to set up construction projects and invite subcontractors. They upload project-related documents, such as safe work method statements (SWMS), safety data sheets, and insurance, in one place for review. By simplifying communication, providing reminders, controlling documents, and monitoring work progress, it facilitates construction site management. Some of its features include conducting inductions, site diaries, ticket management, and checklists. Therefore, construction companies use BuildPass' intuitive and all-in-one software for making site management less complicated and more streamlined.
Distill AI delivers AI-driven On-Site Communication
Distill AI is a US-based startup that develops an AI-driven communication platform. It integrates with construction management systems to extract critical information from onsite voice communications and messages. The platform's AI transcription feature utilizes integrations for name and jargon recognition and transcribes voice. Further, its content distillation feature uses the project's structured data and applies AI to distill useful information. The platform also provides APIs to deliver real-time reporting, including meeting minutes, updates, summaries, and targeted alerts. Distill AI's platform thus enables easy access to critical information for real-time decision-making.
Powerplay facilitates Centralized Project Management
Indian startup Powerplay offers a centralized project management platform that empowers construction companies to avoid delays and regulate costs. It allows businesses to manage multiple projects and track progress in real-time. The platform also includes a labor attendance and reporting feature that facilitates worker presence tracking. At the same time, its site reporting feature streamlines site-to-office communication. This facilitates real-time update sharing and collaboration between on-site teams. The platform also enables task assignment and issue highlighting in accordance with project timelines while simplifying budget management and billing of quantities.
Discover All Emerging Construction Startups
The construction startups showcased in this report are only a small sample of all startups we identified through our data-driven startup scouting approach. Download our free Construction Innovation Report for a broad overview of the industry or get in touch for quick & exhaustive research on the latest technologies & emerging solutions that will impact your company in 2023!
Looking for emerging construction startups & technologies?
✕
Get your free Construction Innovation Report
We'll deliver it straight to your inbox!
✕