Global Startup Heat Map highlights 10 AgriTech Startups to Watch in 2023
Through the Big Data & Artificial Intelligence (AI)-powered StartUs Insights Discovery Platform, covering over 3 790 000+ startups & scaleups globally, we identified 2453 AgriTech startups. The Global Startup Heat Map below highlights the 10 AgriTech startups you should watch in 2023 as well as the geo-distribution of all 2453 startups & scaleups we analyzed for this research. Based on the heat map, we see high startup activity in India and Western Europe, followed by the US. These 2453 startups work on solutions ranging from automated irrigation and tractors to weed control and agricultural inputs.
Interested to explore all 2400+ AgriTech startups?
As the world's largest resource for data on emerging companies, the SaaS platform enables you to identify relevant technologies and industry trends quickly & exhaustively. Based on the data from the platform, the Top 5 AgriTech Startup Hubs are in London, Bangalore, Singapore, Hyderabad & New York City. The 10 hand-picked startups highlighted in this report are chosen from all over the world and develop solutions for irrigation, management of soil inputs, robotization, and advanced farm analytics.
10 Top AgriTech Startups to Watch in 2023
Increasingly, there are several technology solutions available for improving the quality and sustainability of the agriculture industry. From computer vision, maps for accurate herbicide application, and irrigation automation solutions to cold storage preservation technology, startups work to reduce farming losses. Further, upcycling food waste into sustainable livestock feed and organic fertilizers is another innovation that shows potential for the future. Integrated AgTech platforms also offer supply chain solutions and meteorological monitoring for real-time data on weather and soil conditions. Additionally, biofertilizers are a cost-effective alternative to traditional and polluting fertilizers. Smart irrigation systems use novel technologies to improve soil structure and health while providing farmers with real-time insights to optimize their agricultural practices.
SAM-DIMENSION enables AI-powered Weed Detection
German startup SAM-DIMENSION leverages computer vision and data science to simplify agricultural field surveys. The startup's weed mapping solution utilizes drones to help farmers identify weeds early on. It links the identified weed seedlings to their precise geolocation. Then, the solution utilizes this data to create a digital map for precise herbicide application with a field sprayer. SAM-DIMENSION thus improves weed control and enhances machine efficiency, enabling farmers to optimize crop yields and reduce costs.
Lumo offers Cloud-based Irrigation Automation
US-based startup Lumo provides irrigation automation solutions for growers. For this, the startup develops a wireless, solar-powered, and connected smart irrigation valve. Its built-in sensor provides growers with accurate flow monitoring and control over water usage. The startup also offers intuitive management software that allows growers to schedule irrigation based on volume or duration. Further, it detects water leaks and stops irrigation automatically to eliminate flooded fields and water wastage. The startup's cloud-managed system further allows access, monitoring, and updating of irrigation systems remotely. Its features benefit growers in reducing costs and saving water while ensuring maximum crop yield.
AkoFresh facilitates Post Harvest Storage
AkoFresh is a Ghana-based startup that provides preservation services for smallholder farmers to reduce post-harvest losses. The startup's solar-powered cold storage preservation technology extends the shelf life of fruits and vegetables up to 21 days. It consists of cold room panels, solar panels, sensors, a compressor, and an air cooler that makes up the smart solar-powered cool box. This internet of things (IoT)-enabled, mobile off-grid cold storage technology avoids crop spoilage while farmers find buyers or middlemen. AkoFresh's solution also benefits the environment as it reduces greenhouse gas emissions and conserves environmental resources.
Werms provides Upcycled Livestock Feed
Singaporean startup Werms upcycles local food waste into sustainable livestock feed and organic fertilizer for animals and plants. The startup's product range includes crickets, mealworms, super worms, dried insects, and fertilizers that are parasite-free and environmentally friendly. To make them, Werms collects pre-consumer waste from wholesale centers and uses proprietary processes to manufacture high-quality animal feed and organic fertilizers. It also offers just-in-time (JIT) services for farmers to get fresh livestock feed at their convenience. Werms' solution reduces food waste and helps farmers improve their animal feed quality and soil health.
MOVE ON enables Autonomous Tractors
Turkish startup MOVE ON develops TASAI, an autonomous tractor kit that enhances tractor performance in the field. It analyzes camera images using AI to extract routes in real time. Further, the kit enables remote intervention through the cloud. With TASAI, tractors perform sowing and post-sowing processes autonomously. This results in the prevention of issues such as overlapping and double planting. The kit also ensures optimal seed and fertilizer usage while saving fuel and time.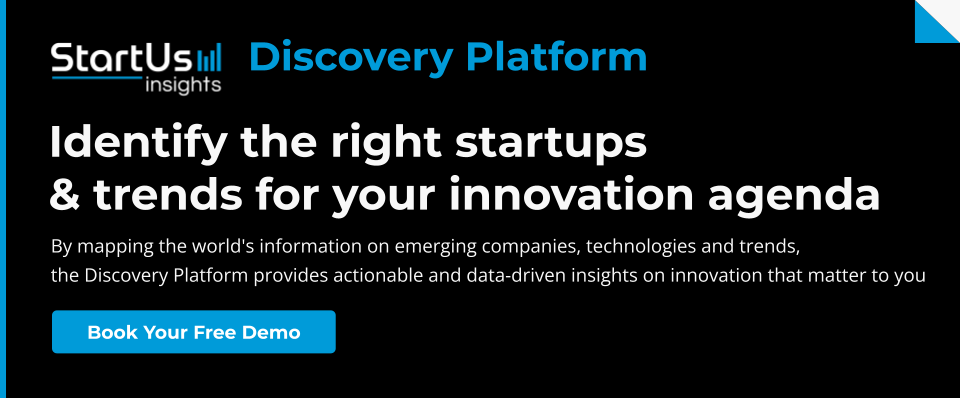 Cropway ensures Sustainable AgTech Supply Chains
Indian startup Cropway makes an integrated AgTech platform that offers technology-enabled, sustainability-focused supply chain solutions. It features geospatial crop advisory and farm intelligence tools that use AI-powered algorithms to provide real-time price forecasting and pest or disease detection. Besides, the platform enables fertilizer calculation and crop prediction. Its seller studio helps farmers connect with buyers, processors, and output agencies to sell their produce. Additionally, its marketplace offers doorstep delivery for agriculture-related inputs, chemicals, and commodities. This enables agribusiness stakeholders to make data-driven decisions, improve productivity, and enhance profitability.
Algaenite makes Biofertilizers from Nitrogen fixing Microalgae
Israeli startup Algaenite produces biofertilizers from the air using nitrogen-fixing cyanobacteria. The startup's patented solar-powered process utilizes automated photo-bioreactors to produce bio-nitrogen fertilizer onsite. This technology delivers an eco-friendly, sustainable, and cost-effective alternative to the traditional Haber-Bosch fertilizer production means. Moreover, the organic fertilizer fully dissolves in water and offers a good yield. It is free of pathogens and hormones as well as features a negative carbon footprint. Algaenite thus allows farmers to ensure sustainable food production.
Talpalabs simplifies Weather Condition Monitoring
Italian startup Talpalabs provides a meteorological monitoring system. It consists of an agricultural sensor, Mole, and a companion mobile application, Talpa, for monitoring the farm weather conditions. The system offers data on temperature, soil humidity, and more. The startup's sensor uses low-power wide area networks (LoRaWAN) connectivity for data transmission, minimizing management costs and maximizing availability. It also measures soil moisture to optimize crop irrigation. Talpa's push notifications also alert farmers on weather conditions and irrigation requirements, preventing crop damage and improving crop quality.
Nanobubble Agritech offers a Smart Irrigation System
New Zealand-based startup Nanobubble Agritech leverages nanobubble technology to develop a smart irrigation system for farmers. The startup retrofits existing irrigation systems with its solution. Then, its pressurized dissolution technique infuses supersaturated levels of oxygen into irrigation water. This allows water to hold up more oxygen than usual. With this, Nanobubble AgriTech increases plant growth and improves soil structure and health. It also increases moisture retention in soil, maximizing production potential.
Ground Truth Agriculture aids Grain Supply Chain Management
Canadian startup Ground Truth Agriculture provides real-time grain quality data for agri supply chains. The startup's platform combines advanced machine vision tools and lab techniques to conduct grain analysis and provide insights. With real-time analysis, farmers make informed decisions on marketing, soil management, and crop production practices. This allows them to optimize on-farm value. The platform also improves seed-to-sale traceability, delivers precise location-based insights, and ensures accurate sampling. Consequently, the platform enhances quality management and grain inventory value.
Discover All Emerging AgriTech Startups
The AgriTech startups showcased in this report are only a small sample of all startups we identified through our data-driven startup scouting approach. Download our free AgriTech Innovation Report for a broad overview of the industry or get in touch for quick & exhaustive research on the latest technologies & emerging solutions that will impact your company in 2023!
Looking for AgriTech startups & technologies?
✕
Get your free AgriTech Innovation Report
We'll deliver it straight to your inbox!
✕