To stay competitive, a company needs to know where its industry is headed and move before its competitors do. With instant access to information from around the world, innovation today is distributed as startups develop new technologies globally. This means you need to monitor trends more often and in greater detail than ever before. However, the high number of startups and innovations also makes tracking technology trends difficult. Because of the vast amount of data available, it is challenging to assess which trends are the most relevant to your business. To identify emerging technology trends efficiently, you need the support of a data-driven trend intelligence platform.
However, there are a few key limitations of most trend intelligence platforms that make them less than ideal for finding the most relevant trends:
Data from a few sources. Trend Intelligence Platforms generally analyze data from a few sources such as industry databases or technology news. Depending on which sources a platform uses, the trends are biased and don't reflect their actual relevance in the industry.
Don't provide comprehensive coverage. Most Trend Intelligence Platforms focus mainly on major players within an industry to identify emerging trends. This approach excludes solutions that are cross-industry or under the radar.
Don't contextualize the trends. In the absence of any insights into the hierarchy of trends, you only get a list of technical terms with no information on how they apply to your business.
To efficiently find emerging and latent trends, you need a SaaS platform that overcomes these limitations. This is where the StartUs Insights Discovery Platform comes in.
How to Efficiently Identify Relevant Industry & Technology Trends
It can be difficult to predict which of the dozens of new technology trends will be disruptive to your industry and which ones will fizzle out. However, in today's fast-paced world, no company can afford to ignore emerging trends. Trend intelligence gives you an accurate overview of high-level technology trends that will impact your industry. This way, you avoid going obsolete in the face of competition by keeping up with the latest advancements.
Read this report: Data-Driven Trend Intelligence: Gain A Competitive Edge
The StartUs Insights Discovery Platform is the most exhaustive Trend Intelligence Platform, covering data on over 3 million startups and scaleups globally. This exhaustive record of the global startup ecosystems means that it covers all technology trends, no matter how niche or latent. The Discovery Platform's powerful proprietary search allows you to identify relevant trends for your business needs within seconds.
It covers over 23 500 trends and technologies across all industries. Our Discovery Platform also provides detailed information on the startups and emerging companies driving industry trends forward. The industry-leading data platform takes the hassle out of trend intelligence, saving you weeks or months of desk research thanks to a range of filters and visualization features that allow you to identify highly relevant technology trends in just a few clicks.
What makes the Discovery Platform Ideal for Trend Intelligence?
The strength of the Discovery Platform lies in its combination of unique data, proprietary knowledge graphs, and fast and exhaustive semantic search. This allows you to quickly separate the signal from the noise and focus on technology trends that work the best for your innovation goals. Thanks to these features, you're able to identify emerging trends more effectively as compared to other trend intelligence platforms.
Here is How the Discovery Platform is Different
Most updated trends. The Discovery Platform constantly monitors the latest data on startups, trends, and innovations. As a result, when you search for trends on the Discovery Platform, you see the latest insights, including completely novel trends.
More objective evaluation than other platforms. Other trend intelligence platforms rely on a few sources of information that bias the kind of results you see. The Discovery Platform, on the other hand, scans over 1,8 billion data points from company websites, startup websites, news articles, databases, etc. This ensures that you receive a more objective evaluation of the trends you're looking for.
Features helpful filters. It features various filters ranging from location, annual growth, and funding to more complex ones like growth in news coverage. This allows you to narrow down your search for emerging trends to find precisely what you're looking for.
Identifies related trends and topics. The Discovery Platform creates a knowledge graph of the entire innovation ecosystem. This provides you with a list of related technology trends arranged in a taxonomy, allowing you to build upon your search iteratively.
Generates rich visualizations. The Discovery Platform saves your searches as well as allows you to extract presentable reports. More importantly, it provides regular updates on emerging startups and trends relevant to you.
Supported by domain experts. Our team of subject matter experts enriches the data on the Discovery Platform every time they use it. This ensures that the platform keeps getting better by the day.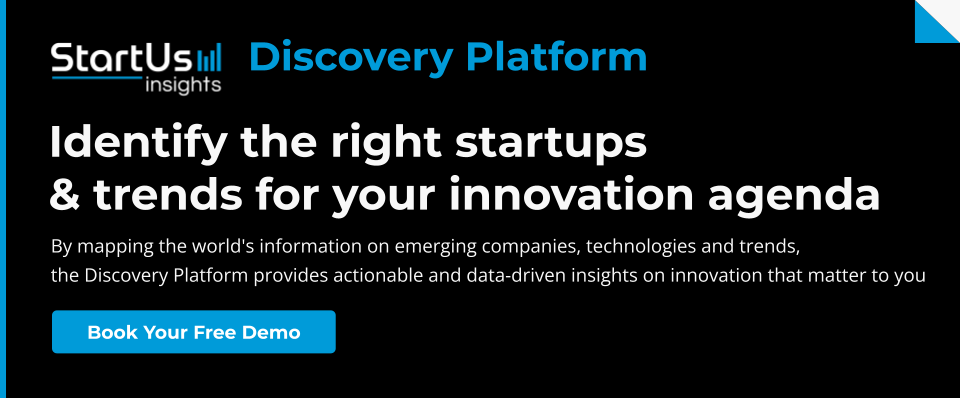 Stay Ahead of the Technology Curve
New technologies often have the potential to disrupt markets. Identifying technology trends early on is critical to gaining or maintaining a competitive advantage. Here are a few ways trend intelligence enabled by the Discovery Platform ensures you stay ahead of the technology curve:
Identify Trends Early
As the business landscape grows increasingly competitive, identifying trends early is critical to success. The Discovery Platform offers detailed insights on 140+ mega-trends and 20 000+ emerging trends. This allows you to identify trends that will impact your industry early. In turn, this allows you to act faster in response to the changing trend landscape and stay competitive.
Scope Emerging Technologies
Startups are working on emerging technologies that have the potential to disrupt your industry. The Discovery Platform provides you access to 23 500+ technology trends, ensuring that you don't miss out. Further, you can narrow down your search, such as down to a particular industry or vertical, so that you identify exactly what you're looking for.
Analyze Relevant Technology Trends
Trend analysis allows you to identify threats and opportunities for your business. The Discovery Platform provides you with insights into current and future trends operating within your industry. This allows you to map what opportunities these technology trends create for you or how they could disrupt your business.
Compare Trends
Often, there are multiple emerging technologies that serve the same objective. Assessing which one will have a greater potential to impact your industry is difficult. With the Discovery Platform, you can compare trends and megatrends over time and across geography. It also allows you to compare trends on a range of other parameters, such as funding raised and market size, allowing you to take better technology investment decisions.
Evaluate Trend Development
Investing in technology trends that fizzle out loses you money. Joining the bandwagon too late doesn't get you the competitive advantage. Identifying the right trends early is key to competitive success. With the Discovery Platform, you are better equipped to assess the development of a trend. This allows you to objectively assess its potential and leverage new market opportunities before others do.
Read this report: Investing in Technology: When is the Right Time?
Unleash the Power of Trend Intelligence with the Discovery Platform
By being aware of new technologies and trends as they develop, you are better prepared to adapt your products or services to meet the needs of your customers. The Discovery Platform gives you insights into emerging trends so you can plan your innovation strategy accordingly. With real-time insights into what's happening in the world around you, it enables you to make informed decisions about where to focus your attention.
Our partners use the Discovery Platform to identify technology trends that address their bottlenecks. Michael Korianz, the CTO of Danieli Corus, mentioned that "breaking down the megatrends into clear areas of development" gave them "valuable insights for refining our strategic direction." Damien Hemmeryckx, an International Business Unit Manager at Group-IPS, said that the Discovery Platform "accelerates our awareness and understanding of the key industry trends."
As the #1 Trend Intelligence Platform, we are dedicated to enabling you to identify emerging technology trends that will have a high impact on your industry. Coupled with its startup scouting capabilities, the Discovery Platform is the right tool to take your innovation agenda to the next level!
Access all relevant trends with the best trend intelligence platform!
✕