Global Startup Heat Map highlights 10 Track & Trace Technology Startups to Watch in 2023
Through the Big Data & Artificial Intelligence (AI)-powered StartUs Insights Discovery Platform, which covers over 3 790 000+ startups & scaleups globally, we identified 1603 track & trace technology startups. The Global Startup Heat Map below highlights the 10 track & trace technology startups you should watch in 2023 as well as the geo-distribution of all 1603 startups & scaleups we analyzed for this research. Based on the heat map, we see high startup activity in the UK and the US, followed by the rest of Western Europe. These track and trace technology startups work on solutions ranging from asset monitoring and vehicle tracking to the Internet of Things (IoT) and artificial intelligence (AI).
Interested to explore all 1500+ track & trace technology startups?
As the world's largest resource for data on emerging companies, the SaaS platform enables you to identify relevant technologies and industry trends quickly & exhaustively. Based on the data from the platform, the Top 5 Track & Trace Technology Startup Hubs are in London, New York City, San Fransisco, Bangalore & Berlin. The 10 hand-picked startups highlighted in this report are chosen from all over the world and develop solutions for product traceability, supply chain transparency, product authenticity, and more.
10 Top Track & Trace Technology Startups to Watch in 2023
Innovations in track & trace technology significantly transform supply chain management and product authentication. The integration of blockchain enables a decentralized and transparent system for tracking and tracing goods throughout the supply chain. By leveraging blockchain's immutable and tamper-proof nature, organizations securely record and verify every transaction. This ensures the authenticity and provenance of products. Another innovation is the use of IoT devices and sensors, enabling real-time monitoring of assets, shipments, and inventory. These devices collect and transmit data on location, temperature, humidity, and other variables. This allows businesses to gain real-time visibility and improve logistics efficiency. Additionally, advances in data analytics and machine learning algorithms enhance track and trace capabilities. They enable predictive insights, anomaly detection, and supply chain optimization. These innovations in track & trace empower businesses to combat counterfeiting, improve inventory management, and ensure regulatory compliance in the global marketplace.
Tracer aids Food & Waste Tracking
Tracer is a UAE-based startup that develops solutions for tracing food and waste in the supply chain. The startup's mobile application informs customers about the purchase, quality, and traceability of products. It also features inventory management to ensure safety and hygiene in the food industry by critically monitoring product movement. Tracer thus allows retailers to engage with shoppers and enable a more personalized experience by building up shopper trust.
Autonix enables Real-Time Visitor Monitoring
US-based startup Autonix offers personalized QR codes and trackers for real-time visitor monitoring and data collection landing pages. The platform provides businesses with trackable QR codes that they place on signage, in-print, menus, etc. Once people scan the QR codes, the platform offers detailed visit logs for every tracking endpoint. The logs include real-time scans and clicks, returning visitors, and repeat visits. This data allows building operators and restaurants to drive marketing efforts, collect demographic data, and more.
TrackingFox provides Real-Time On-Board Trackers
TrakingFox is a Lithuanian startup that develops plug-and-play GPS trackers for cars. It enables real-time tracking and driving behavior analysis to monitor the speed, distance, and driving history of vehicles and drivers. It also provides anti-theft alerts by monitoring suspicious car movement outside the locked zone or device disconnection. TrackingFox caters to car owners and fleet managers to keep track of their automobiles.
Renable leverages AI for Tracking
Renable is a Danish startup that advances the circular economy by combining AI with track-and-trace technologies. It allows maritime companies to create a transparent and documentable process for the dismantling and recirculation of steel and other materials. Renable allows them in reducing costs and emissions by tracking the recycling process and promotes the usage of circular materials.
Arctic Positioning Systems develops a Solar-powered GNSS
Finnish startup Arctic Positioning Systems makes solar-powered GNSS and GPS location trackers for tools, materials, and people. It provides a low-power IoT device equipped with GNSS location data that ensures durability and easy attachment to smaller objects. The startup registers the devices on its web platform and attaches them to an asset or person to locate or receive location data to a server or cloud. Arctic Positioning Systems caters to multiple industries like transportation, automotive, manufacturing, and logistics to prevent theft or misplacing assets.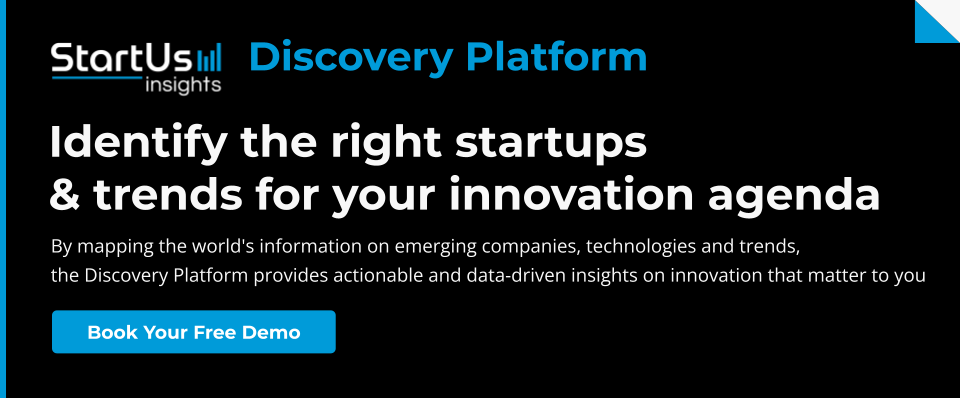 Palltronics designs Tracking Pallets
Palltronics is a US-based startup that manufactures pallets for the storage and transportation of products. It uses radio-frequency identification (RFID) in its chip, integrated with temperature and vibration monitoring in its pallets. The startup also provides a shipping platform to track and trace goods in real-time in the warehouse and while in transit for shipment. Palltronics thus enables the perishable food industry to deliver products at distribution centers at peak quality.
GPSTiger provides Vehicle Management Systems
GPSTiger is a Dutch startup that makes hardware and software solutions to track and trace solutions for the transport industry. The startup's platform allows fleet managers to track and follow a vehicle in real-time with plug-and-play trackers. It creates a virtual geofence around a physical location to detect movements within the demarcated area. The platform also alerts through notifications on smartphones, email, and web environments upon detecting accidents and vehicle theft.
Kvinta accelerates Supply Chain Digitalization
German startup Kvinta develops a software as a service (SaaS) platform to enhance supply chain serialization and traceability. It easily integrates into the existing IT infrastructure of the companies to provide onboard supply chain management. The platform tracks all relevant activities in physical units to identify real-time status and location as well as review history. Kvinta enables the optimization and digitalization of supply chain visibility in the pharma, dairy, home appliance, tobacco, and alcohol industries.
Traxmate creates an IoT Tracking Platform
Traxmate is a Swedish startup that makes an IoT tracking platform for indoor and outdoor positioning, tracking, and routing services. It uses geo-positioned and geofence alarms to ensure safety and security for tenants, visitors, and commercial spaces. The platform also features multi-tenant support and an on-premise, self-hosted option. Further, the startup offers an indoor positioning infrastructure management system with loT sensor data visualization. Using it, the platform sends geofence alerts to shopping malls, production facilities, and warehouses through emails and cloud messaging.
Autonemo enables Real-Time Vehicle Tracking
Autonemo is a Bangladesh-based startup that offers GPS tracking systems for vehicles and fleet management. The tracking system allows monitoring of fuel consumption, route replay, geofence alerts, and parking times of the connected vehicles. The startup's product line includes Autonemo Standard, Autonemo Premium, and Autonemo OBD PLUG AND PLAY trackers for cars, microbuses, and hybrid vehicles. They enable the healthcare, trucking, agriculture, and passenger transport industry to track their mobile fleets and optimize operations.
Discover All Emerging Industry 4.0 Startups
The Industry 4.0 startups showcased in this report are only a small sample of all startups we identified through our data-driven startup scouting approach. Download our free Industry 4.0 Innovation Report for a broad overview of the industry or get in touch for quick & exhaustive research on the latest technologies & emerging solutions that will impact your company in 2023!
Looking for track & trace technology startups & technologies?
✕
Get your free Industry 4.0 Innovation Report
We'll deliver it straight to your inbox!
✕