Open innovation is becoming the norm in the energy sector. Many energy companies are now engaging with startups to foster creativity and innovation. This approach is allowing them to tap into the potential of passionate entrepreneurs, creating an environment of continuous advancement.
Several big energy industry players have invested in startups and seen impressive results. These startups bring new technologies, improved customer service, and creative solutions to the industry. This results in more efficient and sustainable energy generation.
Using open innovation, energy companies build relationships with startups, collaborate on specific and local projects, and develop new products and services. This approach creates a win-win situation for both the energy company and the startup. The former gets access to cutting-edge technologies and ideas, while the latter gains exposure and financial support.
Let's now dig into the benefits of open innovation for the energy industry in detail and explore the best way to conduct the same!
Benefits of Open Innovation for Energy Corporations
By leveraging the power of external talent and innovative ideas, you can develop solutions that solve the pressing challenges of today and tomorrow. Open innovation can prove beneficial for your energy business in the following ways:
Attracting Innovation — Open innovation is designed to attract and develop innovative ideas. These environments provide a platform for the exchange of knowledge and ideas. This helps companies like yours develop the next big game-changing product or business model.
Leveraging Technology — Through open innovation, you can access cutting-edge emerging technologies that empower you to create or improve your solutions to meet the world's current and future energy needs.
Access to Talent — By leveraging external sources, such as universities, startups, and research institutes, you can access the expertise necessary to create innovative solutions. This helps you to stay ahead of the competition.
New Revenue Streams — By collaborating with external sources, you can identify and capitalize on new business opportunities that may not have been available to you before. Thus, enabling you to diversify your income streams and increase profitability.
Leverage the Power of Co-Creation — While working with customers, partners, and other stakeholders, you gain valuable insights into customer preferences, industry challenges, emerging technologies, etc. This information can be used to develop new products and services more effectively.
Reduce Time & Cost — By collaborating with external sources, you get to access the resources, tools, and expertise you need to develop new products and services quickly and cost-effectively. This allows you to reduce overhead costs and speed up the innovation process.
Also read: How 5 Leading Companies Implement Corporate Open Innovation
Embracing Change in the Energy Industry
The energy industry is constantly evolving and embracing change is key to staying competitive. Open innovation has proven to be effective for accessing the latest trends and technologies transforming the industry. By allowing different players to collaborate, open innovation encourages creativity and the development of new solutions to existing problems.
How did General Electric (GE) leverage open innovation to advance smart grid technology?
Back in 2010, GE, in collaboration with Emerald Technology Ventures, Rockport Capital, Foundation Capital, and Kleiner Perkins Caufield & Byers, launched the GE Ecomagination Challenge, offering a prize money of USD 200 million. The aim of the challenge was to find innovative ideas for improving America's smart grid technology. GE received almost 4,000 ideas from 1,600 companies across 150 countries. The winning ideas included an inflatable wind turbine, a self-power-generating water meter, and a de-icing wind turbine that never slows down, among others.
Read this next: How to Boost Your Business with Crowdsourced Innovation
So, now, we know that open innovation has a lot of benefits, and big industry players use it to build new products. But, as attractive as it may sound, planning and managing open innovation programs, especially startup challenges, is no child's play. It requires a lot of work, including but not limited to the following:
Designing the challenge
Releasing and promoting the challenge
Keeping track of the application process
Answering the queries of the participants
Screening the applications
But, don't worry, we are here to make your lives easier! Let's explore how.
Optimize Your Energy Company's Open Innovation Programs with StartUs Insights
There are plenty of ways to look out for new startups. But, it all comes down to one simple question — what's the most viable and efficient way to proactively attract the right startups for your open innovation program??
This is where our Startup Program Service comes in. To give you a better picture, let's now dive into one of our case studies where we helped a global renewables leader find excellent candidates for one of their Startup Programs. Iberdrola is a leading global renewable energy company that is committed to energy transition with a sustainable business model based on renewables, smart grids, large-scale energy storage, and digital transformation to offer the most advanced products and services.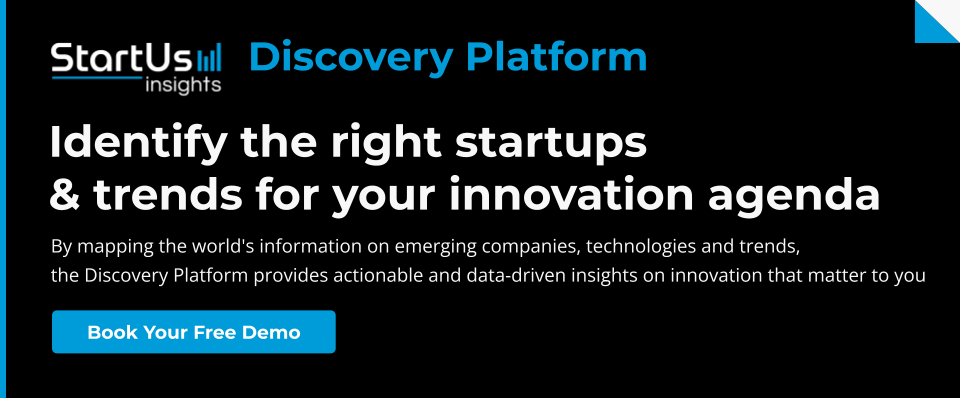 Iberdrola Sustainable Agriculture & Livestock Startup Program
Earlier this year, Iberdrola leveraged our Startup Program Service to promote their open innovation program — Sustainable Agriculture & Livestock.
What did Iberdrola tell us about its program?
Through this international startup program, Iberdrola sought innovative solutions that enable the decarbonization and electrification of the agricultural and livestock sector. Thus, promoting the dissemination of renewable energies in rural areas and the electrification of the countryside. In addition, the following details were also provided:
Timeline & structure of the program — application and evaluation period, the commencement of the pilot project, etc.
Evaluation criteria for the applications — degree of electrification, the extent of emission reduction, maturity and scalability of the solution, and so on.
Top benefits of participation — collaboration and test agreement offering technical support, high technology sites, expert knowledge, and shared work areas, among others.
How did we help Iberdrola get high-quality applications?
Leveraging our proprietary AI-powered Discovery Platform, covering 3 million startups & scaleups globally, and the expert knowledge of our team, we delivered 68 unique applications from 30 countries to Iberdrola.
We made this happen in two ways:
Direct Outreach — Using the StartUs Insights Discovery Platform, our expert analyst shortlisted 2 000 relevant startups catering to Iberdrola's criteria from our exhaustive database of 3+ million emerging companies. We then directly reached out to them with Iberdrola's offer and convinced them to apply using a conversion-optimized approach.
Promotional Activities — Our marketing experts produced an informative SEO-driven article promoting the program to be published in our blog and created engaging social media copies that were posted across our social media channels.
Check this as an example: Renewables Leader Iberdrola Invites You To Scale Your Sustainable Agri & Livestock Business With ASAJA & WOLARIA Open Innovation
Curious what is Iberdrola's feedback on our service?
"Through collaborating with StartUs Insights, we discovered new startups for pilot projects and are able to find & test new ideas that improve and generate new business opportunities."

— Oscar Cantalego, Startup Program Manager, Iberdrola
Ready to Step Up Your Energy Innovation Program?
So, what's in it for you when you partner with StartUs Insights?
Receive High-Quality Applications — Your message needs to travel to thousands so that you have plenty of options to choose the best startups from. Our conversion channels reach hundreds of thousands to make sure the most relevant ones convert to your program.
Optimize the Program Effort — We offer you our experience and knowledge gathered while transforming the largest European startup and innovation community into a global network. This results in a lean and conversion-optimized setup for your startup program.
Build Long-Term Awareness — We understand that with every program cohort, it becomes more and more challenging to reach relevant startups. We make sure to increase the value of our network and reach every day so that you can benefit from it in the long term.
You might be interested in: How to Win at Open Innovation as a B2B Company
So, for your next Open Innovation Program, work with us to identify the best startups and scaleups to collaborate with.
Looking for startup-driven innovation intelligence?
✕