To start with the basics, idea prioritization is the process of evaluating and ranking ideas based on their potential value and feasibility, to determine which should be pursued and which should be set aside. In the context of corporate innovation, idea prioritization is an important tool for ensuring that your innovation efforts are focused, efficient, and aligned with the overall goals and strategy of the company.
Why Idea Prioritization is Important to Reach Your Innovation Goals
There are different models and approaches that can be used for idea prioritization. It largely depends on the specific needs and goals of the organization. But, before getting into that, let's quickly discuss the benefits of prioritizing ideas. Why do you even need to do it?
1. Resource Optimization — Idea prioritization ensures that resources, such as time, money, and personnel, are focused on the most valuable and feasible ideas, rather than spread too thin across a large number of lower-priority ideas. This helps you to optimize the use of resources and increase the chances of success of your innovation projects.
2. Alignment with Company Goals — Idea prioritization lets you align your innovation efforts with the strategies and overall goals of the company. This enables innovation managers like yourself to focus on ideas that have the potential to drive the most value for the business.
3. Increased Efficiency — Idea prioritization makes sure that your innovation efforts are focused and efficient instead of being scattered or misguided. Thus, you can zoom in on the most promising ideas and avoid unnecessary distractions.
4. Improved Decision-Making — Idea prioritization provides a structured approach for evaluating and comparing ideas, which can improve decision-making and reduce the risk of bias or subjective judgment. This way, you pursue the most valuable and feasible ideas and allocate your resources appropriately.
5. Risk Management — By prioritizing ideas based on their potential value and feasibility, you can better manage the risks associated with innovation, such as the risk of failure or the risk of investing in ideas that do not align with the company's goals.
You might want to read: How can You Tackle the 4 Most Common Innovation Risks
Prioritize Ideas for Successful Corporate Innovation
Now that you know why you should make idea prioritization an integral part of your innovation activities, let's explore the various models that you can follow to effectively prioritize ideas:
Weighted Scoring — This model involves assigning weights to different criteria, such as impact, feasibility, and alignment with company goals, and then scoring each idea based on these criteria.
MoSCoW Method — The MoSCoW method is a decision-making tool that helps prioritize ideas based on their importance and feasibility. You have to divide the ideas into four categories: must have, should have, could have, and won't have.
PESTEL Analysis — PESTEL analysis is a framework that analyzes the external environment and identifies opportunities and threats. It involves considering six factors: political, economic, social, technological, environmental, and legal. This lets you prioritize ideas based on their potential impact on the business and the market.
Kano Model — The Kano model is a framework that prioritizes ideas based on their potential impact on customer satisfaction. It divides ideas into three categories: must-have, one-dimensional, and delight features. This allows you to prioritize ideas based on their potential value to customers.
Customer Journey Mapping — This involves mapping out the steps that customers go through when interacting with a company, from awareness to purchase and beyond. This helps you identify pain points and opportunities for improvement and prioritize ideas that address these issues.
Also read: Use Customer Feedback to Support Innovation
Lean Startup — The lean startup methodology involves rapid prototyping and testing of ideas to validate their viability and learn from customer feedback.
SWOT Analysis — SWOT analysis is a tool that helps identify the strengths, weaknesses, opportunities, and threats of a business or idea.
Opportunity Cost — Opportunity cost is a way of evaluating the potential value of an idea by considering the potential benefits that could be gained by investing in other alternatives. This can help prioritize ideas based on their potential value and the potential benefits of other opportunities.
Return on Investment (ROI) — Calculating ROI is a way of evaluating the potential value of an idea by considering the costs and benefits of implementing it.
Two-by-Two Matrix — A two-by-two matrix is a simple tool for visualizing and comparing the potential value and feasibility of different ideas. This can help prioritize ideas based on their potential value and feasibility.
Design Thinking — Design thinking is a problem-solving approach that involves understanding user needs, generating ideas, prototyping, and testing. With this, you can prioritize ideas based on their potential value to customers and the feasibility of implementation.
Read more about this here: Accelerate Your Innovation Goals with Design Thinking
How Data Helps You with Effective Idea Prioritization
By now, we know about a lot of methods for idea prioritization. But, there is one factor that is common amongst all the models — Data! Accurate and relevant data can make your idea prioritization process 10x more effective — no matter which model you choose to follow. As artificial intelligence (AI) continues to progress, data is playing a larger role in the innovation process — starting from idea generation, idea prioritization, and prototyping, to product development, and beyond.
How can you tap into this? The StartUs Insights Discovery Platform is an Innovation Scouting Platform that helps companies like yours answer the most important questions — what's new, what's changing, what has the maximum scope, and other strategic questions.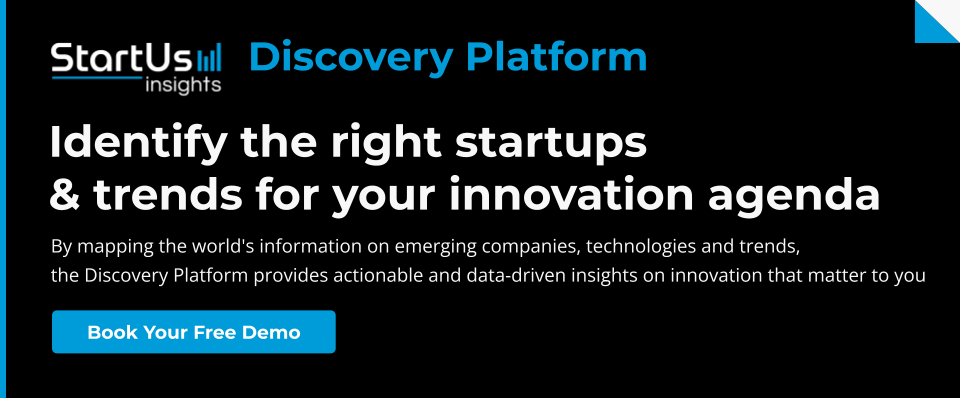 The StartUs Insights Discovery Platform helps You Identify & Map Industry Trends
Collect emerging trends and build your idea-generation capabilities
Analyze billions of data points from various startups and technologies
Map relevant data with AI and expert knowledge
So, what does this mean for your company?
Discover Opportunities Before Others — Our proprietary technology enables you to discover relevant startups, technologies, and business cases early on. Hence, you can empower your business units with actionable, data-driven insights.
Detect Pivotal Changes — We continuously monitor the startup ecosystem to detect pivotal changes.
Map the World of Tomorrow — Our data mapping process provides you with a bird's-eye view of the emerging technology landscape. Use our comprehensive Innovation Maps for effective decision-making.
What more do we offer?
That is not all. We also provide you with a Trend Intelligence solution that gives you access to 29 500+ trends and technologies. This allows you to:
Anticipate Future Trends & Business Opportunities — we deploy advanced analytics to hundreds of thousands of trusted sources on startups, emerging technologies, and industry trends to provide you with accurate insights into trends impacting your industry in a short amount of time.
Stay Up to Date — Monitoring the business ecosystem continuously ensures the identification of emerging technologies, trends, and opportunities. Our service provides you with regular updates on recent developments through Trend Intelligence Reports, Innovation Maps, and Real-time Databases.
Also read: How does Trend Analysis drive Innovation?
All this structured data and granular analysis of the same along with monitoring emerging trends and technologies in your industry helps you improve your company's idea prioritization process. We ensure that your decision-making process is built on the most recent insights available.
Looking for startup-driven innovation intelligence?
✕