Design thinking is a problem-solving approach that emphasizes the importance of human-centered design. It combines user empathy, business understanding, and iterative problem-solving to drive innovation.
Design thinking is a powerful tool that helps businesses move beyond the traditional ideas of problem-solving and focus on creating solutions that are built with the customer in mind.
The first step in using design thinking for corporate innovation involves gathering data from customers, conducting research, and looking at current trends in the market. Once you have an understanding of the problem, the next step is to brainstorm and develop ideas for solutions.
This way, design thinking enables you to shift from "a culture of compliance and fear of failure" to a culture of fast failure and constant innovation.
How does Design Thinking empower Corporate Innovation?
To beat all the odds and thrive, companies need to respond quickly to new challenges and identify opportunities that improve the customer experience and increase revenue. Design thinking is one of the most effective approaches that can help your organization meet these multi-faceted challenges head-on. Explore how:
Identify Opportunities — Design thinking helps organizations identify opportunities for growth by increasing their awareness of their customers, their needs, and the market. Designers use tools such as empathy mapping and user journey mapping to map out customer behavior and needs.
Solve Problems — Designers also use human-centered design thinking to create new products and services that solve existing problems. Design thinking helps you solve problems by being collaborative, open, and creative.
Create Solutions — Businesses need to create solutions that resolve consumer pain points. And design thinking helps you do that by bringing together all the skills and tools needed to create innovative solutions that meet your customers' needs.
How Do Industry-leaders Use Design Thinking?
Parsons-Brinkerhoff, IBM, General Electric (GE), Westpac Bank, Siemens, Procter & Gamble (P&G), and NASA, among others, now actively leverage design thinking. They have dedicated design thinking departments. Further, IBM hires more designers than any other professionals and has even instituted IBM Design Thinking.
What's more? In very successful cases, the inclusion of a design thinking model within these companies has given birth to a new service altogether that they can offer to their clients.
When design principles are applied to innovation efforts, the success rate for your projects improves dramatically. A research by the Design Management Institute, Cambridge, reveals that design-led companies such as Apple, Pepsi, P&G, IBM, Nike, and Starbucks have maintained significant stock market advantage — outperforming the S&P by an extraordinary 228%!!
Also read: How 5 Leading Companies Successfully Implement Corporate Open Innovation
How can StartUs Insights support Design Thinking?
We, at StartUs Insights, develop a Discovery Platform that allows companies like yours to keep a tab on the market — what's new, what's changing, what has the maximum scope, and so much more.
Using our big data and AI-powered software, we:
Analyze billions of data points from various startups & technologies
Map the data with AI and expert knowledge
What does this mean for you?
Be the First One to Identify Opportunities — Our proprietary technology enables you to discover relevant startups, technologies, and business cases early on. Hence, you can empower your business units with actionable, data-driven insights.
Never Miss Out Pivotal Changes — We continuously monitor the startup ecosystem to detect pivotal changes.
Map the Future World — Our advanced data mapping process provides you with a bird's-eye view of the emerging technology landscape. Use our comprehensive Innovation Maps for effective decision-making.
Thus, using our platform, you will be able to identify consumer demands and business opportunities, as well as understand the technological landscape. And, both of these are essential for design thinking.
That is not all. We also provide you with a Trend Intelligence solution that gives you access to 29 500+ trends and technologies. This allows you to:
Forecast Future Trends & Business Opportunities — We deploy advanced analytics to hundreds of thousands of trusted sources on startups, emerging technologies, and industry trends to provide you with accurate insights into trends impacting your industry in a short amount of time.
Always Stay Up to Date — Monitoring the business ecosystem continuously ensures the identification of emerging technologies, trends, and opportunities. Our service provides you with regular updates on recent developments through Trend Intelligence Reports, Innovation Maps, and Real-time Databases.
Also read: How does Trend Analysis drive Innovation?
This structured data and granular analysis of the same combined with the tracking of emerging trends and technologies in your industry helps you inculcate design thinking within your organization. We make the most recent insights available to you so that you are always one step ahead!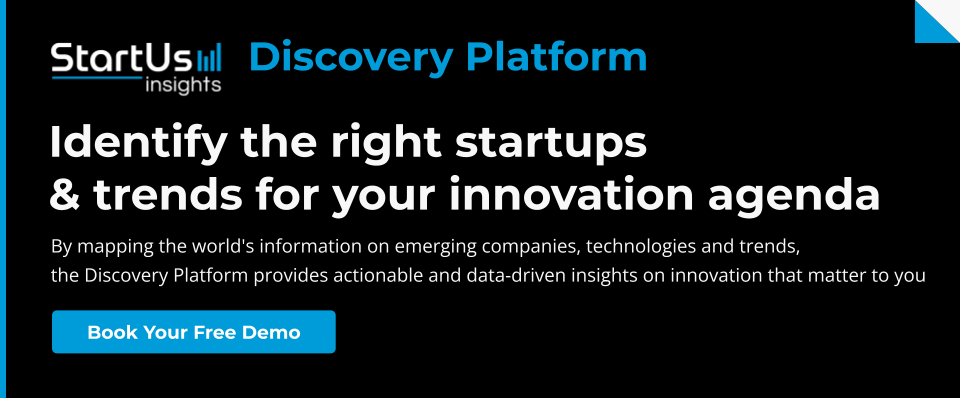 How to Implement Design Thinking in Your Company?
While the design thinking process is different for every organization and project, there are some basic steps that most teams follow. Here is an overview of the process:
Understand — The first step in the design thinking process is understanding your customers and the market. Designers ask questions such as "Who are our customers?" and "What are their needs?" They also look back at past research to see what trends have emerged. They use this information to develop personas that represent their typical customers. This helps the team to focus their efforts on the right customers.
Also Read: Identify Emerging Technologies to Foster Radical Innovation
Ideate — Design thinking promotes a creative approach to problem-solving. To help teams generate innovative ideas, designers use a variety of tools such as brainstorming, visual thinking, and creative challenging. They also employ design critiques, which allow designers to critique each other's ideas in an open and respectful way. Design thinking helps businesses generate ideas for innovative products and services that solve real problems for their customers.
Read this next: Idea Generation 101: Find Innovations Fast
Prototype — Design thinking is about creating something that can be tested. Designers create prototypes (or mock-ups) of their ideas and test them with customers to see what works and what doesn't. By testing their ideas, designers can determine if their solution is effective and meet customers' needs.
You might be interested in: Discover 5 Top Prototyping Startups
Test — After designers have created a solution, they need to test it to see how it works. Designers conduct usability testing and other research techniques to determine if their solution is effective and satisfies customers. This helps designers make any necessary changes to their products or service before they are launched into the market.
Deliver — Once designers have tested their ideas, they need to prepare them for launch. In order to communicate the benefits of their solution, designers use visual language (such as sketches, renderings, etc.). This helps businesses deliver their solution to customers.
Benefits of Implementing Design Thinking in Your Innovation Activities
While design thinking has been around for some time, it has recently become more widely known — thanks to successful examples like the iPhone and Google Maps. This reiterates that designers solve problems faster and come up with more innovative solutions than their non-designer counterparts. But, that is not it. There are a number of other benefits too, let's check them out:
1. Creative Collaboration
One of the biggest benefits of design thinking is that it enables you to engage in creative collaboration. Collaboration is key to innovation because new ideas are most often the result of different brains working together. To make the most of design thinking, you must make room for a wide variety of perspectives in the process, including:
Design Thinkers: These are the folks who are actively involved in the design process and have a hands-on role in creating new solutions.
Customers: The customer is the central focus of the design process and provides the insights, information, and requirements needed to create the best solutions. The customer should be involved at every stage of the process — from ideation and discovery to creation, testing, and refining.
2. Problem Identification
Before you can solve a problem, you first have to understand it. Design thinking helps you to dig below the surface and discover the root causes behind the problem you are trying to solve. Your goal here is to go beyond asking, "What do customers want?" and instead, ask "Why do customers want what they want?" and "What are their unmet needs?"
Once you have dug into the problem, you might discover that what you thought was one problem is actually two or more problems that you can now solve with a single solution. You also need to be sure that you are addressing a real problem that your customers want to be solved. Some organizations mistakenly solve their own problems rather than the customers'.
3. Rapid Prototyping
Another key aspect of design thinking is rapid prototyping or creating quick and cheap models, drawings, or mock-ups of a potential solution. In addition to helping solve the problem, rapid prototyping also allows you to understand if the solution is feasible. You should create multiple prototypes and be prepared to face frequent failures as you iterate your way to a solution that meets your customer demands.
Prototyping does not have to mean creating physical mock-ups. Instead, you have the option of using software tools that allow you to quickly sketch out your ideas, create clickable mock-ups, and gather feedback from customers. These tools are great for collaborating with other team members, as well as gathering feedback from a wide range of customers.
4. Constant Feedback Loops
The process of prototyping and gathering feedback from customers helps to inform your design choices and make sure you are on the right track. Designers often engage in "two-way" communication — where they listen just as much as they talk.
You might find that customers want something different than what you intended to design. Or, you might realize that there is an unmet need that needs to be addressed. You might also learn that your current approach is on the right track and that you are on your way to solving the problem. Nowadays, it is possible to get feedback from customers quickly and in a cost-effective manner using online surveys, clickable mock-ups, and virtual reality.
Also read: Use Customer Feedback to Support Innovation
5. Cultural Awareness
Design thinking is not just about creating a solution that solves a problem, it is also about understanding the cultural context that surrounds that problem. You might find that your initial prototype or solution is well-received in a certain country but fails in another. That is because cultural differences can affect the way customers experience the problem and how they want it to be solved.
Design thinking helps you to consider cultural differences to create a solution that is more likely to be successfully adopted. For example, if you are designing new packaging for your product, you might want to consider the cultural significance of the colors used in the packaging.
Different colors have different meanings in different cultures, and you want to be sure that you are not inadvertently sending the wrong message. If you incorporate cultural awareness into your design thinking, you will think about different colors, shapes, and other design elements in terms of what they mean in the culture you are operating in.
Things to Keep in Mind to make Design Thinking Work
If you want to improve your organization's ability to use design thinking, there are a few conditions you need to meet first:
Problem-Solving Attitude — To incorporate design thinking, your organization needs to adopt a problem-solving mindset. Design thinking involves solving problems creatively. So, if you and your team have a problem-solving approach, you already have a head start.
Adaptability — An adaptive mindset allows them to respond to change quickly. If your business is stuck in a traditional mindset that promotes consistency, it will not work in favor of design thinking.
Strong Culture — Successful organizations have a strong culture that promotes collaboration, creativity, and open communication. If your team is not open to new ideas and practices, you will have a harder time implementing design thinking.
Read this next: Build a Culture of Innovation in Your Organization
Design thinking is incredibly important for businesses that want to stay competitive in today's dynamic market. Companies must be able to innovate quickly, create new products and services, and solve complex problems. Technological changes, shifting customer needs, and economic trends increase and amplify business uncertainty. And we are here to help you with just that!
Looking for startup-driven innovation intelligence?
✕