Corporate innovation programs have become increasingly important for businesses of all sizes in recent years. With ever-changing technologies and customer demands, companies must stay ahead of the curve to remain competitive in their respective markets. By introducing new products and services, corporations can gain a competitive edge, as well as create new revenue streams. Corporate innovation programs not only help companies keep up with industry trends but also provide a platform for employees to test new ideas and develop creative solutions.
Through these programs, companies can foster a culture of learning and experimentation that encourages employees to think outside of the box. Further, corporate innovation programs can also drive efficiency and cost savings, allowing businesses to increase profitability while remaining agile and responsive to changing market conditions.
Corporate innovation programs come in different shapes and sizes. It does not have to be a one-size-fits-all approach. Let's discuss the top 5 types of innovation programs. Along the way, you can try and figure out which one you think would work the best for your business.
5 Types of Corporate Innovation Programs
There are many types of corporate innovation programs, each designed to help a company achieve its strategic objectives. These programs can range from employee training and development to more advanced initiatives like collaborative research and development projects. With the right corporate innovation program, companies can develop new products, services, and business models that will give them an edge in their respective industries.
Let's explore the top 5 types of corporate innovation programs one by one!
1. Dedicated Innovation Team
This type of program puts together a team of highly-skilled, creative individuals to brainstorm, develop, and implement new ideas that could potentially benefit the organization. The team usually consists of people from different departments and backgrounds, allowing for a wide range of perspectives and ideas.
Team members are dedicated full-time to working on innovative projects. So, they can focus solely on developing the best solutions. This promotes creativity and encourages employees to think outside the box to come up with innovative solutions to the organization's challenges. Further, the team's work can be used as a valuable source of feedback which can help refine and improve existing processes, products, and services.
Also read: Build a Culture of Innovation in Your Organization
2. Innovation Center of Excellence
Innovation Center of Excellence (ICE) involves providing a suite of resources, tools, and best practices to help organizations develop and implement new ideas, processes, and products that can transform their business models and deliver meaningful results. ICE offers education, training, workshops, and advisory services to equip participants with the skills needed to become effective innovators.
The ICE program also encourages the use of technology and research-based approaches to solving complex business problems. Through this program, participants can develop new ideas, explore new ways of operating, and test them in real-world situations.
Finally, ICE facilitates collaboration among stakeholders to foster effective knowledge exchange. By leveraging the expertise of experienced professionals and innovation thought-leaders, ICE helps organizations stay ahead of the curve and drive innovation.
3. Intrapreneur Program
An intrapreneur program is a type of innovation program that allows employees to take ownership of their ideas and projects — whether it's creating a new product, improving an existing service, or finding an innovative solution to an existing problem. It encourages risk-taking, idea exploration, and creativity while providing the resources needed to help employees develop their own businesses within an existing company. Thus, entrepreneur programs enable companies to tap into the creative potential of their employees, leading to more successful products and services.
Read this next: How Intrapreneurship Boosts Corporate Innovation
A good example to cite in this regard would be Adobe Kickbox. Under this initiative, Adobe provides its employees with red boxes containing credit cards pre-funded with USD 1 000 of seed money and other supporting items. The employees use these resources to experiment with their ideas and develop prototypes.
A closer look into Adobe Kickbox:
4. University Partnership Program
The University Partnership Program (UPP) is a type of innovative program that provides an opportunity for universities and businesses to collaborate to find creative solutions to complex challenges. It serves as a platform for public and private institutions to come together to share resources, ideas, and expertise to develop new technologies and services.
Through UPP, universities can access resources from companies normally unavailable to them, such as specialized equipment and personnel. On the other hand, organizations get to leverage innovative ideas and solutions. So, it is a win-win situation for both parties.
5. Corporate Open Innovation Programs (Our Favorite!)
Open Innovation involves working with external partners, such as emerging startups, customers, and even competitors to leverage their resources and knowledge for the benefit of all parties involved. It provides a collaborative approach to research and development, allowing companies to tap into a larger pool of ideas and insights. Open Innovation can include the following:
Startup Challenges
Startup Competitions
Hackathons
Internal Incubation
Also read: How 5 Leading Companies Implement Corporate Open Innovation
Open innovation encourages collaboration between internal and external partners. This allows organizations to access new technologies, expertise, and ideas that may be unavailable internally. In addition, it can help to reduce costs and increase speed to market, since research and development (R&D) activities can be outsourced and shared across multiple parties. So, they can instead focus on what they do best.
Read later: How to Win at Open Innovation as a B2B Company
Simplify Your Corporate Open Innovation Program with StartUs Insights
We have just discussed how open innovation can accelerate your company's innovation efforts. But, as good as it may sound, planning and managing open innovation programs, especially startup challenges, is no child's play. It requires a lot of work, including but not limited to the following:
Designing the challenge
Releasing and promoting the challenge
Keeping track of the application process
Answering the queries of the participants
Screening the applications
But, don't worry, we are here to make your lives easier! Let's explore how.
We, at StartUs Insights, manage & promote your innovation program in two ways:
Direct Outreach — Using the StartUs Insights Discovery Platform, our expert analysts shortlist more than 2 000 relevant startups catering to your criteria from a huge database of 2 093 000+ companies and directly reach out to them with your offer and convince them to apply.
Promotional Activities — Our marketing ninjas produce informative SEO-driven articles promoting the program to be published in our blog and super-engaging social media copies that are posted across our social media channels.
Our data-driven promotion, direct outreach, and storytelling reach hundreds of thousands of startups and scaleups, making sure you attract the most relevant ones. This is why 500+ companies trust us with their startup programs!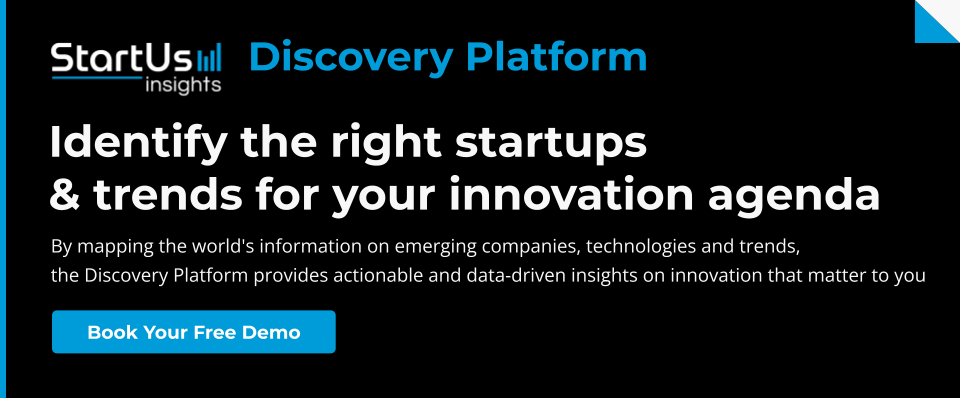 Apart from the core services mentioned above, we also offer:
Setup of Conversion-Optimized Landing Page — Don't have the time or bandwidth to create the web page for your program? Taking maximum advantage of our experience with SEO-optimized content, we set up the landing page of your startup program to attract more applicants.
Applicant Pre-screening — Received more applicants than you can handle (because we did an amazing job)? We got you! Our in-house trained experts will analyze startup data to pre-screen the applicants based on your requirements.
Read this next: Accelerate Open Innovation with Data-driven Startup Programs
Why Should You Partner with StartUs Insights?
Receive High-Quality Applications — Your message needs to travel to thousands so that you have plenty of options to choose the best startups from. Our conversion channels reach hundreds of thousands to make sure the most relevant ones convert to your program.
Optimize the Program Effort — We offer you our experience and knowledge gathered while transforming the largest European startup and innovation community into a global network. This results in a lean and conversion-optimized setup for your startup program.
Build Long-Term Awareness — We understand that with every program cohort, it becomes more and more challenging to reach relevant startups. We make sure to increase the value of our network and reach every day so that you can benefit from it in the long term.
Looking for startup-driven innovation intelligence?
✕