Companies that prioritize innovation stay ahead of their competition, drive growth, and deliver cutting-edge solutions to their customers. However, the process of corporate innovation is complex and challenging. StartUs Insights' Discovery Platform is here to assist you in this process and make your life easier. We offer a comprehensive SaaS solution for organizations like yours, seeking to accelerate corporate innovation efforts.
As corporate innovation is oftentimes challenging, we've designed the Discovery Platform to be the most extensive resource of insights on emerging companies and technologies globally. It currently covers over 3.7 million startups & scaleups globally, thus replacing weeks of manual research with just one click. Let's dive in and find out how our platform can make your innovation journey smoother and gain unbeatable insights along the way!
Read more about this: Discover the #1 Startup Scouting Platform
Top 7 Reasons Why a Subscription to StartUs Insights' Discovery Platform Solves Your Innovation Challenges
Here are the 7 compelling reasons why our Discovery Platform should be your top choice for corporate innovation:
1. Get Unparalleled Market Intelligence
The Discovery Platform provides access to a vast array of market intelligence. This way, you always stay up-to-date with industry trends, emerging technologies, and disruptive innovations. As a result, you make informed decisions and stay ahead of the curve. With comprehensive market insights at your fingertips, you can identify untapped opportunities, mitigate risks, and seize competitive advantages.
2. Explore the Most Extensive Startup Network
Startups are at the forefront of innovation, often introducing groundbreaking technologies and disruptive business models. Our Discovery Platform gives you access to over 3.7 million startups and scaleups across various industries globally. It enables you to tap into their expertise and leverage their technologies or solutions. Moreover, collaborating with startups infuses fresh ideas, agile methodologies, and entrepreneurial spirit into your organization, fostering a culture of innovation and growth.
Don't forget to read: How to Effectively Track Startups to Pursue Innovation
3. Benefit from Tailored Innovation Scouting
Searching for the right startups and technologies can be overwhelming. The Discovery Platform simplifies this process by offering tailored innovation scouting. Specify your industry, technology, and market preferences, and our AI-powered platform curates a personalized selection of startups and innovations that match your criteria. This targeted approach saves you time, effort, and money, enabling you to focus on evaluating the most relevant opportunities.
4. Deep Dive into Startup Profiles
The Discovery Platform provides in-depth profiles of startups, offering valuable insights into their products, services, and business models. Explore their technology stack, market traction, team expertise, and funding details. This comprehensive information empowers you to make well-informed decisions when selecting potential partners or investments, minimizing risks and maximizing the chances of success.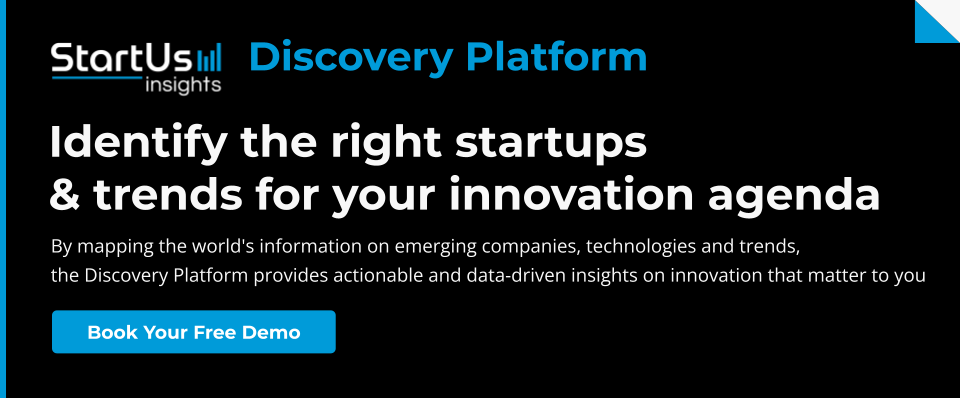 5. Simplify Continuous Startup Monitoring
The startup landscape is dynamic, with new players emerging and evolving rapidly. Our Discovery Platform continuously monitors the global startup environment, keeping you informed on the latest developments. Stay up-to-date on funding rounds, product launches, and market shifts, ensuring that you don't miss any opportunities to collaborate with or invest in the most promising startups.
You might find this helpful: The Right Way to Scout Startups in 2023
6. Spot New Business Opportunities
Discovering new business opportunities is crucial for sustaining growth. Our platform's advanced search and filtering capabilities enable you to identify startups with solutions that precisely match your business goals. Stay ahead of the curve by leveraging these insights to explore untapped markets and emerging industries.
7. Enjoy Seamless Integration
The Discovery Platform is made to seamlessly integrate with your existing innovation processes and tools. No need to install any heavy apps. You may use innovation management software, CRM systems, or project management platforms. Our web-based platform supports easy integration, ensuring a smooth workflow and minimizing disruption.
Take Corporate Innovation to the Next Level with StartUs Insights' Discovery Platform
The Discovery Platform is your ultimate companion in corporate innovation, offering unmatched startup intelligence, collaboration opportunities, and market insights. By leveraging this platform's unique features, you can stay ahead of the competition, discover disruptive technologies, and forge valuable partnerships with startups.
So, make the smart choice. Book a free demo today — let us show you how we solve your innovation management challenges & drive your business goals!
Ready to leverage the biggest startup database?
✕