There are a few challenges inherent in startup scouting. First, it is difficult to find startups that fit your specific criteria. Second, even when you do find a promising startup, it can be hard to assess its technology or persuade them to work with you. Finally, the whole process is time-consuming and expensive. Despite these challenges, startup scouting is an incredibly valuable tool for businesses of all sizes. By identifying and working with the right startups, businesses gain access to new technologies, fresh ideas, and talented employees. If you're interested in exploring this option for your innovation strategy, you need the support of a data-driven startup scouting platform!
However, there are a few key limitations of most startup scouting platforms that make them less than ideal for finding the best startups:
Few search results for narrower topics. When you have a particular or narrow requirement, startup scouting platforms provide you with a few relevant startups. This is because they are unable to discover startups working on niche and latent technologies.
Most results are irrelevant. Not only do most startup scouting platforms provide you with few startups, but they're also often not highly relevant to what you're looking for.
Limited scope. Most scouting platforms gather startup information from a few sources such as prominent startup databases. As a result, you miss out on startups that are not well covered.
Lack of filters and ranking criteria. Startup scouting platforms often lack filters to narrow down to the truly relevant startups. This means you have to spend time and resources filtering the results based on your needs.
To give your innovation strategy the best shot at success, you need not just any startup scouting platform, but one that does not have any of these limitations.
Meet the #1 startup scouting platform: the StartUs Insights Discovery Platform.
Deep Insights on 3+ Million Startups & Scaleups Globally
Startups are leaner and more agile, which means they can make decisions quickly and move on from projects that aren't working without having to go through layers of red tape. This is why companies are looking to identify startups and scaleups that can support their innovation goals. By working with startups, businesses can access new technologies and ideas that move them forward.
The StartUs Insights Discovery Platform serves exactly this need by analyzing billions of firmographic data points on over 3 million startups and scaleups from around the world. Moreover, this data covers 29,500+ trends and emerging technologies from 230+ startup hubs.
We provide best-in-class startup scouting by gathering and analyzing over 1,8 billion data points using a wide variety including company websites, industry reports and databases, innovation ecosystems, and technology news sources to name a few. On average, our firmographic data on each high-growth company is validated by 53+ different sources. This not only provides industry-leading data on each company to be discoverable, but it also ensures high data quality. With a range of filters and other features, its intuitive interface allows you to identify startups that match your specific needs in just a few clicks.
It also has a dedicated trend intelligence feature that allows you to identify and monitor emerging technologies and trends.
Read this next: How trend intelligence forecasts threats and future-proofs your business
What makes the Discovery Platform the #1 Startup Scouting Platform?
The StartUs Insights Discovery Platform features cutting-edge artificial intelligence and semantic search technology so you can discover the most promising startups in your industry. With our powerful proprietary search engine, you can easily identify and track high-growth companies that are worth your time and investment.
The power of the Discovery Platform lies in its use of large amounts of data from various sources in combination with our proprietary search engine technology. There are a number of reasons data-driven analysis with this platform is more effective than other startup scouting platforms. Let's see how the Discovery Platform is different:
Has the highest recall. Compared to other platforms or manual searches, the Discovery Platform casts a wider net, covering 3+ million startups and scaleups. This allows you to identify more promising emerging companies regardless of how specific or niche your query is.
Has global coverage. Unlike other platforms, the Discovery Platform features rich, language independent, data on startups of all kinds and scales from every part of the world. This ensures that your search results are as global or local as you want.
Features helpful filters. It features various firmographic filters ranging from the founding year, employee size and growth, funding, and revenue, to more complex ones like signal strength and popularity. This allows you to identify exactly the kind of solutions you're looking for.
More objective evaluation than traditional methods. Traditional scouting methods generally rely on personal relationships or subjective criteria. The Discovery Platform, on the contrary, is not biased by networks. This makes it an ideal tool for companies seeking a fair and unbiased assessment of potential startup partners and comparing them with their peers.
Fastest identification of emerging startups. The Discovery Platform constantly monitors the latest data. By tracking new startups and keeping an eye on industry trends, it ensures you stay ahead and discover hidden gems before your competition does.
Saves you a lot of time and resources. The Discovery Platform is quick and easy to use. This allows you to focus on innovation instead of the boring bits.
Manage your startup scouting journey. The Discovery Platform allows you to save your searches as well as extract presentable reports. More importantly, it provides regular updates on emerging startups and trends relevant to you.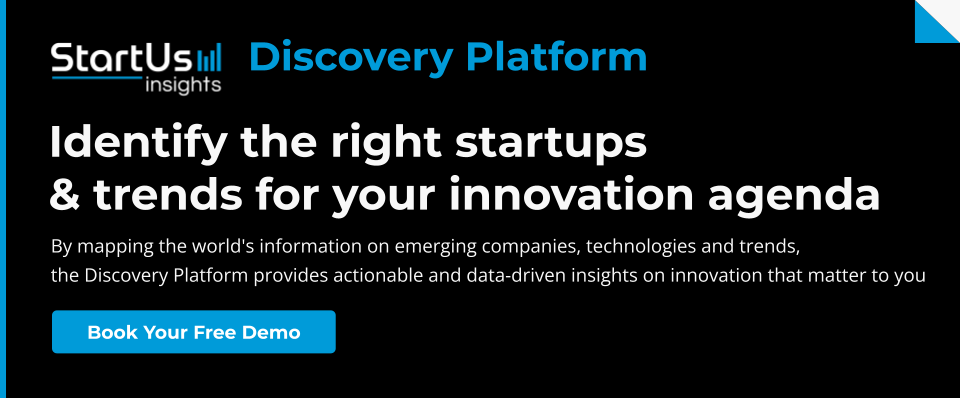 How the Discovery Platform Accelerates Your Innovation Agenda
When it comes to startup scouting, there are a number of benefits to using the StartUs Insights Discovery Platform. For innovation managers looking to identify highly relevant startups for partner sourcing, startup programs, or other innovation initiatives, it provides the most value for money. Here are a few things it excels at:
1. Find Emerging Companies Fast and Engage First
By conducting research and evaluating a large number of startups, you are able to identify startups with a high potential much faster than others. This allows you to make an informed decision on which startups to engage with while others are still browsing. Additionally, the Discovery Platform provides access to a wealth of information and resources that enable you to get an edge in assessing the viability of each startup engagement.
2. Get a Competitive Advantage
Startups are often at the forefront of new technologies and ideas. By identifying them early and exhaustively, you gain access to these innovations long before they become mainstream. This gives you a competitive advantage and allows you to stay ahead of the curve. Additionally, by engaging with startups, you accelerate the development of new technologies and ideas.
3. Have the Right Shortlist
For your startup engagement and due diligence, having the right shortlist of relevant startups is critical. No matter how comprehensively you engage with startups, you may miss out on some highly relevant startups if you don't have the right list, to begin with. Deep insights into the startup ecosystem equip you to evaluate each startup more effectively. This saves you time and money in the long run and enables you to build a strong innovation pipeline that continuously brings the right startups or scaleups to your attention. The Discovery Platform's trend intelligence feature also supports this by keeping track of emerging trends and developments in your industry.
Try the #1 Startup Scouting Platform
The StartUs Insights Discovery Platform is a great asset for innovation managers looking to identify new and interesting startups to invest in or partner with. By providing access to a wide range of data and information on startups, it saves time and effort for innovation managers like you.
Our partners find that the Discovery Platform allows them to scout relevant startups and scaleups much faster and more exhaustively as compared to other approaches they tried. The Discovery Platform separates the signal from the noise and provides exactly the solutions that matter. The Discovery Platform "surprised us with emerging companies that we haven't heard of before" and "is an elementary tool in our daily business" because "it saves us extensive time and resources in finding hidden diamonds", some partners noted.
As the #1 startup scouting platform, we are dedicated to enabling you to identify the right startups and partners for your innovation goals. Our data-driven approach delivers promising startups and emerging technologies that take your business to the next level.
Try the #1 Startup Scouting Platform today!
✕