Innovation strategy is an invaluable tool for corporate innovation management. It enables businesses to think outside the box, identify and capitalize on opportunities, and develop new products and services. With the right strategy, businesses can improve efficiency, reduce costs, and create a culture of innovation. But a successful innovation strategy requires more than just big ideas. You need to have the right assets in place to make sure your strategy is successful.
As an entrepreneur, you know that innovation is the key to success. But, it is not easy to churn out big ideas that will make your business stand out. That's why it is important to have an innovation strategy in place. It helps a business stay ahead of the competition and capture new and emerging markets.
Why You Need a Well-Planned Innovation Strategy
Companies of all sizes should develop an effective innovation strategy to remain competitive in the ever-evolving marketplace. Let's quickly sum up the main reasons why:
Gives You a Competitive Edge — An effective innovation strategy enables a company to be more competitive than its rivals, who may be slower to adopt new technologies, ideas, and strategies. Companies that stay ahead of the curve can take advantage of the latest technologies and processes that are available, allowing them to surpass their competition.
Increases Efficiency — You can become more efficient with a suitable innovation strategy. By adjusting the process of conducting innovation activities you can reduce the time needed to complete tasks and improve overall operational efficiency.
Reduces Costs — Companies can use innovative strategies to improve existing processes, such as streamlining production or reducing waste. This leads to lower costs and higher profits.
Enhances Customer Experience — With a tight innovation strategy in place, companies liek yourself can create innovative solutions that are tailored to the needs of the customers, resulting in increased customer satisfaction and loyalty.
Improves Agility — An effective innovation strategy will help companies become more agile. By focusing on customer needs, companies can respond quickly to changes in the marketplace and swiftly develop solutions.
Boosts Employee Morale — Employees are more likely to be motivated and engaged when they know the company they are working in is investing in innovation. They enjoy having the opportunity to use their creative skills and be part of cutting-edge projects.
Attracts New Talent — Similar to the previous point, companies that are seen as forward-thinking and innovative are more attractive to potential employees. Young job seekers in particular are drawn to companies that have a track record for innovation and are willing to invest in it.
Develops New Revenue Streams — A data-driven innovation strategy encourages companies to create innovative products or services in new markets and gain a competitive advantage. Thus, opening the door to new revenue streams.
The Top Valuable Assets for an Effective Innovation Strategy
With the right approach and assets, you can unlock the potential of your business and get ahead of the competition. Here are 4 simple assets to create a winning innovation strategy:
1. Idea Generation & Management
Ideas are the lifeblood of any successful innovation strategy. They are the raw material of creativity, allowing teams to explore and develop new ways of doing things. These ideas can come from anywhere — customers, employees, partners, suppliers, competitors, and so on — and they can be applied to any area of the business.
Breakthrough ideas are essential for any organization wanting to make its mark in this competitive market, by providing new and improved products and services. Developing a system for capturing, evaluating, and executing innovative ideas helps organizations to stay ahead of the game and ensure that the most promising ideas are put into action.
Read more about this: Idea Generation: Find Innovations Fast
2. Trend Monitoring
Trend monitoring is a process of actively identifying, researching, and tracking new developments, changes, and patterns across various industries to keep abreast of the latest innovations, technologies, customer behaviors, and competitors' strategies.
It provides organizations with a comprehensive overview of the current state of the market and helps anticipate what is to come. This valuable data lets an organization shape its innovation strategy focusing on new opportunities while also identifying the biggest challenges and better understanding customer needs.
In addition, trend monitoring provides insights into future customer demands, helping organizations to create more tailored products and services that can better meet market needs. By monitoring and analyzing trends, organizations can remain competitive, develop more effective strategies, and better anticipate customer desires.
Read this next: The Benefits of Data-Driven Trend Monitoring for Innovation Managers
3. Technology / Innovation Scouting
Technology scouting is an essential asset for building an effective innovation strategy. It involves actively searching for new technologies and trends, as well as staying up-to-date with the latest developments.
By scouting for new technologies, companies can save time and money that would otherwise be spent on trial-and-error experimentation and investigation. Technology scouting also allows companies to identify new trends and opportunities to stay competitive in their respective markets. Technology scouting also empowers companies to identify areas where they can use their resources efficiently.
Finally, technology scouting lets companies build relationships with external stakeholders, such as universities, research labs, and other companies. Thus, leaving room for productive collaborations.
You might find this helpful: How Data-Driven Technology Scouting Speeds Up Corporate Innovation
4. Open Innovation Programs
To take your company's technology or innovation scouting to the next level, leverage the power of open innovation programs! They involve collaboration between businesses, universities, research institutions, and other organizations to develop new products, services, and ideas. By leveraging the expertise of a wide range of partners, open innovation programs result in:
Greater creativity
Quicker time to market
Lower costs
Open innovation programs also benefit from larger and more diverse pools of talent, which allows companies to tap into new skills and technologies. Additionally, open innovation programs are often more focused, being driven by specific goals or challenges, which ensures that you are investing in the right areas.
You might be interested in: How to Avoid Common Pitfalls In Open Innovation
Plan Your Innovation Strategy Better with StartUs Insights
Keep a Tab on the Latest Industry Trends with the StartUs Insights Discovery Platform
We, at StartUs Insights, develop a Trend Intelligence solution that gives you access to 29 500+ trends and technologies. This allows you to:
Anticipate Future Trends & Business Opportunities — We deploy advanced analytics to hundreds of thousands of trusted sources on startups, emerging technologies, and industry trends to provide you with accurate insights into trends impacting your industry in a short amount of time.
Stay Up to Date — Monitoring the business ecosystem continuously ensures the identification of emerging technologies, trends, and opportunities. Our service provides you with regular updates on recent developments through Trend Intelligence Reports, Innovation Maps, and Real-time Databases.
Also read: Identify Innovations Early with Best Trend Intelligence Platform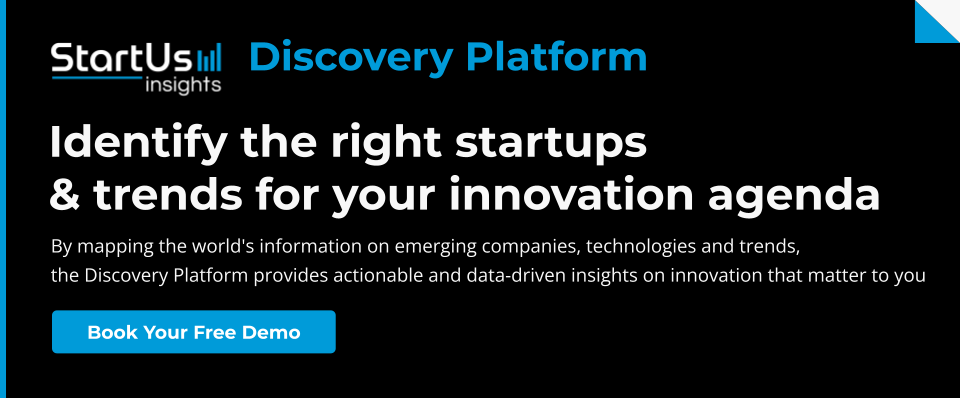 Find the Best Startups to Work with using StartUs Insights Innovation Scouting Platform
Our Innovation Scouting Platform helps companies like yours to keep a tab on the market — what's new, what's changing, what has the maximum scope, and much more. Using our big data and AI-powered software, we analyze billions of data points from various startups and technologies and map the data with AI and expert knowledge. So, what does this mean for you?
Discover Opportunities Before Others — Our proprietary technology enables you to discover relevant startups, technologies, and business cases early on. Hence, you can empower your business units with actionable, data-driven insights.
Detect Pivotal Changes — We continuously monitor the startup ecosystem to detect pivotal changes.
Map the World of Tomorrow — Our advanced data mapping process provides you with a bird's-eye view of the emerging technology landscape. Use our comprehensive Innovation Maps for effective decision-making.
Also read: How Data-Driven Innovation Scouting Increases Your Competitive Advantage
Maximize Your Open Innovation Results with StartUs Insights Startup Program Service
Our data-driven promotion, direct outreach, and storytelling reach hundreds of thousands of startups and scaleups, making sure you attract the most relevant ones for your company's startup program. This is why 500+ companies trust us with their open innovation challenges!
We manage & promote your innovation program in two ways:
Direct Outreach — Using the StartUs Insights Discovery Platform, our expert analysts shortlist more than 2 000 relevant startups catering to your criteria from a huge database of 2 093 000+ companies and directly reach out to them with your offer and convince them to apply.
Promotional Activities — Our marketing ninjas produce informative SEO-driven articles promoting the program to be published in our blog and super-engaging social media copies that are posted across our social media channels.
Don't forget to read: How to Win at Open Innovation as a B2B Company
Apart from the core services mentioned above, we also offer:
Setup of Conversion-Optimized Landing Page — Don't have the time or bandwidth to create the web page for your program? Taking maximum advantage of our experience with SEO-optimized content, we set up the landing page of your startup program to attract more applicants.
Applicant Pre-screening — Received more applicants than you can handle (because we did an amazing job, *insert wink*)? We got you! Our in-house trained analysts will analyze startup data to pre-screen the applicants with the best potential.
Read this next: Benefits of Virtual Startup Programs
With an effective innovation strategy in place, you can unlock your potential and create a successful, competitive business. So why wait? Start creating your winning innovation strategy today and unlock your potential!
Ready to work with us to boost your Innovation Strategy?
✕