The pharmaceutical industry is witnessing a massive revamp. Traditionally slow in the adoption of technology, the industry is now undergoing rapid changes due to the development of several technologies. The top trends in the pharmaceutical industry include artificial intelligence (AI), additive manufacturing, blockchain, and other Industry 4.0 technologies. The increasing investments, growth of pharmaceutical technologies, and the expiry of several key patents, as well as increasing inter-organizational collaborations and a favorable regulatory environment, are spurring innovation across the pharmaceutical industry trends. This article was published in October 2020 and updated in August 2023.
Innovation Map outlines the 10 Current Trends in Pharmaceutical Industry & 20 Promising Startups
For this in-depth research on the Top Pharma Industry Trends & Startups, we analyzed a sample of 1745 global startups & scaleups. This data-driven research provides innovation intelligence that helps you improve strategic decision-making by giving you an overview of emerging technologies in the pharma industry. In the Pharma Industry Innovation Map, you get a comprehensive overview of the innovation trends & startups that impact your company.
Top 10 Pharma Industry Trends in 2024
These insights are derived by working with our Big Data & Artificial Intelligence-powered StartUs Insights Discovery Platform, covering 3 790 000+ startups & scaleups globally. As the world's largest resource for data on emerging companies, the SaaS platform enables you to identify relevant technologies and industry trends quickly & exhaustively.
Tree Map reveals the Impact of the Top 10 Pharma Trends in 2024
The Tree Map below illustrates the top 10 pharmaceutical trends that will impact companies in 2024. From drug discovery and development to medical imaging and patient engagement, artificial intelligence occupies a prominent position in the industry. Along with big data and analytics, more than a third of pharma startups are working on software solutions for the industry. There is still a lack of access to basic medicines in many regions of the world, prompting demand for flexible pharmaceutical manufacturing.
The use of real-world data to collect accurate patient experiences, blockchain to securely transact and manage patient records, and augmented, virtual, and mixed reality (AR, VR & MR) solutions also find a place in the top 10 trends in the pharmaceutical industry. However, these technology trends in pharmaceutical industry cover only a small fraction of the breadth of innovation in the industry. Based on your specific criteria, your top trends can look quite different.
Global Startup Heat Map covers 1745 Pharma Startups & Scaleups
The Global Startup Heat Map below highlights the global distribution of the 1745 exemplary startups & scaleups that we analyzed for this research. Created through the StartUs Insights Discovery Platform, the Heat Map reveals that the United States is home to most of these companies while we also observe increased activity in India as well as Europe, particularly in the UK and France.
Below, you get to meet 20 out of these 1700+ promising startups & scaleups as well as the solutions they develop. These 20 startups were hand-picked based on criteria such as founding year, location, funding raised, and more. Depending on your specific needs, your top picks might look entirely different.
Interested to explore all 1700+ pharma startups & scaleups?
10 Key Trends in Pharmaceutical Industry (2024)
1. AI in Pharma
The use of artificial intelligence (AI) is accelerating drug discovery and development processes. Startups are exploring the use of these technologies to address the various challenges in the pharma industry, such as automation and optimization of the manufacturing processes, as well as designing effective marketing and post-launch strategies.
Patient identification is a crucial step in the drug discovery and development process, especially for conducting clinical trials. AI simplifies the identification of eligibility criteria and the inclusion of patients and also makes the cohort identification process faster and cheaper.
Pangaea Data – Patient Cohort Identification
Pangaea Data is a British startup that uses unsupervised AI algorithms to identify patient cohorts for drug discovery, clinical trials, and real-world evidence (RWE) studies. The machine learning-based software scans through electronic health records (EHR) and unstructured doctors' notes.
Pangaea Data's solution enables clinicians to find the right patients based on phenotypes. The startup also develops a library of AI models for different disease areas.
Valence Discovery – Drug Discovery
Canadian startup Valence Discovery develops novel algorithms for drug discovery. The startup uses different machine learning approaches, such as few-shot learning, reinforcement learning, active learning, and representation learning, to aid the drug discovery process.
Its deep learning solution uses small and noisy datasets to predict and optimize potential drug candidates, further eliminating the need for large datasets.
2. Big Data & Analytics
The pharma industry requires high-performance systems to analyze the large volumes of data generated during the drug discovery and development process. Pharmaceutical companies use third parties to share data with collaborators, making data management a crucial area of focus.
The advancement in analytical techniques is also turning historical and real-time data available with pharmaceutical companies into valuable assets for predictive, diagnostic, prescriptive, and descriptive analytics. Moreover, these pharmaceutical analytics techniques are used on almost all types of medical data from patient records, medical imaging, and hospital data, to name a few.
Baixing AI Lab – Medical AI Research Platform
Baixing AI Lab is a US-based startup that creates AI Pharma Bx, a SaaS medical AI research platform. It combines proprietary data sourced from RWD, clinical data, and more with multimodal fusion, machine learning, and natural language processing (NLP).
With this integrated approach, the startup eliminates data silos in pharmaceutical research. AI Pharma Bx thus benefits pharmaceutical companies, doctors, researchers in basic medicine and drug mechanism, and other aspects of research.
Pomicell – In-Silico Modeling
Israeli startup Pomicell offers software tools for big data analytics in pharmaceutical research and development (R&D). The startup utilizes machine learning techniques to analyze and aid in the development of in-silico models.
The startup further builds customized drug development road-maps by augmenting the available data, analysis, and insights through matching and in-silico modeling.
3. Flexible Production
The pharma industry is exploring new ways of manufacturing due to the changing market dynamics, such as small batches for precision medicine. Single-use bioreactors are also gaining popularity as they reduce downtime and increase productivity. These bioreactors achieve this by eliminating complex steps like cleaning and validation between separate production stages.
New types of bioreactor systems and continuous manufacturing processes address the increasing focus on biopharmaceuticals. In addition to eliminating downtime, continuous manufacturing has low energy needs, achieves high productivity, and minimizes the amount of waste.
Cellexus – Single-Use Bioreactor
Cellexus is a Scottish startup that makes single-use airlift bioreactor systems. The startup's patented airlift technology uses bubbles instead of mechanical mixing to move cells and nutrients. The reactor comes with disposable bioreactor bags and an integrated heater.
The startup also offers precise regulation of biochemical parameters such as pH, dissolved oxygen, and temperature. The single-use system is used for a variety of cell cultures and fermentation and has achieved the growth of bacteria, yeast, microalgae, and bacteriophage amplification.
Secoya Technologies – Continuous Manufacturing Optimisation
Belgian startup Secoya Technologies offers novel technologies for production processes by tailoring the continuous manufacturing process equipment down to the ideal scale. Microstructured elements such as microfluidic droplet generators are used for optimizing manufacturing processes.
The startup's solutions find use in intensified chemical synthesis, crystallization, pervaporation, and micro-encapsulation.
4. Precision Medicine
Precision medicine comes from the idea of treating each patient as a unique individual. Advancements in omic and data analysis are providing new insights into how the human body responds to drugs. This knowledge, along with advanced manufacturing methods such as additive manufacturing, is making personalized medicine a reality.
Drug exposure models determine the pharmacokinetic and pharmacodynamic properties of drugs for arriving at the right dosage for drugs based on age, sex, comorbidities, and other clinical parameters.
ExactCure – Drug Exposure Model
ExactCure is a French pharmaceutical technology company that offers a software solution for simulating the effects of drugs in a patient's body based on personal characteristics. The startup utilizes population pharmacokinetics, as well as scientific literature data, for real-time prediction of efficacy and drug interaction.
ExactCure is developing drug-specific exposure models for drugs under investigation for the treatment of COVID-19.
GenomicDAO – Decentralized Science (DeSci) for Precision Medicine
GenomicDAO is a Singaporean decentralized autonomous organization (DAO) that develops an AI-powered DeSci platform for precision medicine. It allows members to contribute to active DAOs and receive proprietary tokens in return.
The startup then recruits participants to join genetic tests and the revenue from the test is shared back to DAO members. Using its drug response study, the startup provides gene-based drug recommendations for patients, advancing precision medicine.
5. Additive Manufacturing
The need for precision medicine is making pharmaceutical companies rethink the manufacturing process. A lot of research is underway for making advanced 3D printers that print tissues or cells. 3D printing in the pharmaceutical industry has applications in drug development, organ engineering, and regenerative medicine.
Additive manufacturing thus allows the development of age or physiology-dependent medical formulations, as well as precision pills. Bioprinters also aid in pushing innovation in bioinks, tissue engineering, and microfluidics.
FabRx – Printed Pill
FabRx is a UK-based startup that manufactures M3DIMAKER, a 3D printer for personalized pills. M3DIMAKER uses proprietary technology for direct powder extrusion. The single-step printing process uses a single screw extruder for the extrusion of powdered material.
The startup manufactures pills with properties such as sustained or delayed doses, and multidrug combination pills (polypills). The printer also enables small batch production for clinical trials and precise personalized dosage forms for individuals.
Frontier Bio – Tissue Bioprinter
The US-based startup Frontier Bio offers FLUX-1, a 3D bioprinter for making human tissues. The startup prints tissues as an effective way to test new pharmaceuticals. Frontier Bio addresses the limitations in making tissues have desirable structures and features with a good cell survival rate.
FLUX-1 employs the electro-hydrodynamic printing (EHDP) technique to deliver tissues with micro and nano-scale features, as well as higher cell survival rates.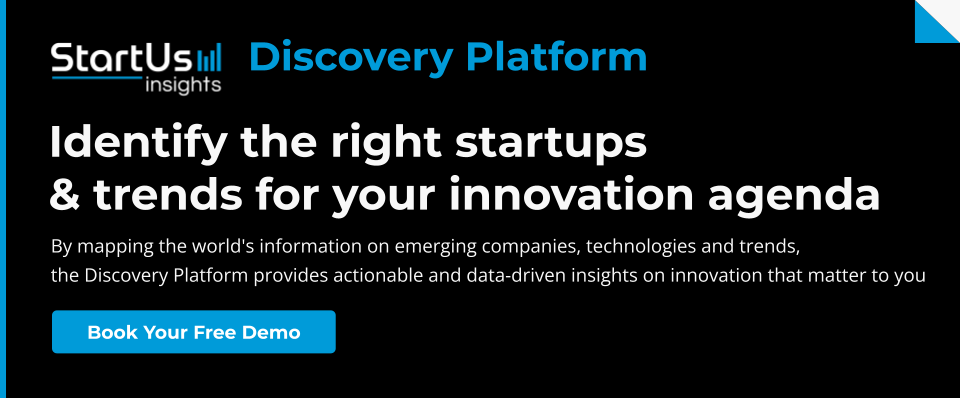 6. Blockchain
Blockchain technology is very significant for the pharmaceutical industry in every stage of the production and distribution of drugs. The stakeholders in the pharma industry are, in general, extremely secretive about their data due to the sensitive nature of the data.
Blockchain technology is also being explored to tackle the use of counterfeit medicines and substandard drugs that enter the pharmaceutical supply chain and kill thousands of patients every year. The digitalization of transactions makes blockchain a promising solution for tracking and securing the pharma transaction ecosystem.
PharmaTrace – Smart Contracts
PharmaTrace, a German startup offers a blockchain-based ecosystem to secure data and deploy smart contracts in the pharmaceutical industry. The ecosystem provides a secure system for sharing crucial and sensitive information between stakeholders in the pharmaceutical marketplace.
PharmaTrace leverages smart contracts implemented in Hyperledger Fabric to address this trust deficit. Moreover, the network provides precise control and security over the information being shared.
Veratrak – Pharma Supply Chain
Veratrak is a UK-based startup offering a blockchain-based document collaboration and workflow management platform for the pharmaceutical supply chain. The platform enables secure document sharing across supply chain partners with immutable audit logs.
Good automated manufacturing practice 5 (GAMP 5)-compliant cloud-based software further lets stakeholders, within and outside organizations, collaborate at various stages of the pharma supply chain.
7. Extended Reality (XR)
Mixed reality (MR), virtual reality (VR), and augmented reality (AR) is enabling visualizations like never before. Pharma startups are exploring the possibilities of extended reality technologies in pharmaceutical research and manufacturing spheres.
Extended reality tools enable data-rich and meaningful real-time location-agonistic interaction among research teams. Startups are making human augmentation in pharma a reality through extended reality wearables and tools.
Nanome – VR Collaboration Tool
Nanome, a US-based startup, offers VR collaboration tools for atomic, molecular, and protein visualization. The VR-based molecular visualization tool by Nanome imports molecular data from public databases or custom inputs. It lets researchers design proteins, iterate 3D structures, and also work in a virtual workspace with global team members.
Goodly Innovations – AR Suite
German startup Goodly Innovations develops OptiworX, an AR suite for pharma and biopharma manufacturing. The solution enables technicians and line operators to increase their productivity and efficiency by prompting various tasks in real-time, in an AR environment.
The startup's modular design allows for both standalone and connected systems, enabling two-way data flow. Additionally, this suite supports all shop floor processes like manufacturing, filling, primary packaging, and secondary packaging.
8. Real-World Data
Real-world data and real-world evidence (RWE) are transforming innovations in the pharmaceutical industry. RWD includes patient health status, treatment data, and health reports collected routinely. The pharmaceutical industry, owing to its research-intensive nature, has to make sure that the data they use is reliable and of real value.
The availability of real-world data enabled by the Internet of Things (IoT), sensors, and wearables is restructuring the way the pharma industry is functioning.
Graticule – Unstructured Patient Data
The US-based startup Graticule creates structured data sets from unstructured RWD sources. The startup offers data subscriptions and on-demand data collaborations to pharma clients for uncovering value in RWD. Graticule makes use of clinical notes, free text, and images, as well as non-clinical data for data completeness.
OncoChain – Oncological Data
Romanian startup OncoChain offers a research platform based on a de-identified real-world oncological patient database. The startup's solution enables the early detection and timely intervention for cancer detection, treatment, and cure. The OncoChain Analytics tool also provides real-world evidence insights for regulatory decision-making, clinical trial design, and multi-center studies.
9. Digital Therapeutics
Digital therapeutics deliver evidence-based therapeutic interventions using software to prevent, manage, or treat physical, mental, and behavioral conditions. These non-pharmacological, tech-driven solutions are either stand-alone or used along with medications, devices, or therapies. Digital therapeutics let each individual have greater control over their health and outcomes.
MINDCURE Health – Psychedelic Therapy
MINDCURE Health is a Canadian startup that offers iSTRYM, a software application to deliver data-driven support for psychedelic therapies. It collects real-world data before, during, and after therapy sessions and then applies AI to analyze the data.
The application also provides clinicians with data-proofed protocols and integration plans as well as real-time plans for personalized plans. This, in turn, improves clinical outcomes and patient convenience.
Dopavision – Eye Treatment
German startup Dopavision is making a smartphone-based digital therapeutic for myopia. The startup's solution aims to slow down the progression of myopia in the young population, especially children. The solution achieves the activation of dopamine, a neurotransmitter that plays an important role in eye growth regulation. Dopavision is currently undertaking pre-clinical trials of the digital therapeutic.
10. Curative Therapies
There is a paradigm shift happening in the area of treating illnesses from managing diseases to curing diseases altogether. Curative therapies such as cell and gene therapies are changing the way we deal with chronic diseases or difficult-to-treat conditions by eliminating the need for long-term treatments.
In gene therapy, genetic material is introduced into the cells to compensate for abnormal genes or to make a beneficial protein. Genetically engineered viruses are the most common vectors used for gene therapy.
Mogrify – Cell Therapy
Mogrify is a British startup that develops a proprietary direct cellular conversion platform to transmogrify any mature human cells. The platform technology identifies the transcription factors or small molecules required to convert any mature cell into any other mature cell type by analyzing sequencing data and regulatory networks.
Mogrify develops novel cell therapies for musculoskeletal, auto-immune, and cancer immunotherapy, as well as ocular and respiratory diseases.
Lacerta Therapeutics – Gene Therapy
The US-based Lacerta Therapeutics is a clinical-stage gene therapy startup working on cures for the central nervous system and lysosomal storage diseases. The startup's proprietary adeno-associated virus (AAV) vector technology platform develops novel AAV vectors with improved transduction, tissue- or cell subtype-selectivity, and immune escape profiles.
Lacerta further offers novel capsid variants and a scalable vector manufacturing platform with limited production components.
Discover all Pharma Technologies & Startups
The COVID-19 pandemic has forced companies to rethink many aspects of their business, including manufacturing and supply chains and the same holds true for pharma companies. The pandemic also highlights the need for improving the speed and accuracy of finding and mass-producing novel drugs, treatment methods, and vaccines. Further, companies working at the intersection of life sciences research, biotech, and pharma are discovering new properties of cells and molecules to deliver potentially game-changing solutions for the industry.
The emerging trends in the pharmaceutical industry & startups outlined in this report only scratch the surface of trends that we identified during our in-depth research. Among others, low-volume production, nanotechnology, and mRNA vaccine technologies will transform the sector as we know it today. Identifying new opportunities and emerging technologies to implement into your business early on goes a long way in gaining a competitive advantage. Get in touch to easily and exhaustively scout relevant technologies & startups that matter to you.
Looking for emerging pharma startups & technologies?
✕