Open innovation is a rapidly growing trend that many organizations are looking to capitalize on. By utilizing open innovation strategies, businesses gain access to valuable resources outside their own network and foster more collaborative relationships. Despite the potential benefits of open innovation, it is not without challenges. In this article, we will explore four of the most common open innovation challenges, and how to address them effectively.
Read this next: How 5 Leading Companies Implement Open Innovation
Strategic Open Innovation Challenges
One of the most common open innovation challenges is the lack of capacity and resources. As firms look to engage with outside partners, they may find themselves unprepared or unable to analyze and process the information they obtain. To overcome this challenge, companies must ensure they have the right personnel and resources in place to handle the influx of data.
Another strategic challenge of open innovation is the selection of the right types of partners. Companies must determine which external sources are best suited to collaborate on their goals. This includes existing networks, customers, and completely external units. Finding the right audience can help you access information you wouldn't normally have access to.
Organizational structure can also be a challenge to innovation. Having a clear and defined organizational structure helps to ensure everyone is on the same page when it comes to open innovation initiatives. Additionally, companies should be aware of potential hazards to the success of their open innovation initiatives such as poor employee and customer engagement, knowledge loss, and a lack of commitment to innovation management.
Finally, companies must plan for potential changes in the process. Open innovation processes and agreements need to be designed with flexibility from the start. This allows for the process to be adjusted as needed and prevents companies from being locked into an agreement that doesn't work for them.
How to Optimize Open Innovation Strategies?
Evaluate the Right Idea Sources
When it comes to evaluating ideas for open innovation, you need to take the time to find the best-suited approach for doing so. A mistake many companies make is rejecting potentially innovative ideas in favor of less innovative ones. To avoid this, you should consider applying a multi-method approach when evaluating ideas. This can involve combining a web-based experiment with surveys and an independent expert jury.
Identify Potential Partners
Identifying Potential Partners is a crucial step in the open innovation process. Companies need to find the right partners who will bring their unique perspectives and ideas to the table. The first step to finding potential partners is to assess the strengths and weaknesses of your organization. By understanding what you can bring to the table, you will be able to identify potential partners that offer complementary skills and knowledge.
In addition, it is important to look for startups in accelerator programs. They offer a high degree of technical knowledge and commercial experience, making them invaluable resources. With the right partners in place, companies can look forward to not only collaboration but also the opportunity to learn and offer groundbreaking perspectives.
Also read: Types of Open Innovation Challenges
Operational Challenges for Open Innovation
Building an effective process for gathering, evaluating, and implementing ideas can often be tricky. This process should ensure that all ideas are given a fair chance and that the right resources and teams are allocated to each project.
The process should also include a clear timeline and an efficient feedback loop, so teams can quickly understand what works and what doesn't. Additionally, it is important to have a system that allows for easy collaboration between different departments, so ideas can be refined and developed as they move through the pipeline.
Tips to Avoid Operational Challenges
Prioritize Ideas
Set goals — Before idea prioritization, it is important to set goals for the ideation process. You should clearly define these goals and decide how to measure them so that you can use them as a guide to ensure that you are choosing the best ideas.
Define criteria — The criteria you choose should reflect the goals you have set for the open innovation program.
Evaluate & prioritize new ideas — Once you have established your criteria, you can use them to evaluate and prioritize your ideas. Start by looking at each idea separately and assessing it against your criteria. This will help you to narrow down the list of potential ideas and identify which ones are the most promising.
Test & execute — After you have identified the most promising ideas, it is important to test them out before committing resources to develop them. This will give you an opportunity to see how well they are received and if any modifications need to be made.
Related: Idea Generation 101: Find Innovations Fast
Develop a Full Proof Idea Implementation Process
Companies need to have a well-defined structure to ensure that ideas are gathered, monitored, and effectively acted upon. This structure should include both processes and people responsible for accepting and acting on solicited and unsolicited submissions.
Additionally, it is important to establish a system for monitoring the performance of the program. Automating this process helps to create great efficiencies, as it eliminates manual review.
To ensure that the program runs smoothly, companies need to carefully plan and execute the integration of external partners into their innovation process. By doing so, they can successfully implement the ideas generated through open innovation.
Manage Data Effectively
Open innovation often involves collecting and sharing large amounts of data. You must manage this data effectively to ensure privacy and security. An organization needs to define policies and processes for collecting, storing, and sharing data, as well as clearly communicate these policies to all stakeholders. Furthermore, it is important to make use of digital tools to monitor the data, so that you can quickly identify and address any suspicious activity.
Read this next: How to Win at Open Innovation as a B2B Company
Legal Challenges for Open Innovation
To ensure the success of open innovation initiatives, you must address three key legal challenges. First and foremost is the issue of intellectual property rights (IPR) and other legal risks. Companies need to understand the legal implications of any open innovation project and take the necessary steps to protect their interests.
3 Key Aspects of Legal Challenges
Understand Intellectual Property Rights
Intellectual property rights (IPR) are a set of legal rights granted to the creator or inventor of a product or service. These rights enable them to fully utilize their invention or creation for a certain period.
It is important to understand how intellectual property rights work and how they are created. By gaining insights into the different types of intellectual property rights, businesses can strike the right balance between the interests of innovators and the wider public interest, creating an environment where creativity and innovation can flourish.
Read this next: Your Guide to Balancing Open Innovation with Intellectual Property Rights
Negotiate Agreements & Contracts Properly
Negotiating agreements and contracts is an important part of open innovation. Without a clear understanding of the legal implications of any given context, it can be difficult to ensure that both parties are protected and that intellectual property rights are secure.
When utilizing open innovation, there are potential risks to consider such as the possibility of revealing information not intended for sharing. The hosting organization could lose its competitive advantage as a consequence of revealing intellectual property.
To manage the various forms of contracts, it is necessary to consider the terms of agreements — IPR conditions, statements, and clauses related to patents, privacy policy, confidentiality, and company loyalty.
The value of the open contract-based challenges lies in its ability to promote collective innovation by supporting IPR management and knowledge negotiation among potentially many companies and/or individuals.
Ensure Compliance with Regulations
When it comes to open innovation, it is important to ensure compliance with the various regulations that may apply in the countries or regions you are operating in. This includes both economic and social regulations, as well as intellectual property rights (IPR).
If you are unsure of how the legal matters are or how should you handle them, you can always turn to your vendor or legal department for more information. Overlooking legal aspects can cause unnecessary hurdles if not thought through already at the beginning of an open innovation project.
Cultural Challenges for Open Innovation
It is also important to consider the cultural aspects of open innovation. People may have a fixed, "this is how things are done here"-mindset. This is problematic because they would not be in favor of executing ideas that are coming from outside of the organization. Making sure everyone is on board with open innovation is essential for an open innovation program to succeed.
Cultural challenges of open innovation are often the most difficult to overcome. The most common cultural challenges include:
Resistance to change
Lack of managerial support
Weak innovation culture
Difficulty in transitioning from one phase to the next
You might be interested in: Build a Culture of Innovation in Your Organization
You must create an environment that encourages collaboration between internal and external stakeholders. This means fostering an open and communicative environment, with clearly defined goals and objectives. Additionally, by offering rewards and recognition, you can create an environment that encourages creativity and collaboration.
Overcome Resistance to Change
As an innovation manager, the responsibility comes on your shoulder to overcome internal resistance to innovation. There are different sources of resistance that you need to tackle:
Developing something new could be seen as criticism regarding the current situation and cause resistance.
The desire for stability and adherence to the status quo can also lead to resistance.
The resistance of ignorance — not being aware of why the company needs open innovation.
Organizational resistance can complicate the collaboration between individuals.
Effective communication and persuasion are essential to tackle the resistance to change effectively. You should also provide adequate training and resources to help employees understand the importance of open innovation and how to implement it.
Learn more about this: Effective Communication: The Key to Successful Innovation
Minimize Challenges of Open Innovation with StartUs Insights
We have just discussed the most common open innovation challenges — but, don't let these demotivate you. We have provided you with some tips and tricks to tackle these challenges. Now, let's explore how our product can help you eliminate most of the operational and structural challenges.
Planning and managing open innovation programs, especially startup challenges, is no child's play. It requires a lot of work, including but not limited to the following:
Designing the challenge
Launching and promoting the challenge
Keeping track of the application process
Answering the queries of the participants
Screening the applications
Don't forget to read: Benefits of Virtual Startup Programs
But, don't worry, we are here to make your lives easier! Let's explore how.
We, at StartUs Insights, manage & promote your innovation program in two ways:
Direct Outreach — Using the StartUs Insights Discovery Platform, our expert analysts shortlist more than 2 000 relevant startups catering to your criteria from a huge database of 2 093 000+ companies and directly reach out to them with your offer and convince them to apply.
Promotional Activities — Our marketing ninjas produce informative SEO-driven articles promoting the program to be published in our blog and super-engaging social media copies that are posted across our social media channels.
Our data-driven promotion, direct outreach, and storytelling reach hundreds of thousands of startups and scaleups, making sure you attract the most relevant ones. This is why 500+ companies trust us with their startup programs!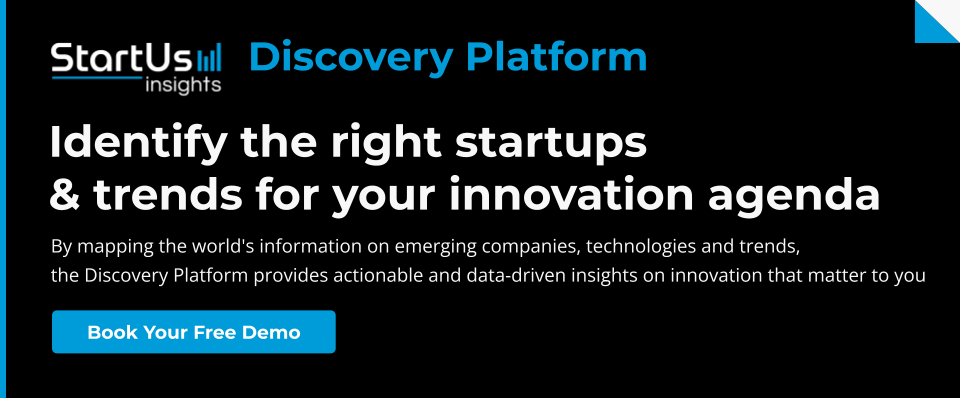 What else do we have in store for you?
Apart from the core services mentioned above, we also offer:
Setup of Conversion-Optimized Landing Page — Don't have the time or bandwidth to create the web page for your program? Taking maximum advantage of our experience with SEO-optimized content, we set up the landing page of your startup program to attract more applicants.
Applicant Pre-screening — Received more applicants than you can handle (because we did an amazing job, *insert wink*)? We got you! Our in-house trained analysts will analyze startup data to pre-screen the applicants with the best potential.
Read this next: Accelerate Open Innovation with Data-driven Startup Programs
Why Should You Partner with StartUs Insights?
Receive High-Quality Applications — Your message needs to travel to thousands so that you have plenty of options to choose the best startups from. Our conversion channels reach hundreds of thousands to make sure the most relevant ones convert to your program.
Optimize the Program Effort — We offer you our experience and knowledge gathered while transforming the largest European startup and innovation community into a global network. This results in a lean and conversion-optimized setup for your startup program.
Build Long-Term Awareness — We understand that with every program cohort, it becomes more and more challenging to reach relevant startups. We make sure to increase the value of our network and reach every day so that you can benefit from it in the long term.
Looking for startup-driven innovation intelligence?
✕