In today's competitive business environment, innovation managers are always looking for up-to-date and relevant information to meet their business goals. Companies employ various approaches to gathering this data, and increasingly leverage external sources, including innovation and startup scouting platforms, to achieve their innovation goals.
Often, startups are the pioneers of new technologies and solutions that disrupt existing markets. Sometimes, they even create new markets altogether (Airbnb, for example). To access innovation faster and more effectively, businesses already collaborate with startups rather than developing them in-house. The upside to this approach of startup scouting includes identifying the right solutions to increase revenue, reduce costs, improve customer satisfaction, and enter new markets.
Role of Startup Scouting in Unlocking Innovation Potential
Startup scouting allows organizations to identify, evaluate, and select startups that support their innovation objectives through partnerships, acquisitions, or commercial agreements. Such new sources of innovation ensure that businesses stay ahead of the technology curve and keep up with the latest trends.
For example, Amazon acquired Kiva Systems to leverage its advanced robotic systems for warehouse automation. This significantly improved Amazon's order fulfillment efficiency and speed. Through startup scouting, even the biggest businesses tap into innovative ideas early on.
Also read: Startup Scouting: A Comprehensive List of FAQs
Startup Scouting Accelerates Your Innovation Goals & KPIs
Access New Technologies & Ideas Quickly
With the help of startup scouting, businesses identify startups to gain access to emerging and disruptive technologies. This allows them to learn about new products and services before they hit mainstream markets. Additionally, scouting startups gives them the opportunity to invest in companies with high potential for growth.
For example, Intel acquired Mobileye, a company that specializes in the development of advanced driver-assistance systems (ADAS) and autonomous driving technology. Mobileye offers automotive-grade computer vision and has a strong track record of collaboration with automakers and suppliers. This enables Intel to strengthen its capabilities in the field of self-driving cars and gain a competitive edge over its rivals.
You might be interested in: How Data-Driven Startup Scouting Gives You A Competitive Advantage
Implement Strategic Decision Making
Valuable insights into new and emerging markets and technologies allow businesses to make well-informed short-term and long-term strategic decisions. By analyzing the activities in startup ecosystems, innovation and product managers keep tabs on new technologies and trends. Further, startup scouting allows organizations to evaluate the strengths and weaknesses of different startups to identify potential collaboration or investment opportunities to achieve their innovation goals.
For example, Nestlé uses startup scouting to find emerging trends and technologies in the food industry. It actively scouts for startups and scale-ups that support its innovation agenda in various domains, such as plant-based foods, personalized nutrition, and sustainability. It acquired Persona Nutrition, a startup that uses algorithms designed with the help of doctors and nutritionists to customize daily supplement regimes. With startup scouting, Nestlé enhances its product development and collaborates with technology providers or developers.
You might be interested in: Discover the #1 Startup Scouting Platform
Boost Creativity in Your Organization
Startups are usually more creative, agile, and novel in their approach to creating innovative solutions. By scouting for and analyzing lots of relevant startups quickly, your organization gets a boost of inspiration, along with some clarity. This creativity flows due to the new methods, business models, materials, or processes that startups deploy. By understanding the scope of solutions available in your market, you can identify new opportunities for expansion or diversification and more.
Unilever utilizes startup scouting as part of its open innovation strategy to find new solutions and technologies that enhance creativity to improve its products and processes. For this, its Foundry platform connects innovative startups and scaleups with Unilever. This way, it invites innovative companies to pitch their solutions for specific business challenges or opportunities that Unilever faces. Further, the selected startups get to collaborate with Unilever on pilot projects and mentorship programs.
Optimize High-Quality Talent Acquisition
Talented individuals are drawn to startups for their disruptive nature and more flexible work culture. All these and more allow startups to remain agile and achieve their innovation goals. Collaborating with startups gives businesses access to talented and passionate entrepreneurs who have the expertise, vision, and problem-solving skills to create value for their customers. By working with startups, businesses also learn from their culture, mindset, and best practices to create a more agile environment and efficiently address their business challenges.
For instance, Coca-Cola scouts for startups in various domains such as sustainability, health and wellness, eCommerce, and digital marketing. Its Bridge Program connects startups with Coca-Cola's business units and bottlers. The company acquires talent and also provides mentoring, funding, and access to Coca-Cola's global network of customers and partners.
Also read: How to Effectively Track Startups to Pursue Innovation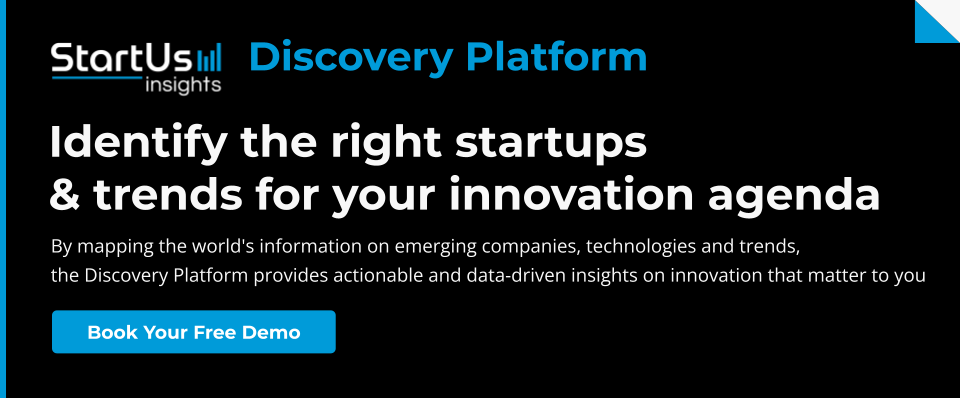 Supercharge Your Innovation Goals with the StartUs Insights Discovery Platform
As artificial intelligence (AI) continues to progress, data is playing a larger role in the innovation process. At StartUs Insights, we develop Discovery Platform, a powerful startup database that covers more than 3 million startups & scaleups globally. Among other things, it enables Innovation Scouting. This helps companies like yours to keep a tab on the market — what's new, what's changing, what has the maximum scope, and much more. Some of our 1000+ corporate partners include Samsung, Nestlé, Lufthansa Cargo, KNAPP AG, Magna, CAF, Siemens Gamesa, Iberdrola, CARGOTECH, Bayer's G4A, and Altair.
So, what does this mean for you?
Discover Opportunities Before Others — Our proprietary technology enables you to discover relevant startups, technologies, and business cases early on. Hence, you can empower your business units with actionable, data-driven insights.
Detect Pivotal Changes — We continuously monitor the startup ecosystem to detect critical changes.
Map the World of Tomorrow — Our advanced data mapping process provides you with a bird's-eye view of the emerging technology landscape. Use our comprehensive Innovation Maps for effective decision-making.
That is not all. Our Discovery Platform also offers you Trend Intelligence that gives you access to 29 500+ trends and technologies. This allows you to:
Anticipate Future Trends & Business Opportunities — we deploy advanced analytics to hundreds of thousands of trusted sources on startups, emerging technologies, and industry trends to provide you with accurate insights into trends impacting your industry in a short amount of time.
Stay Up to Date, Always! — Monitoring the business ecosystem continuously ensures the identification of emerging technologies, trends, and opportunities. Our service provides you with regular updates on recent developments through Trend Intelligence Reports, Innovation Maps, and Real-time Databases.
Startup scouting is a key component of any innovation strategy. It lets you discover relevant startups and scaleups quickly and exhaustively. So, are you ready to begin your startup scouting journey to achieve your innovation goals and KPIs?
Ready to begin your startup scouting project?
✕