In any industry, technology leaders are under immense pressure to stay competitive. With the ever-increasing number of innovations that develop daily, emerging technologies present new threats and opportunities on a regular basis. Up-and-coming startups have everything to gain and approach innovation with a high-risk appetite. Technology leaders, on the other hand, need to balance innovation with growth. In this article, let's look at how you can innovate your way into technology leadership.
Innovation Opportunities for Technology Leaders
Technology leaders are great at identifying and capitalizing on innovation opportunities early. Today, open innovation allows them to be more effective and efficient at identifying and pursuing innovations. Here are a few ways technology leaders maintain their leadership:
Identifying & Solving Problems
Technology leaders often focus on identifying problems that need to be solved and then developing innovative solutions to those problems. This can involve using cutting-edge technology, developing new products or services, or implementing creative business models.
Open innovation allows you to identify innovative solutions by tapping into the collective knowledge of the global innovation ecosystem. Seeking out ideas externally gives you access to a wider range of perspectives and expertise. In turn, this allows you to identify more opportunities and develop more effective solutions.
Collaborating with Startups, Scaleups, and Tech Companies
Innovation is often the result of collaboration, so technology leaders often work closely with startups and other companies to generate new ideas and bring them to fruition. This can include partnering with startups and emerging companies, working with academic institutions, or engaging with customers and users to enable customer-centric innovation.
Open innovation facilitates collaboration by enabling companies to easily connect and engage with external partners and stakeholders. If you are looking to engage startups to boost your open innovation, you have a range of approaches to choose from. Some of these include running startup programs, partnering with startups, or scouting startups that address a specific challenge.
Investing in Research & Development (R&D)
Many technology leaders recognize the importance of investing in research and development in order to drive innovation. This is why they spend money on setting up R&D teams or labs, funding corporate accelerators, or acquiring startups that are working on cutting-edge technologies.
Investing in R&D carries considerable risks for companies as it is an expensive affair with low chances of disruptive innovation. Open innovation allows you to derisk innovation by betting on startups instead. Not only does this bring a more diverse set of expertise and perspectives, but it also provides a better return on investment (ROI).
Encouraging Experimentation
Innovation often involves taking risks and trying new things, so technology leaders encourage their teams to experiment and explore new ideas. This can include providing funding for pilot projects, supporting intrapreneurship, and cultivating a culture that rewards creativity and innovation.
Engaging with external partners through open innovation allows you to easily conduct pilot projects and test new ideas without incurring high costs or risks. Moreover, a culture of open innovation promotes cross-functional teamwork. This fosters a culture of experimentation and risk-taking, which is essential for driving innovation and growth.
Monitoring Emerging Trends
Finally, technology leaders need to stay ahead of trends in their industry in order to identify new opportunities for innovation. To do so, they monitor technology developments, often using SaaS platforms, and rely on Trend Intelligence to learn about the latest innovations.
Open innovation provides deep insights into the technology landscape of any industry. Trend intelligence allows you to identify disruptive trends before your competition does. For example, the Artificial Intelligence and Big Data-powered StartUs Insights Discovery Platform gives you deep insights into current and emerging technology trends by analyzing firmographic data of over 3 million startups and scaleups globally.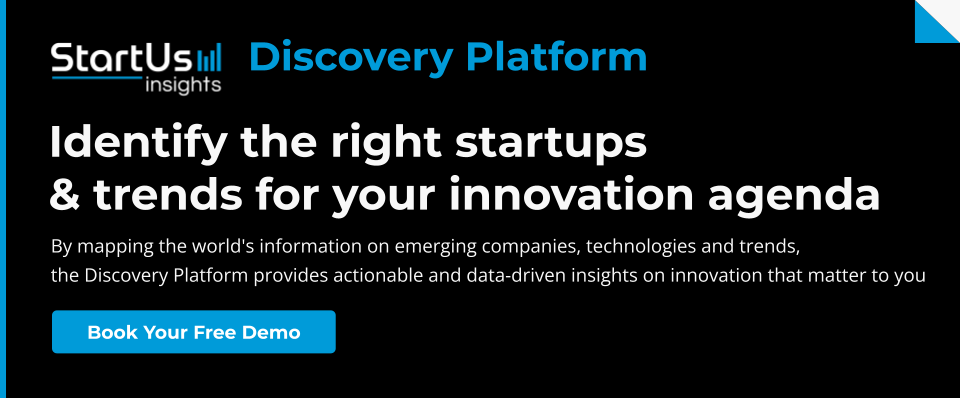 Bolster Technology Leadership with the StartUs Insights Discovery Platform
The journey from innovation opportunities to creating a competitive advantage requires a method. Pursuing the following objectives allow you to innovate like technology leaders:
Generate New Ideas
There are two major ways open innovation enables you to identify and generate new ideas — technology scouting and trend intelligence. Data-driven technology scouting is the process of identifying and evaluating new technologies that have the potential to solve business problems or identify new opportunities. It involves actively searching for and evaluating emerging technologies, as well as keeping up to date with the latest developments in specific technology areas.
If you're looking to understand the impact of emerging technologies, data-driven trend intelligence is the other method. It involves collecting and analyzing data about emerging trends in a specific industry or market. It then identifies patterns and changes in technological developments and uses this information to inform business strategy and decision-making.
The Discovery Platform simplifies both technology scouting and trend intelligence. It gives you actionable insights into over 23 500 technology trends across all industries. This means you can be sure not to miss any technology trend, however niche or hidden. This way, you get an exhaustive overview of new ideas and opportunities for your business. The Discovery Platform also sheds light on how different technology trends are related as well as which startups are driving major trends.
Read this report: Identify Innovations Early with the Best Trend Intelligence Platform
Scout Highly Relevant Startups
Startup scouting is the process of identifying and evaluating startups that have the potential to solve business problems or identify opportunities for you to grow. It allows you to generate new ideas by identifying and assessing startups that are working on innovative products, services, or technologies. You can then evaluate if and how to integrate these innovations into the company's operations to create added value.
Startup activity is increasing around the world, with more and more entrepreneurs starting new businesses on a daily basis. This growth in startup activity means there are lots of new ideas and opportunities for businesses to explore and take advantage of. However, the increased startup activity makes it impossible to manually assess all startups in your industry. This is where data-driven startup scouting comes in. The SaaS-based approach allows you to identify and evaluate all of these startups, providing an exhaustive overview of the startup landscape.
The AI and Big Data-powered Discovery Platform is a great tool for startup scouting. It provides high recall and precision, meaning you get an exhaustive list of highly relevant startups that precisely match your criteria. Our platform constantly adds new startups and scaleups, providing you with the most up-to-date overview of the global startup ecosystem. With the Discovery Platform, you receive full control of the startup scouting process including monitoring relevant startups.
Read this report: Discover the #1 Startup Scouting Platform
Speed up Product Development
Identifying promising startups and technologies is only the beginning of your successful open innovation journey. Next, you need to figure out how to incorporate these into your innovation pipeline. Companies often don't innovate in product development because of limited resources, aversion to risk, or the pressure to achieve a short time-to-market. By linking innovation with product development, you can address these challenges.
Technology scouting allows you to check how your product development compares with industry standards. With startup scouting, you can identify potential startup partners that have solutions to your product development bottlenecks. Trend intelligence allows you to identify opportunities for new products with both existing and emerging technologies. This also improves technology feasibility assessment, enhancing the outcomes of corporate-startup partnerships.
Read this report: How to Speed Up Product Development with Innovation
Enable Customer-Centric Innovation
Companies routinely use customer feedback to innovate. For B2B companies, customers are generally other companies, startups, and scaleups. Consequently, startup scouting provides insights into the capabilities of a B2B company's potential customers. It also serves as a great tool for generating new leads, precisely matching startups to your offerings.
Even for B2C companies, open innovation supports customer-centric innovation in a few ways. For example, it allows you to identify and add new value propositions to your products and services. It also provides detailed insights into what works in your industry, and what doesn't, as well as spots unmet needs or efficiency improvements.
Read this report: Serve Customers Better with Customer-based Innovation
Begin Your Journey to Technology Leadership!
If you're a technology leader, receive the insights you need to maintain this position. If you aren't a technology leader yet, identifying innovations early is your best bet to become one. Regardless of which position you find yourself in, we at StartUs Insights accelerate your technology leadership journey. Some of our products & services include:
Discovery Platform: Use our AI and Big Data-powered Discovery Platform to take charge of startup scouting. Search iteratively amongst over 3 million startups and scaleups globally, use keyword recommendations, and identify similar companies based on the ones you already know. It comes with a trend intelligence feature too.
Innovation Scouting: By combining the Discovery Platform with our team of subject matter experts, we deliver solutions that precisely match your requirements. Looking for either emerging startups or hot technology trends? We have got you covered.
Startup Programs: Looking to host a startup call to attract solutions for a specific business challenge? We identify and convert highly relevant startups that will make your open innovation initiative a success. Have a startup call running but unable to find quality participants? We improve conversion with our data-driven approach and extensive experience running over 500+ startup calls.
Innovation is the fuel that maintains technology leadership. With the Discovery Platform, you never run out of it.
Looking for emerging technologies to give you the competitive edge?
✕