In today's innovation landscape, dozens of new companies emerge every day. These up-and-coming startups bring innovative ideas and solutions to the market — often tackling large incumbents with a technology approach and a fresh perspective on the existing problems.
The role of startups in promoting emerging technologies goes back a long way. For example, in the early 1900s, Alexander Graham Bell designed and built the first telephone while he was working at his father's company, which later became Bell Telephone. Similarly, Thomas Edison developed the first light bulb and Nikola Tesla invented the alternating current (AC) electricity system.
Agile entrepreneurs, who have the passion and are willing to take risks, make these technological breakthroughs possible.
Startups are dynamic and have the ability to think and act differently than established businesses. They also operate leaner and can respond to market opportunities faster, making them ideal partners for larger firms seeking external partners for innovation.
A majority of large corporations find that working with startups is one of the most effective strategies for developing innovative products and services. So, identifying and engaging these startups early is becoming increasingly important for enterprises interested in gaining a competitive advantage.
4 Key Benefits of Engaging Startups & Scaleups
Digital transformation has led to an increase in partnerships between innovative startups and established companies. Many large corporations are launching innovation labs or open innovation programs to source emerging startups and scaleups that bring fresh ideas and technology solutions into the company. Here's why engaging startups take your innovation strategy from good to great:
1. Identify Market Trends
As you attract startups from your industry, you will be able to stay up-to-date with the latest technologies and trends. Startups are often the first to leverage new trends — use this to your advantage. By tracking these startups, you stay ahead of the game when it comes to innovative tools, technologies, and products. You can also track which trends are going out of fashion and avoid implementing them in your business. This saves time and money by not investing in outdated technologies.
Also read: How Data-Driven Trend Intelligence Future-Proofs Your Business
2. Gauge the Market Demand for Your Product/Service
As you engage startups, you will also get a better idea of the market demand for your product or service. Startups are often the first ones to test new products and services. See how the market responds to them — monitor how successful they are and see what changes they make along the way. Use this information to estimate market demand for your product or service and make better decisions about pricing, marketing, and other strategic issues.
3. Don't Lag Behind
Even if you are working at the best company in your industry, you need to know everything there is to know about your market. Tracking startups helps you understand the new products and services offered, who the main players are, details about the target group, and the pricing strategy, among other things. This way, you can stay up to date with the latest trends. Moreover, it is a good practice to track these emerging companies' successes and failures. Then, you will be able to utilize this information to learn from their mistakes and successes and apply it to your business.
4. Connect with Potential Partners
Startups are eager to build corporate connections, be it for performing proof of concepts or pilot projects. By staying in touch with the startups in your industry, you make business connections with entrepreneurs who may become your partner down the line. All the more, many startups look for partnerships with established businesses, use and this as an opportunity to engage with them.
Read this next: Accelerate Open Innovation with Data-driven Startup Programs
What is the Best Method for Engaging Startups?
The process of identifying and engaging startups can be time-consuming, especially if you are keeping monitoring several startups in different industries at once. Some of the old-fashioned methods innovation managers use to track startups include:
Setting up Google Alerts — Google Alerts allows you to track topics of your interest. Setting up alerts to monitor specific keywords, phrases, or people enables you to track news and developments in the startup ecosystem. But, it also provides a lot of irrelevant results.
Leveraging & Scaling Company's Network — Many conferences and events invite speakers from leading startups to share insights and lessons learned. Arranging for and attending these events can be a good way to keep your eyes on interesting new ventures. Again, this is resource-intensive and often proves to be not worth the investment.
Checking out Company Websites — New ventures in your industry are great sources of inspiration. They provide valuable insights into how they tackle problems, what they do differently, and how they position themselves in the market. You can keep yourself informed by regularly checking out these company websites. However, this is a manual task that takes too much time — which could have been utilized for something more productive or urgent.
So, there are plenty of ways to look out for new startups. But, it all comes down to one simple question — What's the most viable and efficient way to proactively engage startups??
Leverage Open Innovation to Identify & Engage the Right Startups for You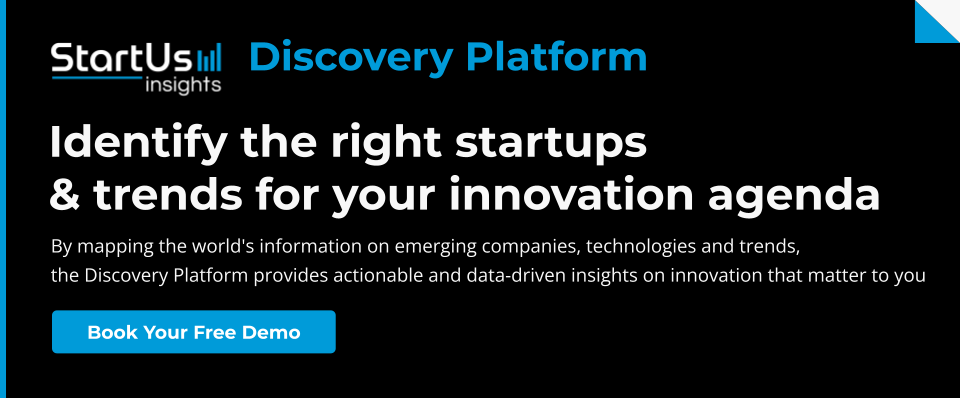 Why settle for less when you can get a high number of relevant companies in a few days? This is where our Startup Program Service comes in. To give you a better picture, let's now dive into one of our case studies where we helped a global renewables leader find excellent candidates for one of their Startup Programs.
Iberdrola is a leading global renewable energy company that is committed to energy transition with a sustainable business model based on renewables, smart grids, large-scale energy storage, and digital transformation to offer the most advanced products and services.
The renewables leader has been collaborating with us for more than 4 years now. We have successfully helped them run 20+ startup challenges, 7 of them in 2022 alone (so far)!
Curious what is Iberdrola's feedback on our service?
"Through collaborating with StartUs Insights, we discovered new startups for pilot projects and are able to find & test new ideas that improve and generate new business opportunities."

— Oscar Cantalego, Startup Program Manager, Iberdrola
Let's now explore in detail one of our most successful collaborations with Iberdrola to give you a holistic picture of how we can engage startups for you.
Don't forget to read: 5 Top Lessons from Iberdrola's Open Innovation Challenges
Iberdrola Sustainable Agriculture & Livestock Startup Program
Earlier this year, Iberdrola leveraged our Startup Program Service to promote their open innovation program — Sustainable Agriculture & Livestock.
What did Iberdrola tell us about its program?
Through this international startup program, Iberdrola sought innovative solutions that enable the decarbonization and electrification of the agricultural and livestock sector, promoting the dissemination of renewable energies in rural areas and the electrification of the countryside. In addition, the following details were also provided:
Timeline & structure of the program — application and evaluation period, the commencement of the pilot project, etc.
Evaluation criteria for the applications — degree of electrification, the extent of emission reduction, maturity and scalability of the solution, and so on.
Top benefits of participation — collaboration and test agreement offering technical support, high technology sites, expert knowledge, and shared work areas, among others.
How did we help Iberdrola get high-quality applications?
Leveraging our proprietary AI-powered Discovery Platform, covering 3 million startups & scaleups globally, and the expert knowledge of our team, we delivered 68 unique applications from 30 countries to Iberdrola.
We made this happen in two ways:
Direct Outreach — Using the StartUs Insights Discovery Platform, our expert analyst shortlisted 2 000 relevant startups catering to Iberdrola's criteria from our exhaustive database of 3+ million emerging companies. We then directly reached out to them with Iberdrola's offer and convinced them to apply using a conversion-optimized approach.
Promotional Activities — Our marketing experts produced an informative SEO-driven article promoting the program to be published in our blog and created engaging social media copies that were posted across our social media channels.
Check out how we promoted Iberdrola's startup program in our blog: Renewables Leader Iberdrola Invites You To Scale Your Sustainable Agri & Livestock Business With ASAJA & WOLARIA Open Innovation
Ready to Step Up Your Open Innovation Program?
As you can see from the case study, our data-driven promotion, direct outreach, and storytelling reach hundreds of thousands of startups and scaleups, making sure you attract the most relevant ones. This is why 1 000+ corporate partners already trust us to identify, attract, and engage startups for them!
Additional to the services mentioned in the Iberdrola Case Study, we also offer:
Setup of a Conversion-Optimized Landing Page: Don't have the time or bandwidth to create the web page for your program? Taking maximum advantage of our experience with SEO-optimized content, we set up the landing page of your startup program to attract more relevant applicants.
Applicant Pre-screening: Received more applicants than you can handle (because we did an amazing job, *insert wink*)? We got you! Our in-house trained analysts will analyze startup data to pre-screen the applicants with the best potential.
So, now, let's quickly sum up what's in for you when you partner with StartUs Insights:
Receive High-Quality Applications — Your message needs to travel to thousands so that you have plenty of options to choose the best startups from. Our conversion channels reach hundreds of thousands to make sure the most relevant ones convert to your program.
Optimize the Program Effort — We offer you our experience and knowledge gathered while transforming the largest European startup and innovation community into a global network. This results in a lean and conversion-optimized setup for your startup program.
Build Long-Term Awareness — We understand that with every program cohort, it becomes more and more challenging to reach relevant startups. We make sure to increase the value of our network and reach every day so that you can benefit from it in the long term.
So, for your next Open Innovation Program, work with us to discover the best startups and scaleups to collaborate with!
Ready to work with us to boost your startup program?
✕