Global Startup Heat Map highlights 10 Virtual Reality Startups to Watch in 2023
Through the Big Data & Artificial Intelligence (AI)-powered StartUs Insights Discovery Platform, which covers over 3 790 000+ startups & scaleups globally, we identified 1390 virtual reality (VR) startups. The Global Startup Heat Map below highlights the 10 virtual reality startups you should watch in 2023 as well as the geo-distribution of all VR startups & scaleups we analyzed for this research. Based on the heat map, we see high startup activity in Western Europe and the USA, followed by India. These VR startups work on solutions ranging from immersive gaming and advanced patient care to virtual shopping and virtual reality concerts.
Interested to explore all 1300+ VR startups?
As the world's largest resource for data on emerging companies, the SaaS platform enables you to identify relevant technologies and industry trends quickly & exhaustively. Based on the data from the platform, the Top 5 VR Startup Hubs are in London, New York City, Singapore, Bangalore, & Mumbai. The 10 hand-picked startups highlighted in this report are chosen from all over the world and develop solutions for immersive gaming, advanced patient care, virtual shopping, and virtual reality concerts.
10 Virtual Reality Startups to Watch in 2023
VR is revolutionizing various industries by providing immersive and interactive experiences. As we stand in 2023, VR will continue to make significant strides. Among the top trends in the VR industry are immersive gaming, training modules, and immersive classrooms. Virtual reality solutions advance patient care in the healthcare industry while the real estate sector is leveraging VR to deliver immersive apartment tours. At the same time, the retail industry utilizes VR to provide virtual shopping experiences. VR-based hotel bookings are making travel more convenient. Further, virtual reality concerts and VR prototyping plug-ins make a significant impact on their respective industries.
Curvature Games offers Immersive Gaming
Curvature Games is a German startup that creates immersive games based on VR locomotion. The startup uses redirected walking, a locomotion method in VR, that allows gamers to explore virtual environments while physically walking in a smaller space. Curvature Games uses this technology to design games and projects for location-based entertainment, such as escape rooms, amusement parks, and historical tours. This allows Curvature Games to provide engaging and interactive VR content that attracts and retains gamers.
Humulo develops VR Training Modules
US-based startup Humulo makes custom VR training modules for businesses. The startup leverages VR to create immersive and interactive simulations that provide virtual quizzes and practical sessions for employees. The accompanying hardware supports hand-tracking technology, negating the need for controllers. Humolo's training modules also reinforce procedurally correct muscle memory, reducing workplace accidents and time spent in training. The startup's VR training solutions are tailored to each client's specific needs and goals as well as run on various platforms such as VR headsets, desktops, or mobile devices. This offers a cost-effective, engaging, and impactful way for businesses to enhance their workforce performance and productivity.
VEDX enables Immersive Classrooms
VEDX is a US-based startup that provides VEDXClassroom, a VR classroom platform for education and training. The startup helps schools strategize, build, and deploy their VR integrations, both content and hardware for K-12 and higher education. VEDX offers VR career packs, class packs, recruitment packs, and educator training packs for different educational needs. The platform also supports educators throughout the digital transformation journey and connects the students with a national network of teachers. VEDX's solution thus enhances curriculum delivery with immersive and emotionally engaging VR experiences, enhancing student outcomes and preparing them for the future job market.
VRPharma delivers Advanced Patient Care
Spanish startup VRPharma creates a VR-based patient care kit for hospital usage to enhance patients' experience during medical procedures. The startup offers a ready-to-use system, content library, VR headset, and a controller tablet. Its VR content addresses the challenges in hospitals and specific procedures, such as pain management, pediatrics, mindfulness, and anxiety relief. The system utilizes a connected tablet to control the patient's experience, allowing for a fast and easy immersive experience. VRPharma aids patient care by lowering perceived pain, reducing stress, and improving patient satisfaction and quality of care.
VRpartments creates VR-based Apartment Tours
VRpartments is a Polish startup that provides a VR real estate marketplace app for property developers and buyers. The app allows users to browse and furnish apartments from the comfort of their homes. It works on mobile phones and uses a 2D pdf to 3D model conversion engine that optimizes polygon mesh density and UV 3D model coordinates in apartment models. VRpartments also offers cardboard VR headsets that are easily assembled for easier user access. For property developers and buyers, this app saves time, reduces marketing costs, and increases confidence in the apartment-buying process.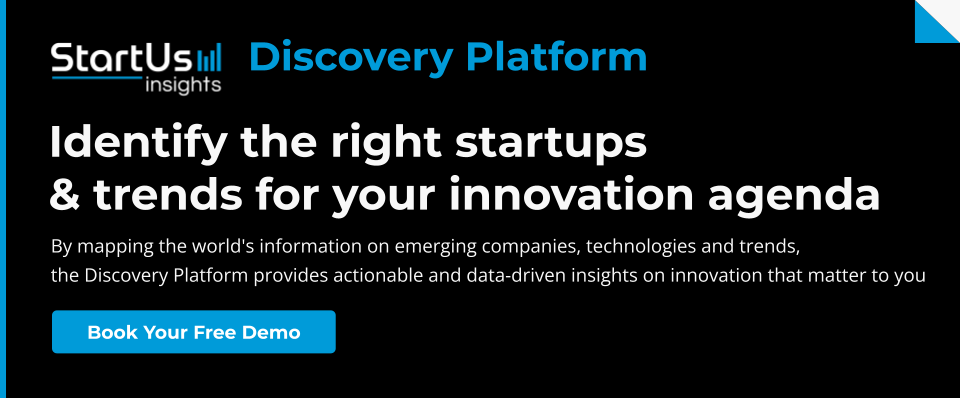 Veris Behavior facilitates Virtual Shopping
Veris Behavior is a Spanish startup that develops a VR shopping platform. The startup also uses neuromarketing to conduct immersive consumer studies to help retail, food, and pharmacy companies, aiding marketing strategy validation. Veris Behavior leverages VR glasses and eye-tracking devices to measure the attention, visibility, and attraction of packaging, promotions, new products, and store layouts. Further, it analyzes the data collected during the experience and provides relevant insights for strategic decision-making. This platform enables a cost-effective, fast, and unbiased solution for market research, allowing retail companies to optimize their marketing actions based on consumer behavior.
Igoroom offers VR-powered Hotel Bookings
Uk-based startup Igoroom uses VR and AI to offer a virtual hotel and vacation booking platform. The platform allows customers to access VR tours of selected hotels and resorts as well as lets users avail themselves of exclusive offers and benefits. Travelers access the platform's interactive 360-degree content through their application or website. This provides a platform for hotels and resorts to showcase their properties and attract more customers who are looking for a premium travel experience.
Solas VR provides Immersive Meditation Experiences
Solas VR is an Irish startup that delivers VR meditation experiences for personal and enterprise use. The startup leverages 360-degree 3D videos of natural landscapes and guided meditations on its VR headsets to create immersive and relaxing meditation experiences. Solas VR's platform helps people be more present, reduce stress, boost creativity, and improve their mental well-being. For businesses, the startup offers VR meetings, corporate mindfulness training, and more to enhance team performance. The platform also supports the VR onboarding of new employees while benefitting brain functionality and encompassing healing potential.
Who VR enables Virtual Reality Concerts
Indian startup Who VR develops ConcertSCAPE, an immersive reality live concert platform for digital heritage and tourism. It allows musicians to conduct live music concerts in VR with ambisonic sound, featuring authentic instruments, costumes, and settings. The platform also allows users to choose from different genres and eras of music. It interacts with the musicians and learns about their history and culture. ConcertSCAPE uses NVIDIA XR to create realistic graphics and sound effects. Who VR allows artists to access the complete ticket revenue with no hidden costs while providing customers with a novel and engaging way to experience music globally without borders.
MindPort advances VR-powered Prototyping
MindPort is a German startup that makes VR Builder, a VR toolkit for prototyping. It is a unity plug-in that supports all major headsets and provides a graphical user interface to define VR workflows, interactions, and animations. VR Builder enables rapid prototyping by allowing app developers to make 3D assets interactable in VR. Once the user defines the VR app's logic, the plug-in guides the user on how to build the app and prototype it in VR without writing any code. This level of rapid prototyping enables businesses to create VR training apps, games, and other immersive experiences quickly. With MindPort's solution, businesses save significant time and resources while delivering high-quality VR content at scale.
Discover All Emerging Virtual Reality Startups
The 10 Virtual Reality startups showcased in this report are only a small sample of all startups we identified through our data-driven startup scouting approach. Download our free Industry Innovation Reports for a broad overview of the industry or get in touch for quick & exhaustive research on the latest technologies & emerging solutions that will impact your company in 2023!
Looking for VR startups & technologies?
✕