Thousands of new startups are founded every year – emerging companies with the potential to disrupt the military and defense industry. To give you a head-start on emerging technologies & startups that will impact the military sector in 2023, we analyzed a total of 1 101 global military technology startups & scaleups. Meet 10 of the most promising startups to watch!
Global Startup Heat Map highlights 10 Military Technology Startups to Watch in 2023
Out of 1 101, the 10 military technology startups to watch are chosen through the Big Data & Artificial Intelligence (AI)-powered StartUs Insights Discovery Platform, covering over 3 790 000+ startups & scaleups globally. As the world's largest resource for data on emerging companies, the SaaS platform enables you to scout relevant startups, emerging technologies & future industry trends quickly & exhaustively.
The Global Startup Heat Map below highlights the 10 military technology startups you should watch in 2023 as well as the geo-distribution of the other 1 091 startups & scaleups we analyzed for this research. We hand-picked the 10 highlighted military technology startups based on our data-driven startup scouting approach, taking into account factors such as location, founding year, the relevance of technology, & funding, among others.
Interested to explore all 1 000+ military technology startups?
IMINT.AI simplifies Military Vehicle Recognition
IMINT.AI is a Lithuanian startup that facilitates vehicle recognition for military operations. Traditional vehicle detection algorithms lack the accuracy and speed necessary for real-time target identification. Consequently, this leads to friendly fire incidents and loss of life. The startup's solution leverages AI-based computer vision to automatically recognize various military vehicles in images, videos, and real-time visual streams. This allows militaries to improve situational awareness and information gathering in intelligence, reconnaissance, and battlefield missions.
Seitec facilitates Blind Spot Mitigation
Seitec is an Australian startup that mitigates blind spots on battlefields. The startup leverages seismic sensors to see through the ground, walls, trees, and hills. Moreover, they feature low-power and long-range wireless operations as well as support a range of up to 12 km. Seitec also develops an AI on the edge system, NIGHTINGALE, to detect and track footsteps in real time. Its other system, UXOTRACKS, detects ordnance impacts on weapons ranges. For this, UXOTRACKS utilizes a distributed network of seismic sensors to provide accurate data into location coordinates and search areas.
Centimani improves Soldier Survivability
Centimani is a US-based startup that maximizes soldier survivability and lethality. Soldiers on battlefields need to carry heavy equipment, including weapons, that affect their endurance level. The startup's lightweight, unpowered exoskeleton arm redistributes weight from arms and shoulders to the trunk while maintaining freedom of movement. This allows soldiers to operate heavy machines for longer, with increased precision, and more safety. Moreover, the exoskeleton reduces shot recoil while operating heavy weapons.
Arctic Horizons develops Unmanned Combat Aerial Vehicles (UCAVs)
Arctic Horizons is a Canadian startup that makes UCAVs. Real-time intelligence gathering and strike operations usually put civilians and military personnel in life-threatening situations. The startup's tilt-rotor unmanned aerial vehicle (UAV), Piglet, is a heavy-lift, omnidirectional thrust vectoring tilt-rotor (OTV-tilt-rotor) quadcopter, which efficiently replaces soldiers on battlefields. It supports various payloads, such as anti-material rifles and grenade launchers. The startup also develops a disposable ultra-lightweight UAV, Stictia, and an unmanned mid-range fixed-wing loitering munition, Peregrine. These UAVs allow militaries to deliver multiple payloads and enhance intelligence, surveillance, and reconnaissance (ISR) missions.
Furtherium offers an Augmented Reality (AR) Head Mounted Display (HUD)
Furtherium is a US-based startup that provides an AR HUD for military personnel. It features two high-definition cameras to deliver an extended field of view (FOV) and a thermal camera for night vision. The HUD's AR vision improves situational awareness by enabling remote object assessment and optical zoom. This enhances friend-or-foe discrimination in difficult visibility conditions. The HUD also supports silent voice and text communications as well as protects wearers from smoke and dust. Unlike conventional intelligence delivery systems, the startup's solution enables hands-free operations and speeds up decision-making.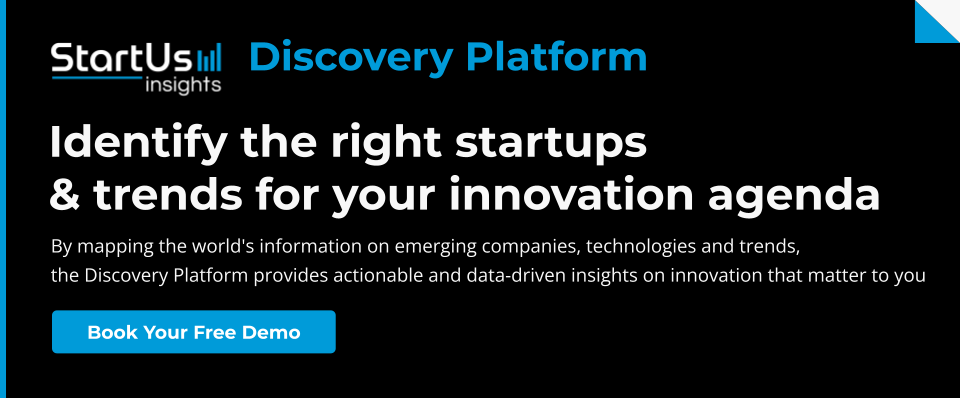 AI EdgeLabs enables Autonomous Threat Monitoring
AI EdgeLabs is a US-based startup that provides AI-driven autonomous threat monitoring for military networks. The startup's software integrates into edge systems to extract network-based data points and detect threats. The startup's application programming interface (API) holds a threat knowledge base and provides alert mitigation and deduplication. Consequently, AI EdgeLabs' solution allows military control stations to protect their networks and increase network visibility. It also improves threat analysis as well as incident response and remediation.
Phlux Technologies develops CMOS-based 3D Sensors
Phlux Technologies is a US-based startup that makes CMOS-based 3D sensors. They feature more vertical resolution than light detection and ranging (LiDAR) technology as well as instantaneously capture and identify objects in one frame. The startup's software-defined 3D sensing also enables high-resolution data capture on demand. It enables militaries to streamline robots for tailored detection applications and place 3D security fences to identify and detect intrusions for perimeter security.
LQUOM advances Long-Distance Quantum Communication
LQUOM is a Japanese startup that offers long-distance quantum communication. The startup's quantum cryptography-based communication device uses quantum entanglement across dual bands. Its companion software further improves the security of general-purpose mail software. For this, the device creates two quanta at the sender side, a true random number and a carrier for C-band transmission. Additionally, the range of the device is improved by placing quantum repeaters between nodes. This allows governments to protect sensitive and defense-related information.
Ventus Respiratory improves Respiratory Protection
Ventus Respiratory is a Canadian startup that makes TR2, a tactical respirator for military and first responder personnel. Its replaceable filter cartridges filter most solid airborne particulates with a size of 0,3 µm. Additionally, its high-flow exit valve provides maximum breathability and minimizes eye-pro fogging caused by uncomfortable heat or moisture build-up. To ensure effective communication, TR2 includes an IP67-rated microphone to deliver audio free of ambient sounds. By wearing this personal protective equipment (PPE), military personnel is able to mitigate lead poisoning caused due to inhalation of aerosolized lead from ammunition.
AS2 Systems makes Autonomous Control Systems
AS2 Systems is a UAE-based startup that develops connected and autonomous control systems for maritime autonomy. The startup's autonomous remote control (ARC) system utilizes a modular approach to integrate third-party sensors and payloads. Moreover, it features three levels of ARC for various levels of ship autonomy, from platform control and basic autonomy to autonomous decision-making. The system's system-on-a-chip (SoC) further improves system security and encrypts the data sent over wireless networks. This allows naval forces to improve ISR missions, mine countermeasures, port security, and more.
Discover All Emerging Military Technology Startups
The Military Tech startups showcased in this report are only a small sample of all startups we identified through our data-driven startup scouting approach. Download our free Military Tech Innovation Report for a broad overview of the industry or get in touch for quick & exhaustive research on the latest technologies & emerging solutions that will impact your company in 2023!
Looking for emerging military tech startups & technologies?
✕
Get your free Military Innovation Report
We'll deliver it straight to your inbox!
✕