Innovative therapies and technologies address the drawbacks of existing cancer treatments and improve patient survival rates even for difficult-to-treat cancers. Artificial intelligence (AI), genomic sequencing, and robotics are some technologies that accelerate these innovations. Immunotherapy, cellular, and gene therapies improve the body's response to cancer treatment. Additionally, they advance precision oncology and targeted therapies. This report delves into the top 8 startup-driven trends and innovations in cancer treatment. Read further to explore them and how they impact your business.
Innovation Map outlines the Top 8 Trends in Cancer Treatment & 16 Promising Startups
For this in-depth research on the Top Trends in Cancer Treatment, we analyzed a sample of 1 865 global startups & scaleups. The result of this research is data-driven innovation intelligence that improves strategic decision-making by giving you an overview of emerging technologies & startups in the pharma industry. These insights are derived by working with our Big Data & Artificial Intelligence-powered StartUs Insights Discovery Platform, covering 2 500 000+ startups & scaleups globally. As the world's largest resource for data on emerging companies, the SaaS platform enables you to identify relevant startups, emerging technologies & future industry trends quickly & exhaustively.
In the Innovation Map below, you get an overview of the Top 8 Trends & Innovations in Cancer Treatment that impact 1 865 companies worldwide. Moreover, the Cancer Treatment Innovation Map reveals 16 hand-picked startups, all working on emerging technologies that advance their field.
Top 8 Trends in Cancer Treatment
Tree Map reveals the Impact of the Top 8 Trends in Cancer Treatment
Based on the Cancer Treatment Innovation Map, the Tree Map below illustrates the impact of the Top 8 Trends in Cancer Treatment in 2023. Monoclonal antibodies (MABs), checkpoint inhibitors, and cancer vaccines are important developments in immuno-oncology. Startups and scaleups leverage cell and gene therapeutics to target tumor cells at a cellular level. However, conventional methods such as chemo and radiation therapies, along with their targeted applications, still uphold their positions as effective means of care. Further, nanotechnology enables effective drug development and selective targeting of malignant cells. Precision oncology and targeted therapies also provide effective mediums to personalize treatment and influence the cancer microenvironment.
Interested to explore all 1 800+ cancer treatment startups & scaleups?
Global Startup Heat Map covers 1 865 Cancer Treatment Startups & Scaleups
The Global Startup Heat Map below highlights the global distribution of the 1 865 exemplary startups & scaleups that we analyzed for this research. Created through the StartUs Insights Discovery Platform, the Heat Map reveals that the US sees the most startup activity.
Below, you get to meet 16 out of these 1 865 promising startups & scaleups as well as the solutions they develop. These cancer treatment startups are hand-picked based on criteria such as founding year, location, funding raised, & more. Depending on your specific needs, your top picks might look entirely different.
Top 8 Trends in Cancer Treatment in 2023
1. Immunotherapy
Cancerous cells metastasize by attenuating the body's natural immune response either by releasing antigens or down-regulating T-cells. Immunotherapy solves this challenge by stimulating the body's own immune system to recognize and fight cancer cells. Immuno-therapeutic innovations enhance the immune system or suppress the cytokines and factors released by tumor cells. Monoclonal antibodies, cancer vaccines, immune checkpoint inhibitors, and adoptive T-cell transfer (ACT) are some types of immunotherapies. Many recent clinical trials also show complete metabolic response by using MABs in combination with other therapies. Startups develop different immune therapy methods to treat and prevent the recurrence of malignancies of the lungs, skin, colon, and breasts, among others. Although some immune system modulators are ineffective in some forms of cancers, they trigger a long-term response for many solid cancers.
Ankyra advances Cytokine Immunotherapy
US-based startup Ankyra develops Anchored Immunotherapy, a cytokine suppression-based immunotherapy. It enhances the potency of cytokine immunotherapy and prolongs anti-tumor immune activation including T-cells, natural killer (NK) cells, and meloids. The startup also develops a platform for the administration of immune stimulants to localize and retain cytokines in tumor sites. Unlike systemic dosing, this method aids in achieving reduced drug toxicity and enhances the safety of non-target tissues. The startup develops drug pipelines for solid cancer tumors in humans and animals.
OXvax offers a Cancer Vaccine Platform
UK-based startup OXvax makes a dendritic cell (DC) immuno-oncology vaccination platform. It uses a proprietary protocol to generate bulk quantities of CD141+XCR1 DC subset from induced pluripotent stem cells (iPSC). This new DC subset features similar characteristics to the rare myeloid cDC1 DC subset that exhibits better tolerance and potent anti-tumor response. The startup's off-the-shelf semi-allogeneic vaccines treat intractable solid tumor cancers.
2. Cell Therapy
Cytotherapy proves to be less toxic and more effective for resistant or refractory cancers since it targets cancer at a cellular level. Similarly, genetically modified cells treat malignant neoplasms and further accelerate immune cell therapy and anti-cancer vaccine performance. Additionally, startups use gene-editing technologies to modify and grow certain immune cells such as T-cells or natural killer cells in the laboratory. These engineered cells target specific proteins found only in cancer cells, making them more effective at treating complex and inherited cancers. Novel examples of cell therapy for cancer treatment are chimeric antigen receptors (CARs) T-cell therapy, NK cell therapy, and tumor-infiltrating lymphocytes (TIL). Stem cell or bone marrow transplantation is also utilized to restore blood and bone marrow loss from high-dose chemotherapy.
Catamaran Bio enables Off-the-shelf CAR-Ts
Catamaran Bio is a US-based startup that offers TAILWIND, a proprietary technology suite to engineer and manufacture NK cells. It leverages synthetic biotechnology-enabled tumor microenvironment (TME) switches and TcBuster transposon system to program NK cells. Further, the suite uses non-viral cell engineering so that the resulting cells contain chimeric antigen receptor (CAR) architecture optimized for NK cells. The startup provides off-the-shelf CAR-NK cell therapy process development, cell engineering, expansion, and cryopreservation for targeting solid tumors.
Matterhorn provides a Small Molecule Cell Therapy
Matterhorn is a Swiss startup that offers murine T-cell receptor (M-TCR) cell therapy using cancer-specific small-molecule metabolites. The startup utilizes its proprietary M-TCR cell therapy platform to design therapies targeting the MR1-directed T-cell receptors through M-TCR natural receptors. MR1 antigens are expressed by many tumor cells but are identical in all humans. However, the startup's recombinant therapies do not require human leukocyte antigen (HLA) matching between patients and donors. As a result, it overcomes the limitations of adoptive cell therapy, manages allogeneic toxicities, and treats a broad range of cancers.
3. Chemotherapy
Chemotherapeutics are not specific and do not differentiate between cancerous and healthy cells leading to various side effects. Some forms of late-stage cancers even require a high number of chemo cycles due to limitations of maximum tolerated dose. Therefore, startups develop novel drugs and delivery methods to control chemotherapy-induced nausea and vomiting (CINV) among other side effects. Similarly, combination chemotherapy facilitates the integration of hormonal therapies and cell- and gene-based therapeutics to reduce the risk of cancer becoming resistant during treatment. Many biotech and pharma-based researches focus on developing highly potent chemotherapy drugs that inherently have fewer side effects and require less dosage. Digital technologies such as AI also accelerate innovation in chemo drug development and reduces the time required for approval and market placement.
Imescia makes Active Pharmaceutical Ingredients
French startup Imescia produces highly potent active pharmaceutical ingredients (HPAPIs) for chemotherapy drugs. The startup's prodrug features a hydrophilic polymer that accumulates at the tumor site and a linker that releases the drug directly into the emerging tumor microenvironment (TME). This mechanism spares the healthy tissues and increases the drug concentration inside the tumor. Moreover, the polymer vector solubilizes insoluble small molecules and is a receptor agonist, making it suitable for cancers without a specific receptor expression. The startup's technology improves drug stability and pharmacokinetics while reducing dependence on additional surfactants or lipids.
Cairn Therapeutics provides Cell-selective Cytotoxics (CSS)
US-based startup Cairn Therapeutics provides CT-262, a CSS cytotoxics agent. It selectively delivers cytotoxicity to cancerous cells by differentiating between the microenvironments of cancer and normal cells. CT-262 to substantially reduce the side effects of chemotherapy and antibody-drug conjugates (ADCs). This enables the delivery of selective cytotoxicity to cancer cells.
4. Gene Therapy
Innovations in gene therapy are facilitated by advances in gene editing technologies such as CRISPR-Cas9 or Zinc Finger Nucleases (ZFN). Modifications in the DNAs or RNAs of cells open new opportunities for treating highly fatal genetic and developed cancers. Targeted gene therapy, for instance, specifically alters the genes that are involved in the growth and development of cancer cells. Vectors that deliver the genetic material to cells also play an important role in this therapy. After the success of mRNA Covid vaccines, startups are increasingly using viruses to deliver engineered genes to precisely target oncogenes. There are many gene therapies in development that use viral or other vectors as efficient gene delivery vehicles and show massive treatment potential. Somatic therapy, germline therapy, anti-angiogenic therapy, suicide gene therapy, and gene-directed-enzyme prodrug therapy are some advanced gene therapies.
Correct Sequence advances Base Editing Therapy
Chinese startup Correct Sequence provides a base editing therapy for treating cancer and hereditary diseases. The startup's technology enables CRISPR-mediated precise base substitutions to eliminate gRNA-dependent and independent off-target mutations. Its base editing system, Transformer Base Editor (tBE), unlocks and activates off-target mutations at specific sites. It is vector agnostic and simultaneously targets multiple sites with high efficiency. The startup's solution is applicable in-vivo and ex-vivo, provides better therapeutic outcomes, and lowers cytotoxicity.
Exovectory offers Exosome Loading Proteins (ELPs)
Dutch startup Exovectory facilitates the production, purification, and characterization of exosome-based gene therapies through its platform technology. It proprietary ELPs as DNA vectors to incorporate up to 30,000 base pairs through hybrid EXO-OV particles. This enables the highly efficient loading of a variety of therapeutic DNAs, full-length oncolytic viruses, and therapeutic proteins. The startup's EVY-101 exosome therapy also provides multi-mode gene and protein therapy by the selective killing of cancer cells and triggering an anti-tumor response. This enables rapid and economic utilization of exosome products to treat aggressive and metastasizing cancers.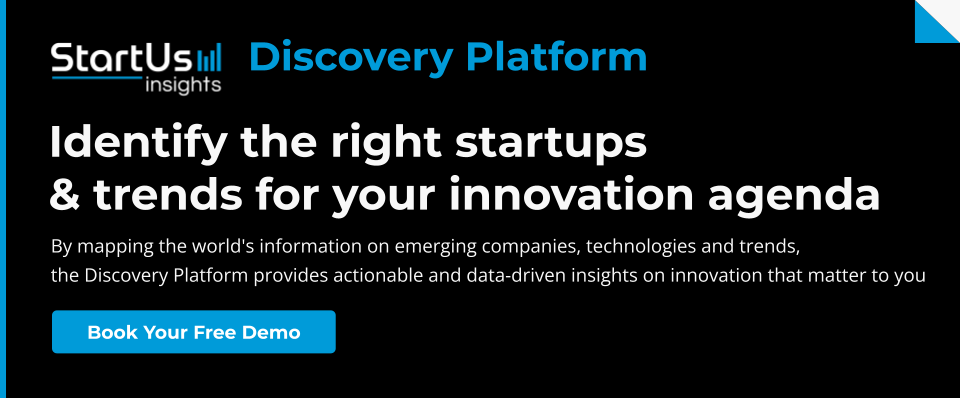 5. Targeted Therapy
Targeted therapies target specific molecules or pathways involved in the activation, growth, and spread of cancer cells. This increases treatment effectiveness while reducing the risk of harmful side effects on healthy cells. Moreover, targeted approaches are more suitable to manage certain types of cancer than generalized treatments as they are customized for specific cancers. Monoclonal antibodies and small molecule inhibitors (SMIs) are the main targeted approaches that startups and researchers use. These drugs are usually delivered orally, making them more convenient for patients. Additionally, researchers also utilize a combination of different approaches, such as immunotherapy and gene therapy, to target cancer cells from multiple angles.
BAKX enables Targeted Apoptosis
US-based startup BAKX creates targeted cancer therapeutics utilizing mitochondrial apoptosis pathways and computational drug discovery. The startup's drug pipeline consists of orally active small molecule BCL-2-associated X (BAX) activators that specifically target pro-apoptotic elements. Targeting BAX and BCL-2 homologous killer (BAK) provides control over apoptosis and improves efficacy in hematological and solid tumor malignancies. Further, the startup leverages CoDynX to develop a new class of BCL-XL inhibitors to overcome platelet toxicity and target previously undruggable disease proteins.
TargTex offers Small Molecule Targeting
Portuguese startup TargTex builds an AI-based platform to study and develop allosteric antagonists targeting brain cancer receptors using small biological molecules. The startup's biocompatible hydrogel formulation with anti-cancer pharmacokinetics targets calcium channels, which are overexpressed in patients with glioblastoma multiforme (GBM). It is an adjuvant to tumor removal surgery for necrosis of remaining satellite cancer cells with minimal side effects.
6. Precision Oncology
Advances in microscopy, gene editing, and understanding of cancer biology enable personalized cancer treatments. Such solutions target the molecular characteristics of an individual's tumor, thereby improving prognosis and outcomes for cancer patients. Precision oncology provides oncologists with diagnosis, decision support, and treatment tools to tailor treatment for individual patients. Hence, it enables appropriate and safest therapy selection and dose adjustment that alters patient-specific cancer gene makeup. Startups are building AI, machine learning (ML), robotics, and big data-based pharmaco-omics tools to improve the accuracy and development of such treatments.
Onc.AI provides a Decision Support System
US-based startup Onc.AI develops a physician-centric precision oncology care management platform to support clinical decision-making. It utilizes real-world datasets for multimodal AI predictions. This provides actionable insights to healthcare providers for assisting oncology treatment decisions to treat cancers effectively.
OncoPrecision offers Personalized Treatments
Argentinian startup OncoPrecision builds a platform for ex-vivo patient disease replication and drug trials through patient micro avatar (PMA) technology. It utilizes patient-derived tumor cells (PDC) to create PMA assays and exposes them to a matrix of standard and clinical trial drugs. The platform performs high throughput screening of these assays and reports drug response patterns along with drug activity and resistance tests (DART). Pharmaceuticals thus use it for patient-specific drug discovery, drug repurposing, and personalized treatment.
7. Radiation Therapy
Advanced imaging techniques, nanotechnology, and improved radioisotopes reduce the short-term complications and long-term occurrence of second malignancies due to radiotherapy. For example, intensity-modulated radiation therapy (IMRT) precisely targets the radiation to the tumor and controls exposure to healthy tissues. Similarly, proton beam therapy (PBT) leverages protons instead of X-rays to deliver radiation to the tumor. Such technologies reduce the risk of radiation therapy (RT) in sensitive areas like the brain or spine. Additionally, researchers are using new radioactive particles, like alpha particles, to make RT a viable treatment for different cancers.
Vaso Dynamics aids Radiation-induced Side-Effect Prevention
UK-based startup Vaso Dynamics manufactures topical vasoconstrictor applications for the prevention of RT-induced side effects. The startup's drug formulations, NG11, NG12, and NG13, prevent radio-dermatitis and mucosa damage from radiotherapy received for head, neck, or breast cancers. They provide affordable treatment to mitigate common complications of cancer therapy and improve treatment outcomes.
ZTI Bio develops Magnetic Drug Nanocarriers
South Korean startup ZTI Bio provides radio-sensitive magnetic drug carriers for radiation and electromagnetic therapy (REMT). The startup offers nanotech-based radiopharmaceuticals – Mag-I, ZhyperPrime, and IronBee. These nanocarriers generate reactive oxygen species (ROS) by absorbing a portion of the radiation dose and removing cancer cells. This minimizes the side effects of radioactive isotopes in the body from existing cancer diagnoses or treatments.
8. Nanotechnology
Nanotechnology utilizes nanoparticle (NP) encapsulation to enhance the bioavailability of cancer drugs. Startups use active and passive nano-delivery strategies involving small cytotoxic molecules and biological drugs such as MABs. Medicated nanoparticles like lipid NPs (LNPs) also function as gene vectors for cell and gene therapies. Innovations in materials science, bionanotechnology, and drug discovery lead to safer cancer therapies. Further, startups develop nanosensors, molecular nanomachines, and nanobots to actively search for cancer cells in the body and ensure complete cancer remission.
Libera Bio facilitates MAB Discovery
Spanish startup Libera Bio develops new anti-cancer compounds that deliver antibodies to previously undruggable targets in aggressive cancers. The startup's patented MPN Technology engages polymeric NPs to encapsulate intracellular biologics, particularly mAb and small molecules. MPN-anti-KRAS is the startup's mAb program to target mutant KRAS genes that are associated with poor prognosis and resistant cancers. It provides superior biodistribution and improves generics while providing oncologists with drugs for effective therapies.
Nano Robotics develops Molecular Nanomachines
Israeli startup Nanorobotics provides proprietary light-activated nanomachines functionalized with specific addends for delivering therapeutic agents to tumor cells. These unidirectional nanorobots target specific surface antigens to perforate through cellular membranes and deliver specific drugs or kill the cell. This cell-drilling mechanism is scalable to distinct types of cancer through variable peptide recognition addends and ligand-receptor systems. They also feature safe toxicity profiles and empower oncologists and biopharmaceuticals to treat prostate cancer, glioblastoma multiforme, and basal cell carcinomas.
Discover all Trends & Technologies in Cancer Treatment
Startups and scaleups improve upon existing and novel therapeutics to bring precision to cancer treatment. Innovations like CRISPR, genotyping, and cryo-electron microscopy improve research in cell behavior and enable the development of effective reduced-dose therapies. Experiments in minimally invasive surgical methods with robotics and cryosurgery further accelerate precision and improve recovery time. Startups use combinations of the above approaches to achieve breakthroughs for early prediction and substantial improvements to reduce the recurrence of cancer.
The Trends in Cancer Treatment and the startups outlined in this report only scratch the surface of trends that we identified during our data-driven innovation & startup scouting process. Among others, precision medicine, advanced analytics, and nanotech will transform the sector as we know it today. Identifying new opportunities & emerging technologies to implement into your business goes a long way in gaining a competitive advantage. Get in touch to easily & exhaustively scout startups, technologies & trends that matter to you!
Looking for emerging cancer treatment startups & technologies?
✕