The Fast-Moving Consumer Goods (FMCG) industry is undergoing a significant transformation in response to the demand for more convenience, the COVID-19 pandemic, and changes in customer behavior. The major FMCG trends that address these changes involve sustainable product development and packaging, solutions improving customer experience, and digitization.
To offer a better customer experience and gain a competitive edge, FMCG companies seek omnichannel sales and e-commerce in addition to deploying big data, analytics, and Artificial Intelligence (AI) solutions. The Internet of Things (IoT) devices and 3D Printing technology further enable FMCG companies to enhance direct distribution to meet the growing customer expectations. This article was published in February 2021 and updated in August 2023.
Innovation Map outlines the Top 10 FMCG Industry Trends & 20 Promising Startups
For this in-depth research on the Top FMCG Trends & Startups, we analyzed a sample of 3011 global startups & scaleups. This data-driven research provides innovation intelligence that helps you improve strategic decision-making by giving you an overview of emerging technologies in the FMCG industry. In the FMCG Industry Map, you get a comprehensive overview of the innovation trends & startups that impact your company.
10 Emerging FMCG Trends in 2024
These insights are derived by working with our Big Data & Artificial Intelligence-powered StartUs Insights Discovery Platform, covering 3 790 000+ startups & scaleups globally. As the world's largest resource for data on emerging companies, the SaaS platform enables you to identify relevant technologies and industry trends quickly & exhaustively.
Tree Map reveals the Impact of the Top 10 Trends in the FMCG Industry (2024)
Based on the FMCG Innovation Map, the Tree Map below illustrates the impact of the Top 10 FMCG Industry Trends in 2024. Innovations in the FMCG industry meet the growing consumer demand for convenience, sustainability, and engaging experiences. The permeation of smartphones globally also pushes the digitization and growth of eCommerce, driving companies towards implementing technologies such as AI, Big Data, IoT, Blockchain, and 3D Printing.
FMCG brands adapt product development, manufacturing, and packaging to meet consumer demand for sustainable processes and improved convenience. Online shops open new avenues for data management and analytics that further increase revenues for FMCG companies. For example, a growing number of brands directly distribute and sell to their customers via online channels, thus reducing logistics costs.
Global Startup Heat Map covers 3011 FMCG Startups & Scaleups
The Global Startup Heat Map below highlights the global distribution of the 3011 exemplary startups & scaleups that we analyzed for this research. Created through the StartUs Insights Discovery Platform, the Heat Map reveals high startup activity in the US, followed by the UK and France. Below, you get to meet 20 out of these 3011 promising startups & scaleups as well as the solutions they develop. These FMCG startups are hand-picked based on criteria such as founding year, location, funding raised, & more. Depending on your specific needs, your top picks might look entirely different.
Interested to explore all 3000+ FMCG startups & scaleups?
Top 10 FMCG Technology Trends in 2024
1. Sustainability in FMCG
Consumers are becoming more conscious of climate change and its impact on the environment. Thus, they pay more attention to companies' social activities and seek those that offer more responsible product choices. As sustainability comes to the forefront, FMCG companies not only address how they present and package their products but also what materials they use in their products.
To meet consumer demand, more and more FMCG companies offer compostable, recyclable, and reusable packaging. Additionally, cruelty-free, vegan ingredients are on the rise not only in food but also in non-food items such as cosmetics and cleaning products.
Flexi-Hex produces Plastic-Free Packaging
UK-based startup Flexi-Hex produces environmentally-sustainable packaging that allows FMCG companies to reduce the amount of packaging waste. The startup offers adaptable, plastic-free solutions with its patented honeycomb design made from recycled paper. The startup aims to remove plastic from the packaging industry and raise awareness of the threat that plastics pose to the oceans.
Vegshelf develops a Digital Platform for Healthy Products
German startup Vegshelf develops a digital Business-to-Business (B2B) platform connecting healthy, vegan FMCG brands with online stores, supermarkets, and food services. The platform enables round-the-clock exposure and direct access to buyers. Vegshelf shortens the sales cycle, in turn, enabling FMCG brands to build and maintain relationships with new and existing customers.
2. Customer Experience
With the demand for convenience increasing in the FMCG sector, companies strive to significantly improve customer experiences. Startups employ Augmented Reality (AR) and Virtual Reality (VR) to make products more engaging and interactive. 3D videos and gamification attract and entertain customers while providing them with more information about the product. Further, investing in improving customer experiences builds trust and increases brand loyalty. To this end, more and more FMCG companies are providing higher convenience with digital technologies.
Chekkit offers a Consumer Intelligence Solution
Nigerian startup Chekkit offers a consumer intelligence solution to improve customer engagement. The solution brings FMCG companies closer to those buying their products through personalized messaging and communication. Chekkit also enables FMCG companies to push product surveys and messages to consumers based on their purchase behaviors. Further, the solution runs automated reward campaigns and drives repeat purchases using loyalty programs.
DRNKAR develops AR Solutions for FMCG
Singaporean startup DRNKAR's solutions are AR Social Media, an AR Mobile App & AR Platform. AR Social Media entices shoppers through ads and social media activity and redirects them to make a purchase on the website. The AR Mobile App offers 2D and 3D animation to display extended product details while the AR Platform enables FMCG companies to control and manage their content and product information, as well as get insights into consumer behavior. Overall, the startup's solutions enable FMCG companies to create memorable customer experiences and improve consumer engagement.
3. Digitalization
Digital transformation in FMCG is increasingly becoming a priority for brands as customers interact with brands across multiple online and offline channels. Companies get access to valuable data from these sources, including various social media platforms, web, and mobile applications- driving FMCG digital trends. Besides, it also allows FMCG brands to better engage with their customers and convert one-time buyers into repeat customers.
Gladminds builds a Customer Connect Platform
Indian startup Gladminds offers a cloud-based platform that acts as a two-way communication channel between brands and customers. Gladminds' Connected Platform allows companies to leverage their brand experience and create value for the customer.
For example, the startup enables optimizing and personalizing services, marketing, and communication, among other functions. This connects brands with consumers and ensures prolonged product support and engagement.
Repeat develops a Smart Replenishment Platform
US-based startup Repeat provides a Smart Replenishment platform to turn one-time buyers into repeat customers. The startup powers frictionless reordering experiences that are easy from the customer end and increase revenue for companies.
The solution analyzes order data to determine baseline replenishment intervals and automates replenishment workflows to increase operational efficiency.
4. FMCG e-Commerce
The share of sales coming from B2C and B2B FMCG ecommerce is increasing exponentially. The outbreak of the COVID-19 pandemic has further shifted consumers' shopping habits towards online channels. Brands are now building their online presence to boost their engagement with consumers.
Social media also plays a significant role in the world of e-commerce as more items are sold via social platforms such as Instagram. To this end, FMCG startups actively incorporate diverse media, leveraging mobile and headless commerce, to market their products.
Crystallize offers a Headless e-Commerce Solution
Norwegian startup Crystallize provides an Application Programming Interface (API)-driven e-commerce platform for subscription-based businesses models. The startup's software delivers APIs for product information and content management to digitize the sales process.
Headless content management is powered by a semantically structured content engine. This enables brands to build and deliver content in different languages, market and sell their products online, and offer product subscriptions.
Squarelovin offers Social Commerce Solutions
German startup Squarelovin offers solutions for Instagram analytics, social commerce, and visual marketing. The startup enables brands to boost their e-commerce and visual content strategy with user-generated content to build marketing campaigns, grow engagement, and increase conversion rates.
For example, brand-related content from Instagram can be placed on all channels, including websites, other social media channels, newsletters, and offline media.
5. Big Data & Analytics
FMCG companies actively leverage big data to innovate and compete in the industry. As consumer data is becoming more and more accessible with shopping online, brands explore new ways to increase relationships with their customers and gain insights from their behavior.
FMCG analytics explores customer preferences and behavior to provide FMCG companies with a deeper understanding of their purchase habits. Big data solutions and analytics in the FMCG sector allow brands to optimize communication with their customers and offer more personalized experiences.
Zhimatech develops a Consumer-based Data Platform
Chinese startup Zhimatech builds a consumer-based data operation platform taking into account offline behavior data within shopping centers. Through its Re-ID technique, the startup accurately analyzes traffic flow within shopping malls.
Combined with online data, Zhimatech creates customer composition insights. The startup also monitors on-site traffic distribution and helps determine the value of individual shops. Further, this data is used to guide marketing activities from planning to promotion.
Massive provides a Consumer Reviews Analytics Solution
Italian startup Massive develops a consumer reviews analytics solution. The company leverages AI to monitor e-commerce websites to read and understand consumer feedback. The data collected provides FMCG companies with insights that support consumer-centric business strategies.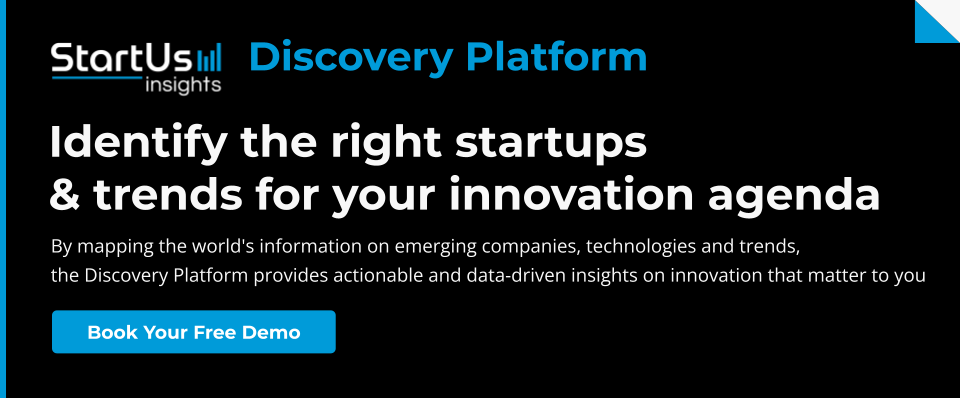 6. AI in FMCG
AI-powered solutions, such as Machine Learning (ML) and Natural Language Processing (NLP) are gaining popularity and creating opportunities for the FMCG industry. For instance, voice-based systems support consumers round-the-clock to find products, in addition to recommendation engines that provide personalized product suggestions. By implementing AI-based solutions, FMCG companies provide an enhanced customer experience, thereby increasing customer satisfaction and retention.
Letmetalk offers Conversational AI Solutions
Canadian startup Letmetalk provides AI-powered chatbots to drive up sales and customer satisfaction. The automated system allows for smooth and personalized marketing, as well as conversations with more than one client at a time. The startup enables FMCG companies to make contact and build relationships with potential customers and improve conversion rates.
C-gence offers Consumer Intelligence
C-gence is a Polish startup that develops an AI-based solution to provide consumer intelligence. It is a web-based real-time receipt scanner that captures receipt data without manual data entry. This way, the solution allows FMCG brands to launch consumer activations faster and at a lower cost while reducing barriers to entry. This eliminates fraud and offers more complete consumer data for real-time segmentation, analytics, trends, and reporting.
7. Direct or Direct to Consumer Distribution
More and more FMCG companies are leveraging direct distribution to increase customer loyalty and ensure growth. For example, manufacturers directly interact with their end customers through their own online and offline distribution channels. This increases their profit margin and offers consumers a direct channel to reach their favorite brands. This FMCG industry trend is closely associated with e-commerce growth as well as the penetration of smartphones and the internet.
Ivy creates a Sales and Direct Distribution Platform
Singaporean startup Ivy builds an AI- and ML-powered platform to automate sales and distribution in the FMCG industry. The solution enables companies to enhance their customer experience, increase shelf revenue, and improve the productivity of their field force.
Ivy offers a Software-as-a-Service (SaaS) enterprise customer relationship management (CRM) solution where users can manage stock, complete in-store selling, and process orders. The solutions support multiple types of sales channels simultaneously.
Merlin Tech Labs works on Cloud-based Mobile Solutions
Indian startup Merlin Tech Labs creates a cloud-based SaaS application to support Direct-to-Customer (D2C) distribution. The app enables field sales teams to sell and deliver more goods to people using optimized routes. Further, the app manages sales and transactions, generates reports, and notifies customers when the order is placed and delivered, and the payment is processed.
8. IoT in FMCG
As IoT evolves, its applications gain popularity in the FMCG sector. IoT devices are automated and affordable, enabling FMCG companies to employ them in brick-and-mortar stores, warehouses, and manufacturing facilities. One example of IoT device implementation is to provide targeted messaging to consumers while they are shopping.
Inventory management is another use case of IoT, both in stores and in warehouses. In combination with related emerging technologies, including ambient intelligence and smart objects, IoT creates new consumer interaction channels and revenue streams for FMCG brands.
Ripen Apps creates iBeacon Solutions
Moving one step ahead of the traditional mobile app development approach, Australian startup Ripen Apps creates innovative applications utilizing iBeacon technology. iBeacons enable add-ons to send customers contextual, hyper-local, meaningful messages and personalized ads on their smartphones as they evaluate a product.
Connected Fresh offers Plug-and-Play Sensors for Temperature Monitoring
US-based startup Connected Fresh offers plug-and-play sensors that offer FMCG companies instant and continuous access to live data on storage and warehouse temperatures. This includes sensor readings, historical data, and real-time notifications to key stakeholders based on temperature fluctuation.
Automatically and continuously monitored products provide both companies' and customers' peace of mind knowing that the product is held at specific conditions and any deviations are reported to team members with enough time to act.
9. Blockchain
The competition within the FMCG industry is increasing and brands invest in blockchain to gain a competitive edge. Smart contracts and blockchain traceability allows FMCG companies to understand their supply chain bottlenecks and make necessary interventions.
Blockchain also increases transparency for consumers by allowing them to track the source of their purchases. Additionally, blockchain platforms offer cryptocurrencies and loyalty programs that allow consumers to collect, exchange, and redeem points, increasing customer engagement.
Greenface provides Self-Serve Blockchain Solutions
US-based startup Greenfence develops an open blockchain platform. The platform connects the entire value chain of the FMCG industry and enables remote auditing and certification. The startup allows brands to communicate directly with shoppers, thereby increasing trust and interaction while removing the risk of fraud. This enables marketers to control their budgets and allows consumers to participate and interact with a greater level of anonymity.
ExtoLab offers Blockchain-powered Financial Services
ExtoLab is a US-based startup that develops ExtoPay, a last-mile solution for digitizing payments and identity. It features a cryptographically secure, offline transaction protocol that enables Exto hardware waller holders to make payments without internet connectivity. The startup's biometric hardware and mobile wallets secure users' verifiable credentials and allow selective, privacy-preserving presentation to verifiers.
ExtoLab's solution thus enables a more inclusive financial system by combining point-of-sale (POS) solutions, smartphone or non-smartphone users, secure offline transactions, and more. This allows FMCG merchants to improve customer convenience.
10. 3D Printing
Additive manufacturing and its applications create disruptive solutions for the FMCG industry. The vast amount of waste generated by use-and-throw consumer products, from personal care to food packaging, prompts FMCG industry stakeholders to find sustainable alternatives. 3D printing allows FMCG brands and manufacturers to design and develop products that use eco-friendly materials and reduce plastic use.
To this end, FMCG companies leverage 3D printing for prototyping, designing, tooling, and scaling production in a sustainable manner. Further, food companies are able to offer extra nutritional value in their products by utilizing 3D food printing.
Essentium offers a 3D Printing Platform
US-based startup Essentium offers a 3D printing platform specifically for industrial production. The platform allows companies the flexibility to create multiple product iterations without impacting quality, strength, or performance. FMCG companies use the platform for rapid prototyping, fine-tuning designs, and printing high-precision end-use parts and components.
Mything connects Companies with Local 3D Printing Providers
Austrian startup Mything is an online marketplace that connects companies with local additive and digital manufacturers for on-demand 3D printing. The startup allows FMCG brands to optimize production and lower costs by lowering delivery distances, stock lead times, and material waste.
Discover all FMCG Technologies & Startups
The new trends in the FMCG sector outlined in this report only scratch the surface of trends that we identified during our in-depth research. Among others, sustainable product development, manufacturing, and packaging, with the help of AI, Blockchain, and advanced analytics, as well as opportunities to increase customer engagement, experiences, and satisfaction will transform the sector as we know it today. Identifying new opportunities and emerging technologies to implement into your business early on goes a long way in gaining a competitive advantage. Get in touch to easily and exhaustively scout relevant technologies & startups that matter to you.
Looking for emerging FMCG startups & technologies?
✕