Startups and scaleups innovate faster compared to larger companies. This is because they are typically more agile and lean, allowing them to move quickly and make decisions efficiently. They also often have a laser-like focus on a specific problem or opportunity, leading to more innovative and targeted solutions. Additionally, startups often thrive on a culture of risk-taking and experimentation, fostering innovation. For these reasons, startup engagement has become a quick route to innovation for companies.
Identifying & Engaging Relevant Startups
Startup engagement refers to the process of actively seeking out and building relationships with startups and/or scaleups in order to drive innovation and growth. This includes activities such as sourcing and identifying relevant companies, offering value and support to startups, fostering a collaborative and inclusive culture, and utilizing tools and platforms for engagement.
Startup engagement is an important part of the open innovation process, as it
allows companies to quickly access new ideas and technologies,
diversify perspectives and expertise, and
co-create and co-develop new products and services.
Benefits of Startup Engagement
By effectively engaging with startups, organizations drive innovation and growth to stay ahead of their competition. Its major benefits include:
Access to new ideas and technologies. Startups are often at the forefront of innovation and bring fresh perspectives and novel approaches to solving problems. Engaging with startups provides access to new ideas and technologies that may not be available within your organization.
Collaboration and co-creation. Working with startups allows you to collaborate and co-create with a diverse group of individuals with different skills, experiences, and perspectives. This leads to the development of new products, services, or processes that might not have been possible otherwise.
Risk-taking and experimentation. Startups are typically more agile and willing to take risks than larger organizations. Engaging with startups helps to embrace a culture of risk-taking and experimentation, thus fostering innovation.
How Can You Effectively Engage Startups?
It's important for corporates to have a clear strategy and approach when engaging with startups, as well as to build strong relationships and establish trust. Communication and transparency are key to successful open innovation partnerships.
Depending on your objectives, you may approach startup engagement differently from other companies in your industry. Here are some of the popular approaches to startup engagement along with their pros and cons:
1. Corporate Accelerator Programs
Corporate innovation programs are a specific type of open innovation initiative within an organization. They involve developing and implementing strategies for sourcing and incorporating external ideas, technologies, and perspectives into the organization's product development and innovation processes. These generally take the form of hackathons, innovation labs, or corporate accelerators.
Pros: Companies benefit from the positive reputation and brand association that comes with running an accelerator program. They often receive a share of equity in the startups participating in the program.
Cons: Competition among startups participating in the program may lead to a high failure rate. Companies often provide resources and support to startups throughout the duration of the program, which can be time-consuming and costly.
2. Partnerships & Collaborations
In this scenario, companies collaborate with startups on specific projects or initiatives. This often includes working together on the development of new products or services or collaborating on research and development efforts. On other occasions, companies establish strategic partnerships with startups in order to access their ideas, technologies, and expertise. This can include entering into joint ventures or partnerships to co-create new products and services.
Pros: Partnerships and collaborations allow corporates to stay up-to-date with the latest technologies and trends in the market. These types of arrangements enable corporates to remain agile and responsive to changing market conditions.
Cons: There may be challenges in terms of coordinating the efforts and resources of the corporate and the startup. Partnering with one or a few startups also carries a higher risk of failure as compared to engaging more startups.
3. Investments
This is when companies purchase equity in startups or give lines of credit, thereby providing startups with renewed funds. Investments are similar to partnerships and collaborations in that the companies need to provide resources to startups to get access to their solutions. However, investments are more structured and don't offer the flexibility that comes with partnerships.
Pros: Investments allow companies to have a stake in emerging technologies without necessarily building the requisite competence. Moreover, if the startups succeed, it has the potential to provide you with outsized returns.
Cons: With investments, The risk is far greater than in partnerships and collaborations. Also, legal and regulatory hurdles may make it a longer process compared to partnerships or incubator programs.
Read this report: Investing in Technology: When is the Right Time?
4. Open Innovation Challenges
Open innovation challenges are calls for ideas or solutions that are open to external participants ways. These challenges include idea contests, crowdsourcing, and startup programs. The success of these challenges relies on the quantity and quality of innovators they attract. For example, our StartUs Insights Discovery Platform, a startup scouting platform powered by Artificial Intelligence and Big Data, identifies highly relevant potential applicants for your startup program. By reaching out to these startups, you can make your startup programs a success.
Read this report: 5 Top Lessons from Iberdrola's Open Innovation Challenges
Pros: Open innovation challenges allow you to generate interest in your products or services. These challenges attract a large and diverse community of innovators, providing you with more new perspectives.
Cons: Managing intellectual property generated during the course of the program can be a challenge for both companies and startups. Also, running startup programs is expensive and time-consuming.
5. Startup Acquisitions
Following successful partnerships, investments, or other collaborations, a company may choose to buy a startup. Acquiring a company provides a way for a company to quickly and efficiently access new capabilities or markets. This is especially valuable when the startup being acquired has complementary assets or expertise.
Pros: Startup acquisitions allow your company to quickly and effectively enter new markets or expand your product or service offerings. As an innovation manager, it allows you to add intellectual property and talent to fill gaps in your innovation agenda.
Cons: It's costlier than other open innovation alternatives. Also, cultural misfits or wrong technology bets can lead to heavy losses, if the acquisition isn't successful.
Strategies for Boosting Startup Engagement in Open Innovation
The success of any open innovation initiative relies on the quality of the startups it engages. While working with startups may seem to be a numbers game, the following practices improve the odds of you winning at open innovation.
Establish Clear Goals
You need to establish clear goals and objectives for your startup engagement initiatives in order to ensure that they are effectively driving innovation and growth. This begins with identifying specific problems or challenges that need to be addressed and setting specific targets for the impact of the engagement.
Is the objective of your startup engagement initiative to speed up product development or improve customer satisfaction? Establishing clear goals and objectives ensures that the startup engagement initiative is aligned with the organization's overall strategic objectives. In turn, this improves decision-making and resource allocation for open innovation.
Identify the Right Startups
With the ever-increasing size of the global startup ecosystem, finding the most relevant startups for your objectives can be incredibly difficult. It involves identifying high-potential startups and evaluating their capabilities and business models. Moreover, you also need to assess their alignment with your company's values and mission as well as existing competence.
To identify the right startups for successful outcomes exhaustively and fast, you need the support of a data-driven startup scouting platform. Covering firmographic information on over 3 million startups and scaleups globally, our Discovery Platform provides you access to a highly relevant and exhaustive list for any startup engagement initiative.
Read this report: Discover the #1 Startup Scouting Platform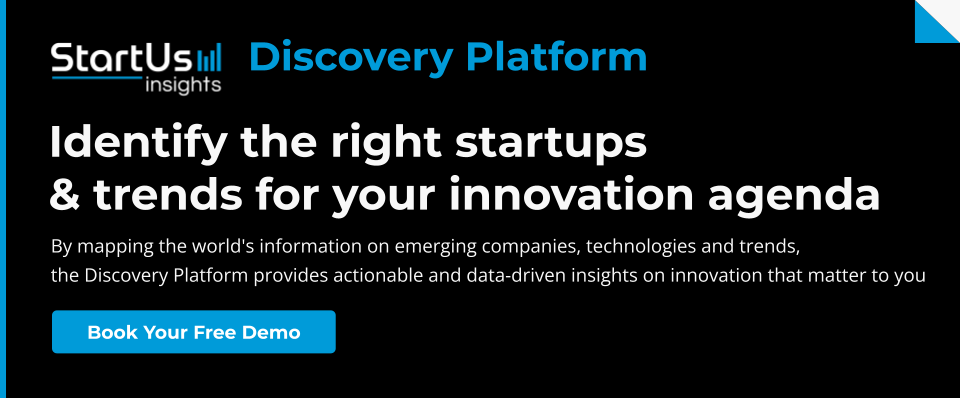 Develop a Clear Value Proposition
As an innovation manager, it is imperative that you develop a clear value proposition for startups in order to attract the right partners. This involves outlining the benefits that startups can expect to receive from the engagement, such as access to resources, expertise, or customer networks.
The value proposition should clearly communicate how the engagement will support the startup's growth. This motivates more startups to engage with you, such as with increased participation in your startup programs.
Foster Collaboration & Co-Creation
Companies need to foster collaboration and co-creation with startups in order to drive innovation and growth. To do this, you need to establish mechanisms for ongoing communication and feedback, such as regular meetings or workshops, and provide support and resources to enable startups to develop and grow.
Open innovation is all about breaking innovation out of silos. Transparent data sharing and open-source development are two ways to indicate that your company demonstrates that ethos. Overall, steps to improve collaboration strengthen relationships between your company and the startups, impacting the success of your open innovation initiatives.
Measure & Evaluate Success
You should regularly measure and evaluate the success of your startup engagement initiatives in order to ensure that they are effectively driving innovation and growth. Some of the metrics you should track include the number and quality of ideas generated, the impact of startup engagement on the organization's operations, and the satisfaction of your business units and the startups involved. This allows you to identify which startup engagement approaches work best for your company and how to further optimize them.
Take Your Startup Engagement to the Next Level!
Monitoring the global startup landscape and working with the most promising ones is key to successful startup engagement. The Discovery Platform combines exhaustive data on startups and technologies, powerful semantic search, and knowledge graphs to deliver the best startups for your open innovation initiatives.
Some of the features of our Discovery Platform include:
Covers over 3 million startups and scaleups globally. Its exhaustive database of startups globally ensures that you don't miss out on anything.
Industry-leading precision. Regardless of how broad or narrow your search query is, it delivers the most relevant startups. This ensures that you don't waste time weeding out irrelevant startups.
Get results with a single click. Replace weeks of desk research with a click so that you can focus on engaging startups instead of identifying them.
Manage your startup scouting process. The Discovery Platform allows you to run multiple searches, mark interesting startups, and export results. This way, it provides you full control of the startup scouting process.
The Discovery Platform enables effective startup engagement by identifying the startups that best match your innovation agenda.
Looking for emerging startups to partner with?
✕