The explosive growth of e-commerce and consumerism drives reverse logistics' process complexities. In response to these problems, innovations in reverse logistics, such as data analytics, automated return processing, and sustainable recycling, are being developed and implemented. These reverse logistics trends are streamlining operations, improving customer satisfaction, and reducing the carbon footprint. Read more to discover how recent developments in reverse logistics are improving returns management and sustainability while minimizing costs.
Innovation Map outlines the Top Reverse Logistics Trends & 20 Promising Startups
For this in-depth research on the Top Trends in Reverse Logistics, we analyzed a sample of 381 global startups & scaleups. This data-driven research provides innovation intelligence that helps you improve strategic decision-making by giving you an overview of emerging technologies in the reverse logistics industry. In the Reverse Logistics Innovation Map below, you get a comprehensive overview of the innovation trends & startups that impact your company.
Top 10 Reverse Logistics Trends in 2024
These insights are derived by working with our Big Data & Artificial Intelligence-powered StartUs Insights Discovery Platform, covering 3 790 000+ startups & scaleups globally. As the world's largest resource for data on emerging companies, the SaaS platform enables you to identify relevant technologies and industry trends quickly & exhaustively.
Tree Map reveals the Impact of the Top Reverse Logistics Trends in 2024
Based on the Reverse Logistics Innovation Map, the Tree Map below illustrates the impact of the current trends in reverse logistics in 2024. Emerging trends like e-waste reverse supply chain initiatives address the growing need for responsible disposal and recycling of electronic waste. Cloud-powered reverse logistics platforms are streamlining the returns and replacement management process, making it more efficient and customer-friendly. Additionally, re-commerce is gaining traction and being supported by on-demand warehousing solutions that optimize inventory management.
Predictive analytics and big data provide companies with actionable insights to proactively address market demands while remanufacturing practices breathe new life into used products. End-of-life battery management is becoming increasingly important as industries transition from fossil fuels to battery-powered systems. Further, blockchain enhances product transparency and traceability while machine learning algorithms refine processes through adaptive learning.
Global Startup Heat Map covers 381 Reverse Logistics Startups & Scaleups
The Global Startup Heat Map below highlights the global distribution of the 381 exemplary startups & scaleups that we analyzed for this research. Created through the StartUs Insights Discovery Platform, the Heat Map reveals high startup activity in the UK and the US, followed by India.
Below, you get to meet 20 out of these 381 promising startups & scaleups as well as the solutions they develop. These reverse logistics startups are hand-picked based on criteria such as founding year, location, funding raised & more. Depending on your specific needs, your top picks might look entirely different.
Interested to explore all 350+ reverse logistics startups & scaleups?
10 Emerging Trends in Reverse Logistics (2024)
1. E-Waste Reverse Supply Chain
The growing amount of e-waste being generated compounds logistical issues like inefficient collection, lack of recycling procedures, and the improper handling of hazardous materials. Reverse logistics innovations, including e-waste reverse supply chains, overcome this through advanced tracking and tracing. For instance, such solutions enhance the visibility of returned products, ensuring they follow environmentally friendly disposal paths.
Additionally, the integration of AI and machine learning into reverse logistics workflows is optimizing the sorting and dismantling of electronic waste. This maximizes the recovery of valuable materials. Collaborative platforms are also connecting producers, recyclers, and consumers, fostering a connected circular economy and ensuring that e-waste is treated as a recoverable resource.
ERTH aids E-Waste Recycling
Malaysian startup ERTH recycles used and obsolete electronics as well as offers rewards for recycling. Its platform provides cost-free pickups for e-waste, requiring only one functional device or three non-functional ones. The process involves booking and handing over items and receiving payments. ERTH then collaborates with a government-licensed facility to ensure all of the collected e-waste undergoes recycling.
The startup also offers secure data destruction using software and hardware tools to ensure that confidential business data remains confidential. Organizations benefit from the e-waste collection box, which promotes on-site electronic waste collection. Besides this, ERTH's B2B enterprise solution manages recycling programs for prominent enterprises.
Baytech Recovery facilitates IT Asset Disposition (ITAD)
US-based startup Baytech Recovery provides responsible and secure disposal of end-of-life or unwanted electronic equipment. The startup specializes in IT asset disposition with electronic waste forming a significant portion of the items. It also emphasizes data destruction that allows companies to securely erase old data to increase storage capacity.
Besides, the startup's decommissioning solutions encompass the removal of various IT equipment, including servers and laptops. Baytech Recovery ensures environmentally friendly recycling and their buyback program allows clients to sell entire IT asset inventory.
2. Cloud-powered Reverse Logistics
Sales through e-commerce have drastically risen in recent years, largely due to the COVID-19 pandemic. Further, logistical systems are unable to handle large volumes due to inefficient management and lack of supply chain visibility. Cloud-powered reverse logistics address this issue by leveraging the scalability and real-time data processing capabilities of cloud platforms.
Cloud computing enables businesses to gain insights into the status and location of returned items and facilitates dynamic rerouting of goods for refurbishment, recycling, or resale. Moreover, cloud-based reverse logistics solutions enable easy integration with existing or new logistics systems, promoting collaboration within logistical networks.
Reusely enables Smart Returns
Reusely is a US-based startup specializing in reverse logistics solutions to enhance online and retail trade-in lead generation and operations. Its cloud-powered platform automates the provision of pre-paid mail-in return shipping labels for customers and also incorporates advanced routing rules. These rules ensure that specific products are directed to the appropriate warehouses or are shipped using designated providers based on the package value.
Further, Reusely operates on a pay-per-usage model, where charges are incurred only when a return label is activated. This eliminates costs for unused labels. The platform thus reduces expenses and boosts operational efficiency by enabling intelligent return shipping strategies.
Warehowz provides Cloud Warehousing
Warehowz is a US-based startup that offers a cloud-based warehousing platform. It connects businesses with on-demand warehousing spaces that cater specifically to managing returns and mass product recalls. Additionally, it provides access to a steady pipeline of clients to fill underutilized warehousing capacity while streamlining the negotiation and onboarding processes.
Warehowz's solution provides visibility into logistical processes, manages inventory, and tracks the movements of products for various clients. The platform also complements existing warehouse management systems (WMS). Warehowz's solution caters to a wide range of industries including automotive, medical, food and beverage, and more.
3. Returns & Replacement Management
The complexity of returns and replacement processes in reverse logistics often results in operational bottlenecks, delayed responses, and customer dissatisfaction. Using advanced automation and AI-driven workflows, startups simplify and streamline the multifaceted steps involved in handling returns. This includes managing all steps of reverse logistics from initial customer contact to final product disposition.
By automating decision-making based on predefined criteria and real-time data, logistics providers ensure a more consistent, efficient, and customer-centric approach to managing returns. This, in turn, reduces errors and enhances overall customer satisfaction.
Prepshipping simplifies Return Management
Prepshipping is a US-based startup that facilitates returns and replacements. The startup provides a dashboard where businesses are able to monitor and control their inventory and product shipping status. During the return process, Prepshipping handles the acceptance of returned items and conducts quality control checks. Subsequently, the startup informs businesses about the condition of returned items, enabling potential resale and transforming return costs into inventory advantages.
In addition, Prepshipping offers product merging, sorting, repackaging, and controls both Amazon and Preshipping inventory simultaneously through a web-based interface. The startup gathers all returned products at specified intervals and orchestrates collective shipments to desired destinations. The company's approach to return management ensures efficient handling and optimization of returned goods.
8returns enables Automated Returns Processing
German startup 8returns creates a platform that automates the returns process and streamlines refunds, exchanges, store credit, and repair operations. The platform allows businesses to customize return policies while offering insights to enhance their online shops and products. Moreover, the platform simplifies the process for customers to initiate a return for money or as an exchange.
8returns also keeps customers informed throughout the entire returns process, ensuring transparency and satisfaction. The platform facilitates the easy exchange of products, especially when a customer receives an incorrect item. Further, 8returns integrates with 3PL, enterprise resource planning (ERP), and customer service tools to make returns automation easier.
4. Recommerce
The improper valuation of returned items, especially those deemed unsellable in their current state, leads to avoidable loss of revenue and increased waste. To alleviate the negative effects of the increasing trend of consumerism, startups are offering recommerce platforms. They facilitate the resale of returned, refurbished, or repurposed products by leveraging data analytics and market insights.
Novel recommerce platforms leverage dynamic pricing and positioning to place items in secondary markets, ensuring they find a new customer base. This provides an additional revenue stream for businesses and also promotes sustainability by extending the lifecycle of products.
ManMade Cycle advances Electronics Recommerce
ManMade Cycle is an Australian startup that provides a trade-in solution featuring diagnostic services, trade-in price evaluations, and price analytics. Its retail trade-in program allows customers to exchange used or damaged electronic devices, receiving instant competitive pricing. ManMade Cycle's diagnostic mobile application offers accurate quotations based on diagnostic results.
The platform's trade-in process spans from initial diagnostics to final quotations, ensuring a user-friendly experience. Additionally, ManMade Cycle prioritizes data security, erasing all data from devices before further processing. The startup reduces e-waste by providing electronic devices a second chance, either through refurbishment or responsible recycling.
Reflaunt develops a Branded Recommerce Platform
Portuguese startup Reflaunt creates a website that allows brands to engage with customers interested in second-hand shopping. This branded resale platform is tailored to reflect each brand's identity and ensure a seamless shopping experience. Reflaunt identifies the most suitable features to highlight a product's resale value and tailors its look and feel to maximize its value.
It also showcases products sourced from a company's resale service, archived items, unsold pieces, and a curated selection from Reflaunt partners. Customers are also able to resell their past purchases directly on the recommerce platform. Reflaunt's approach ensures that brands tap into a new revenue stream, and increases the value of pre-owned items.
5. On-Demand Warehousing
A pressing issue in reverse logistics is the unpredictability of return volumes, leading to space constraints and inefficiencies in traditional warehousing. On-demand warehousing offers a flexible solution to this problem by allowing businesses to scale their storage needs dynamically based on real-time return influxes.
These warehousing solutions provide the agility to handle peak return periods without the overheads of maintaining large and permanent facilities. This elasticity ensures optimal space utilization and also reduces costs as businesses only pay for the space they use. This ensures a cost-effective approach to the ever-fluctuating demands for reverse logistics.
WeStore offers On-Demand Storage and Delivery
UAE-based startup WeStore provides on-demand warehousing for small, medium, and large e-commerce businesses. The startup connects businesses with vetted warehousing facilities to ensure flexibility in space and duration. Additionally, it offers additional services for reverse logistics such as customs clearance and quality checking.
The startup also provides cost-effective, same-day delivery services throughout the UAE and accommodates fragile goods and customized parcels. This approach provides warehouses with spare storage and fulfillment capacity with an avenue to maximize their revenue. Additionally, it simplifies reverse logistics processes for e-commerce and retail businesses.
Warehouse Now provides Flexible Warehousing
Warehouse Now is an Indian startup that offers on-demand flexi-warehousing and supply chain solutions. Its platform aids reverse logistics through services such as procurement, inbound logistics, inventory management, and route optimization. These services improve the connection between factories to customers, including processes like picking, packing, and shipping products.
The startup's shared warehousing spaces provide a cost-efficient solution, while dedicated spaces provide exclusive storage with round-the-clock security. Moreover, temperature-controlled environments ensure the safe storage of perishables. This approach to warehousing ensures that businesses have access to flexible, efficient, cost-effective, and secure storage.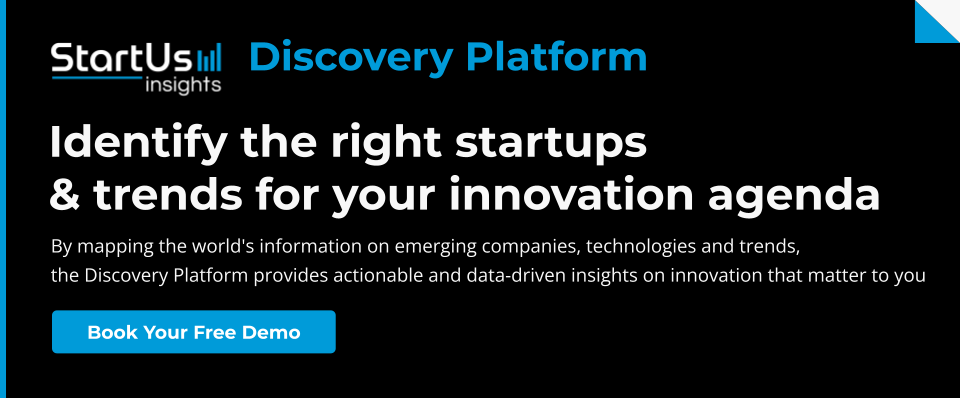 6. Predictive Analytics & Big Data
Big data operates through integrating data from various sources to manage the data and analyze it for actionable insights, including visual analyses. This comprehensive approach to data opens up new opportunities, enables the identification of business models, and also allows companies to uncover hidden patterns. Improved data management in reverse logistics processes allows brands to find root causes for returns and improve product quality, enhancing customer satisfaction.
Anticipating return volumes and understanding the reasons behind them is highly difficult, resulting in inventory imbalances and reactive decision-making. Predictive analytics solutions, enabled by enhanced data management, utilize historical data to forecast future return trends. This allows businesses to better prepare and allocate resources.
Saara advances AI-Powered Fraud Prevention
US-based startup Saara develops AI-powered solutions to streamline returns management in e-commerce. The startup's EcoReturns solution combines AI and ChatGPT to provide a human-like experience to shoppers during the returns process. Besides, the AI-powered fraud prevention feature flags risky customers and returns with additional automation rules to reduce customer queries and turnaround time.
The startup also provides returns analytics that offer insights into top return reasons and patterns. Further, its configurable returns portal lets customers easily return or exchange products and notify them via text and email. In this way, the entire process of reverse logistics is simplified for both businesses and their customers.
Droppa enables Multi-Returns Forecasting
Swedish startup Droppa uses an analytics engine to enhance e-commerce returns and exchange management. It collects data throughout the return process to forecast returns and provide actionable intelligence to reduce return rates and improve product quality. Further, the platform's dynamic return rules allow tailoring of return reasons, fees, and policies based on market, customer segment, or product category.
Droppa's return management software integrates with existing ERP, WMS, and customer support systems, streamlining return processes. The startup's one-stop return platform thus improves the overall return experience, allowing brands to reduce returns, retain revenue, and cut logistics costs.
7. Remanufacturing
The underutilization of returned products leads to the wastage of materials, missed revenue opportunities, and ultimately dumping of products in landfills. Innovations in remanufacturing address these issues using novel techniques to disassemble and rejuvenate these components to meet or even exceed their original specifications.
In this way, remanufacturing recovers a significant portion of the product's original value and also conserves resources, and reduces environmental impact. Advanced diagnostic tools and automated refurbishing processes further ensure that the remanufactured products meet quality standards. This allows businesses to reintroduce them into the market, thereby maximizing value recovery.
Rolling Stock Solutions advances Rolling Stock Remanufacturing
Rolling Stock Solutions is a US-based startup that provides remanufactured locomotives to commuter rail agencies. The startup's primary offering is the F40PH model, a locomotive that has undergone comprehensive remanufacturing to meet standard industry specifications. These locomotives offer cleaner, quieter, and more reliable service to passengers.
The remanufacturing process emphasizes sustainability, with a significant reduction in NOx emissions and improved fuel efficiency. Additionally, the startup offers flexible, on-demand leasing options, catering to the needs of commuter rail agencies. The startup's solution ensures that old locomotives are diverted from scrap yards to prolong their service life.
Medsalv specializes in Medical Device Remanufacturing
New Zealand-based startup Medsalv promotes sustainability within the healthcare sector by remanufacturing medical devices. The startup collects used medical devices and stores them in device-specific containers. The devices are then sorted based on various criteria, including type, brand, and visual condition. Each device receives a unique identifier, ensuring traceability and branding.
The core of the service is the remanufacturing phase, where devices undergo a proprietary cleaning process, multiple inspections, and rigorous testing to ensure safety and functionality. After ensuring the devices meet the required standards, they are packaged with clear labels and instructions. In this way, Medsalv enables the medical industry to maximize cost savings and minimize waste generation.
8. End-of-Life Battery Management
Reverse logistics struggles with the safe and efficient handling of end-of-life batteries, especially with the rise of electric vehicles (EVs) and electronic devices. Tailored battery management solutions address this through the use of specialized processes and technologies to safely disassemble, extract, and repurpose critical battery materials.
Advanced chemical processes and mechanical techniques are being employed to reclaim precious metals and other components. They are reintroduced into the manufacturing cycle and then power other applications. This mitigates environmental hazards and also reduces the demand for virgin materials, fostering a more sustainable and resource-efficient approach.
DellCon provides Reverse Logistics for Lithium-Ion Batteries
DellCon is a German startup specializing in the reverse logistics of lithium-ion batteries, focusing on their dismantling, discharging, and diagnostics. The startup also uses AI-based technology to determine its reusability. This significantly reduces battery e-waste generated due to the rising electrification across industries. Furthermore, DellCon offers specialized solutions for disposing of critical e-batteries, ensuring legal compliance and safety. In addition, the startup provides hazard assessment, route planning, and the creation of ADR transport documents.
The startup's packaging specifically caters to critically defective lithium-ion batteries, ensuring they are safely contained. Additionally, it has protocols for the recovery and proper disposal of burned-out batteries, emphasizing Dellcon's comprehensive approach to battery management.
Samsar Resources facilitates Lithium-Ion Battery Repurposing
Samsar Resources is a US-based startup that maximizes the economic value of lithium-ion batteries through repurposing. The startup's process initiates with reverse logistics, where repurposed batteries are secured, labeled, and prepared for shipment to its distribution center. The batteries are then provided with unique NthLife battery passports that track the entire lifecycle of the batteries. At the distribution center, the repurposed battery supply undergoes screening, sorting, certification, and preparation for NthLife battery assembly.
The battery modules and packs are then assembled and introduced to new markets, with continuous updates to the battery passport. Throughout their lifecycle, NthLife batteries undergo performance tracking, monitoring, and control. The performance of these batteries is periodically evaluated to determine their potential for further market deployment or if they should be transitioned for environmentally friendly recycling. This comprehensive approach ensures the extended use of batteries, reducing waste and promoting a circular economy.
9. Blockchain
In reverse logistics, ensuring transparency, traceability, and trust throughout the return and recycling processes has been a persistent challenge, especially when multiple stakeholders are involved. Blockchain technology creates immutable and decentralized ledgers of transactions and product journeys, providing visibility into the reverse logistics chain.
Blockchain solutions also provide added security as every step from the initial return to the final disposition is recorded and verifiable by all stakeholders. This reduces discrepancies and disputes while ensuring the authenticity and ethical handling of returned goods. This fosters greater accountability and collaboration among manufacturers, suppliers, and recyclers.
Circularr manufactures Reverse Vending Machines
UK-based startup Circularr builds a decentralized and sustainable recycling ecosystem using blockchain and reverse vending machines. The reverse vending machine lets people convert plastic bottles into tradable assets in the form of $CIRP tokens. This plastic undergoes trading as a commodity and is tracked throughout the entire recycling process.
Circularr's blockchain and reward-based system simplifies the recycling process and introduces accountability and traceability into plastic reverse logistics. Moreover, its tokens are integrated into deposit return schemes, reverse vending machines, and more to encourage recycling.
dltledgers develops a Digital Reverse Logistics App
Singaporean startup dltledgers streamlines reverse logistics processes across various suppliers and regions using a blockchain-based platform. It identifies return-label information in RMA documents and pre-sorting returned items for optimized processing. The platform also streamlines the RMA process involving multiple parties in various geographies within a digital network.
The solution provides an accurate data and digital document repository, ensuring auditability across departments and offering insights to refine the process. Further, the app optimizes and automates verification processes within the reverse logistics processes. Through these features, the blockchain-based app provides greater visibility and transparency to businesses in reverse logistics networks.
10. Machine Learning
Given the diverse range of product types and conditions, efficiently sorting and processing returned items requires significant time and effort. Therefore, startups are offering algorithms trained on extensive datasets from various return scenarios. Such machine learning models predict optimal routes for goods returned for refurbishment, recycling, resale, or disposal.
Reverse logistics businesses also leverage machine learning solutions to forecast demand, optimize inventory levels, and identify patterns in returns. Further, machine learning, along with other data processing methods, enables predictive analytics. The integration of machine learning in reverse logistics thus improves decision-making and streamlines reverse logistics processes.
Stateset develops an Autonomous Returns Classifier
US-based startup Stateset offers an autonomous commerce operations platform designed specifically for direct-to-consumer (DTC) merchants, warehouses, and developer partners. Its platform employs machine learning for return and warranty product classification utilizing Google's Vertex AI workbench. The platform also streamlines returns management processes including reverse logistics, label printing, and replacement processing.
Stateset's AI Chat further utilizes GPT-4 to enhance customer support by providing automated responses based on frequently asked questions (FAQs) and customer data. The startup's technology enables DTC businesses to grow while simplifying their operations and improving customer service response times.
HAMMOQ offers Resale Automation
US-based startup HAMMOQ develops machine learning algorithms to maximize profits on online resales. The startup's AI-powered SaaS platform automates the listing process for online resellers across various marketplaces. By using photographs, HAMMOQ's advanced machine vision and AI technology generate online listings with SEO-optimized descriptions, titles, attributes, and categories.
The platform maximizes workforce efficiency, allowing resellers to photograph items within the app and initiate the listing process immediately. Further, the AI system accurately identifies item specifics that are crucial for buyers and populates listing fields for user approval. This technology enables users to save a significant amount of time and effort while increasing product sales.
Discover all Future Technologies & Trends in Reverse Logistics
Technologies such as IoT are providing real-time tracking and monitoring of returned goods, ensuring timely delivery. While AR enhances training and operations, smart contracts are automating and streamlining agreements, reducing disputes, and ensuring smoother transactions. These innovations, among others, are optimizing reverse logistics processes and driving significant environmental and economic benefits.
The reverse logistics technology trends and startups outlined in this report only scratch the surface of trends that we identified during our data-driven innovation & startup scouting process. Identifying new opportunities & emerging technologies to implement into your business goes a long way in gaining a competitive advantage.
Looking for reverse logistics startups & technologies?
✕