Global Startup Heat Map highlights 10 Plastic Recovery Startups to Watch in 2023
Through the Big Data & Artificial Intelligence (AI)-powered StartUs Insights Discovery Platform, covering over 3 790 000+ startups & scaleups globally, we identified 486 plastic recovery startups. The Global Startup Heat Map below highlights the 10 plastic recovery startups you should watch in 2023 as well as the geo-distribution of all 486 startups & scaleups we analyzed for this research. Based on the heat map, we see high startup activity in the UK and the US, followed by India. These plastic recovery startups work on solutions ranging from plastic sorting systems to waste decontamination and chemical recycling to automated recycling.
Interested to explore all 450+ plastic recovery startups?
As the world's largest resource for data on emerging companies, the SaaS platform enables you to identify relevant technologies and industry trends quickly & exhaustively. Based on the data from the platform, the Top 5 Plastic Recovery Startup Hubs are in New York City, London, Los Angeles, Bangalore & Berlin. The 10 hand-picked startups highlighted in this report are chosen from all over the world and develop solutions for advanced plastic recycling, waste-to-energy (WTE), rapid plastic sorting, and waste flow monitoring.
10 Top Plastic Recovery Startups to Watch in 2023
Advances in plastic recovery address the global plastic pollution crisis. Advanced or chemical recycling technologies break down plastic waste into its constituent components and convert them into new products. This approach reduces the amount of plastic waste that ends up in landfills and the environment while ensuring high material quality. Further, biodegradable and compostable plastics break down naturally and have a lower impact on the environment. These materials are used in a range of applications, from packaging to consumer goods. The adoption of circular economy principles also encourages the use of recovered materials to reduce waste and conserve resources. As technology continues to evolve, further innovations in this area are likely to emerge, leading to new and more effective methods of plastic recovery, upcycling, and recycling.
Reconnai promotes AI-based Plastic Sorting
Japanese startup Reconnai develops a platform for consumers, producers, and governments to improve waste separation and collection. The startup's AI-based mobile app lets users take pictures to provide them with proper sorting instructions to simplify the recycling process. The app also integrates local sorting rules and collection site information. Further, Reconnai's platform lets business-to-business (B2B) sponsors reward users with points or cashback for responsible waste disposal and promote eco-friendly behavior.
Circulyzer creates a Float Separation System
Circulyzer is an Austrian startup that manufactures and installs plants for the wet mechanical processing of post-consumer plastics and related waste. The startup's separation and washing unit features a centrifugal force separator (CFS) that achieves high material purity and recovery. The separation unit does not contain rotating or moving parts and handles up to 30 cubic meters or 9 tons per hour. This system enables the recovery and recycling of post-consumer plastics from heavily contaminated and heterogeneous waste fractions.
Inobus enables AI-based Waste Disposal
South Korean startup Inobus creates an AI-powered automatic sorting machine for transparent plastic bottle recycling. Its 24-hour unattended system, Ssam Re-PET, separates PET bottles along with an automatic compression system that enables large-capacity PET bottle collection. Moreover, it leverages big data to provide a real-time dashboard that displays eight types of metrics for easy operation monitoring. This solution also facilitates Inobus's collection and transportation of waste PET bottles to transform them into high-quality raw materials.
ReVentas advances Polyethylene & Polypropylene Decontamination
ReVentas is a UK-based startup that separates and purifies plastic polymers into a virgin-like resin. The startup's patented technology separates polyethylene and polypropylene from contaminants and rejuvenates the properties of the plastic. The process also removes all odor and color from the polymers and converts them into a new product for applications in other industries. ReVentas' approach eliminates the need for large petrochemical facilities, reduces the capital cost of recycling infrastructure, and enables scalable recycling solutions. This energy-efficient technology decreases the environmental footprint of recycling and outperforms traditional petrochemical plastic manufacturing methods in sustainability.
Weapon X develops a Plastic Recycling Agent
US-based startup Weapon X creates a recycling solution that combines, grinds, and reforms various plastics. The startup's patent-pending plastic recycling agent processes plastics such as polyethylene terephthalate (PETE), high-density polyethylene (HDPE), and polyvinyl chloride (PVC-U) into chips for manufacturing new products. Besides, it accepts all forms of plastics irrespective of shape or type, unlike most other processing techniques. Moreover, the solution features adjustable strength to match product materials and also reduces CO2 emissions. In this way, Weapon X facilitates sustainable production and waste reduction to promote a circular economy.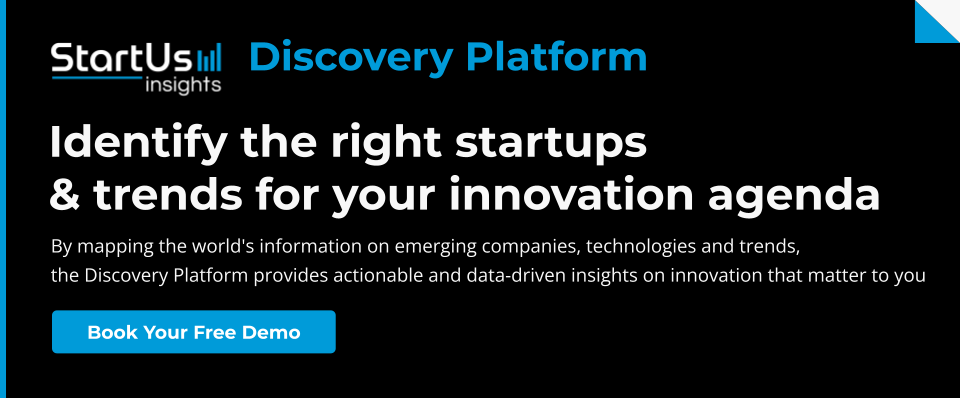 R3Polska manufactures Smart Reverse Vending Machines
Polish startup R3Polska creates reverse vending machines to recover, clean, and segregate waste plastic material. Its recyclomat is a smart machine that collects, compacts, and segregates disposable drink containers using an internal EAN code database of PET and ALU containers. The machine also features a central module to manage and control the state of recyclomats, measure their capacities, and provide remote technical assistance. Additionally, its motivation module provides incentives in the form of points for every item returned. R3Polska's device provides customers with promotional or educational information to increase customer engagement and promote waste recycling.
Blend Energy advances Waste-to-Energy
Blend Energy is an Israeli startup that makes an eco-friendly solution for plastic waste processing by producing electricity with carbon dioxide (CO2) capture. Its solution catalytically decomposes mixed plastic waste, including PVC and PET plastics, and incorporates open-source in-house automation. Blend Energr's system features an integrated plastic shredder, distillation unit, heating system recovery, and a unique reactor design. Moreover, the plastic waste recovery process generates an LPG-like gas that is safe to store and produce electricity.
Birch Biosciences creates Engineered Enzymes
US-based startup Birch Biosciences engineers enzymes for plastic recycling by utilizing synthetic biology and machine learning. The startup's proprietary platform combines AI, bioinformatics, and high-throughput screening to engineer high-performance enzymes for use in industrial-scale plastic recycling. Moreover, its bio-enzymatic process is cost-effective, high-yielding, and greatly reduces CO2 emissions associated with plastic recycling. The recycling process thus deconstructs waste materials and produces virgin-like plastics in a natural and efficient manner compared to conventional recycling methods.
Plas'tri develops offers an Easy-to-Use Plastic Scanner
French startup Plas'tri develops an intelligent portable scanner that identifies different plastic polymers. The scanner uses near-infrared spectroscopy to analyze signals that identify and display the name of plastics. It operates for eight hours on a single charge and removes the conventional recognition processes of folding, touching, or burning plastics. The device simplifies waste sorting for personnel at facilities as it only requires pressing the trigger to correctly identify waste. Moreover, Plas'tri's solution reduces the number of recoverable plastics that are often incorrectly discarded at waste sorting facilities.
PolyPerception simplifies Waste Flow Monitoring
Belgian startup PolyPerception provides AI-powered waste flow monitoring for recyclers and plastic material recovery facilities. The startup's system combines computer vision and AI to accurately identify, sort, and separate various plastic waste types. A fully customizable dashboard shows waste management performance and allows waste facility operators to make data-driven decisions in real-time. It also features real-time auditing through continuous data sharing to build trust and confidence with external stakeholders and authorities. By optimizing the plastics recycling process, PolyPerception boosts efficiency and compliance while creating a more sustainable closed-loop system.
Discover All Emerging CleanTech Startups
The CleanTech startups showcased in this report are only a small sample of all startups we identified through our data-driven startup scouting approach. Download our free CleanTech Innovation Report for a broad overview of the industry or get in touch for quick & exhaustive research on the latest technologies & emerging solutions that will impact your company in 2023!
Looking for plastic recovery startups & technologies?
✕
Get your free CleanTech Innovation Report
We'll deliver it straight to your inbox!
✕