Global Startup Heat Map highlights 10 Industrial Worker Safety Startups to Watch in 2023
Through the Big Data & Artificial Intelligence (AI)-powered StartUs Insights Discovery Platform, which covers over 3 790 000+ startups & scaleups globally, we identified 607 Industrial Worker Safety startups. The Global Startup Heat Map below highlights the 10 industrial worker safety startups you should watch in 2023 as well as the geo-distribution of all 607 startups & scaleups we analyzed for this research. Based on the heat map, we see high startup activity in the USA and the UK, followed by India. These industrial worker safety startups work on solutions ranging from advanced robotics and computer vision to assisted maintenance and real-time worker monitoring.
Interested to explore all 600+ industrial workplace safety startups?
As the world's largest resource for data on emerging companies, the SaaS platform enables you to identify relevant technologies and industry trends quickly & exhaustively. Based on the data from the platform, the Top 5 Industrial Worker Safety Startup Hubs are in New York City, London, Bangalore, San Fransisco & Singapore. The 10 hand-picked startups highlighted in this report are chosen from all over the world and develop solutions for factory floors, worker monitoring, and navigating dangerous environments.
10 Top Industrial Worker Safety Startups to Watch in 2023
Innovations in industrial worker safety bring significant advances, prioritizing the well-being of workers in hazardous environments. One notable development is the implementation of wearables, such as smart helmets and safety vests, equipped with sensors to detect and alert workers of potential dangers in real time. Additionally, robotics and automation replace workers in high-risk industrial operations, thus reducing the exposure of workers to hazardous conditions. Novel safety training programs utilize virtual reality (VR) and augmented reality (AR) simulations, allowing workers to practice and experience dangerous scenarios. These innovations, driven by cutting-edge technology, empower industries to prioritize worker safety, mitigate risks, and create safer work environments.
1Breadcrumb increases Construction Safety
Australian startup 1Breadcrumb offers automation to safety and compliance workflows in construction sites. It uses a mobile and web-based digital platform that provides real-time insights and digitizes safety administration on-site and off-site. The solution includes asset safety management and automation by tracking high-value tools and vehicles. Also, it provides real-time insights into reporting on conditional maintenance of the assets. 1Breadcrumb's integrated platform ensures digital collection, access, and review of total construction safety compliance and communication to help construction managers.
WorkFar Robotics develops Teleoperated Robots
WorkFar Robotics is a US-based startup that makes Avatar Robots, its teleoperated robots to work in dangerous industrial conditions and areas. The robots combine AI, machine learning, and computer vision to predict and adjust the kinematics and pathing to complete tasks. For instance, an Avatar Robot replaces drivers in vehicle crash testing and allows workers to remotely execute tasks inside furnaces, power plants, laboratories, and more.
Ailytics delivers AI-Powered Worksite Safety
Ailytics is a Singaporean startup that provides industrial measures to enhance safety and productivity in the workplace. It uses existing CCTV infrastructure and proprietary AI-enabled video analytics software to process and provide real-time notifications on safety violations. The startup's platform, Aisafety, keeps the worksite and workers safe by improving the safety culture through real-time detection and alerts. Ailytics provides insights on under lifted loads, open edge and vest color detection, and personal protection equipment (PPE) detection. This enables factories to identify workers' exposure to hazardous areas and ensure their safety.
Safenetix offers Safety Training Solutions
US-based startup Safenetix provides online and onsite training on facility safety. It includes fire door inspection training for facility maintenance personnel and technicians. The startup also offers inspection software to eliminate the need for manual data collection and suggest corrective actions in real time. Safenetix caters to the healthcare, commercial, manufacturing, and hospitality industries by allowing businesses to train a large number of employees.
ARVIST uses Security Cameras for Operational Safety
ARVIST is a US-based startup that uses existing camera setups to provide operational and workplace safety in warehouses. Its AI-enabled warehouse software delivers real-time insights to prevent workplace injuries, reduce task time, improve route tracking, and reduce leave of absence. The software helps in lowering reaction times and operational shutdowns through notifications and alerts for facility incidents. ARVIST caters to warehouse operators, distributors as well as cargo and logistics managers to increase productivity and reduce operational costs.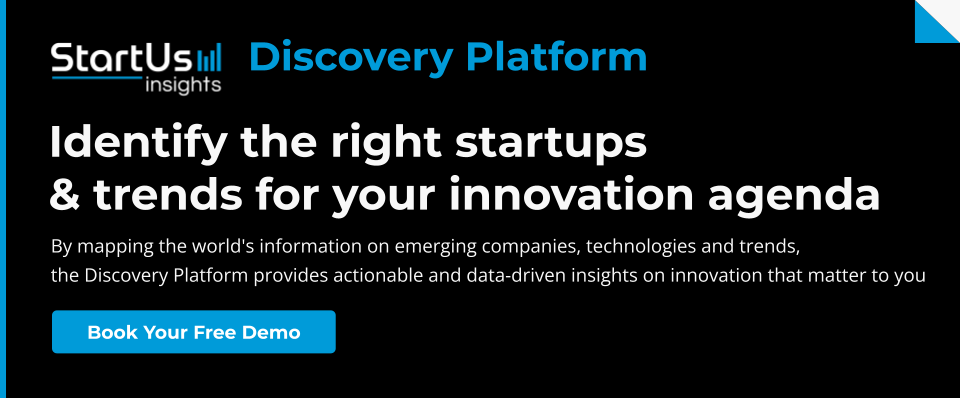 VR AR Solutions Australia develops XR-assisted Worker Safety
Australian startup VR AR Solutions Australia creates industry safety training solutions through immersive technologies. The startup offers computer-simulated virtual content to imitate safety presentations in a natural environment. It also provides custom VR simulators for industry-specific software to develop 360 virtual tours and walkthroughs, optimizing virtual training. This enables industrial businesses to train staff on hazard identification and risk control.
Visionaize provides 3D Industrial Digital Twins
US-based startup Visionaize makes immersive 3D digital twins in role-based workplace packages to improve worker safety and productivity. The startup's software, V-Suite, leverages remote VR for safety training, onboarding, and planning through virtual demonstrations. It also accesses real-time and historical sensor data to improve asset reliability and worker safety. Visionaize helps oil and gas companies as well as manufacturers to enhance plant productivity and decision-making cycles through its immersive enterprise asset management (EAM) platform.
Inviol develops an AI-powered Safety Coach
Inviol is a New Zealand-based startup that offers an AI-enabled health and safety coach to reduce the risk of injuries in warehouses. Its safety platform identifies high-risk behaviors and notifies managers to enable a safer work culture. The platform allows warehouses to monitor PPE compliance, set active loading zones, detect overhead loads, detect behavioral safety, and improve area control. Inviol's AI systems then determine and alert if a breach occurs. This enables the startup to ensure worker safety in warehouses while loading/unloading and on-floor operations.
Mirrag AI offers Safety Management Solutions
Indian startup Mirrag AI develops an AI-powered environment, health, safety (EHS), and quality management platform for organizations to manage workplace safety. It features Mirrag SAFE, which enables perimeter monitoring, intrusion detection, and worker tracking to detect events or objects of interest. By using computer vision, the startup also automates real-time incident management and prevention in staircases, forklifts, and more. Mirrag AI benefits organizations and industries by reducing unplanned workforce absenteeism and optimizing plant productivity.
Lumilook provides Security Audits for Workplace Safety
Polish startup Lumilook uses an AI-powered analytics tool that turns CCTV cameras into intelligent workplace safety surveillance systems. It features image analysis algorithms for real-time tracking to warn of moving objects and people, preventing accidents. The platform also runs on a self-learning fully automated system that generates new predictions in real-time. Lumilook thus enables object detection and predictive analytics to increase workplace safety in industrial aisles and warehouses.
Discover All Emerging Industry 4.0 Startups
The Industry 4.0 startups showcased in this report are only a small sample of all startups we identified through our data-driven startup scouting approach. Download our free Industry 4.0 Innovation Report for a broad overview of the industry or get in touch for quick & exhaustive research on the latest technologies & emerging solutions that will impact your company in 2023!
Looking for industrial worker safety solutions & technologies?
✕
Get your free Industry 4.0 Innovation Report
We'll deliver it straight to your inbox!
✕