Fleet management involves the acquisition, maintenance, safety, budgeting, and monitoring of a group of vehicles. It benefits businesses of all sizes and industries by reducing labor and fuel costs. Such solutions also improve safety and compliance, while optimizing overall cost-savings and vehicle lifespan. Increasing autonomous applications of fleets, especially in warehouses and last-mile delivery also features in the top trends. Moreover, mobility companies develop fleets to help people commute in cities and towns in a more sustainable way. This research provides you with the top 10 fleet management trends, ranging from EVs and fleet telematics to cybersecurity and autonomous fleets.
Innovation Map outlines the Top 10 Fleet Management Trends & 20 Promising Startups
For this in-depth research on the Top Fleet Management Trends & Startups, we analyzed a sample of 1410 global startups & scaleups. This data-driven research provides innovation intelligence that helps you improve strategic decision-making by giving you an overview of emerging technologies in the logistics and mobility industries. In the Fleet Management Innovation Map below, you get a comprehensive overview of the innovation trends & startups that impact your company.
These insights are derived by working with our Big Data & Artificial Intelligence-powered StartUs Insights Discovery Platform, covering 3 790 000+ startups & scaleups globally. As the world's largest resource for data on emerging companies, the SaaS platform enables you to identify relevant technologies and industry trends quickly & exhaustively.
Tree Map reveals the Impact of the Top 10 Fleet Management Trends
Based on the Fleet Innovation Map, the Tree Map below illustrates the impact of the Top 10 Fleet Management Trends in 2023. Startups and scaleups develop solutions for enhancing fleet efficiency and safety. Electric vehicle fleets, the most prevalent trend, and fuel management, allow fleet managers to reduce fuel costs and emissions. Fleet telematics and data analytics enable the monitoring and optimization of fleet performance and driver behavior. Further, remote fleet management and fleet-as-a-service offer more flexibility and scalability for fleet operators. Autonomous vehicles and cybersecurity are also bringing new opportunities and challenges for fleet safety and security. Finally, sustainable fleets and fleet delivery optimization lead to improvements in resource management and customer satisfaction.
Top 10 Fleet Management Trends in 2023
Global Startup Heat Map covers 1410 Fleet Management Startups & Scaleups
The Global Startup Heat Map below highlights the global distribution of the 1410 exemplary startups & scaleups that we analyzed for this research. Created through the StartUs Insights Discovery Platform, the Heat Map reveals high startup activity in the US, followed by Western Europe and India. Below, you get to meet 20 out of these 1410 promising startups & scaleups as well as the solutions they develop. These fleet management startups are hand-picked based on criteria such as founding year, location, funding raised, & more. Depending on your specific needs, your top picks might look entirely different.
Interested to explore all 1400+ fleet management startups & scaleups?
Top 10 Fleet Management Trends in 2023
1. Electric Vehicles Fleets
Electric vehicles (EVs) in the fleet management industry lower operating costs, reduce emissions, and enhance performance. The effective management of EV fleets involves smart charging solutions, vehicle-to-grid (V2G) integration, and the use of electric trucks and buses. Smart charging solutions optimize the charging patterns of EVs to minimize energy costs and grid impacts. V2G integration enables EVs to provide additional services to the grid, such as frequency regulation and peak shaving. Electric trucks and buses are suitable for urban delivery and public transportation. The reason is they have lower noise and pollution levels. Further, startups are facilitating the adoption of EV fleets through developing solutions such as wireless charging and innovative financing and leasing models.
fleetch enables Electric Fleet Management
French startup fleetch develops fleet management software that specializes in electric vehicles (EVs). It allows businesses to customize the app and connect their EVs without any hardware device. The startup uses the existing connectivity of EVs to access data such as battery level, location, and mileage. This enables real-time monitoring of their fleet operations. fleetch helps businesses optimize their EV fleet performance, reduce costs, and improve sustainability.
Chargesoft offers EV Charge Station Management
Turkish startup Chargesoft develops an electric vehicle (EV) charge station management platform. It uses blockchain, machine learning, and artificial intelligence to enable fleets to build, connect and manage their EV charging infrastructure. The platform allows businesses to customize their user interface, tariffs, billing and payment tools, and business reporting. Further, it is compatible with multiple charger models through open charge point protocol (OCPP). Chargesoft allows EV charging businesses to effectively build a network and control their charge stations.
2. Fleet Telematics
Telematics enhances safety, efficiency, and productivity in fleet management. This technology enables communication and data exchange between vehicles and a central system. Telematics integrates advanced driver assistance systems (ADAS), video telematics, artificial intelligence (AI) and machine learning (ML), IoT, and connected vehicles. This provides real-time insights and alerts on driver behavior, vehicle performance, road conditions, and traffic patterns. Further, it helps fleet managers optimize routes, reduce fuel consumption, lower maintenance costs, and improve customer satisfaction. Startups and scaleups are leveraging technologies such as cloud computing, edge computing, 5G, and biometrics to develop fleet telematics solutions.
Fleetly provides Video Telematics
UK-based startup Fleetly develops fleet management and vehicle tracking platform. It uses dash cameras, AI, and 3D sensing to monitor and optimize the performance, safety, and efficiency of fleet vehicles. The dash cameras record the events that happen inside and around the vehicle and transmit them in real-time. The startup's solution integrates with enterprise resource planning (ERP) systems to promote security. Fleetly helps fleet owners and operators improve customer satisfaction and enhance driver behavior.
Mayika facilitates GPS Fleet Management
Australian startup Mayika offers GPS-enabled fleet tracking and management solution. It uses GPS trackers, IoT sensors, dash cameras, and driver apps to monitor and optimize the vehicle fleets and mobile workforce. The startup also leverages artificial intelligence and machine learning to provide features such as driver assistance systems, real-time alerts, and route optimization. Mayika gives the fleet managers complete control and visibility of their fleet operations.
3. Remote Fleet Management
Remote fleet management (RFM) leverages cloud-based solutions, AI, and mobile applications to track assets and optimize the efficiency of fleets. It enables fleet managers to monitor and control their vehicles remotely. This eliminates the need for physical presence or costly infrastructure. Further, it provides data-driven insights and recommendations to improve fleet operations and reduce costs. Startups are developing spatial analysis solutions and software applications to offer scalable and secure RFM. These solutions enable fleet managers to increase the efficiency, productivity, and profitability of their fleets.
Rzilient enables Intelligent Fleet Tracking
French startup Rzilient builds a SaaS platform that connects the data and allows fleet managers to monitor, control and optimize IT assets from anywhere. It enables proactive fleet monitoring and tracking of equipment's health status. Further, it allows easy onboarding and offboarding of employees, processes automation, and reduces IT costs. Rzilient helps small and medium enterprises (SMEs) simplify their IT management, receive real-time equipment status alerts, and reduce their carbon footprint.
Smart Ship facilitates Remote Vessel Condition Monitoring
Singaporean startup Smart Ship Hub develops a maritime digital platform that provides remote fleet management and predictive diagnostics for vessel owners. The Smart Ship Hub platform uses smart sensors, IoT, cloud, and data analytics to collect and process live data from various machinery and systems. The startup enables actionable intelligence through live situational awareness, performance advisory, voyage simulation, and remote video-based maintenance and inspection. Smart Ship helps maritime companies achieve cost savings, operational efficiencies, and voyage reliability.
4. Fleet Data Analytics
In fleet management, big data and analytics aid in collecting, processing, and analyzing large volumes of data from fleet vehicles. This data help fleet managers to make strategic decisions on asset utilization and customer satisfaction for the short and long term. Startups are developing solutions such as predictive maintenance, driver behavior analysis, route optimization, fuel efficiency, and emissions monitoring. These solutions use technologies such as machine learning, edge computing, blockchain, and 5G to enable real-time and secure data transmission and analysis.
MOTER offers Fleet Risk Management
US-based startup MOTER develops a platform for connected car data. It uses edge computing to process and analyze data from vehicles and sensors in real time. The startup's solution, fleet risk management, leverages AI-enabled cameras, and telematics devices to monitor driving behavior and detect collisions. It provides personalized insights and recommendations to improve fleet performance and safety. MOTER helps fleets companies to reduce accidents, injuries, and vehicle downtime.
Fleetyr provides Connected Fleet Analytics
Australian startup Fleetyr builds a fleet analytics solution. It connects, cleans, enriches, and visualizes data from various sources, such as telematics, maintenance, fuel, insurance, and driver behavior. It uses cloud-based technology and modular visualizations to provide actionable insights and help fleet managers get an overall view. Fleetyr simplifies data management and analytics for fleets of any size and industry.
5. Fleet as a Service
Fleet-as-a-Service (FaaS) integrates various modes of transportation into a single platform. This offers users access to mobility options suitable to their needs. The shared mobility fleets operate on-demand services and include solutions such as car-sharing, ride-hailing, and micro-mobility. Further, it enables fleet operators to optimize their vehicle utilization, reduce costs, and enhance customer satisfaction. FaaS startups are leveraging AI, blockchain, and cloud computing to create smart fleet solutions. FaaS is transforming the future of transportation and mobility, creating new opportunities for fleet managers as well as users.
ZeMaas offers On-demand Fleet Mobility
Canadian startup ZeMaas develops a MaaS Fleet platform. It allows fleet owners to manage and monitor their assets and drivers, and expand their customer base. It offers real-time traceability of parcels, riders, and drivers. Further, it offers MaaS Driver to easily manage the fleet of drivers. ZeMaas enables fleet businesses to digitally transform fleet operational models into the shared economy.
Fleetstep provides Fleet Mobility Service
Norwegian startup Fleetstep offers tailor-made mobility solutions for car subscriptions and car sharing. Its fleet management platform provides an overview of the car fleet, service indicators, a calendar-based car-sharing option, and a driver's log. It also provides a car-sharing app that allows users to search, reserve and unlock cars with their mobile phones. Fleetstep allows fleet businesses to optimize their fleet utilization and simplify operations through collaboration.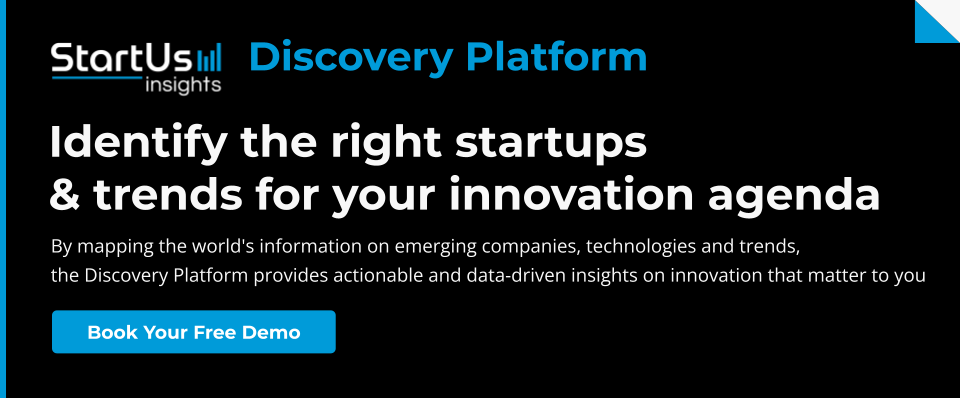 6. Autonomous Fleets
Autonomous vehicles (AVs) use advanced sensors, cameras, and software to navigate complex traffic scenarios and communicate with other vehicles and infrastructure. They also optimize routes and fuel efficiency to make travel more efficient and environmentally friendly. An emerging application of AVs is robo-taxis, which provides on-demand mobility services to passengers without human drivers. Another example is drone delivery which uses aerial vehicles to transport goods and packages to customers in remote or congested areas. Startups are leveraging technologies such as AI, IoT sensors, and cloud computing to develop AV fleet solutions.
eve autonomy enables Automated Fleet Management
Japanese startup eve autonomy provides automated transport solutions and fleet management for manufacturing sites using AVs. It leverages autonomous driving technology and enables flexible indoor/outdoor transport of goods. The AV fleets transport goods between warehouses and create a safe work environment. By automating transport tasks and managing fleets, eve autonomy helps manufacturing sites achieve digital transformation and improve efficiency and safety.
idealworks offers Robotic Fleets Automation
German startup idealworks offers AnyFleet, a cloud-based platform that enables fleet managers to manage and optimize their fleets of autonomous mobile robots (AMRs). It allows users to integrate different types of AMRs from various vendors, as well as monitor the performance to coordinate their movements and tasks. idealworks provide a flexible, scalable, and cost-effective solution for intralogistics automation.
7. Fleet Fuel Management
Fleet fuel management optimizes fuel consumption and reduces costs for fleet operators. It involves the use of fuel card integration, predictive maintenance, and real-time feedback to monitor and control fuel usage and detect anomalies. Fuel card integration allows fleet managers to track fuel transactions and expenses across different vehicles and drivers. Predictive maintenance uses data analytics and machine learning to predict and prevent potential breakdowns and optimize maintenance schedules. Startups are developing fuel management solutions that provide drivers with instant information and alerts on their fuel efficiency and vehicle performance.
Fleeti optimizes Fleet Fuel Consumption
French startup Fleeti develops fleet management and geo-tracking software that connects and digitizes fleet operations. It uses IoT sensors or manufacturer telematics to connect assets in one place. It offers individual modules for measuring fuel consumption and engine hours. Further, it provides customized reporting, facilitating an accurate understanding of fuel consumption and maintenance costs. The startup optimizes fleet operations, allowing fleet managers to save on fuel budget. Alongside this, Fleeti helps reduces CO2 emissions and boost business efficiency.
BayaPay simplifies Fleet Fuel Payments
Malaysian startup BayaPay offers BayaFuel, a fleet fuel payment solution for businesses. BayaFuel is a payment card that enables businesses to make secure payments for all fleet-related expenses. This involves fuel, repairs, insurance, travel, lodging, and other costs. Further, it works across all retailers where major card network processors like Visa or MasterCard cards are accepted. Alongside this, BayaFuel comes with real-time tracking, risk analysis, and analytics to help fleet businesses cut costs, save money and deter fraud.
8. Cybersecurity
Cybersecurity in fleet management ensures vehicles, drivers, and data safety and efficiency. Compliance with cybersecurity standards and frameworks is essential to protect the fleet from cyber threats and to meet regulatory requirements. This encourages the adoption of proactive and preventive cybersecurity measures. It includes encryption, authentication, firewalls, and antivirus software to prevent unauthorized access, data breaches, and cyberattacks. Moreover, collaboration and information sharing among fleet operators, manufacturers, service providers, and regulators enhances the cyber resilience of the fleet. Startups and scale-ups are developing cloud-based platforms, blockchain, and biometrics solutions to improve the security and performance of the fleet in the digital age.
Fleet Defender develops Cyber Protection Platform
US-based startup Fleet Defender builds an intelligence platform that provides fleet owners with cyber protection and business intelligence tools. The platform allows operators to monitor, detect, and alert users about safety-critical anomalies, such as cyberattacks, maintenance issues, and unsafe vehicle operations. It uses machine learning, artificial intelligence, and embedded systems to secure platforms across various domains. A few of these domains are logistics, construction, security, and government. With its platform, Fleet Defender enables fleet owners to protect their fleets in real-time.
Cydome offers Fleet Cyber Monitoring
Israeli startup Cydome develops Cydome EverLight, a cyber monitoring system that provides a real-time map of all IT and OT assets on board a vessel. It detects and alerts on any unauthorized access or cyber threat in real time. Further, it also helps shipowners and operators comply with regulatory requirements by conducting automated mapping and vulnerability scanning. Cydome provides clear visibility, efficient compliance, and enhanced security for the maritime fleet management industry.
9. Sustainable Fleets
Sustainable fleets are gaining popularity as more companies are adopting green policies and seeking to reduce their carbon emissions. They use various technologies and practices to improve environmental performance, such as idle reduction devices, alternative fuels, and sustainable aviation fuel (SAF). These lower operational costs and enhance competitiveness in the fleet management industry. Startups are contributing to this trend and developing solutions such as digital platforms, wind power harnessing, and zero or low-emission fuels. Along with being a response to regulatory pressures and customer preferences, sustainable fleets are also a strategic opportunity for differentiation in a changing market.
gribb creates a Sustainable Driving Culture
Dutch startup gribb uses modern technology, human behavior, data, and road safety marketing to enhance corporate road safety and lower fleet costs and CO2 emissions. It collects and enriches telematics data from any vehicle and converts them into actionable insights for fleet managers and drivers. Through the gribb app, drivers get feedback, micro-learnings, and rewards to improve their driving behavior. gribb provides big data analysis to help businesses optimize logistics and operations and establish a safe and sustainable driving culture.
SWITCH develops a Fleet Positioning Platform
Italian startup SWITCH builds a platform to help mobility providers optimize their fleets and improve urban mobility. It uses machine learning and artificial intelligence to analyze data from various sources, such as weather, local events, and type of area, and predicts the demand for future mobility. It gives directions to reposition the fleet and creates the best routes for operations. With this, SWITCH increases the efficiency and profitability of fleets, and reduces idle times and pollution.
10. Fleet Delivery Optimization
Fleet delivery optimization improves the efficiency and productivity of delivery operations. It involves optimizing the fleet size, location, type, and availability, as well as the delivery routes, schedules, and costs. It helps to reduce maintenance costs and delivery delays while increasing customer satisfaction and profitability. Route optimization solutions find the best routes for a fleet of vehicles based on distance, traffic, road conditions, customer preferences, and vehicle capacity. Last-mile delivery optimization solutions ensure timely and accurate delivery of orders to the final destination. Startups are developing autonomous delivery robots, drones, smart lockers, and crowdsourced delivery platforms, and more to help fleet managers monitor, analyze, and improve delivery performance and customer service.
Vanongo digitalizes Last Mile Delivery
Estonian startup Vanongo develops OngoFleet, a delivery orchestration platform that connects and digitalizes last-mile delivery for retailers and fleet owners. It uses AI-powered software to plan, optimize and control logistics processes, such as order management, route planning, parcel handling, financials, and compliance. It also creates a consumer-centric post-checkout experience with branding and upsell possibilities, converting delivery from a cost to a business growth function. OngoFleet helps improve unit economics, efficiency, transparency, and customer loyalty in urban logistics.
Solai optimizes Delivery Vehicle Routing
US-based startup Solai develops an AI fleet management platform for last-mile delivery optimization. It uses deep reinforcement learning to solve vehicle routing problems. This reduces the number of vehicles needed, completes more orders per route, and reduces the cost per delivery. The startup's solution is deployed into any environment with one line of code, and it adapts to the topography and constraints of each business. Solai helps fleet managers automate daily logistics decision-making.
Discover all Fleet Management Trends, Technologies & Startups
Fleet Management is changing dramatically to incorporate technologies spanning blockchain, safety, maintenance, and precision tracking. Overall, these solutions address the growing demand for transportation, its current environmental impact, and driver welfare. Fleet management solutions eventually assist fleet companies in reducing the time spent and costs involved in operations. The fleet management trends & startups outlined in this report only scratch the surface of trends that we identified during our data-driven innovation & startup scouting process. Identifying new opportunities & emerging technologies to implement into your business goes a long way in gaining a competitive advantage.
Looking for fleet management startups & technologies?
✕