Innovation is not about having a brilliant idea and then executing it flawlessly. In fact, it is a messy, iterative, and uncertain journey as well as requires you to constantly learn and adapt. And the best way to do so is through experimentation. With experimentation, you test your innovative ideas and solutions in real-world contexts, with real users and stakeholders. This way, you collect feedback and data to inform your decisions. It helps you to validate or invalidate your assumptions and hypotheses to discover what works and what doesn't. In this blog post, we will explore the value of experimentation in innovation and how to design and run effective experiments.
Importance of Experimentation in Innovation
Innovation involves finding new and better ways of doing things; experimentation facilitates this process. It allows you to test ideas, concepts, and products systematically. Computer simulation and rapid prototyping also enable faster and cheaper experimentation. This way, it reduces the risks and costs of failure. Further, experimentation increases the chances of success and accelerates the innovation cycle.
Experimentation fosters a culture of curiosity, creativity, and collaboration within the organization. Along with being an innovation tool, experimentation is also a mindset. By embracing it, you foster a learning-oriented and agile organization that adapts to changing customer needs and market conditions. Needless to say, experimentation is the key to unlocking the value of innovation.
How to Design and Run Effective Innovation Experiments?
Generate a Hypothesis
The first step in the experimentation process is generating a hypothesis. We agree it's the most challenging step, but also the most important one. It helps in understanding what you're trying to achieve or learn through experimentation. Further, this allows you to reflect on the problem or opportunity statement. With this data, you get a clear understanding of your goals. The next step is to start listing the assumptions and questions about the idea or solution.
During the ideation process, your team brainstorms and generates multiple potential solutions for the challenges identified. Assessing these ideas enables you to identify the most critical ones to test. Then, you can turn the critical ideas into specific, measurable, and testable hypotheses that undergo experimentation. A good experiment provides valuable insights even if the outcome is negative. So it's better not to be afraid to test even the riskiest hypothesis.
You might be interested in: How You Can Tackle the 4 Most Common Innovation Risks
Design your Experiment
Experiment design requires you to specify the key elements essential to test your hypotheses and measure the impact of the innovation. It includes prototyping and testing ideas in a low-risk environment. The key elements of design include identifying independent and dependent variables, choosing control and confounding variables, and ensuring the validity and reliability of the experiment. The independent variables are the features of the product or service, the price, the marketing strategy, etc., that you change or manipulate. Whereas, the dependent variables are the outcomes such as customer satisfaction, retention, revenue, etc., that you can only measure.
Further, control variables are the target audience, time period, location, etc., that you keep unchanged in your experiment. And, confounding variables are external events, competitors' actions, customer preferences, etc., that you cannot control. There is also a need for a relevant and representative customer sample and accurate metrics to ensure experiment validity. To ensure reliability, standardized processes, random sampling, and objective data analysis are essential. Designing the experiment after considering these key elements provides valuable insights and evidence to streamline your innovation projects.
Also read: Accelerate Your Innovation Goals with Design Thinking
Conduct your Experiment
Before launching the experiment and testing the ideas, it is better to ensure a clear action plan. This includes defining experiment duration, outcome metrics, and communication strategy. It sets a solid foundation for the experiment to track and evaluate outcomes effectively. While having a plan is important, it is equally important to remain flexible and be prepared to adapt to changing circumstances. Also, running an experiment involves keeping records of the assumptions, decisions, actions, and observations.
Analyze your Data & Iterate
Depending on the type of experiment being run, it's important to give enough time before drawing any conclusions. This stage involves analyzing the data, which includes finding patterns, trends, and insights that validate or invalidates the hypothesis. Various tools and methods such as charts, graphs, tables, or statistical tests facilitate visualization and interpretation of the collected data.
The feedback and learnings from the analysis enable experiment iteration for improving the hypothesis, design, or execution. Further, conducting experiments with different variables, conditions, or audiences allows for testing different aspects of your innovation idea. By analyzing and iterating experiments, the confidence and reliability of the results increase, which helps you achieve innovation goals.
Read more: 4 Reasons Why You Need to Measure Innovation Within Your Organization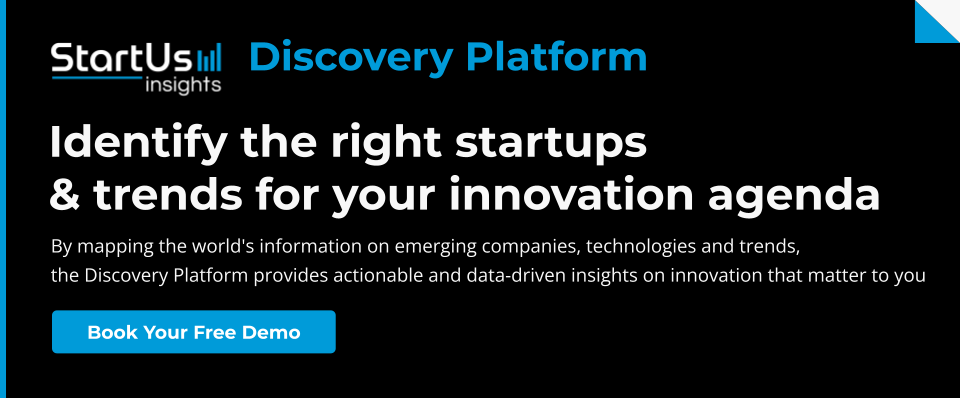 Conduct Experiments with the data from the StartUs Insights Discovery Platform
As artificial intelligence (AI) continues to progress, data is playing a larger role in the innovation process. The good news is that you can use data to gather insights and make informed decisions. At StartUs Insights, we develop a Discovery Platform that helps companies like yours to keep a tab on emerging startups, scaleups, and technologies that matter to you. Powered by Big Data and AI, our platform covers over 3 million startups and scaleups globally!
So, what does this mean for you?
Reduce/Eliminate Manual Labour — Replace weeks of desk research with just one click. You get all the information you need on startups, scaleups, technologies, and trends, all from one single source.
Access to 100x Faster & Exhaustive Scouting — Get the best results out of over 1.8 billion data points from the WWW, startup ecosystem, databases, company aggregators, publications, research, and patents!
Deep Innovation Graph — Our proprietary and unique data in combination with our fast and exhaustive search process allows you to discover hidden diamonds long before anyone else does.
Leverage Large-scale Search Capabilities — Our highly performant search process allows you to manage even the largest queries. 1000 keywords? No problem!
That is not all. We also provide you with a Trend Intelligence solution that gives you access to 29 500+ trends and technologies. This allows you to:
Anticipate Future Trends & Business Opportunities — we deploy advanced analytics to hundreds of thousands of trusted sources on startups, emerging technologies, and industry trends to provide you with accurate insights into trends impacting your industry in a short amount of time.
Stay Up to Date — Monitoring the business ecosystem continuously ensures the identification of emerging technologies, trends, and opportunities. Our service provides you with regular updates on recent developments through Trend Intelligence Reports, Innovation Maps, and Real-time Databases.
Are you ready to accelerate innovation by embracing the path of experimentation? It's a dynamic and iterative process that involves continuous learning, adaptation, and rapid feedback through experiments. Start now and unlock the potential for groundbreaking discoveries!
Ready to start your innovation project?
✕