Global Startup Heat Map highlights 10 Automated Guided Vehicle Startups to Watch in 2023
Through the Big Data & Artificial Intelligence (AI)-powered StartUs Insights Discovery Platform, covering over 3 790 000+ startups & scaleups globally, we identified 273 AGV startups. The Global Startup Heat Map below highlights the 10 automated guided vehicle startups you should watch in 2023 as well as the geo-distribution of all 273 startups & scaleups we analyzed for this research. Based on the heat map, we see high startup activity in Western Europe, followed by the US and India. These emerging AGV companies work on solutions ranging from intelligent systems and battery technologies to warehouse automation and automated material handling.
Interested to explore all 270+ AGV startups?
As the world's largest resource for data on emerging companies, the SaaS platform enables you to identify relevant technologies and industry trends quickly & exhaustively. Based on the data from the platform, the Top 5 AGV Startup Hubs are in Bangalore, London, Singapore, New York City & Pune. The 10 hand-picked startups highlighted in this report are chosen from all over the world and develop solutions for material handling, inventory management, production logistics, and more.
10 Emerging Automated Guided Vehicle Companies to Watch in 2023
AGVs now feature advanced sensors for precise navigation. Integrating AI algorithms also optimizes their routes, improving efficiency. Enhanced safety features, like collision detection, in AGVs enable smooth interaction with humans. Cutting-edge technologies like computer vision empower AGVs to recognize and adapt to dynamic environments. Further, wireless communication systems ensure seamless coordination with other AGVs and control centers. AGVs are now equipped with robust power systems, prolonging their operation time. Integration with IoT allows real-time data exchange and enhances decision-making capabilities while agile designs enable easy customization for specific tasks. These innovations lead to increased productivity, reduced costs, and improved overall operational efficiency across industries.
Hybrica Industrial Solutions aids Light-Duty Material Handling
Indian startup Hybrica Industrial Solutions specializes in AGVs for efficient, cost-effective material handling. Its AGVs such as the HYBR 100 feature automatic charging, optical line navigation, and monitoring software. Additionally, they include customizable top attachments that allow for diverse applications. These applications include flatbeds for pallets, storage racks for material trolleys, and conveyors for material transfer. Hybrica also offers solutions like AGV process automation and trolley to AGV conversion, enhancing productivity and safety in industrial settings. Additionally, the startup provides IoT devices and an independent industrial IoT platform for real-time data collection, storage, and analysis to further optimize industrial processes.
JLC Robotics enables Automated Material Handling
US-based startup JLC Robotics manufactures an AGV to automate material handling processes. The startup's Thouzer AGV is rapidly deployable, capable of heavy lifts, and supports multiple types of payloads. This allows it to handle various types of cargo such as cabinets, shelving, bins, pallets, loaded pallet jacks, or even existing carts and dollies. Thouzer also features line trace navigation, following a path of retroreflective tape or paint and lidar-based automatic collision avoidance.
Carrybots creates Intelligent AGVs
German startup Carrybots automates intralogistics using driverless transport systems (DTS). Its HERBIE is a modular plug-and-play AGV for transporting small loads and packages. It also features a customizable top module, height, charging, and software. In production settings, HERBIE performs area and station chaining, efficiently linking various production steps that are spatially separated. The startup also provides an online configurator that receives and evaluates important parameters and functions that the AGV performs. This results in a high degree of flexibility with relatively low throughput, making it a cost-effective solution for production logistics.
PolarisIC makes Vision Chips for AGVs
Chinese startup PolarisIC develops vision chips, capable of depth perception and enhanced low-light operation. The startup develops DTS5018, a fully-integrated single-channel dToF ranging system-on-chip (SoC). It features a highly sensitive infrared SPAD sensor with a range of up to 18 meters. The SoC utilizes a time-correlated photon threshold algorithm and a histogram statistical algorithm, along with a fast time-to-digital converter (TDC) architecture. This allows it to deliver high-precision ranging, while simultaneously offering an anti-ambient light capability. With this sensor, AGV manufacturers enhance the performance and safety parameters of their products, even under challenging conditions typical in industrial settings.
NaviFra develops Robots for Manufacturing Logistics
South Korean startup NaviFra makes robotics technology to replace dangerous and difficult industrial manufacturing tasks. The startup's Navi-Brain is a retrofittable system that integrates with existing robots to ensure high precision control. For this, the startup leverages its Navi-Core product based on SLAM and navigation technology. Navi-Brain also supports the creation and simultaneous control of more than 100 robot paths, simplifying robot management on manufacturing floors.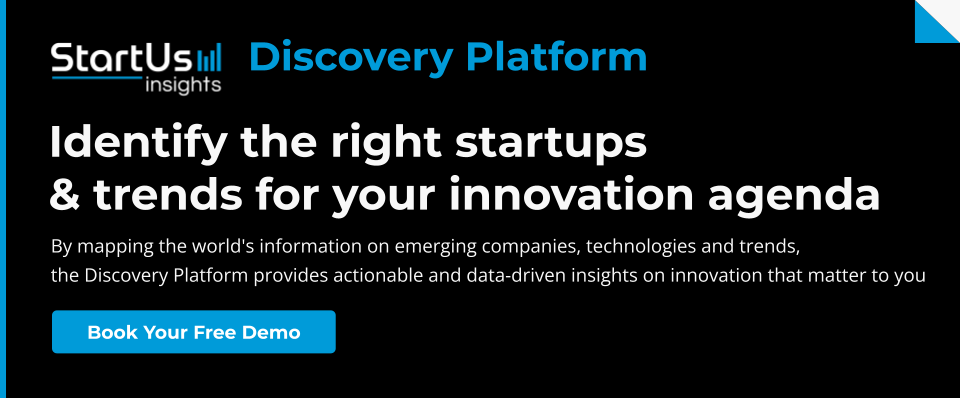 Probility provides a Navigation System for AGVs – not in visual
German startup Probility offers an optical real-time localization system to enhance safety and efficiency in work environments. It combines an AI sensor, a processing server, and a vehicle module to create an intelligent network. The AI sensor, ProSen, specializes in image processing using edge computing with its other product, The Server, processing data in milliseconds. Lastly, the vehicle module, ProDrive, provides the location data to the server and warns drivers through visual and acoustic signals. Probility's AGV navigation system optimizes processes by providing a complete vision of its environment, enabling AGVs to navigate narrow and difficult corridors more efficiently.
Peak Porter AD advances Intelligent Warehouse Automation
Bulgarian startup Peak Porter AD makes automated storage and retrieval systems (ASRS). Its mobile solution incorporates automated and rail-guided vehicles (RGV) as well as provides a range of automation and intelligence. This enhances warehouse operations and streamlines material handling and transfer processes. In addition to its ASRS solution, Peak Porter AD develops an AI-based warehouse management system (WMS). This system learns and adapts to recognize specific products and warehouse patterns and also utilizes this knowledge to optimize the overall process flow while minimizing errors.
TAC Dynamics provides an AGV Management System
Taiwan-based startup TAC Dynamics specializes in robots for micro-fulfillment centers, automated picking systems, automated warehousing, and logistics sorting systems. Its solution, Smart RC, is a vehicle management system that directly controls robots to create, edit, and set maps as well as organize task processes. This system allows project managers to set various instructions according to their needs, such as managing the functions and restrictions of different areas. It also allows them to set priority routes, simplifying automation tasks and facilitating navigation. The simple design of Smart RC enables non-technical personnel to quickly set up mobile robots with minimal training.
OGO Energy manufactures AGV Batteries
Indian startup OGO Energy provides energy storage solutions to modernize energy networks. The startup offers plug-and-play battery packs for robotics and AGVs, which perform well even in harsh working conditions. Additionally, the battery packs are customizable and ergonomic, increasing the productivity of AGV units. OGO Energy's battery packs are suitable for tough conditions such as high-temperature zones, harsh humid environments, and high charge/discharge requirements. They also feature an advanced battery management system (BMS) for real-time analysis and assessment of critical parameters, ensuring safety and efficiency. The startup's battery technology offers end-to-end clean energy solutions for stationary and e-mobility segments.
Tusk Robots creates Pallet Handling Robots
Hong Kong-based startup Tusk Robots develops intelligent pallet transporting robots and visual recognition systems for smart factories and logistics. The startup's AGV, E10-SLAM, uses SLAM and data matrix (DM) code for dual navigation and has a self-weight of 330 kg with a maximum lifting weight of 1000 kg. It features front and rear double laser sensors for 360 degrees obstacle avoidance detection as well as a 5-inch display screen. The startup also offers an autonomous pallet-handling robot (APR), E10, that handles pallets directly without any auxiliary equipment. Tusk Robots promotes intelligent logistics in smart factories, making handling simpler and more efficient.
Discover All Emerging Automated Guided Vehicle Companies
The 10 AGV startups showcased in this report are only a small sample of all startups we identified through our data-driven startup scouting approach. Download our free Industry Innovation Reports for a broad overview of the industry or get in touch for quick & exhaustive research on the latest technologies & emerging solutions that will impact your company in 2023!
Looking for specific AGV startups & technologies?
✕