In the fast-paced and constantly evolving landscape of technology, it becomes difficult to identify emerging technologies that will disrupt industries. However, driving innovation still remains a top priority for organizations of all sizes. Take Kodak for example — it invested heavily in traditional film and printing technologies while ignoring the potential of digital cameras. Because of this, the company failed to anticipate and respond to the changing market and had to file for bankruptcy. This is where the concept of agile technology scouting comes into the picture.
It helps you identify and evaluate emerging technologies in a rapid and iterative manner. This enables you to make informed decisions about technologies to pursue or ignore and thrive in dynamic market conditions.
Role of Agile Mindset in Technology Scouting
Agile technology scouting goes beyond being just a dynamic and iterative process, it encompasses a mindset that is important to the success of technology scouting efforts. It creates room for open-mindedness and willingness to experiment. It encourages you to embrace change and be comfortable with uncertainty. Having an agile mindset is a valuable tool that prepares you to be flexible, collaborative, and experimental, and constantly strive for improvement. This way, it enables you to discover and assess new technologies faster and better, create and test prototypes quickly, and learn from the feedback and results. In the long term, it helps you understand your company's position and adjust goals and take action as needed.
Several companies are implementing agile practices such as daily stand-ups, sprints, retrospectives, and building cross-functional teams. Such practices reduce delivery times and costs, as well as improve customer satisfaction and increase employee engagement. The adoption of an agile mindset helps companies innovate and adapt to changing customer needs. At the same time, cultivating an agile mindset reduces risk by identifying potential threats early and developing mitigation strategies in time to respond. Embracing an agile mindset complements the effectiveness of technology scouting activities and the identification of opportunities as they arise.
How to Implement an Agile Approach to Technology Scouting?
1. Establish a Cross-functional Team
A cross-functional team involves various stakeholders with different functions, such as R&D, marketing, and business development, and is vital for agile technology scouting. Such a team brings diverse insights and competencies, as well as builds connections to assess new technologies and their potential for the organization. Consider Netflix, for example, it leverages the internal culture of innovation and collaboration to encourage employees to share their ideas and feedback on new technologies. This, in turn, enables them to identify and evaluate new technologies that enhance the user experience, content delivery, and business model.
2. Conduct Iterative & Incremental Scouting Cycles
Conducting short and frequent scouting cycles enables learning and validating assumptions about potential technologies. Scorecards are useful tools to quickly assess the feasibility and desirability of a technology. This way, businesses avoid investing in technologies that do not meet their needs or expectations. Moreover, using a variety of sources and methods allows them to gather, analyze, and synthesize information about technologies. Leveraging online databases, expert interviews, trade shows, hackathons, and other sources offer insights into emerging technologies. Doing so broadens the company's perspective and enables them to discover new opportunities for innovation.
You might also like: How Data-Driven Innovation Scouting Increases Your Competitive Advantage
3. Implement Data-driven Decision-making
Agile technology scouting is a dynamic and flexible process that enables strategy adjustment based on market feedback. And, a data-driven approach and clear metrics and KPIs enable measuring the success of a particular technology. Tracking and analyzing the data allows businesses to implement data-driven decision-making about whether to continue investing in technology. Moreover, reporting and disseminating the learnings from scouting activities to the key decision-makers, business units, and customers drives growth and innovation. Further, following up and monitoring the actions and outcomes from the scouting activities gives clarity. These activities include forming alliances with external partners, testing prototypes, acquiring technologies, and measuring their impact on the organization.
You might be interested in: The Benefits of Data-driven Trend Monitoring for Innovation Managers
4. Leverage Open Innovation
Leveraging open innovation platforms provides access to a wide range of startups, academic institutions, and other organizations working on innovative technologies. This enables businesses to engage with external innovators, share challenges, and collaborate to find solutions. It accelerates the innovation cycles and reduces the time and resources required to bring new products and services to market. Through the collaborative approach with external sources, businesses adapt quickly to changing market dynamics.
Scouting for innovative technologies involves identifying the problem to solve. This could be a specific challenge that the organization is facing or a broader trend affecting the industry. The next step is to research potential solutions and technologies that may be relevant. With millions of startups across the globe, innovation intelligence platforms make it possible to monitor and leverage them.
Also read: How Data-Driven Technology Scouting Speeds Up Corporate Innovation
5. Build a Culture of Experimentation
While seeking to discover and adopt new technologies, businesses realize that not every technology will be a good fit. And, sometimes the initial assumptions will be wrong. However, it is important to foster a culture of experimentation, where failures are seen as opportunities to learn and improve, instead of setbacks. This gives employees a safe space to share their ideas and perspectives, irrespective of whether it challenges the status quo.
By failing fast, businesses gain insights, refine their approach and make smarter choices in the future. The key is to stay flexible, inquisitive, and resilient in the face of challenges, and to see mistakes as chances to learn and improve. Take GE's FastWorks program, for example, it aimed to apply agile principles and practices to its product development process. However, since the company operated in various industries, they realized that implementing agile at scale was not easy. Despite these difficulties, GE did not give up and took lessons from its failures. It invested in extensive training and coaching programs to ensure employees across different divisions embraced the agile mindset. It increased leadership and gave teams the autonomy to make decisions. These adjustments among others helped the company improve its agile approach to drive innovation.
Embrace Agile Technology Scouting with StartUs Insights
As artificial intelligence (AI) continues to progress, data is playing a larger role in the innovation process. The good news is that you can use data to generate insights and new ideas. We, at StartUs Insights, develop Discovery Platform, a powerful startup database that helps companies like yours to keep a tab on emerging startups, scaleups, and technologies that matter to you. Some of our 1000+ corporate partners include Samsung, Nestlé, Lufthansa Cargo, KNAPP AG, Magna, CAF, Siemens Gamesa, Iberdrola, CARGOTECH, Bayer's G4A, and Altair.
Powered by Big Data and AI, our platform covers over 3 million startups & scaleups globally! So, what does this mean for you?
Goodbye to Manual Labour — Replace weeks of desk research with just one click. You get all the information you need on startups, scaleups, technologies, and trends, all from one single source.
Access to 100x Faster & Exhaustive Scouting — Get the best results out of over 1.8 billion data points from the WWW, startup ecosystem, databases, company aggregators, publications, research, and patents, in a jiffy!
Deep Innovation Graph — Our proprietary and unique data in combination with our fast and exhaustive search process allows you to discover hidden diamonds long before anyone else does.
Large-Scale Search Capabilities — Our highly performant search process allows you to manage even the largest queries — 1000 keywords? No problem!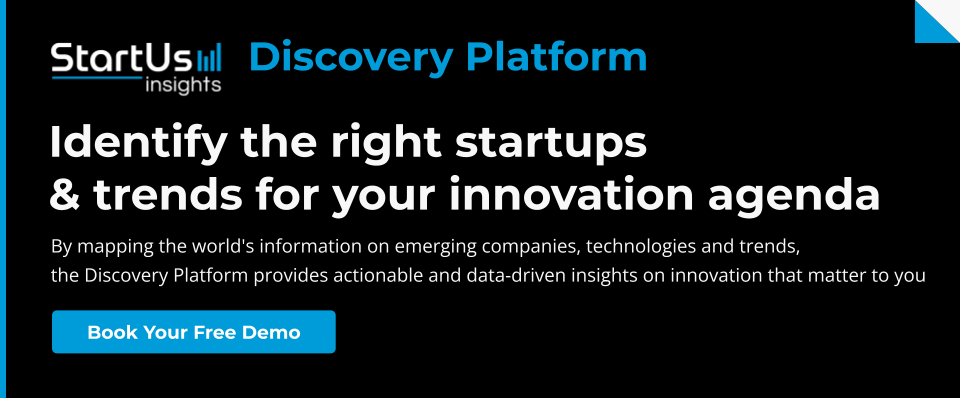 What Else Can We Do For You?
Our Discovery Platform also offers you Trend Intelligence that gives you access to 29 500+ trends and technologies. This allows you to:
Anticipate Future Trends & Business Opportunities — we deploy advanced analytics to hundreds of thousands of trusted sources on startups, emerging technologies, and industry trends to provide you with accurate insights into trends impacting your industry in a short amount of time.
Stay Up to Date — Monitoring the business ecosystem continuously ensures the identification of emerging technologies, trends, and opportunities. Our service provides you with regular updates on recent developments through Trend Intelligence Reports, Innovation Maps, and Real-time Databases.
Agile technology scouting enables faster and more accurate & comprehensive discovery and assessment of new and emerging technologies. It improves your scouting process and enhances the efficiency and effectiveness of scouting outcomes. Are you ready to start your agile technology scouting journey?
Looking for agile technology scouting solutions?
✕