Chronic wounds, burns, and other injuries require special care and attention. Moreover, traditional wound care methods often fail to provide sufficient support and rely on patients' body restoration mechanisms. However, advances in medical technology (MedTech) are delivering solutions that improve wound management and treatment. From regenerative medicine and advanced restorative materials to wearables and virtual reality rehabilitation, this industry research provides you with an overview of the top 10 global wound care trends based on our analysis of 513 wound care startups. Read more to explore all 10 trends and discover how they improve wound management efforts and patient outcomes.
Innovation Map outlines the Top 10 Wound Care Trends & 20 Promising Startups
For this in-depth research on the Top Wound Care Trends & Startups, we analyzed a sample of 513 global startups & scaleups. This data-driven research provides innovation intelligence that helps you improve strategic decision-making by giving you an overview of emerging technologies in the healthcare industry. In the Wound Care Innovation Map below, you get a comprehensive overview of the innovation trends & startups that impact your company.
These insights are derived by working with our Big Data & Artificial Intelligence-powered StartUs Insights Discovery Platform, covering 3 790 000+ startups & scaleups globally. As the world's largest resource for data on emerging companies, the SaaS platform enables you to identify relevant technologies and industry trends quickly & exhaustively.
Tree Map reveals the Impact of the Top 10 Wound Care Trends
Based on the Wound Care Innovation Map, the Tree Map below illustrates the impact of the Top 10 Wound Care Trends in 2023. Advances in rehabilitation improve the speed of physical recovery from wounds and injuries with exudate management. Regenerative medicine focuses on aiding the body's natural healing mechanism. MedTech startups offer personalized 3D-printed components to incorporate regenerative medicine principles. Besides, innovations in wearables as well as infection detection and control solutions enable medical professionals to easily monitor and manage wounds and treatments. While image-based wound assessment and wound management software promote better wound and treatment tracking. Lastly, antibacterials and advanced restorative materials overcome problems with microbial drug resistance and make bandages easier to apply.
Top 10 Wound Care Trends in 2023
Global Startup Heat Map covers 513 Startups & Scaleups
The Global Startup Heat Map below highlights the global distribution of the 513 exemplary startups & scaleups that we analyzed for this research. Created through the StartUs Insights Discovery Platform, the Heat Map reveals high startup activity in the US, followed by the UK and India. Below, you get to meet 20 out of these 513 promising startups & scaleups as well as the solutions they develop. These wound care startups are hand-picked based on criteria such as founding year, location, funding raised, & more. Depending on your specific needs, your top picks might look entirely different.
Interested to explore all 500+ wound care startups & scaleups?
Top 10 Wound Care Trends in 2023
1. Rehabilitation
Rehabilitation is an essential aspect of wound care as it promotes healing and functional recovery after an injury. However, traditional rehabilitation methods have limitations in their ability to assist patients with complex wounds or injuries. Therefore, innovations like virtual reality (VR) and augmented reality (AR) create immersive experiences that simulate real-world scenarios, improving patient outcomes. Additionally, therapeutic skin patches promote faster patient recovery from post-operative procedures. These solutions allow healthcare providers to better treat wounds and injuries and speed up healing times.
Band Connect develops an AI-based Rehabilitation Platform
US-based startup Band Connect makes VirtuaCare, an AI-driven technology platform that provides a simulated in-clinic experience for at-home patients. It features asynchronous virtual care with condition-specific personalized care and connected handles for upper body rehabilitation. The startup also provides adjustable ankle weights for chronic hip and knee rehabilitation. The startup's remote therapeutic management (RTM) solution enables personalized patient care and engagement.
Neuesse makes a Human Skin Substitute
Neuesse is a US-based startup that offers a plant-based skin repair solution that treats severe burns, wounds, and trauma. The startup's product, OmegaSkin, is made from naturally occurring soy protein that requires no lab preparation or refrigeration. Moreover, its novel scaffold dressing heals full-thickness wounds with minimal to no scarring as well as alleviates pain due to acute and chronic wounds. OmegaSkin is also effective in treating bedsores and ulcers which commonly occur in people who are unable to move during recovery or rehabilitation.
2. Exudate Management
Excess exudate is a common issue that slows down wound healing processes and increases the risk of infections, causing discomfort to patients. Hence, managing exudate is an essential aspect of wound care, but the traditional approach of using absorbent dressings is often inadequate. Innovations in exudate management solve this problem through advanced wound dressings, such as hydrogels and foams, which provide superior absorption capacity and fluid distribution. Through more effective exudate management solutions, doctors and medical professionals are able to accelerate healing, reduce complications and infections, and improve patient satisfaction.
FeelTect advances Sub-bandage Pressure Monitoring
Irish startup FeelTect provides pressure sensing and connected health technology for compression therapy. The startup's wearable pressure-sensing device, Tight Alright, leverages a companion smartphone app, a secure cloud database, and a web dashboard. The device measures and monitors sub-bandage pressure to ensure optimal targeted and consistent compression with data-driven optimization. FeelTect's solution greatly reduces the healing time of venous leg ulcers and lowers the frequency of doctor visits.
Octet Medical creates a Stem Cell Applicator
US-based startup Octet Medical makes a handheld sprayer to mitigate the common complaints about plastic tubes and cords with atomizers and other spraying units. The startup's stem cell applicator, Octet Medical Electrostatic Applicator (OMEA), is an electrostatic and electrospinning-enabled sprayer that accommodates a variety of disposable cartridges. Octet Medical's cordless sprayer finds use in the application of antiseptics, analgesics, exosomes, stem cells, and wound dressings. Further, the wireless applicator enables medical personnel to move around and adjust the angle of the spray.
3. Regenerative Medicine
Chronic wounds are a debilitating and expensive problem for patients and healthcare systems. Regenerative medicine solves this problem by leveraging the body's own natural healing processes to accelerate wound closure and reduce complications. Startups utilize advanced biomaterials like tissue scaffolds, growth factors, cell therapies, and more that guide and stimulate tissue regeneration. These technologies offer a more effective and non-invasive approach to wound care, significantly improving patient outcomes and reducing healthcare costs.
Re-gen Active Lab advances Stem Cell Therapy
Re-gen Active Lab is a US-based startup that develops stem cell-based formulations to boost the body's natural healing power and relieve pain. The startup's injectables, ActiveShot and ActiveFlow, are made from eligible human umbilical cord tissue and amniotic membrane. They initiate the healing and regeneration of damaged tissue. The startup's production process uses minimally manipulative proprietary techniques to extract valuable bioactive biomolecules from Wharton's jelly stem cells and its extracellular matrix. Re-gen Active Lab's injectables find use in a wide range of applications, including wound healing, tissue regeneration, and anti-inflammation.
BioLab Sciences creates Amniotic Allograft Membranes
BioLab Sciences is a US-based startup that develops amniotic allograft membranes and skin grafts. The startup's non-invasive inpatient or outpatient procedure produces partial thickness skin grafts within 48 hours from the patient's sample skin. Besides, BioLab Sciences offers a dual-layered dehydrated human amnion membrane (dHAM) allograft composed primarily of a connective tissue matrix. These products enhance the wound healing process using tissue regeneration.
4. Infection Detection & Control
Conventional infection detection and control methods, such as clinical assessment and wound swabs, are time-consuming, invasive, and often produce unreliable results. Therefore, innovations such as point-of-care (POC) diagnostic tests provide rapid and accurate results, enabling healthcare providers to quickly identify infections and implement appropriate treatments. Other advances, like negative pressure wound therapy systems, assist healthcare providers to reduce the risk of complications, decrease the need for repeated treatments, and improve overall patient outcomes.
NanoTess aids Wound Moisture Management
NanoTess is a Canadian startup that offers biocompatible and bio-selective wound dressings. The startup's solution, NanoSALV, regulates wound moisture by absorbing blood, plasma, and other fluids within a cellulose matrix to prevent maceration. For dry wounds, the gel releases moisture from the matrix to create a moist wound environment that supports healing. NanoTess's gel provides a broad-spectrum antimicrobial effect against viruses, yeasts, fungi, and bacteria, including antibiotic-resistant bacteria.
Warmie facilitates Wound Temperature Monitoring
Polish startup Warmie offers a wireless solution to continuously monitor patient wounds and body temperature. The startup's wearable device is made from biomedically safe materials to measure body temperature and continuously analyze the collected data. It features inbuilt algorithms to measure and analyze the increase in optimal temperature, as well as sends alerts in case of abnormalities. This offers early infection prediction and allows physicians to provide appropriate infection management.
5. Image-based Wound Assessment
One of the main challenges in wound care is accurately assessing the size, depth, and severity of wounds. Conventional approaches to wound assessment, such as visual inspection, are imprecise and subjective, leading to inaccurate diagnoses and treatments. However, image-based wound assessment systems use high-resolution cameras to capture images of wounds. The images are analyzed using data processing algorithms to provide accurate measurements and assessments of wound condition. Moreover, image-based wound assessment enables doctors to remotely monitor and assess wounds while allowing patients to manage wounds from their homes.
Brainwatch provides AI-based Pupillary Reflex Assessment
Israeli startup Brainwatch develops an automatic monitoring system of the pupillary light reflex through closed eyes. It features a head unit and a bedside monitor as well as leverages computer vision and artificial intelligence. The non-invasive system continually monitors a brain-injured patient's pupillary light reflexes and assesses their neurological status. Brainwatch's technology enables hospitals and medical staff to improve outcomes for patients suffering from brain injuries.
Odinwell manufactures a Smart Wound Dressing
Swedish startup Odinwell creates a smart wound dressing that uses optical technology to indicate signs of infection, blood, fluids, and pressure. It features fiber optics and fluorescent lighting to accurately assess the wound healing state below the protective barrier of the dressing. Besides, each sensor detects up to two physical biomarkers using different wavelengths of the emitted light. This includes an indication of temperature changes or transition from inflammation to infection. The startup's solution enables healthcare providers to monitor and track wound state reports through hospital information systems.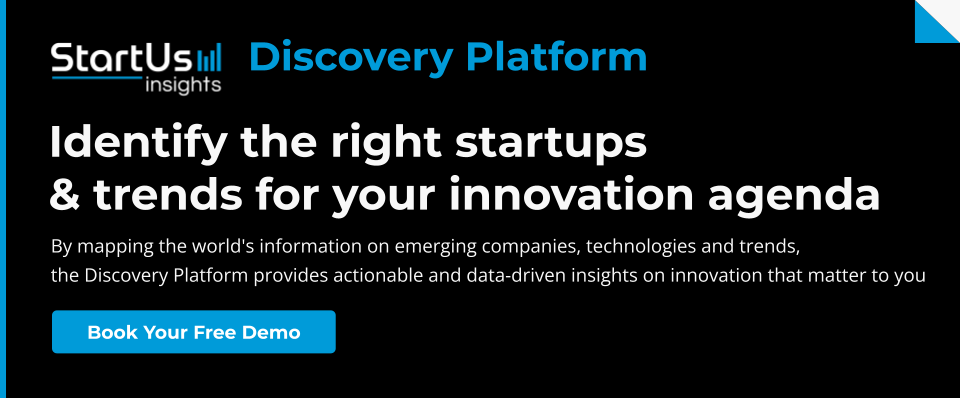 6. Wearables
Monitoring and managing chronic wounds is difficult, especially in hard-to-reach areas like the feet or lower extremities. Wearable technology solves this problem with continuous and remote monitoring of wounds through smart bandages and biosensors. Wearables are also able to detect minute changes in wound temperature, moisture, and pH levels, allowing medical providers to track wound progress with greater accuracy. Further, medical wearables provide patients with real-time feedback about their wound status, promoting active self-management and reducing the need for in-person visits. Wearable-based wound management not only reduces healthcare administrative costs but also increases patient satisfaction by offering a more efficient and personalized approach to wound management.
SCALED creates Flexible & Protective Wearables
UK-based startup SCALED offers flexible and protective wearables for athletes to minimize injury. The startup's wearables use a motion-limiting structure to prevent overextension of joint injuries without limiting mobility. Besides, the structure features interlocking protective scales that are data-driven, customized, and responsive according to user specifications. SCALED's wearables thus maximize injury prevention, rehabilitation, and sports performance.
SpatialCortex simplifies Injury Risk Assessment
UK-based startup SpatialCortex develops wearable bio-mechanical technology for injury risk assessment and management. The startup's system, MOVA, combines wearables, wireless sensors, and software for quantitative assessment of manual handling injury risks. SpatialCortex's solution focuses on preventing musculoskeletal disorders that arise from improper lifting and carrying, awkward posture, and repetitive work. MOVA protects the health of manual labor workers while also offering an affordable solution to construction companies.
7. Wound Management Software
Paper-based wound documentation takes time, is error-prone, and is difficult to share. Further, physical documentation may be incomplete or inconsistent, which compromises the quality of care. Wound management software addresses these challenges by providing a more efficient and effective way to document and track wound assessments and treatments. This includes wound characteristics, interventions, and outcomes with tools to analyze and interpret wound data. These software solutions enable doctors and medical professionals to make better-informed clinical decisions and accurately manage wound care.
Seber Medical aids Wound Documentation
Swedish startup Seber Medical specializes in information-driven and patient-centered wound care through digital documentation. The startup's wound documentation solution features an AI-powered and easy-to-use mobile application for the objective monitoring of wound healing. It also rapidly identifies wounds that require additional attention while the AI provides insights into treatment efficacy. With Seber Medical's detailed wound documentation and analysis, patients are able to recover faster and receive better engagement with medical staff during treatment.
Pixacare provides Diagnostic Image Management
French startup Pixacare develops an intelligent medical photo library that organizes and secures clinical images. The startup's solution features unique patient record creation, instant patient identification, automatic photo sorting, and patient history sharing. Besides, it enables remote wound monitoring using AI algorithms to measure and analyze wounds with smartphone cameras. Moreover, Pixacare's solution saves time for doctors and surgeons through questionnaire-based quantitative analysis of chronic and post-operative wounds.
8. 3D Printing
The wound care industry struggles to provide customized solutions that meet the unique needs of individual patients, particularly for complex wounds. 3D printing allows the creation of complex and affordable wound dressings, prosthetics, and implants tailored to the shape and size of individual wounds. Additionally, advances in bioprinting, such as accurate bioprinters and bio-inks, produce components that are biocompatible with the human body and pose no risk of rejection. Moreover, 3D printing finds applications in enabling hospitals to quickly print custom parts before surgeries to address internal wounds and injuries.
MOC Biotechnologies delivers Hybrid Bioprinting
Canadian startup MOC Biotechnologies provides hybrid bioprinting technology to clone and recapitulate hard and soft tissue for human organs. The startup's printing process features an electro-spinning nano fiber texture scaffold system to separate and isolate different stem cells. Its bioprinter, Magical Organ Cloner (MOC), is compatible with a wide range of materials such as hydrogels, polymers, liquid composite, drugs, and special cell mediums. MOC Biotechnologies' printer also prints microfluidics that connects to bioreactors to convey specific media for differentiating stem cells and reconstructing complex human tissue and organs. The startup's bioprinter finds use in printing bio-absorbable dental implants, organ on chips, orthosis, and prostheses.
Healshape creates an Implantable Biological Ink
French startup Healshape provides 3D bioprinting solutions for breast regeneration. The startup's 3D-printed bioprosthesis and nipple-areolar complex use implantable biological ink and promotes tissue regeneration. Besides, its bioprinter uses the patient's own cells and prints parts customized according to their anatomy, limiting graft rejection. This allows physicians to enhance tissue regeneration for breast reconstruction and augmentation.
9. Advanced Restorative Materials
Wound dressings and materials face challenges in balancing the ability to rapidly heal while also being biocompatible to prevent adverse effects. This is why startups are creating biomaterials that mimic the structure and function of natural tissue, enabling the regeneration of damaged tissues. Moreover, advanced materials are incorporating synthetic polymers, stem cells, and more to accelerate the healing process and promote tissue regeneration. By leveraging more advanced restorative materials, hospitals and clinics are able to treat complex wounds and reduce healing time. This leads to better patient outcomes and increased patient satisfaction.
Inteligels offers a Phase-changing Polymer
Israeli startup Intelligel develops wound care hydrogels based on polyethylene oxide and polypropylene oxide. Its hydrogels feature a programmable polymeric array to create bandages that harden flexibly after application and dissolve in cool water. This way, the bandages, unlike conventional ones, do not need to be ripped off, alleviate pain and suffering, reduce treatment costs, and lower waste.
Bang Nanobiotech develops Synthetic Polypeptides
Italian startup Bang Biotech provides a dressing hydrogel that serves as a versatile transdermal drug delivery platform. The startup's solution, BanGel, loads different types of medicines, including hydrophilic, hydrophobic, small, and large molecules, as well as mono-compound and compound mixtures. Moreover, Bang Nanobiotech's dressing hydrogel has increased bioavailability with controllable release rates. This solution overcomes problems with current transdermal drug delivery solutions such as low drug loading, release efficiency, inferior durability, and more.
10. Antibacterial Solutions
Traditional antibiotics face limited efficacy against drug-resistant bacteria. On the other hand, advances such as the use of silver in wound dressings are effective against a range of bacterial infections, including drug-resistant strains. Another innovation is the use of antimicrobial peptides (AMPs), which target and kill bacteria without contributing to the development of drug resistance. These innovations improve treatment, prevent wound infections, and limit the spread of healthcare-associated infections (HAI).
Pulsethera advances Phototherapy
Pulsethera is a US-based startup that makes a novel phototherapy platform as an alternative to antimicrobial drugs. It utilizes blue light at wavelengths of 410-460 nm to deactivate microbe catalase to enhance bacteria reduction with reactive oxygen species (ROS) or ROS-generating agents. The startup's other solutions include the use of phototherapy to address surface-based infections such as pressure ulcers, colonization, acne, and inanimate surface. Pulsethera's phototherapy platform thus provides an alternative to antibiotics for wound treatment as it does not risk incidences of antimicrobial resistance.
Nanordica Medical produces Antibacterial Wound Dressings
Estonian startup Nanordica Medical leverages nanotechnology to create advanced antibacterial wound dressings. The startup's antibacterial wound dressing features a skin contact layer and an absorbent layer made of nanofibers and antibacterial nanoparticles. It also inactivates highly drug-resistant bacteria as well as is breathable and hypoallergenic. Nanordica Medical's product facilitates faster healing of wounds such as diabetic foot and foot ulcers, burns, surgical wounds, and inflamed wounds.
Discover all Wound Care Trends, Technologies & Startups
Advances in wound care, such as image-based wound assessments and patient monitoring, are enabling hospitals to expand their remote diagnostic capabilities. Advanced restorative materials and regenerative medicine are shortening wound recovery time while also offering cosmetic benefits. Among others, bio-synthetics, skin patches, and adhesives will transform the sector as we know it today. The Wound Care Trends & Startups outlined in this report only scratch the surface of trends that we identified during our data-driven innovation & startup scouting process. Identifying new opportunities & emerging technologies to implement into your business goes a long way in gaining a competitive advantage.
Looking for wound care startups & technologies?
✕