Wholesale distribution businesses are the most affected by disruptions in the supply chain and advancements that enable manufacturers to reach customers directly. Therefore big and small distributors are readily undergoing a digital transformation by adopting artificial intelligence (AI), cloud computing, and eCommerce. Startups are also focusing on enhancing the capabilities of existing systems with such technological advancements. This report provides an overview of the top wholesale distribution trends and technologies in 2023. Read further to explore how they impact your business and industry.
Innovation Map outlines the Top 8 Wholesale Distribution Trends & 16 Promising Startups
For this in-depth research on the Top Wholesale Distribution Trends & Startups, we analyzed a sample of 996 global startups & scaleups. The result of this research is data-driven innovation intelligence that improves strategic decision-making by giving you an overview of emerging technologies & startups in the logistics industry. These insights are derived by working with our Big Data & Artificial Intelligence-powered StartUs Insights Discovery Platform, covering 2 500 000+ startups & scaleups globally. As the world's largest resource for data on emerging companies, the SaaS platform enables you to identify relevant startups, emerging technologies & future industry trends quickly & exhaustively.
In the Innovation Map below, you get an overview of the Top 8 Wholesale Distribution Trends & Innovations that impact companies worldwide. Moreover, the Wholesale Distribution Innovation Map reveals 16 hand-picked startups, all working on emerging technologies that advance their field.
Top 8 Wholesale Distribution Trends
Tree Map reveals the Impact of the Top 8 Wholesale Distribution Trends
Based on the above Innovation Map, the TreeMap below explores the spread of the top 8 Wholesale Distribution technologies and trends in 2023 and beyond. Distributors are adopting eCommerce as a preferred means of sales, while digital warehouse and inventory management systems uphold their value. Startups and scaleups are utilizing cloud-based platforms to provide convenient tools for business management in the current scenario. Artificial intelligence and advanced analytics are pivotal technologies to automate manual tasks and achieve strategic control over stocks, spending, and supply chain. Similarly, with digitization distributors are embracing business-to-consumer (B2C) distribution strategies. Lastly, more wholesale businesses are making their operations sustainable for wider customer acceptance.
Interested to explore all 900+ wholesale distribution solutions?
Global Startup Heat Map covers 996 Wholesale Distribution Startups
The Global Startup Heat Map below highlights the global distribution of the 996 exemplary startups & scaleups that we analyzed for this research. Created through the StartUs Insights Discovery Platform, the Heat Map reveals high startup activity in the US and Europe, followed by India.
Below, you get to meet 16 out of these 996 promising startups & scaleups as well as the solutions they develop. These wholesale distribution startups are hand-picked based on criteria such as founding year, location, funding raised, & more. Depending on your specific needs, your top picks might look entirely different.
Top 8 Wholesale Distribution Trends
1. Wholesale eCommerce
Wholesale distributors are scaling their offline business operations online through business-to-business (B2B) eCommerce platforms. These platforms provide wholesalers with a global reach and improved buyer experience at reduced costs. Distributors are investing in building their own eCommerce stores or utilizing major eCommerce platforms such as Amazon and Walmart for this purpose. These platforms bring efficiency to business operations and provide performance insights on a product level. Furthermore, startups and scaleups are building technology stacks to integrate with eCommerce platforms to advance marketing, sales, dropship automation, and improve customer reach.
Foundation empowers eCommerce Marketplace
US-based startup Foundation provides a tailored B2B eCommerce platform for wholesalers with real-time visibility and control of pricing and inventory. The platform empowers wholesalers and distributors with the customer, vendor, and order fulfillment management in a single platform, with an eCommerce storefront for buyers. Furthermore, these features enable customer self-onboarding and streamline vendor payment and shipping with connected product catalogs at scale. Wholesalers use it to eliminate manual cataloging and order form processing while providing a seamless experience to their retail consumers.
Jeyan Technologies facilitates Multichannel eCommerce Store
Indian startup Jeyan Technologies develops O2vend, which is an omnichannel store management software platform for wholesale and distribution businesses. O2vend provides an eCommerce storefront with functionalities such as stock management, order-to-cash (O2C) processes, invoicing, catalog, and user management suitable. It enables sales and promotion through multiple channels while providing a centralized view of all functions, third-party payment point-of-sale (POS), and summary reports. Multi-location wholesale businesses use it to reduce operating costs, track cash flow at all online and offline channels, and improve revenue opportunities.
2. Sustainability
Sustainable distribution and fulfillment are becoming the top priority of businesses and startups are developing innovative solutions to advance the same. Cutting down greenhouse gas (GHG) emissions while improving delivery times and profitability is the main challenge that wholesalers face in this regard. Warehousing and distribution supply chains are the main areas where businesses try to achieve sustainability therefore startups are developing remote and distributed value chain management platforms. Carbon footprint calculators, clean energy-based transport systems, carbon offset platforms, and green warehousing are examples of a few innovations in this area. Startups are increasingly relying on blockchain and internet of things (IoT) technologies to trace the movement of goods and improve upon their distribution processes.
Iconoclast Studio enables Consolidated Sourcing & Distribution
Iconoclast Studio is a US-based startup that advances sustainable B2B distribution for premium apparel brands through its proprietary digital platform. The startup's platform provides a transparent view of the entire manufacturing and distribution process through its network of factories and fulfillment service providers. It leverages consolidated distribution practices for each bulk order storage, fulfillment, and distribution logistics. Additionally, it offers on-demand apparel manufacturing using raw materials that are traceable to their origin. It enables apparel brands and distributors to reduce environmental impacts at every stage of business.
Manifest Eco facilitates Green Warehousing
US-based startup Manifest Eco provides energy-efficient warehousing through its Sustainable Ecommerce Fulfillment platform. The startup's green warehousing solution reduces logistic waste by using warehouse robotics, energy-saving methods, and biodegradable packaging. Additionally, the startup provides white-glove inbound logistics, article and quality inspection, compliance and waste management, and intelligence multi-carrier delivery among other value-added services. B2B and direct-to-consumer (D2C) eCommerce businesses use it to reduce their carbon footprint and introduce sustainability in their supply chain infrastructure.
3. Advanced Analytics
Distributors utilize omnichannel selling strategies to increase revenue opportunities and remain competitive. Due to this, they face the challenge of managing orders, inventory, and different factors in their supply chain simultaneously. It becomes more complex for multi-brand and multi-chain distributors. Hence, startups and scaleups use advanced analytics solutions to centralize multichannel order and operations management. Advance analytics provide distributors with real-time visibility across different channels and provide data-driven decision support to prevent revenue loss. Further, fulfillment and value chain analytics uncover previously undiscovered areas of revenue generation in the supply chain. Additionally, these solutions also analyze external market conditions to recommend solutions that prevent business disruptions and improve return on investment (ROI).
Ripplr advances Operational Analytics
Indian startup Ripplr offers distribution-as-a-service and logistics support to brands and distributors of fast-moving consumer goods (FMCG) companies using its plug-and-play platform. Its Distribution Management System utilizes artificial intelligence (AI) for live operational visibility and predictive analytics of inventory and movement of goods. It analyzes inventory levels and suggests stocking quantities based on sale patterns and availability in the warehouse. Moreover, it enables faster purchase and payment management, last-mile order routing, and fleet management. Multi-brand distributors use it to optimize merchandise planning to avoid stock-outs as well as to achieve logistical efficiency.
Maad develops a Market Intelligence Platform
Senegalese startup Maad develops an eponymous digital wholesale distribution platform. It offers tools to collect data from field agent operations of FMCG brands and small retailers. It analyzes the gathered data to provide performance monitoring reports and market intelligence for improving distribution services, route efficiency, and advance strategic decision-making. Additionally, it also serves as a B2B eCommerce marketplace for small and unorganized retailers.
4. Inventory Management Systems
Strategic inventory management is crucial as deadstock and defective inventory is an irrecoverable costs to the distribution business. Conversely, low stock levels due to seasonal demands or promotional events are also a big loss, especially in businesses with periodic demand cycles. Therefore, startups are building innovative inventory management systems as standalone platforms or integrated with existing ERP systems. These systems use AI, computer vision, financial transaction data, and other technologies to track and trace shelf space and stock movements. This enables inventory replenishment before stock runs out, inventory distribution as per geographic demands, and stock order as per periodic demands. These systems also take into account spoiled stocks and order returns in order to provide practical merchandise planning. Inventory forecasting solutions also optimize indirect spend management and thus reduce warehousing costs and inventory wastage.
Flashana provides Inventory Optimization
Canadian startup Flashana facilitates demand-driven inventory management through its data analytics platform. The platform ingests sales and distribution data from all channels and provides inventory optimization suggestions using predictive analytics and machine learning (ML). It identifies buying behavior for each stock-keeping unit (SKU) based on seasonality, promotional events, and market conditions, and accordingly predicts optimal inventory levels. It thus minimizes inventory turnover time and stock levels to reduce reliance on warehousing and inventory loss. Retail and food distributors use it to augment their risk tolerance to external factors, increase revenue and sell-through, and optimally redesign supply chains.
Profiter offers Inventory Waste Reduction
Italian startup Profiter develops a smart warehouse management system for pharmaceutical distribution. The system uses predictive AI to anticipate demand by evaluating historical sales and other data such as pricing, wholesale discounts, and expiry dates. It prevents under and overstocking and prompts efficient inventory replenishment by maximizing wholesale discount access from manufacturers. Pharma chains and distributors use Profiter to increase operational profits and reduce inventory waste by managing expired and out-of-market medicines.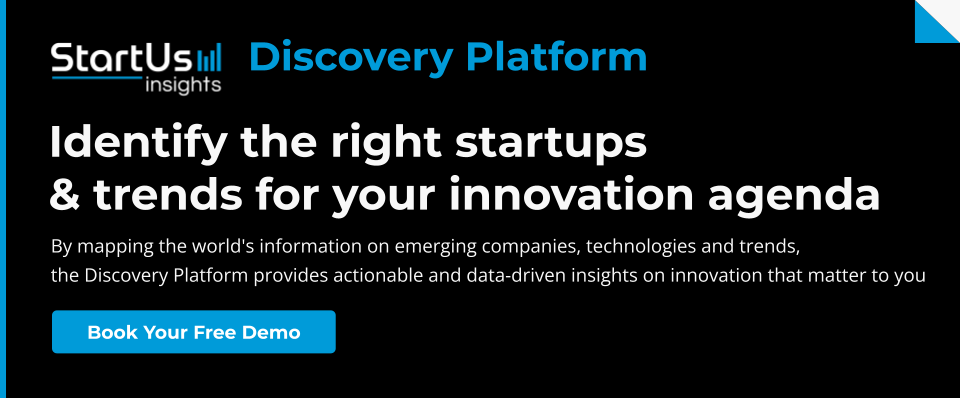 5. Warehouse Management Systems (WMS)
Wholesale distribution relies on warehouses and distribution centers for bulk order fulfillment and timely supplies. Therefore, startups develop WMS that improve employee productivity and automate tasks such as quality inspection during stock-ins and outs, inventory classification, counting, and labeling. Moreover, WMS provides category and supplier-wise inventory tracking and provides cost visibility to stock only those SKUs with high turnover rates. Warehouse robotics, distribution strategy, and price planning are some more features of WMS that accelerate remote monitoring and management. However, small distributors are moving away from infrastructure costs associated with warehouses therefore startups are providing micro-warehousing and on-demand warehousing solutions. These solutions provide storage and fulfillment facilities with complete stock visibility but at lower costs.
Nuport facilitates Smart Warehousing
Bangladeshi startup Nuport develops a cloud-based smart warehouse automation solution to manage distribution workflows. The platform provides end-to-end visibility by warehouse mapping and geo-location-based SKU traceability. For this, it integrates with existing enterprise resource planning (ERP) systems and connects SKUs with web and mobile tracking parameters such as barcodes. It generates actionable insights into warehouse and inventory movements to accelerate fulfillment and delivery planning and lowers product loading and order management time. Manufacturers and distributors in FMCG, industrial supplies, and eCommerce use it to trace their distribution channels, amend distribution strategy, and reduce the billing cycle.
Ship Frankly offers On-demand Warehousing
US-based startup Ship Frankly provides a warehouse-as-a-service (WaaS) solution along with its digital platform. Offline and eCommerce wholesale merchants ship and store their products in the startup's fulfillment centers. It quality checks and packs the products for shipping readiness. Upon receiving the merchant's sale order data, the startup labels and ships the products as well as handles returns with photographic proofs. This mitigates the storage management, shipping, and return hassles for the merchants.
6. Cloud Computing
Wholesalers use cloud computing tools as they provide analogous functionalities that of traditional ERP systems but at a fraction of the cost. Big distributors are switching to cloud infrastructure as it enables a single view of all the distributed operations of the business. It simplifies remote monitoring of client buying behavior, stock availability, warehouse operations, and logistics management. Cloud-based solutions empower decision-makers and key stakeholders to strategize pricing decisions, customer services, and other functions without disruptions. Distributors dealing with multiple brands and operating at numerous locations generate huge volumes of data. Hence, startups develop cloud-based applications that support big data processing in real-time and provide a 360 view.
10X ERP offers Distribution ERP
US-based startup 10X ERP develops a cloud-based and mobile-responsive ERP solution for distributors. The system provides real-time data processing and tracking with financial and SKU-level inventory audit trails. It utilizes smart algorithms to simplify multi-level item category management within the ERP, accelerate order processing, and automates pricing rules. Further, the system seamlessly connects with third-party shipping and payment integrators and provides status updates for purchase orders (PO), shipments, operational costs, etc. Wholesale businesses use this tool to boost employee productivity and automate reporting within a single platform.
Zeablue enables Purchase Order (PO) Management
New Zealand-based startup Zeablue develops Qblue Inventory, which is a business management software bundle. Its purchase order management feature supports multi-currency, multi-location, and multilingual POs and allows revision to mitigate errors. It also creates reminders for reordering stocks for low inventory levels and automatically creates different POs for various suppliers. The startup's cloud software provides edge analytics and integrates with existing systems. Moreover, it provides additional modules such as B2B, B2C, point-of-sale (POS) integration, customer relationship management (CRM), bill of material, and import management among others. The startup's software is designed for use by retailers, importers, distributors, manufacturers, and dropshippers.
7. Direct Distribution
Manufacturers and producers bypass wholesalers and distributors by incorporating direct-to-consumer (D2C) business models putting wholesalers at risk. Therefore distributors are going beyond the traditional B2B distribution model and catering to end consumers. Startups leverage value-added services such as last-mile delivery, product pre-assembly, and packaging to make distribution lucrative. Startups also use dropship automation in order to increase sales in their existing areas of operation and lower stock turnaround.
Bemakers advances Direct Distribution Platform
Danish startup Bemakers provides a direct distribution platform for the beverage industry. The platform enables a customizable webshop to manage and trace orders directly from the target customers and businesses in the international market. It automates excise duty, value-added tax (VAT), customs, and shipping management with integrated tools and portals. The startup leverages its network of logistic partners, and fulfillment service providers to advance distribution to D2C and D2B customers. It caters to craft beverage makers that want easy access to international markets without building an upfront distribution network.
Cargobici accelerates Last-Mile Delivery
Spanish startup Cargobici manufactures electric cargo bicycles and provides sustainable last-mile delivery solutions for the hotel, restaurant, and catering (HORECA) distribution channels. The startup's electric vehicles (EVs) advance distribution in low emissions zones and pedestrian areas where distribution using fossil fuel-based vehicles is prohibited. Due to their modular design, the EVs cater to both B2B and B2C customers according to their capacity requirements. The startup provides urban logistics and distribution services through its EVs and micro hubs to grocery retailers, couriers, and business traders.
8. Artificial Intelligence
Distribution automation is largely advanced by AI and machine learning models. Wholesale distributors use AI for improving operational efficiency through resource planning and allocation, merchandise pricing, delivery logistics, quotation, and purchase order management. AI-based tools transform the rate of doing business and improve cost affordability. Similarly, robotic process automation accelerates stocking and product retrievals for shipping in warehouses and fulfillment centers. Natural language processing (NLP) tools provide structured information from business transactions and communication and minimize inefficiencies. Buying patterns and customer sentiment analysis powered by AI enable better product planning, shelf space management, and reduced returns.
Dispatchd develops End-to-End Distribution
US-based startup Dispatchd provides an end-to-end distribution platform to launch and distribute products in new markets without any upfront costs. The startup develops a product launch plan in agreement with the brand and streamlines shipment from the home country to the target country. It lists all SKUs and planned product kits on major eCommerce platforms, markets them, and fulfills orders originating from various channels. It uses ML to continuously analyze customer perception of each SKU and adjust marketing efforts to increase sales. The platform charges partner fees monthly from the product's sales and uses in-house logistics and fulfillment services to reduce time to market.
Workist facilitates B2B Order Processing
German startup Workist develops an AI-powered platform for B2B process analysis and automation. It provides order entry and order confirmation from purchase orders using its AI agent Worki, which extracts data from B2B transactions on existing ERP and electronic data interchange (EDI) infrastructure to automate data entry. It validates every document from the business master data and constantly learns from the processed documents to reduce errors and processing times. Businesses, distributors, and suppliers use Workist to improve productivity, automate manual tasks, and build efficiency in order processing.
Discover all Wholesale Distribution Trends, Technologies & Startups
Automation and the use of sophisticated technologies are inevitable in the future of wholesale distribution. Startups are already utilizing blockchain technology and smart contracts to improve traceability and prevent supply chain fraud. More distributors are employing customer-centric and end-to-end service-based business models to remain competitive. Value chain transparency, unmanned vending machines, micro-warehousing, and robotic delivery are upcoming trends in the distribution industry. Startups are developing distribution solutions to adapt to zero inventory and on-demand manufacturing approaches. However, solutions that boost supply chain resiliency are a top priority in this industry.
The Wholesale Distribution Trends & Startups outlined in this report only scratch the surface of trends that we identified during our data-driven innovation & startup scouting process. Among others, digitalization, machine learning, & sustainability solutions will transform the sector as we know it today. Identifying new opportunities & emerging technologies to implement into your business goes a long way in gaining a competitive advantage. Get in touch to easily & exhaustively scout startups, technologies & trends that matter to you!
Looking for emerging logistics startups & technologies?
✕