When it comes to innovation, startups are far more agile and lean than large companies. This is why companies seek startups as agents of external or open innovation via startup scouting. Traditional scouting methods, such as meeting with entrepreneurs in person or going to business fairs, are time-consuming and ineffective. Often, there are a large number of false positives (businesses that appear to be viable but actually aren't) and negatives (startups that are not viable).
Data-driven startup scouting uses data to identify and assess relevant startups and scaleups in every corner of the globe. Compared to traditional scouting, this is much cheaper and quicker as it replaces weeks of manual work with data analytics, delivering relevant results in seconds. The process analyzes various aspects of startups, such as their technology and traction on social media, financial statements, and market size. This way, data-driven startup scouting determines which startups are a better fit for your innovation goals.
Data-driven startup scouting is more efficient than traditional scouting because it is more effective at targeting high-potential businesses. Moreover, it also identifies early-stage startups that traditional scouts may miss because they lack significant traction or haven't raised money yet.
Benefits of Data-Driven Startup Scouting
Beyond speed and efficacy, there are several benefits to taking a data-driven approach to startup scouting. Some of these include:
1. Identify New Business Models
It enables you to identify new business models that you may not have otherwise considered. Analyzing startup activity data provides you with a better understanding of which types of startups are succeeding and which ones are struggling.
2. Find New Growth Areas
It allows you to find new growth areas. By analyzing data, you can identify technology trends and patterns that you may not have been aware of before. This allows you to focus your resources on areas where there is potential for growth. Additionally, data-driven startup scouting prevents you from investing in areas where there is little or no potential for growth.
Read this report: Use Trend Intelligence to Time Technology Investments
3. Pinpoint & Track Technology Trends
With data-driven startup scouting, you get insights into whether a particular industry or technology trend is at a saturation point. By analyzing data points such as market size, growth potential, and competitive landscape, you get a better sense of whether an industry is ripe for disruption or not. This information supports strategic decisions about where to allocate resources.
Best Data-driven Startup Scouting Practices
To make the most of these benefits, here are some best practices for data-driven startup scouting:
Use accurate metrics. When assessing a company's viability, it is essential to look for the right metrics depending on your innovation needs. This approach prevents costly mistakes and generates significantly more business opportunities.
Track startups over time. Continuous startup monitoring presents a better picture of the startup ecosystem, ensuring you pick the winners. It prevents hasty decisions based on initial impressions.
Run exhaustive searches. Use tools that search the startup landscape exhaustively.
Conduct thorough research into the target market. Supplement startup scouting with customer intelligence to understand the needs and wants of your potential customers. This supports you in making more informed and successful business decisions.
Read this report: Why Customer Intelligence is Critical for Open Innovation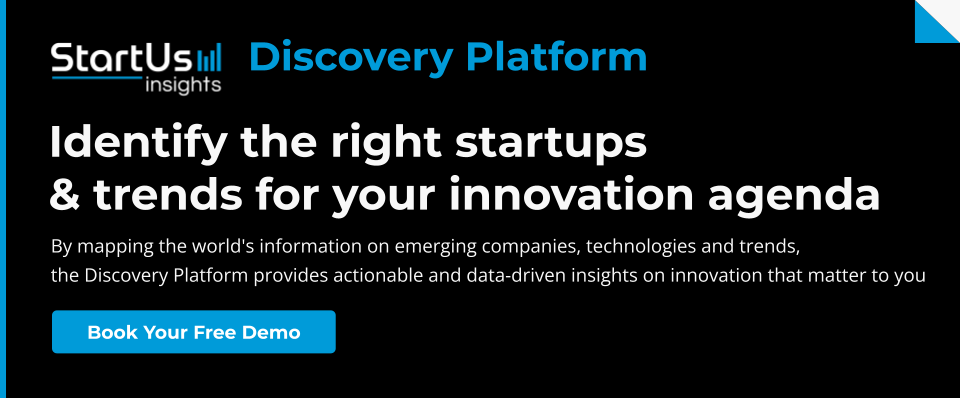 Data-Driven Startup Scouting Creates 10X More Business Opportunities
Compared to traditional scouting, data-driven scouting is far more efficient in terms of time and resources. This means innovation managers have more time to identify and pursue business opportunities instead of manually parsing through firmographic data. This is why a switch to data-driven startup scouting increases the number of business opportunities by 10X.
Related: Data-Driven Startup Scouting Creates a Competitive Advantage
Here are four ways data-driven startup scouting supports 10X more business opportunities:
1. Generates new ideas for growth and expansion:
By quickly and efficiently assessing the viability of new ideas, data-driven startup scouting prevents you from wasting time and money on unprofitable ventures. This means more resources are free to pursue other opportunities.
2. Tracks the progress of competitors:
It analyzes what startups are working on and how the target market reacts to their innovations. This way, data-driven startup scouting helps you stay ahead of the competition by identifying high-potential startups to partner with.
3. Saves time and money:
By replacing costly trial-and-error processes internally with startup scouting, it provides you with a low-cost way to identify feasible concepts. This way, data-driven startup scouting saves a great deal of money in the long run.
4. Better understanding of the target market:
For B2B companies, data-driven startup scouting reveals what their customers or vendors are interested in. This provides valuable insights that improve your chances of success.
Generate More Deal-Flow with Data-Driven Startup Scouting
Identifying opportunities isn't enough, you need to capitalize on them. Here are a few ways data-driven startup scouting improves the quality of deal flow when working with startups.
By understanding the data behind a startup's success, companies can make more informed decisions about which startups to invest in or partner with.
By analyzing a range of factors such as market size, competition, and customer demand, data-driven startup scouting identifies which startups are more likely to succeed. This information allows companies to make smarter decisions about their investment and partnership opportunities, leading to greater returns on investment (ROI).
Data-driven startup scouting minimizes risk while investing in startups.
By using data to analyze a startup, companies are more likely to identify any areas of weakness. This information enables them to steer clear of startups that are likely to experience significant difficulty in reaching their goals. Furthermore, it helps companies develop better strategies for supporting and promoting the future growth of their innovation pipeline.
Data-driven startup scouting identifies startups that are a good fit for a company's products or services.
Most often when companies are looking for startups to partner with, they are looking for solutions that will address particular challenges in one or more of their internal processes. Data-driven startup scouting matches startups for not just how good their technologies are but also how well they fit with a company's existing systems. As a result, companies are able to work with new startups much faster than would be possible through traditional means.
It provides critical insights into whether or not a given product is viable.
By assessing both technical feasibility and customer intelligence from within a single platform, data-driven startup scouting provides critical insights into whether or not a given product is viable prior to development. This allows companies to focus resources where they will have the greatest impact on growth potential.
Find Promising Startups, Scaleups & Technologies Fast!
The StartUs Insights Discovery Platform features firmographic data on over 3 million startups and scaleups globally. With intuitive features and multiple filters, it provides you instant access to detailed information on the most promising startups in your area of interest. As a result, this shortens your startup scouting timeline from weeks or months to just days.
Regardless of how specific your criteria are, this powerful SaaS tool provides a curated list of startups that match your innovation goals. This allows you to identify and assess potential partnerships quickly, thereby increasing business success.
StartUs Insights Identifies Tons of Opportunities for Your Business!
The StartUs Insights Discovery Platform is the best platform for your startup scouting process. It simplifies the search phrase to a few clicks as well as allows you to search iteratively. Most importantly, it performs an exhaustive search of the startup landscape, which means you do not miss out on any startup or scaleup. This ensures that your startup scouting process is well-informed and highly focused.
Here are a few benefits of using the Discovery Platform for your startup scouting initiative:
Quickly and efficiently identify high-potential startups: By avoiding startups that aren't mature or don't meet your criteria, you identify startups that are more likely to succeed and make better partners or investments.
Avoid chasing partners that have no future potential: The platform is free of any bias and uses trend intelligence to forecast technology trends. This ensures that the startups you identify are exactly what you are looking for
Find hidden gems: The Discovery Platform's extensive coverage of startups globally ensures that you don't miss out on hidden gems. This provides you with a better list to narrow down startups from as well as provides a competitive advantage.
Greater participation in your startup programs: When you're running a startup program or challenge, the platform discovers the startups working on solutions that match your program objectives. This ensures that your startup program receives a large number of highly relevant startups.
Read this report: Get More High-Quality Applications for Your Startup Program
Data-driven startup scouting brings speed and efficiency to your deal-flow process. Whether you're looking for promising startups in automotive, healthcare, manufacturing, or any other industry, the Discovery Platform gives you deep insights into the innovation landscape of your industry and identifies the emerging companies that matter to you
Curious how data-driven startup scouting creates business opportunities?
✕