Sports have long occupied a large part of our entertainment and the industry is growing exponentially. To meet the demand of athletes and fans alike, sports technologies are evolving fast and disrupting the business of sports. Tech advances are influencing how athletes train, how sports venues are run, and how sports teams engage with audiences. The most popular sports industry trends and innovations include performance analytics through AI and Big Data, technologies like the Internet of Things (IoT), crowd sentiment analysis, and contactless solutions enabling smart stadiums, eSports, and cybersecurity. Additionally, immersive reality solutions like augmented and virtual reality (AR/VR) and holograms improve training and fan engagement. This article was published in Jun 2022 and updated in August 2023.
Innovation Map outlines the Top 8 Sports Industry Trends & 16 Promising Startups
For this in-depth research on the Top Sports Tech Trends & Startups, we analyzed a sample of 1342 global startups & scaleups. This data-driven research provides innovation intelligence that helps you improve strategic decision-making by giving you an overview of emerging technologies in the sports tech industry. In the Sports Tech Innovation Map, you get a comprehensive overview of the innovation trends & startups that impact your company.
Top 8 Sports Industry Trends in 2024
These insights are derived by working with our Big Data & Artificial Intelligence-powered StartUs Insights Discovery Platform, covering 3 790 000+ startups & scaleups globally. As the world's largest resource for data on emerging companies, the SaaS platform enables you to identify relevant technologies and industry trends quickly & exhaustively.
Tree Map reveals the Impact of the Top 8 Sport Trends in 2024
Based on the Innovation Map, the Tree Map below illustrates the current trends in the sports industry in 2024. To advance sports solutions, startups are developing technologies to increase fans' involvement, improve athletes' performance, and advance sports events. This improves the quality of games, optimizes match preparation processes, and ensures the stability and transparency of the activities of sports organizations. One of the emerging trends in sports technology is the continuous measurement of athletic performance. Artificial intelligence and wearables provide detailed data about athletes and predict possible risks. Fan engagement enhances the communication between sports teams and fans.
Startups are also designing solutions for smart stadiums to improve fans' and teams' experience at the venue while maintaining their safety.eSports startups are incorporating computer vision and machine learning (ML), and immersive gaming to improve the quality of online gaming. Immersive training improves athletes' match preparation and allows them to simulate the game. Cybersecurity solutions secure gamers' and fans' data, which many cybercriminals target. Advanced streaming is transforming traditional broadcasting by offering 5G networks and virtual reality (VR) technologies that provide a real-time stadium presence from home. Lastly, to limit carbon emissions and reduce environmental impact, the industry is developing and implementing sustainable innovations.
Global Startup Heat Map covers 1342 Sports Technology Companies
The Global Startup Heat Map below highlights the global distribution of the 1342 exemplary startups & scaleups that we analyzed for this research. Created through the StartUs Insights Discovery Platform, the Heat Map reveals high startup activity in the US and the UK. Below, you get to meet 16 out of these 1342 promising startups & scaleups as well as the solutions they develop. These sports technology startups are hand-picked based on criteria such as founding year, location, funding raised, & more. Depending on your specific needs, your top picks might look entirely different.
Interested to explore all 1300+ sports tech startups & scaleups?
Top 8 Sports Industry Trends for 2024
1. Performance Analytics
To enhance performance and improve decision-making, coaches, and athletes strive to understand which actions lead to success during the game. Performance analytics tools measure a broad range of data, highlighting which processes need to be improved during sports strategy planning. Video and motion analytics provides statistics about areas such as the position of the ball, player movement and involvement, time of a particular action, and the outcome of such action.
Wearables such as data-tracking wristbands, equipment-embedded sensors, and smart clothes offer precise information about athletes' actions, force, and accuracy as well as predict injury risks. This enables evidence-based decisions before and during games.
Stupa Analytics offers Table Tennis Performance Analytics
Indian startup Stupa Analytics provides real-time performance analysis of the table tennis match or practice session. Its AI-based app analyzes match recordings to provide reports on game patterns, shot placement, and consistency. This enables coaches to compare performance stats over time and improve athlete development strategies.
Runeasi enables Gait Analysis
Belgian sports analytics startup Runeasi designs a smart belt that enables value-based gait analysis for athletes with musculoskeletal conditions. The wearable uses AI-based biomechanics technology and measures cumulative impact, peak rate of the impact, context, impact asymmetry, and dynamic stability.
The startup's solution simplifies biomechanics measurement by providing real-time personalized athletes' running data analytics to enhance the athlete's performance and improve the gait pattern.
2. Fan Engagement
Fans contribute to the sport in various ways from physical support at the sports event to buying merchandise. This is why building relations with them is important for continued loyalty. To boost fan engagement, clubs implement various technologies such as blockchain for transparent communication and video sharing, biometrics identification, and AI-powered smart chatbots.
Live event holograms use immersive technology and engage fans by providing an opportunity to talk with their favorite sports star from any part of the world. Fan engagement is also prevalent in eSports. Startups create sports fan platforms to build an eSports community, exchange sports highlights, and for clubs to hear the voice of their fans.
Liquiditeam provides Digital Collectibles
German startup Liquiditeam supports sports clubs to build a digital relationship with fans. Its LT fan platform offers fans the chance to own digital collectibles of their favorite teams. The solution encourages the international fan base to get closer to the club by engaging with the teams with fun, gamified interactions.
For example, supporters can earn free or sponsored club tokens to participate in various voting, and ideation missions, or make proposals to their favorite club.
Scorz offers In-Venue Connectables
Australian startup Scorz develops reusable in-venue connectables for fan engagement. The startup's solutions enhance the experience in venues and support fans to celebrate the best moments of the game together. The beer glasses and jars are programmed to light up in supporters' colors for each sports team score.
After the coronavirus restrictions, the startup developed a Bluetooth-enabled cup connected to the Scorz App that celebrates teams' scores for in-home audience engagement. Scorz's solution enables one-to-one consumer communication and enhances the celebration experience at the stadium during game day.
3. Smart Stadium
Stadiums and venues for sports events are considered the best place to feel the atmosphere of the match and support favorite teams. However, fans' preferences are changing and many now choose to watch the game on TV. To improve the fan experience at stadiums, sports tech startups are integrating technologies that provide additional features for the in-venue match experience. AI-based crowd sentiment analysis quantifies the level of fun attendees are having by tracking their emotions during the game.
Drones simplify cleaning and snack delivery to the seat at the stadium. Further, the Internet of Things (IoT) improves the smart stadium connectivity and bandwidth at the stadium allowing attendees to check in fast, find parking spots, or use any apps without waiting.
Quintar provides AR Data Visualization Platform
US-based startup Quintar develops an AR data visualization platform that enables an immersive reality experience during the game. It visualizes data, including players' information, game statistics, and ball movement trajectory.
Additionally, it allows fans to see the game from different angles as the game might not be visible from all seats at the stadium. Quintar elevates the fan experience at the stadium by providing in-depth analytics during the match.
Wicket builds Crowd Management Software
US-based startup Wicket offers crowd management software. It eliminates long queues at stadiums using computer vision technology. It enables touchless fan ticketing and entry through facial authentication as well as restricts access to employee-only and sensitive areas.
The dynamic crowd counter determines precisely how many people are at the stadium. Moreover, it identifies bottlenecks and improves stadium crowd management.
4. eSports
eSports continues to grow in popularity due to the advances in next-generation solutions in the industry. Growing smartphone access is lowering barriers to the eSports industry as can be seen by the popularity of free-to-play competitive games such as PUBG Mobile. Technologies such as computer vision provide detailed information about the gamers' decisions and tactics during the match. AI allows eSports bookmakers to create more accurate odds and increase their profits, while bettors will have a higher win ratio due to the provided in-depth analysis of game data.
Dynasty enables eSports Portal Management
Singaporean startup Dynasty is an eSports portal management (EPM) platform. The platform integrates the gaming and media ecosystems to improve the customer experience and retain high-end players. Unlike other platforms that only offer one service, such as game streaming or a marketplace, the startup provides a one-stop eSports portal.
In addition, the startups provide avenues for skills and player improvement through AI-based coaching using gameplay, results, and game API. As a result, eSports companies can effectively manage and monetize their gaming tournaments and leagues.
Kaikoo provides eSports Coaching
Spanish startup Kaikoo develops an all-in-one eSports coaching platform for the popular game League of Legends. The platform adds specific tasks for fulfillment while the user is in the game. The gamer tracks the progress of the team using the control panel.
The platform also contains guides divided by roles in the video format and specific tasks to put into practice everything learned in each unit. The solution allows eSports players to improve their gameplay.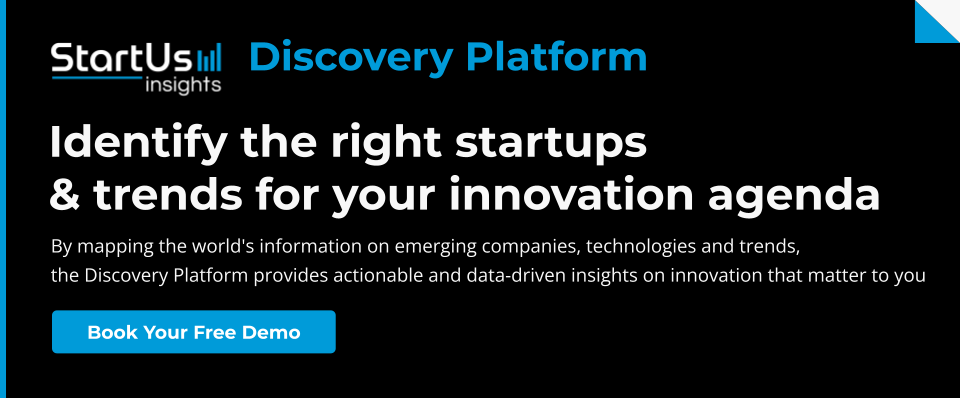 5. Immersive Training
To improve athlete performance, practice new tactics, and train for matches, coaches, and sportspersons are adopting immersive training technologies. Virtual reality (VR) allows players to train and time and recreate live sporting events through the simulation of a realistic environment. In combination with 3D sensor technology, it provides athletes with realistic sight, sound, touch, and even smell, simulating the real stadium. These technologies improve coordination between players and provide data on the trainees' performance and the strengths of athletes.
VR Motion Learning offers VR Tennis Training
Austrian startup VR Motion Learning offers a VR tennis training platform. Using motion learning technology, the platform provides feedback on player movements and compares them with professional athletes or from previous exercises. It scans and processes the players' biomechanical data and calculates the optimal pattern of movements.
Additionally, it monitors the progress and collects data on motion, speed, and number of strokes. The startup's platform optimizes the movement and stroke play of the players and provides feedback on the training progress.
StatusPRO develops an XR Football Training Platform
US-based startup StatusPRO develops an NFL-tailored extended reality (XR) football training platform. The training platform uses real-time player data to power holographic experiences that give players the ability to simulate any practice or game scenario without the physical impact that comes with playing the game. The platform simulates practices and game repetitions to improve team skills and tactics.
6. Cybersecurity
As the sports industry continues to grow, the threat of cyberattacks increases. The fans' and athletes' data, streaming platforms, and high sports events budgets — all are a target for attackers. To prevent risks and secure assets, sports organizers focus on the cybersecurity of the venue and attendees. To achieve this, they implement protective technologies as well as organize cybersecurity training for their employees. Blockchain is also becoming essential for purchase protection and fan data security while email defense systems prevent phishing attempts and viruses.
GamerSafer provides eSports Player Verification
US-based startup GamerSafer develops a cross-platform identity management software for player verification and authentication. The software leverages liveness detection and biometric face-matching technology. It delivers age verification and parental consent required by regulators for youth players, and female-only leagues.
The startup's solution detects characters, fake and duplicate accounts, toxicity, and dishonest behavior. This ensures a positive eSports gameplay experience as well as protects players and sponsors.
B.A.M Ticketing offers NFT Event Ticketing
Austrian startup B.A.M. Ticketing provides an NFT event ticketing solution. It eliminates black markets and adds revenue from secondary trading. The startup's blockchain solution processes more than a thousand possible transactions per second, making this rate available for many events at the same time.
Moreover, every time an NFT ticket is resold, the issuer receives royalty payments as well as any other stakeholder. NFT Event ticketing switches off scalper bots that drive up ticket prices, therefore providing a fair, transparent, and tamper-proof ticketing solution.
7. Advanced Sports Streaming
The rise of digitalization is disrupting sports broadcasting. Broadcasters now seek to provide a personalized experience and detailed information while maintaining a high streaming speed. 3D technologies and 4K resolution provide an advanced quality stream for fans. Over-the-top (OTT) platforms deliver live streams to internet-enabled devices, allowing fans to watch streams on multiple devices from anywhere.
Virtual reality (VR) streaming is another technology that provides fans an opportunity to have a real in-depth experience. This allows them to watch the game from different angles by virtually switching seats. These technologies improve the quality of the broadcasting and allow fans to get more accurate information about what is happening during the match.
Sizzle provides AI Broadcast Analysis
US-based startup Sizzle improves live streams with patented, personalized highlights. The startup's AI analyzes the video, audio, and chat of live streams and automatically determines when the big plays happen or when the commentators and audience are excited.
All highlights point back to the source video so each fan can get a different set of pointers, for instance, the funny moments or best offensive plays. The technology works with mainstream platforms like Twitch or YouTube without the need to install additional software.
GlobalM develops a Streaming Platform
Swiss startup GlobalM optimizes events organization with its software-defined video network. GlobalM's network design allows for secure reliable transport (SRT) packet recovery without impacting the source stream or other rights holders' streams in the network. This allows streaming directly to the decoder, rather than conferencing software and social media apps.
Thus, it makes it easier to manage sports events and broadcast applications. The solution completely replaces the use of satellite uplinks, thus streaming sports fast with much lower latency and lower costs.
8. Sustainability
To minimize the negative impact of the sports tech industry on the environment, startups are introducing innovations that make sports more sustainable. For example, after the fans leave the stadium, leftover food is recycled. This solution helps prevent food waste from ending up in landfills, thereby reducing greenhouse gas emissions. Innovative rainwater reuse systems are being used to irrigate the plants and grass in and around the smart stadium as well as for laundry and restroom flushing.
As stadiums use large amounts of electricity during the event, switching to renewable energy usage is another trend. Green stadiums are not only beneficial for the environment but also reduce spending on energy consumption. Athletes prefer wearing eco-friendly sportswear made from sustainable materials like organically grown cotton and cellulose fibers made from trees.
The Running Public produces Sustainable Athletic Wear
Spanish startup The Running Public designs eco-friendly sports clothing for athletes. The startup uses mainly recycled fabrics from post-consumer products such as plastic bottles, fishing nets, and other plastic scraps. This reduces the negative impact on the environment for athletic wear procurement.
While producing long-lasting sports clothes, the startup minimizes carbon emissions and avoids the introduction of new oil-based materials into the environment.
Shapeshift 3D designs 3D-printed Sports Equipment
Canadian startup Shapeshift 3D develops customized sports and protective equipment using its AI-based software platform. To produce it, the user uploads a 3D file which the platform scans and adjusts if needed.
The platform works on both desktops and the cloud. It enables additive manufacturing of custom sports equipment like skates, and football helmets. This reduces production costs as well as energy consumption over the lifecycle of a product.
Discover all Sports Trends, Technologies & Startups
Developments in machine learning (ML), AI, fantasy sports, immersive reality, robotics, and the Internet of Things (IoT) will have a major impact on the sports industry. To tackle the impact of the COVID pandemic, sports tech startups introduced virtual fan technologies to optimize the viewing experience of the fans. These will take an even more prominent role in post-pandemic years. Further, real-life sporting events, virtual sitting, and broadcasting platforms are evolving rapidly. Fan and player safety remains to be a top priority.
Further, startups will be focusing more on technologies like biometric authentication, face recognition, as well as ransomware prevention to mitigate existing and emerging threats. The sports innovations outlined in this report only scratch the surface of trends that we identified during our data-driven innovation & startup scouting process. Identifying new opportunities & emerging technologies to implement into your business goes a long way in gaining a competitive advantage.
Looking for emerging sports startups & technologies?
✕