Businesses incur massive losses due to inappropriate storage of products and packages. Moreover, these packages negatively impact brand value and customer experience. To enable active sensing of packages and their constituents, companies now leverage smart packaging. Such intelligent packaging systems measure or sense product and environmental attributes. This article provides you with insights into the top smart packaging examples based on our analysis of 418 companies & technologies and their impact on 7 industries. They range from food and manufacturing to electronics and pharma, among other sectors. Read more to explore the impact of smart packaging on 7 industries and how they advance your business.
Tree Map reveals the Smart Packaging Examples across 7 Industries
Based on the Innovation Map, the Tree Map below illustrates the emerging Smart Packaging Examples across 7 industries in 2023 and 2024. Smart food packages improve transparency into food conditions and extend shelf life. That is why the food industry is the most predominant customer of smart packaging. Further, manufacturers and logistics companies leverage smart packaging.
Smart packages also function as an effective marketing medium for brands, thus improving customer engagement. Similar to the food sector, the retail industry integrates smart packages to improve product shelf life and avoid wastage. On the other hand, intelligent packaging tackles counterfeiting for electronics and pharma companies.
Global Startup Heat Map covers 418 Smart Packaging Startups & Scaleups
The Global Startup Heat Map below highlights the global distribution of the 418 exemplary startups & scaleups that we analyzed for this research. Created through the StartUs Insights Discovery Platform that covers 2 500 000+ startups & scaleups globally, the Heat Map reveals that the US has a high concentration of smart packaging startups, followed by the UK.
Below, you get to meet 7 out of these 418 promising startups & scaleups as well as the solutions they develop. These smart packaging startups are hand-picked based on criteria such as founding year, location, funding raised, & more. Depending on your specific needs, your top picks might look entirely different.
Interested to explore all 400+ smart packaging startups & scaleups?
Top Smart Packaging Applications across 7 Industries
1. Food & Beverage
The food industry produces a large number of perishable products and deals with massive food wastage due to poor storage and shipping conditions. Startups tackle this by integrating smart food packages. They utilize advanced materials to extend shelf-life and sense food spoilage. This allows food businesses to stop low-quality products from reaching consumers and ensure food safety.
Other intelligent packaging solutions include ethylene absorbers, antimicrobial surface coatings, and connected packages. Connected packaging, unlike active and intelligent packaging, offers product-specific information to consumers through labels and QR codes. They provide consumers with food traceability data and other insightful information.
Tapkit develops a Dynamic QR Code Platform
Tapkit is a UK-based startup that makes a dynamic QR code platform. It allows food businesses to create a QR code for printing in product packaging. Customers then scan the QR code to visit custom microsites for optimal product experience.
Moreover, food brands are able to change the QR link even after printing. This allows them to boost brand and product satisfaction by delivering engaging content.
2. Manufacturing
Manufacturers utilize smart packaging to improve product safety and ensure customer satisfaction. Unlike regular packages, smart packaging solutions utilize in-package color indicators or the internet of things (IoT) to offer information on product conditions. This includes package tracking, leak detection, and spoilage identification.
Radio frequency ID (RFID) and near-field communication (NFC) are some technologies that enable smart packages. Further, manufacturers are able to ensure product integrity before it reaches customers and mitigates costly recalls. This improves brand loyalty and increases revenue for manufacturers.
Glass Cryptolabs improves Post-Sales Engagement
Glass Cryptolabs is an Indian startup that aids post-sales customer engagement. The startup's solution allows manufacturers to create interactive experiences for buyers in real time through packages. It uses unique cryptographic codes to use them in branding labels or packages.
The solution also features engagement analytics, validated feedback, and real-time authentication. This, in turn, enables manufacturers to enable a direct sales channel that ensure zero latency engagement and personalized experiences, improving brand loyalty.
3. Logistics
While tracking mobile assets is easy with IoT devices, tracking the conditions of individual packages in containers and trucks is difficult. Active packages tackle this by real-time monitoring of internal and external environments to notify issues to the stakeholders through visual indicators or software.
This allows logistics companies and freight forwarders to promptly identify defective packages, counterfeiting activities, and inappropriate storage in supply chains. Consequently, this data enables them to keep substandard products away from customers and reduce transportation costs due to wasted deliveries.
Thermo Lab offers Smart Packaging-as-a-Service
Thermo Lab is a South Korean startup that delivers smart packaging-as-a-service. The startup's IoT-based thermal package, Smart Cube, utilizes special refrigerants for food and bio logistics. It also collects data on logistical stage events and environmental information through data loggers and stores them in the cloud.
Further, the startup's cloud platform offers improved visibility into package status and enables data-driven customer resource forecasting and risk management.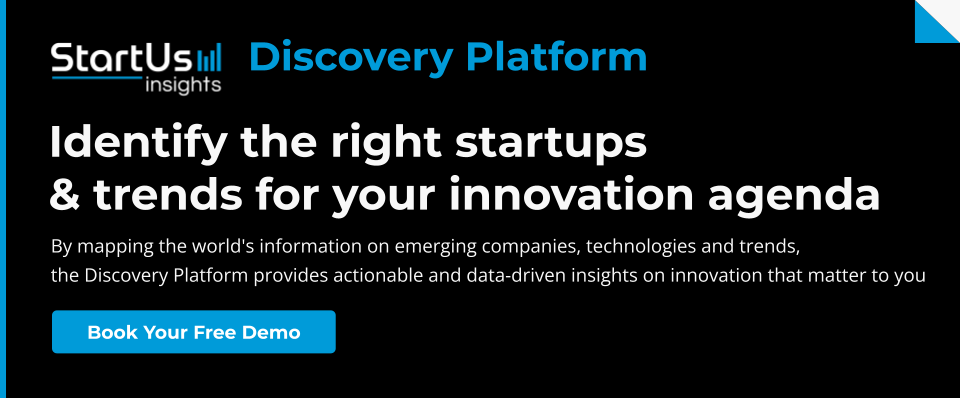 4. MarketingTech
Connected and intelligent packaging provides a more effective means for marketers and brands to deliver content to customers. By providing product-specific information through intelligent packages, brands improve visibility into package conditions. They also offer stories and personalized content to increase customer engagement.
Thus, smart packaging improves product authenticity and safety while enabling customers to connect better with brands. The technologies that enable this are smart labels powered by RFID and NFC or even simple QR codes that provide engaging interactions.
Digiphy delivers QR-enabled Contextual Marketing
Digiphy is a US-based startup that offers QR-enabled contextual marketing. The startup's marketing and commerce platform allows brands to build and manage QR codes that connect to unique storyline webpages. It also supports third-party integrations to drive sales, orders, email capture, and more.
Further, the platform provides a library of flexible templates that match brand values, such as sustainability and direct-to-consumer (D2C) commerce. This accelerates content workflows and deepens brand engagement.
5. Retail
Similar to the food and beverage industry, the retail sector also uses smart packaging to extend shelf-life and improve brand awareness. Active packages leverage novel materials, such as nanomaterials, that react to external environments and alert consumers about spoilage.
On the other hand, intelligent retail packages use connectivity technologies, like NFC and RFID, to notify customers and manufacturers of leaky packaging and storage conditions. Lastly, retail brands are able to better connect with their customers through connected packaging solutions.
DB Packaging creates Water-Soluble Packaging
DB Packaging is an Australian startup that develops water-soluble packaging. The startup offers laundry bags, bin layers, and flat bags that are hot water-soluble and biodegradable.
These packages allow retailers to reduce disposal costs and environmental impacts while simplifying package orders.
6. Electronics
The electronics industry utilizes smart packaging to mitigate counterfeits and ensure product authenticity. This allows supply chain stakeholders and electronic product customers to promptly identify any issues and remove faulty products from reaching customers.
Further, startups utilize microelectronics and other advanced electronic systems to enable smart packaging. Printed and flexible electronics are key enablers of smart packaging systems. Thus, the electronics sector is both a customer and producer of intelligent and connected packaging solutions.
Ennoventure advances Connected Packaging
Ennoventure is a US-based startup that makes a connected packaging solution. It creates a crypto signature for all products and integrates them into the packaging. To verify product authenticity, customers and other stakeholders scan the packages using smartphones.
As a result, businesses are able to avoid conventional holograms and stickers that are subject to replication and reuse. This allows electronics manufacturers to detect counterfeits and ensure that customers receive authentic products.
7. Pharma
Pharmaceutical supply chains need to enforce optimum temperatures and storage to ensure drug and vaccine efficacy. Intelligent drug packages use RFID chips, light-emitting diodes (LEDs), or other means to register package breaks and pill removal. Active packaging solutions also enable pharmaceutical companies to extend the shelf-life of drugs and ensure their efficacy.
Further, pharma companies leverage embedded sensors in packages to track products from production to last-mile deliveries. This enables them to identify any delays or inefficiencies and mitigate fake medication reaching consumers.
Rubitel offers Sensors for Packaging
Rubitel is a US-based startup that develops sensors for smart packaging. It is incorporated with sensors and embedded software into common laminates for real-time product data communication. It allows businesses to avoid in-house product development and accelerate the time to market.
Logistics and warehousing companies use Rubitel's solution to accelerate parcel throughput and reduce truck idle time using parcel identification. At the same time, pharma companies benefit from collecting data for temperature-sensitive medicines and, in turn, avoid denaturation.
Discover All Applications of Smart Packaging
The packaging industry is leveraging advanced electronics and materials to extend the functionality of packaging beyond product housing. Low-cost and scalable manufacturing methods like 3D printing will also impact its integration across industries. To aid this, smart packaging startups are offering packaging-as-a-service to manufacturers and brands, tailored to their requirements. This eliminates upfront capital expenses and accelerates the time-to-market of products. Get in touch to identify specific smart packaging applications, startups, and solutions that advance your business!
Interested to explore all 400+ smart packaging startups & scaleups?
✕
Looking for emerging smart packaging startups & technologies?
✕
Interested to explore all smart packaging applications?
✕