Global Startup Heat Map highlights 10 Top Silver Economy Startups to Watch in 2023
Through the Big Data & Artificial Intelligence (AI)-powered StartUs Insights Discovery Platform, covering over 3 790 000+ startups & scaleups globally, we identified 1290 silver economy startups. The Global Startup Heat Map below highlights the 10 silver economy startups you should watch in 2023 as well as the geo-distribution of all 1290 startups & scaleups we analyzed for this research. Based on the heat map, we see high startup activity in the US, Europe, and India. These silver economy startups work on solutions ranging from senior healthcare and financial inclusion to skill development and robotic assistance.
Interested to explore all 1000+ silver economy startups?
As the world's largest resource for data on emerging companies, the SaaS platform enables you to identify relevant technologies and industry trends quickly & exhaustively. Based on the data from the platform, the Top 5 Silver Economy Innovation Hubs are in London, New York City, Bangalore, San Francisco & Mumbai. The 10 hand-picked startups highlighted in this report are chosen from all over the world and develop tech solutions that allow seniors and elders to easily access digital services, find support solutions, spend more time with their families, and better manage their health and lifestyle.
10 Top Silver Economy Startups to Watch in 2023
Startups develop platforms and products that cater to the health and wellness needs of seniors, provide financial services, offer companionship and care through robots, and much more! These startups leverage technologies such as AI, predictive analytics, the internet of things (IoT), and haptic-reflex actuation. They provide real-time feedback, detect deviations from daily patterns, offer easy access to loans and investment opportunities as well as quickly and accurately detect falls or abnormalities. These solutions empower seniors, enable them to lead an independent lifestyle, stay socially engaged and connected, and ensure their well-being and safety.
Geras.ai provides a Virtual Health Assistant
US-based startup Geras.ai develops Geras, a virtual health assistant that caters to the health and wellness needs of elderly individuals. The platform engages the user with voice and visual features in an interactive manner to promote their physical and mental well-being. It utilizes AI to turn a smartphone into a virtual health assistant, providing real-time feedback on demand. Further, it uses predictive analytics to detect any deviation from the elder's daily patterns and alerts the caregiver accordingly. This way, Geras.ai encourages senior citizens to monitor their health regularly and stay healthy.
Birdnance builds Financial Freedom & Inclusion for Senior Citizens
Nigerian startup Birdnance makes a platform that provides financial services for senior citizens. It offers streamlined loan, savings, and investment solutions that give them financial freedom. The startup's product, BirdLoan, offers easy access to loans for healthcare, house rent, and other personal needs, without complicated paperwork or collateral. It also offers Birdsavings, which provides returns on savings. The startup's BirdUtility product allows seniors to pay utility bills and access airtime, cable TV, data, electricity, and other services. Finally, BirdInvest provides a virtual agribusiness investment opportunity that offers yearly returns. This way, Birdnance empowers the silver economy, ensuring that elderly individuals have access to the same opportunities as younger generations.
Xilber develops a Public Administration Platform
Spanish startup Xilber offers a website and app that brings together all public and private activities for the elderly in one platform. It provides an agile management system for city councils to publish activities with customization features, languages, schedules, sessions, and descriptions. With Xilber's solutions, municipalities pay an annual license to generate unlimited events and manage them with unlimited people. It catalogs and consolidates all available offers, providing seniors with convenient access to activities and services, both public and private.
Zip Five Robotics develops Senior Care Robots
Canadian startup Zip Five Robotics makes robots that offer companionship, entertainment, and care for seniors. Its caregiver robot, Laura, provides informational support. The robot features dual operating systems for Android and Linux, along with multi-language speech recognition, customizable functions, and navigation technology. The startup's Amy delivery robot also offers a range of services to seniors. It is equipped with simultaneous localization and mapping (SLAM) technology and is capable of carrying weight on its trays. Thus, Zip Five Robotics provides seniors with reliable and efficient assistance through its robotic solutions.
GetSetUp creates an Elderly Learning Community
US-based startup GetSetUp builds a digital community to provide seniors with access to learning. It covers a wide range of topics such as fitness, technology, and hobbies. The startup's platform allows seniors to learn new skills, connect with others, and experience new things. It also offers classes on categories such as aging in place, art, business, communication, health, languages, technology, travel, and more. The platform features various classes for community members to share their passions, ideas, and expertise. GetSetUp thus provides a non-judgmental and supportive environment for seniors to learn and connect with peers virtually.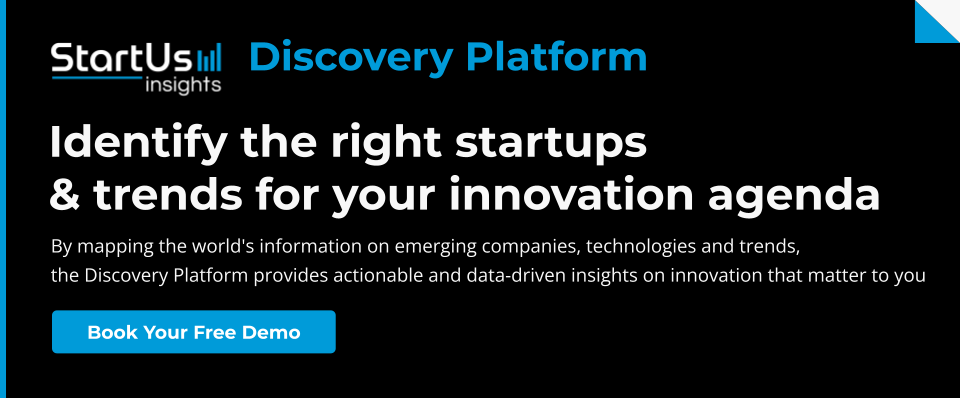 elro provides an Elderly Digital Companion
Indian startup elro develops a digital companion to deliver personalized care for seniors at home. It prompts them to check their health vitals regularly, facilitates video consultations with doctors, and ensures timely delivery of prescribed medications. Moreover, the companion engages seniors with stimulating conversations in their local languages and cognitive games supervised by medically trained professionals. With emergency features like an IoT-enabled fall detection system, it ensures safe and timely senior care. This also includes the ability to alert caretakers and call an ambulance during emergencies. As a result, elro provides support to seniors, enabling them to lead an independent and comfortable lifestyle.
Dossy facilitates Senior Family Time Scheduling
Australian startup Dossy makes a video calling app that helps seniors combat social isolation and connect with their friends, families, and caregivers. This app simplifies family availability and coordinates communication between members, making it easier for seniors to call. It allows seniors to manage their family group, set connection goals as well as invite and approve new members. Members set call availability and integrate their calendars, or toggle on when they're ready to chat. The app also provides useful metrics collated in reports to help families understand their senior's well-being and connectedness.
Call Knut offers an Elderly Check-in Buddy
Swedish startup Call Knut makes an AI-based voice bot service that checks in with the elderly via phone to ensure their well-being. It monitors seniors and those with chronic diseases, detecting warning signals in their voices to alert caregivers. The bot also features more than 50 languages and is an effective, non-intrusive complement to elderly care. This way, Call Knut provides a better way to communicate and care for elderly loved ones.
AI Guided delivers AI-based Path Guiding
Chinese startup AI Guided develops assistive platforms and portable devices for the visually impaired and the elderly. Its GUIDI product is a smart belt that employs light detection and ranging (LiDAR)/radio detection and ranging (RADAR) sensors to scan the environment. Additionally, it uses haptic-reflex actuation technology to guide elders through directional vibrations. With its AI vision, GUIDI detects different obstacles, including people passing by, and provides path planning. AI Guided provides a non-invasive and intuitive way for the visually impaired and elderly to navigate their surroundings with confidence.
HomePal enables Eldercare Remote Monitoring
Singaporean startup HomePal offers a remote monitoring solution to aid elderly individuals. Its fall detection system employs IoT devices and AI-enabled verification to quickly and accurately detect falls or abnormalities. The solution integrates with existing CCTVs within the premises, minimizing the need for human triggers and avoiding disruptions. HomePal serves as a personal care buddy for the elderly and their families, bringing peace of mind through its instant alert system. Homepal also serves as a care partner for nurses and caregivers by alleviating manpower constraints in eldercare organizations.
Discover All Silver Economy Startups
The 10 silver economy startups showcased in this report are only a small sample of all startups we identified through our data-driven startup scouting approach. Download our free Industry Innovation Reports for a broad overview of the industry or get in touch for quick & exhaustive research on the latest technologies & emerging solutions that will impact your company in 2023!
Looking for silver economy startups & technologies?
✕