Companies struggle with innovation when they do not have an effective way to generate new ideas and turn them into successful products or services. There are a number of reasons why that is. One reason is that organizations may lack the resources or the knowledge to innovate effectively. Additionally, some companies may be too risk-averse to invest in new ideas, while others may simply be unable to keep up with the digital transformation
But a slow innovation pipeline has a negative impact on a company's bottom line. If a company is not innovating quickly enough, it is more likely to fall behind its competitors and lose market share.
As a system for identifying, developing, and commercializing new ideas or products, an innovation pipeline is typically used by large organizations with multiple divisions and/or product lines. It focuses an organization's resources on the most promising ideas. By doing so, a strong innovation pipeline ensures that new products or services hit the market in a timely and efficient manner.
In this article, you will learn more about:
5 reasons for inefficient innovation pipelines
The impact of the StartUs Insights Discovery Platform on your innovation agenda
How you can generate competitive advantage from strong innovation pipelines
Why Innovation Pipelines are Slow and Inefficient
If you're not careful, your innovation pipeline can become inefficient and slow. Here are a few reasons why:
1. Lack of a Clear Innovation Strategy
Without a clear innovation strategy, it is challenging to identify which ideas are worth pursuing and which are not. This wastes time and resources on ideas that will never see the light of day.
2. Lack of a Defined Innovation Process
You have not laid out the steps in your innovation process. Without a clear understanding of the steps involved, it is difficult to measure progress and identify bottlenecks.
3. Lack of Dedicated Resources
Innovation requires dedicated resources in order to be successful. Without adequate staffing, funding, and infrastructure, it can be difficult to bring new ideas to fruition. This creates bottlenecks in the innovation pipeline.
4. Lack of SaaS Tools for Innovation Scouting
While there are SaaS tools for business intelligence, there are few tools that cater specifically to innovation scouting. For companies looking to use digital tools for their startup or technology scouting initiatives, this means they need to go through a large number of different sources. This is time-consuming as well as leaves gaps in the search for new innovations.
5. Lack of Customer Input
Customer feedback is essential for ensuring that the products or services being developed are actually meeting their needs. Without this feedback loop, it is easy for development teams to get off track and develop products or features that no one wants or needs. This wastes time and money spent on developing things that will never be used.
How Our SaaS Tool Boosts Your Innovation Pipeline
Innovation intelligence is all about identifying innovation opportunities before your competition does. It's about understanding what customers want and need, and then coming up with new ways to meet those needs. It's also about keeping track of what the larger ecosystem is doing and finding ways to stay ahead of the technology curve.
The Startus Insights Discovery Platform is a data-driven SaaS application that identifies, tracks, and manages innovation opportunities. The platform provides you with an easily searchable database of over 3 million emerging startups and scaleups globally, making it the world's largest resource for data on emerging companies. It also has a trend intelligence feature that allows you to discover emerging technologies and trends in your industry.
As the #1 scouting platform in the market, it provides deep insights into many industries, including automotive, logistics, manufacturing, materials, pharma, and many more. Moreover, it maps the landscape of technology trends ranging from machine learning and drones to blockchain and biometrics. Most importantly, it gives you a full picture of how these and other technologies will impact your business in the years to come, making.
How the Discovery Platform Works
Our proprietary algorithms capture and create insights out of 1,8+ billion data points, tens of thousands of databases and other online sources to find relevant information on startups and scaleups globally. On average, the firmographic information on each high-growth company on the Discovery Platform is backed by 53 different sources. Some of these sources include:
Company information: data on what companies are working on, their products, and milestones.
Startup and commercial ecosystems: With data from 300+ startup ecosystems around the world, it provides you with a comprehensive view of startup activity around the world.
Technology news: data on events, trends, technologies, and how they impact the players in any industry.
Social media: data on customer sentiment and demographics as well as how companies engage with them.
Patent databases: data on which technologies are companies spending their R&D budgets.
Then the semantic relations between thousands of technology terms and the over 3 million companies are mapped to describe the trend landscape across all industries.
The Discovery Platform provides you instant access to these companies in an intuitive interface with helpful filters that narrow your search by location, founding year, and many other factors. This allows you to identify exactly the kind of startups and scaleups that best fit your innovation strategy – providing you with a highly relevant shortlist.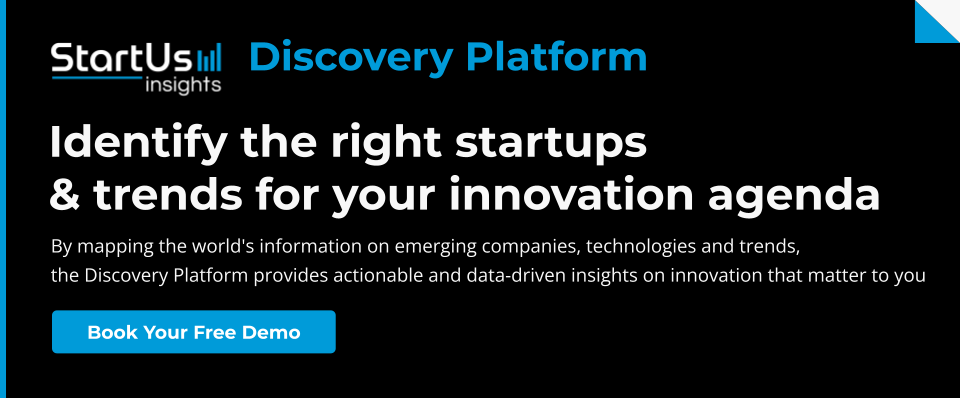 Track Everything Going on in Your Industry
There are a lot of different tools and techniques that you can use to boost your innovation pipeline. Some do a good job of identifying emerging startups but miss out on latent technology trends. Others map the technology landscape well but don't have deep, global coverage of the startup ecosystem.
Our tool is different. It keeps track of everything that's going on in your industry and gives you the information you need to come up with new ideas. Further, it allows you to spot startups and trends with low signal strength or those under the radar.
Here are a few ways the StartUs Insights Discovery Platform boosts your innovation pipeline:
Identifies new opportunities for innovation. It performs an exhaustive search of all relevant startups and industry trends. This allows you to spot new opportunities for innovation without leaving the platform.
Analyzes trends and technologies. Having identified a specific goal, the Discovery Platform allows you to find technology trends as well as startups working in the area. Moreover, it lets you create lists and compare solutions.
Finds similar companies. The Discovery Platform has a feature that allows you to find companies that are similar to the ones you've already identified either on the platform itself or through traditional methods. This speeds up the search for relevant companies.
Tracks competitor activity. Our SaaS tool gives you deep insights into what your competitors are doing. This is extremely valuable in terms of understanding the competitive landscape and developing strategies to stay ahead of your competition.
Build relationships with key stakeholders. It also lets you identify key stakeholders who can help make your innovations a reality. This includes customers, partners, and vendors. By understanding their needs and pain points, you can develop solutions that address their problems and create value for them.
Read this report: Identify emerging and latent trends with trend intelligence
How A Strong Innovation Pipeline Gives You a Competitive Advantage
A strong innovation pipeline offers a competitive advantage by helping companies rapidly develop and deploy new ideas. It provides access to new business opportunities, which will allow you to improve and extend your products and services. This way, it supports your build-buy-partner strategies, allowing you to evaluate and take the best decisions for your innovation journey.
An efficient innovation pipeline provides 5 main benefits:
Develop new products and services at a much faster pace
Quickly adapt to changes in your industry
Experiment with new technologies
Develop innovations that are more aligned with customer needs
Attract and retain the best talent
How these Advantages Translate Into Competitive Advantage
Develop/Implement new products and services much faster pace. This gives you a significant competitive advantage, as you can bring new offerings to market quickly and efficiently. Additionally, a strong innovation pipeline allows you to constantly iterate your products and services, making them better and more appealing to customers over time.
Quickly adapt to changes in your industry. Trend intelligence is a feature of most strong innovation pipelines. It ensures a constant stream of new ideas. In turn, this provides you an edge over your competitors who may not be investing in innovation as much.
Experiment with new technologies. A strong innovation pipeline leaves more room for you to explore new ideas and concepts, without worrying about the negative consequences of failure. As a result, you are more likely to find game-changing innovations that can give you a significant edge over your competitors.
Develop new products and services that are more aligned with customer needs. A feedback loop between your customers and your R&D team is critical to your innovation pipeline. By listening to customer feedback and using it to inform your research and development efforts, you can innovate more effectively. This, in turn, also contributes to your competitive advantage in the marketplace.
Attract and retain the best talent. As the tech industry shows, the best talent is essential for any company that wants to be innovative and competitive. The best employees want to work for companies that are constantly pushing the envelope and coming up with new, innovative ideas. A strong innovation pipeline shows that your company is committed to being on the cutting edge, and that makes it an attractive place to work.
Supercharge Your Innovation Pipeline Now!
Innovation pipelines are a vital part of the innovation process, enabling you to identify and develop new ideas. A well-managed pipeline helps prioritize opportunities, allocate resources, and track progress. By using an innovative approach to managing their innovation process, businesses can drive growth and competitive advantage.
The Discovery Platform enables you to identify global, high-potential startups, scaleups, and technologies that will impact your industry. This way, it takes your innovation pipeline to the next level. With our SaaS platform, you can:
Get access to firmographic data on more than 3 million startups and scaleups globally
Discover high-potential startups developing cutting-edge technologies
Map the competitive landscape for your industry
Monitor technology trends over time and generate data-driven insights on their value for your business
Regardless of the industry you operate in, your innovation pipeline needs the support of high-potential startups and technologies. We have delivered over 270 000 startups and high-growth companies to our over 1 000 clients. With the Discovery Platform, get access to the startups and technologies that matter to you.
Boost your innovation pipeline today!
✕