The pulp and paper industry is undergoing a technological transformation with the internet of things (IoT), portable paper recycling stations, and bamboo paper, among others. These developments are making the industry more efficient and environmentally friendly. Paper mills are using IoT sensors to gather accurate production data to better manage their resources. Portable paper recycling stations are making it easier for people to recycle paper, reducing waste and preserving natural resources. This research provides an overview of the top 10 pulp and paper trends in 2023 They range from alternative fibers and recycling tech to robotics and industrial biotechnology. Read more to discover the latest developments in the pulp and paper industry and how they impact your business.
Innovation Map outlines the Top 10 Pulp and Paper Trends & 20 Promising Startups
For this in-depth research on the Top Pulp and Paper Trends & Startups, we analyzed a sample of 1 783 global startups & scaleups. The result of this research is data-driven innovation intelligence that improves strategic decision-making by giving you an overview of emerging technologies & startups in the materials industry. These insights are derived by working with our Big Data & Artificial Intelligence-powered StartUs Insights Discovery Platform, covering 3 790 000+ startups & scaleups globally. As the world's largest resource for data on emerging companies, the SaaS platform enables you to identify relevant startups, emerging technologies & future industry trends quickly & exhaustively.
In the Innovation Map below, you get an overview of the Top 10 Pulp and Paper Trends & Innovations that impact 1 783 companies worldwide. Moreover, the Pulp and Paper Innovation Map reveals 20 hand-picked startups, all working on emerging technologies that advance their field.
Top 10 Pulp and Paper Trends in 2023
Tree Map reveals the Impact of the Top 10 Pulp and Paper Trends
Based on the pulp and paper innovation map, the treemap below illustrates the impact of the Top 10 Pulp and Paper Trends in 2023. Startups and scaleups are developing technological solutions for improving paper manufacturing and recycling. The most prominent trend is sustainability, which focuses on reducing waste and emissions through innovative recycling methods. Industrial IoT (IIoT) and advanced robotics, empowered by artificial intelligence (AI) and sensors, enable predictive maintenance and automation in paper manufacturing. Alternative fibers and non-fiber materials further deliver eco-friendly and durable replacements for traditional paper. Advanced packaging creates sustainable and cost-effective wrapping solutions. Immersive technologies, smart paper, and online marketplaces digitize the sale and use of paper. Lastly, biotechnology optimizes paper production and offers more efficient energy sources for the industry.
Global Startup Heat Map covers 1 783 Pulp and Paper Startups & Scaleups
The Global Startup Heat Map below highlights the global distribution of the 1 783 exemplary startups & scaleups that we analyzed for this research. Created through the StartUs Insights Discovery Platform, the Heat Map reveals that the UK and the US see the most startup activity.
Below, you get to meet 20 out of these 1 783 promising startups & scaleups as well as the solutions they develop. These Pulp and Paper startups are hand-picked based on criteria such as founding year, location, funding raised, & more. Depending on your specific needs, your top picks might look entirely different.
Interested to explore all 1 700+ pulp and paper startups & scaleups?
Top 10 Pulp and Paper Trends in 2023
1. Alternative Fibers
The use of alternative fibers in the pulp and paper industry is a key factor in promoting sustainability. These fibers come from a variety of renewable sources including agricultural residues (e.g. straw, corn stalks), grasses (e.g. switchgrass, miscanthus), and fast-growing crops like bamboo and hemp. This shift away from traditional wood fibers helps paper manufacturers reduce their environmental impact. Additionally, using alternative fibers allows for the production of high-quality, environmentally friendly pulp and paper products that meet the increasing consumer demand for sustainable products.
Bampoo offers Bamboo-pulp Toilet Paper
US-based startup Bampoo makes toilet paper using bamboo pulp. The product is an eco-friendly alternative to traditional wood pulp-based toilet paper. Bampoo utilizes a chemical-free mechanical pulping method to create toilet paper that is soft and absorbent. Additionally, the technology minimizes waste and reduces water usage. This product benefits the paper industry by reducing the reliance on non-renewable resources and promoting sustainable practices. It also helps to lower the carbon footprint of the paper industry and landfill waste.
The Mend produces Customizable Hemp Paper Bags
Indian startup The Mend develops sustainable paper bags using industrial hemp. Compared to wood pulp, hemp pulp offers a four to five-times longer fiber. It also has a significantly lower lignin fraction as well as a higher tear resistance and tensile strength. The startup provides sustainable and recyclable alternatives to everyday packaging and stationery. It also enables users to customize their bags on the website to have a more personalized experience. The manufacturing process requires less water, energy, and hemp requires less land to grow. This benefits the csutomers as it is biodegradable and compostable.
2. Non-Fiber Materials
Non-fiber materials offer an alternative to traditional wood fibers and include man-made options like polypropylene, cellulose nanofibers, and others. Using these materials in paper production enhances durability and weather resistance, leading to longer product lifespans. Startups are driving the industry forward by creating plastic-based paper alternatives with water-resistant properties. They are also exploring cellulolysis processes to produce bioplastic paper using enzymes, delivering tree-free papers. Another exciting development includes startups experimenting with materials like stone and herbivore feces to create unique paper products.
Prime Label develops Eco-friendly Polypropylene Labels
Polish startup Prime Label is promoting sustainability in synthetic paper labeling. The startup's products include polypropylene-based labeling solutions. It uses recycled polypropylene (rPP), which is of a thinner RP 50 or 40 variety. Also, the startup utilizes biodegradable and oil-free film based on ethanol made from corn or sugar cane. It provides recycled paper and polyethylene labeling alternatives. The use of polypropylene ensures better strength, durability, moisture, and tear resistance when compared to traditional paper. Prime Label also offers a pickup recycling service for used labels, reducing wastage and promoting the reuse of resources within the paper industry.
Paper Not Foil makes a Sustainable Stone Paper Foil
New Zealand-based startup Paper Not Foil offers a sustainable hair foil. It uses stone paper, a novel material that is eco-friendly and durable, that replaces aluminum. The startup manufactures stone paper from calcium carbonate recycled from pulp and paper industrial wastes, making it eco-friendly. These foils are more durable and cost-effective, making them a reliable and efficient solution for hair salons. During hair color application, the stone paper conducts heat the same as an aluminum foil which helps in color development. Also, using stone paper instead of aluminum reduces the risk of chemical reactions with color.
3. Industrial Internet of Things
IIoT powers sensors, automation, and data analytics to streamline production processes. IIoT allows for real-time monitoring of manufacturing processes as well as enables predictive maintenance and remote equipment control. This helps in identifying potential equipment failures, reducing unplanned downtime, and increasing productivity. Additionally, it allows for better decision-making and process optimization. Startups are developing IoT sensors that enable the monitoring and controlling of wood chip moisture and tracking of raw materials through the production process. IIoT also monitors machinery conditions to prevent breakdowns, reducing waste and energy consumption while improving product quality.
Senzary develops Predictive Maintenance Sensors
US-based startup Senzary develops IoT-enabled predictive maintenance sensors for industrial data collection and analysis. The startup's plug-and-play wireless system, RotaryIQ, attaches to factory machinery and collects data regarding their health. It initially provides an all-inclusive analysis with vibration, ultrasound, temperature, three-axial movements, shock, and motor current analysis. RotaryIQ isolates specific component failures and also determines emission and lubrication problems. Its sensor also provides energy consumption data. This enables timely maintenance scheduling and resource optimization, helping paper mills to increase efficiency and reduce downtime.
Somalytics manufactures Carbon Nanotube (CNT) Paper Sensors
US-based startup Somalytics designs paper-based CNT capacitive sensors. They are highly sensitive to human presence, making them ideal for eye tracking, human-machine interaction (HMI), wearables, and industrial safety. The startup applies silver on its patented CNT paper and then fabricates the paper with tensional fracture consisting of cellulose fibers coated with CNTs. Its high aspect ratio structure significantly enhances the capacitive sensitivity due to the high electric field. This technology improves the performance of biomonitoring, HMIs, and multiple industrial sectors through accurate and rapid monitoring.
4. Recycling Tech
Recycling is gaining popularity in the pulp and paper industry as companies look to reduce their environmental impact. Paper manufacturers and consumers are shifting towards the use of recycled paper to reduce the need for virgin raw materials sourced from trees. Moreover, recycled paper is more affordable than new paper made from virgin fibers. This helps companies to reduce their production costs and increase profitability. As a result, startups are developing novel processes such as de-inking, which removes impurities and contaminants from used paper. Such techniques improve the overall quality of the paper produced from recycled fibers.
Greenii provides Magazine Upcycling Services
Canadian startup Greenii manufactures recycled magazine paper bags. The startup repurposes clean paper waste, such as flyers and magazines, without chemical usage. Companies reach out to the startup and provide leftover marketing magazines. Greenii then upcycles them into paper bags that increase the marketing outreach of the company at no cost. It also offers personalized branding services on paper bags. This reduces environmental pollution and provides an incentive to increase sustainability initiatives.
SGRecycle sets up Waste-paper Recycling Stations
Singaporean startup SGRecycle deploys waste-paper recycling stations. The startup's social recycling initiative consists of a network of more than 100 waste-paper recycling stations. These stations or kiosks are deployed around Singapore to collect waste paper (carton boxes, books, papers) and fabric (old or unworn clothing, shoes). SGRecycle develops a mobile app that incentivizes people who contribute to the stations through reward points. Once the kiosk reaches capacity, the startup collects the paper waste and sorts them at a material recovery facility. It then moves the sorted waste to one of the recycling plants to shred, pulp, and process the waste into rolls of recycled paper. This promotes a circular economy and mitigates the need for virgin raw materials, saving trees.
5. Immersive Technologies
Immersive technologies function as advanced assistive technology as well as a replacement for conventional paper-based formats. Augmented reality (AR) and virtual reality (VR) find use in enhancing various aspects of manufacturing, including product development, sales, and marketing. Startups are using immersive technologies to create virtual mock-ups of new paper products, allowing designers and engineers to test and optimize the design before it goes into production. This speeds up the development process and reduces costs. VR also finds use in training employees on new equipment and processes as well as to improve workplace safety. The use of immersive technologies in the pulp and paper industry thus helps to improve efficiency and reduce costs.
POSQA develops Augmented Reality Prints
French startup POSQA offers AR animations on paper prints. The startup integrates AR into paper-based postcards, magazines, booklets, and other paper products. This enables users to scan the print through mobile devices and access immersive videos. holograms, 3D objects, and even a call to action (CTA). Moreover, the startup's AR prints leverage image recognition, and hence any 2D image can be converted to AR. POSQA also offers brands and marketing teams statistical analysis to guide marketing efforts. This mitigates the need for excessive paper-based marketing and also provides an interesting and immersive experience for users, improving engagement.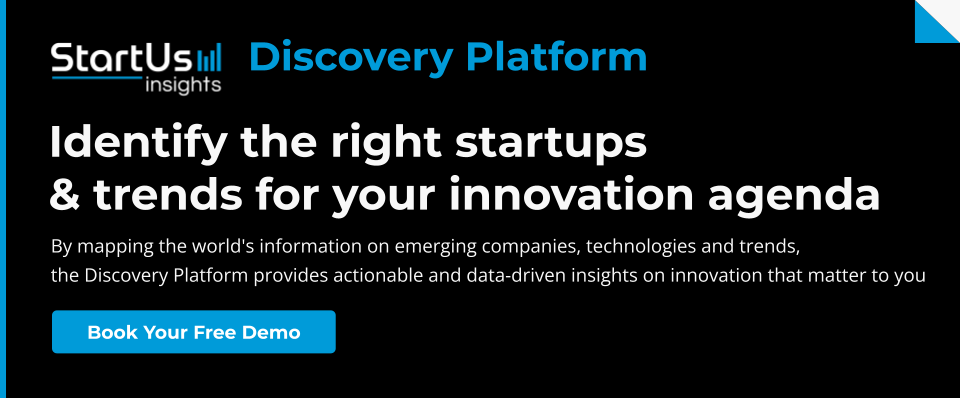 6. Advanced Paper Packaging
Startups are offering paper-based packaging sourced from renewable resources such as plant-based bioplastics and novel packaging designs that are more eco-friendly. Paper-based bags, boxes, and wraps are sustainable alternatives to traditional plastic packaging materials and are biodegradable and recycle-friendly. Bioplastic packaging also finds applications in films, bags, trays, and bottles, making them compostable and biodegradable. Such packaging innovations meet the growing demand for environmentally responsible packaging choices while reducing the carbon footprint of brands.
Kagzi develops Sustainable Paper Bottles
Indian startup Kagzi makes sustainable packaging paper bottles as an alternative to single-use plastic. The startup utilizes a refiner to pulp the accumulated paper waste via a chemical-free mechanical pulping process. This constitutes the outer layer of the bottle. It then uses a waterproofing solution to coat the inner layers. This creates a barrier that allows oxygen transmission and the coating is also compostable. The startup uses moulds to shape the pulp into halves and then a hot press glues them shut. Kagzi also provides an option to brand the bottle. This durable and cost-effective solution reduces plastic pollution and promotes the adoption of eco-friendly packaging.
Transcend Packaging offers Kraft Board Packaging
UK-based startup Transcend Packaging offers sustainable packaging solutions with its T-Eco product lineup. The startup uses fluted kraft boards to make its T-Eco containers. This offers an environmentally friendly alternative to single-use plastic for food vendors. The board is recyclable and repulpable as well as features high strength, durability, and heat resistance. It is suitable for both hot and cold food as well as leakproof and grease-resistant. The startup's manufacturing process is vegan-friendly and free of toxic poly-fluoroalkyl substances (PFAS). This way, Transcend Packaging reduces waste in the food industry and promotes circularity.
7. Robotics
The deployment of robotics in the pulp and paper industry improves efficiency, reduces costs, and enhances safety. In the paper production process, robots automate repetitive tasks such as unloading paper rolls and monitoring paper quality. This increases production speed and reduces the risk of injury to workers. Some startups are using robotics to automate product handling and movement, such as palletizing and de-palletizing, as well as loading and unloading containers. Lastly, the pulp and paper industry leverages robots to streamline the process of card or envelope creation with handwriting support. This increases efficiency and cuts down production costs.
Fibrobotics makes a Fiber Characterization Platform
Finnish startup Fibrobotics develops a robotic pulp fiber characterization platform. Within the pulp and paper industry, handling single pulp fibers are challenging due to the fiber dimensions and heterogeneity of the samples. To tackle this, the startup provides a platform that enables the grasping and manipulation of pulp fibers with robotic manipulators. It consists of manipulators and sensors to characterize samples, as well as performs mechanical short fiber testing. The platform also conducts optical tomography, microfibril-angle characterization, 3-point bending, and tensile/compression testing in a controlled environment. Fibrobotics' technology provides an efficient way for paper manufacturers to test and identify new and more promising pulp fibers.
Addressable provides Robotic Handwritten Paper Cards
US-based startup Addressable designs robotic handwritten paper cards for marketing. The startup provides personal cards that deliver listing appointments handwritten by its robots with a ballpoint pen and a natural humane font. The service is aimed at budding entrepreneurs, and they have to enroll in its automated marketing platform. After client confirmation, the startup mails handwritten cards to them and other potential clients and also relays calls for listing appointments. This enables them to win their local markets with high-quality marketing leads.
8. Smart Paper
Smart paper or digital paper comes embedded with electronic components such as sensors, displays, or communication devices. It combines the benefits of traditional paper with the capabilities of digital technology. Such solutions find use in a variety of applications, including interactive books, educational materials, and even medical diagnostic tools. Startups are working on e-ink displays and near-field communication (NFC)-refreshing e-paper to enable more interactive reading experiences. E-ink and e-paper displays are flexible, more eye-friendly, and more cost-effective to manufacture compared to traditional displays.
Lummico makes NFC E-paper Tags
Polish startup Lummico offers NFC-based e-paper tags. They attach to physical objects and find use in storing and transmitting information such as product details, instructions, or contact information. It comes paired with an android app that allows users to convert graphics from popular image formats like BMP, JPG, or PNG to bitmaps, which can be uploaded to the module through NFC. NFC also enables a set of smart actions, such as the transfer of URLs and contact cards, whenever the tag interacts with any approached smartphone. This is a cost-effective and energy-efficient alternative to traditional radio-frequency identification (RFID) labels.
Tapp develops an IoT-enabled Smart Paper
Dutch startup Tapp manufactures an IoT-enabled smart paper. The startup integrates sensors, printed batteries, and microchips into regular paper and connects it to the cloud. When used as a datalogger, it measures temperature, humidity, shocks, and tilt. The startup is also developing additional environmental and food quality sensing features to enhance its capabilities. The product features a digital paper identity (DPI) that aids in converting raw sensory data into powerful insights to apply in the supply chain. Tapp smart paper is viable to be printed with any design possible, thus offering personalized products for brands.
9. Online Marketplaces
Online marketplaces offer a global stage for paper manufacturers and suppliers to reach a larger audience. Traditional supply chain challenges, such as price pressure and quality control, drive the industry to embrace eCommerce, streamlining buying and selling processes. This improves the networking between manufacturers, suppliers, and customers, allowing all stakeholders to easily source raw materials and find products. eCommerce also improves paper and cardboard recycling efforts. That is why startups offer websites for efficient waste and residue management. Marketplaces provide valuable data, including customer preferences and market insights, that further help manufacturers and suppliers make informed decisions.
Rescript develops Recycled Paper Marketplace
Rescript is an Indian startup with a marketplace model for manufacturing and selling sustainable, recycled paper products, including stationery and notebooks. The startup uses a chemical bleach-free recycling method that reduces water and energy use. Rescript thus reduces the negative impact of paper production on the environment. Its solution offers a cost-effective and eco-friendly alternative to traditional stationery products, catering to the needs of businesses, corporates, and more. The startup also provides a monthly stationary package subscription for office use, allowing businesses to reduce their carbon footprint.
PaperEkart makes a Multi-Vendor Paper Marketplace
PaperEkart is an Indian startup that provides a multi-vendor business-to-business (B2B) eCommerce marketplace for paper and corrugation machines. The startup's app allows businesses to register with their mobile phone number and start selling or buying unused corrugator machines and kraft and duplex paper. This enables all stakeholders in the industry to monetize their unused stock and improve inventory management, saving costs and freeing up space.
10. Biotechnology
The pulp and paper industry faces criticism for its water and chemical pollution. To tackle this issue, startups are developing industrial biotechnology solutions. Biopulping and other eco-friendly processes are replacing chemical-intensive wood pulping in paper mills. Microorganisms breaking down wood fibers, instead of chemicals, reduces chemical use and water consumption. Startups are also providing paper-based biofuel cells using cellulose, which is biodegradable and cost-effective to produce. Additionally, the paper industry is exploring lignin as a base for paper, increasing durability. Another area of innovation is biofuels from paper byproducts like sawdust or bark, reducing waste and decreasing the industry's reliance on fossil fuels.
Fibers365 offers Steam Fiber Processing Units
German startup Fibers365 develops a network of proprietary steam fiber units. It offers carbon-negative and chemical-free pulping of non-wood crop fibers. Using its patented, low-cost, automated, containerized steam explosion process, the startup pulps various fiber crops and requires less processing energy. The virgin fibers obtained are used for paper and packaging purposes. The lignin accumulated during this process is a good source of energy and the process melts the lignin coat. The free sugars then undergo anaerobic digestion in a biogas plant. The technology serves as a replacement for energy-intensive fiber processing methods while also being time friendly.
Hexas Biomass formulates Cellulosic Biomaterials
US-based startup Hexas Biomass produces regenerative and eco-friendly plant-based biomaterials. Hexas works with customers to provide low-cost, high-quality biomaterials with consistent properties to meet specific needs in a range of applications. The startup's proprietary perennial grass-based material, XanoFibre, acts as a cellulosic biofuel. It also finds use in the production of high and medium-density fiberboards for packaging. This biomaterial is a sustainable solution that replaces wood, corn, and fossil fuel-based feedstocks while offering improved performance and cost savings.
Discover all Pulp and Paper Trends, Technologies & Startups
The future of the pulp and paper industry is rapidly evolving with the adoption of new technologies. Advances in bio-based nanocomposites made from waste paper and smart inks that change color based on environmental conditions are also upcoming innovations in the industry. Startups are even working on hybrid tree farms that utilize AI and robotics to optimize tree growth. These innovations aim to make the industry more sustainable and efficient while meeting the demand for sustainable paper products.
The Pulp and Paper Trends & Startups outlined in this report only scratch the surface of trends that we identified during our data-driven innovation & startup scouting process. Among others, advanced robotics, biotechnology, and biomaterials will transform the sector as we know it today. Identifying new opportunities & emerging technologies to implement into your business goes a long way in gaining a competitive advantage. Get in touch to easily & exhaustively scout startups, technologies & trends that matter to you!
Looking for emerging pulp and paper startups & technologies?
✕