The property and real estate sector, traditionally slow in adopting modern technologies, is now embracing significant digital transformation. real estate startups and companies are utilizing emerging technologies, influencing various industry facets. The technological focus is twofold: enhancing the client-tenant experience throughout the property lifecycle and facilitating informed investment and property management decisions. Explore the top real estate industry trends and innovative solutions in this report.
Key players in this transformation include artificial intelligence (AI), virtual reality (VR), augmented reality (AR), and the internet of things (IoT), representing the forefront of property technology trends today. While still in the early development stages, rapid innovation signals the sector's future growth and untapped opportunities lying ahead. This report was published in November 2021 and updated in September 2023.
Innovation Map outlines the Top 10 Real Estate Trends & 20 Promising Startups
For this in-depth research on the top real estate property management trends and startups, we analyzed a sample of 2300+ global startups & scaleups. This data-driven research provides innovation intelligence that helps you improve strategic decision-making by giving you an overview of emerging technologies in the property sector. In the Real Estate & PropTech Innovation Map below, you get a comprehensive overview of the innovation trends & startups that impact your company.
Top 10 Real Estate Trends (2024)
These insights are derived by working with our Big Data & Artificial Intelligence-powered StartUs Insights Discovery Platform, covering 3 790 000+ startups & scaleups globally. As the world's largest resource for data on emerging companies, the SaaS platform enables you to identify relevant technologies and industry trends quickly & exhaustively.
Tree Map reveals the Impact of the Top 10 Real Estate Technology Trends
The Tree Map below illustrates the Top 10 Real Estate Industry Trends impacting the industry based on the Real Estate & PropTech Innovation Map in 2024. AI leads the trends in property management, with many startups utilizing it to tackle diverse challenges. Following closely are immersive technologies like VR and AR, revolutionizing property tours. The IoT comes next, meeting the increasing demand for home and workplace automation.
Building management systems (BMS) are now a staple in modern properties, overseeing various building systems. Big data and analytics are harnessing data power to facilitate intelligent investment choices and deepen client understanding. Cloud-based property and client management software are on the rise to enhance client relationships further. The industry is also witnessing a surge in blockchain applications, including smart contracts, online property aggregation platforms, drone usage, and a heightened focus on data security.
Global Startup Heat Map covers 2382 PropTech Startups & Scaleups
The Global Startup Heat Map below highlights the global distribution of the 2382 exemplary startups & scaleups that we analyzed for this research. Created through the StartUs Insights Discovery Platform, the Heat Map reveals that the US is the biggest hub for property technologies followed by the UK, Europe, and South Asia.
Below, you get to meet 20 out of these 2382 promising startups & scaleups as well as the solutions they develop. These 20 real estate innovation startups are hand-picked based on criteria such as founding year, location, funding raised, and more. Depending on your specific needs, your top picks might look entirely different.
Interested to explore all 2300+ proptech startups & scaleups?
Top 10 PropTech Trends in 2024
1. Artificial Intelligence
Many modern devices are being used in the real estate industry today. They provide a wide range of data that concerns occupants, location, and more. Analyzing this data offers insights into trends in the property market, and enables investment risk assessment, and a better understanding of buyer needs. However, manually processing this information is inefficient and time-consuming. This is where artificial intelligence plays an important role in the future of the real estate industry.
AI not only processes vast sums of data being generated in real time but also offers valuable insights from it. Using historical data, AI identifies trends in the property market and provides realistic valuations. It also aids in understanding customer needs and recommending suitable properties, thus improving their overall purchase experience. Real estate agents are also using AI-based chatbots to stay connected with their clients around the clock and address their queries accurately.
Gabbi.ai offers a Real Estate Virtual Assistant
Canadian startup Gabbi.ai leverages AI to enable real estate agents to improve the customer journey for their clients. Gabbi is an AI assistant that responds to clients, nurtures leads, and keeps track of important communication. It follows up client texts, calls, and emails 24/7. Gabbi is also integrated with multiple listing services (MLS) and book showings along with managing multiple tasks on its own. This approach eliminates tedious tasks, converts cold leads, and improves team collaboration for real estate agents.
Again X enables Predictive Building Maintenance
Norwegian startup Again X is making buildings more sustainable by improving their longevity using AI. The startup's software-as-a-service (SaaS) asset management platform uses proprietary AI-generated parameters for building monitoring. Some of the key parameters include equipment conditions, material quality, and toxicity of materials, among others.
This information is used to predict maintenance-related issues in advance so that steps are taken to address them. This allows building managers to maintain equipment more efficiently and improve building longevity in the long run.
2. Immersive Technologies
Touring multiple properties is still a standard practice for property investors to find their ideal match. But this is a tedious process with various limitations like time, location access, and, most recently, the advent of COVID-19. To tackle these limitations and improve buyer experience, the use of VR and AR technology has risen as a key property technology trend in the industry. Many real estate firms now offer virtual tours of their properties to prospective clients.
This allows clients to tour multiple properties in a short time from anywhere in the world. Similarly, the use of AR to stage properties for clients is increasing. Based on individual tastes, real estate agents show different furniture setups to different clients which allows them to envision their future property. These technologies make the buyer experience more immersive and also assist agents in converting potential leads into actual sales more swiftly.
Hyperreality Technologies offers VR Real Estate Tours
Hyperreality Technologies is a Chilean startup that is transforming the real estate industry using immersive technologies. The startup provides 360-degree virtual reality tours of properties to prospective clients and improves their buying experience. This allows real estate firms to provide detailed property tours from anywhere in the world as well as offer tours of properties not even constructed. VR tours of unfinished projects allow firms to better understand client expectations during the property development phase for better sales in the future.
RealAR provides Augmented Property Staging
Australian startup RealAR uses augmented reality to enhance client experience while looking for properties to buy. The RealAR app uses floor plans to create visuals that are projected on the actual space and are then seen by buyers on their phones and tablets. This enables property buyers to visualize how a property will look as per their individual tastes and assists them in making more informed purchase decisions.
3. Internet of Things
We are living in a digital age where convenience and quick access to information is a top priority. The use of various types of IoT devices and sensors facilitates this. For example, voice and speech recognition sensors in virtual assistant devices allow them to communicate with people and control other smart devices within a home or workplace. IoT devices like cameras and motion detectors also monitor the physical environment of a building and keep it secure from unwanted access or activities.
IoT sensors now find use in all types of systems within a building from water pressure monitoring to electricity usage monitoring and more. The data from these sensors monitoring different aspects of the property facilitates the development of a digital twin. Digital twins of buildings don't just provide an overview of building functions but are also used to control these functions.
Infogrid develops Smart Building Sensors
British startup Infogrid builds an IoT platform combining its modern sensor technology with artificial intelligence and infographics. The startup's platform collects data from its sensors embedded in the building to monitor air quality, water usage, and temperature, among others. This real-time monitoring allows managers to make the property more secure and reduce the cost of maintenance and energy usage, further driving sustainability.
VergeSense enables Efficient Space Utilization
US-based startup VergeSense builds modern sensors with deep learning to improve the workplace environment. Entryway is one of the sensors offered by the startup that offers visibility into space utilization in a building and how occupants interact with each other. This allows building owners to maximize workspace utilization in their buildings and improve the overall occupant experience.
4. Building Management Systems (BMS)
Daily home and workplace chores, including lighting adjustment and space management, are becoming automated through sensors and smart building management systems (BMS), enhancing convenience. BMS governs various functionalities such as energy management and heating, ventilation, and air conditioning (HVAC), adapting to the tenant's schedule to automate temperature adjustments.
BMS plays a pivotal role in space management in commercial settings, analyzing foot traffic to identify active work areas, a critical feature in the post-pandemic era to avoid congestion and adhere to social distancing. Further, it leverages occupancy data to optimize energy distribution, thereby reducing electricity consumption.
Pinestack develops Digital Twins of Buildings
Pinestack is a German startup that offers software solutions to manage different systems in a modern building. The startup's software collects data from various sources in a property to create a digital twin. This digital twin not only monitors different building systems but also assists in asset management, building navigation, analytics, and more. Pinestack also offers a workspace app and easy integration capabilities to further leverage maximum operational effectiveness in a building.
Fantabee creates Smart Dashboards
Indian startup Fantabee offers smart dashboard solutions for building management. Fantabuildings is its software that integrates data from disparate systems like people counters, motion detectors, and air quality sensors to create a unified dashboard with rich visualizations and insights. This information enables organizations to achieve better operational efficiency, lower costs, and enhance occupant safety.
5. Big Data & Analytics
Big data analytics, a rising trend in property technology, enables firms to sift through real estate market data to pinpoint ideal investment properties. This approach facilitates the matching of clients with properties that cater to their unique preferences, such as proximity to workplaces or schools.
This tailored service fosters enduring relationships between real estate agents and clients, enhancing business performance. Additionally, big data analytics finds utility in building information modeling (BIM), where startups leverage collected data to craft 3D building models, a tool vital for property maintenance and construction endeavors.
Northspyre enables Data-Driven Real Estate Analysis
US-based startup Northspyre leverages big data to offer solutions for real estate analytics. Rather than using spreadsheets to manually input property-related data real estate agents can rely on artificial intelligence to collect and update data automatically. Northspyre's software analyzes this data in real-time and also creates a dashboard to offer various insights. Real estate agents use this data to better understand the market as well as for risk analysis and benchmarking.
Rockestate creates 3D Building Models
Rockestate is a Belgian startup that uses actionable real estate data to create 3D property models. The startup's solution calculates multiple types of data from addresses to advanced building characteristics to create virtual property models and offer insights. These insights include flood risk analysis, roof analysis for future modifications, reconstruction value estimation, and actual property value. This data enables real estate firms to better understand properties as per client specifications and also for investment purposes.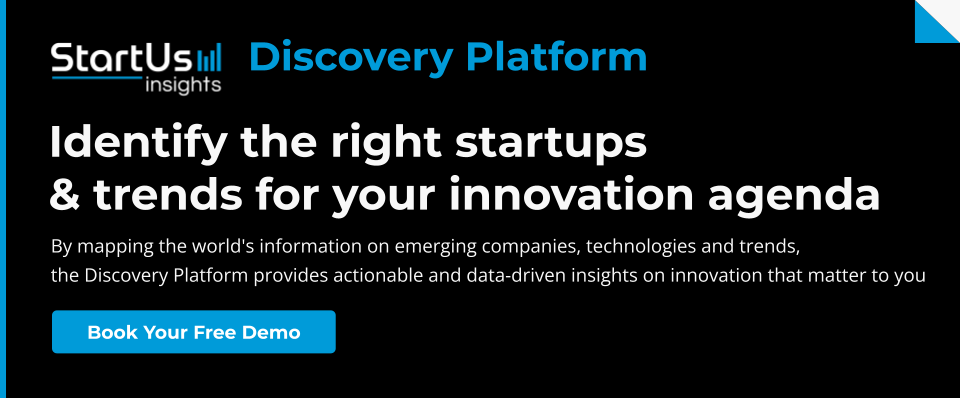 6. Property Management Software
When it comes to property, there are many documentation and compliance aspects that agents, owners, and tenants have to deal with. Many startups are developing cloud-based customer relationship management (CRM) platforms for real estate firms and agents. These CRM platforms help agents keep track of their clients and ongoing deals as well as keep related documentation secure.
Being cloud-based, these platforms are easily accessible, making important data available when needed. Cloud technology is also enabling property as a service (PaaS) platforms that take a customer-focused approach so that tenants use the building space and services as per their requirements. Another property software gaining popularity is tenant experience platforms. They create a dedicated line of communication between the owners and tenants.
HqO develops a Tenant Experience Platform
US-based startup HqO is transforming the commercial real estate space through its tenant experience platform and mobile application. The platform centralizes tenant experience initiatives and building technologies on one application. It offers features like event scheduling for office employees, ordering takeout through the platform, and secure visitor management. The platform allows office owners to effectively engage with their tenants which in turn not just retain current ones but also attract future tenants.
Ezen Financials assists in Real Estate Account Management
Kenyan startup Ezen Financials is leveraging web-based software to assist property managers and landlords. Its property management software automates receipts and payments, email communication between tenants and landlords, as well as offers user-initiated text messages.
Some other features include account management capabilities for landlords as well as lease management and a complaints portal for tenants. Ezen's software allows property managers to effectively manage multiple tenant accounts and properties while also providing a communication channel between them and tenants.
7. Blockchain
Most property transactions currently involve multiple third parties and extensive paper documentation, coupled with the hurdle of escalating property prices, deterring younger generations from investing. Blockchain technology is emerging as a solution in the property technology landscape, addressing these issues effectively.
Blockchain facilitates smart contracts and digital agreements that store transaction details and execute upon meeting predetermined buyer-seller conditions, eliminating third-party involvement and paper trails while enhancing transparency and security. Moreover, blockchain tokenization allows for fractional real estate investments, making property investment more accessible through small-sum investments in the form of tokens.
Dyvare enables Real Estate Tokenization
Spanish startup Dyvare is using blockchain technology to democratize access to real estate assets. The startup's AI-based smart contracts remove the need for any middlemen during real estate transactions. It also tokenizes commercial and residential property units. These tokens are traded on their decentralized exchange platform, enabling a seamless property investment experience for clients.
Other features like big data analytics to match potential buyers with sellers are also amongst Dyvare's offerings. This makes the property buying process more accessible, transparent, and secure.
Mevi creates Real Estate Smart Contracts
Mevi is a US-based startup using smart contract technology to transform real estate transactions into digital transactions. The Mevi Smart Contracts offer a fast way to create, share, and sign government-compliant real estate documents. Detailed revision history of transactions stored in the smart contracts improves transparency. Also, as the data on their smart contracts are stored in blockchains, they are easily accessible anytime and are tamper-proof.
8. Property Aggregation Platforms
In the last decade, the buying experience for people has shifted online. However, the real estate industry has been slow to catch up due to the personal and high-value nature of its transactions. But that has been changing especially since COVID-19, with the advent of online property aggregation and listing platforms. Many real estate firms today have an online presence where they list properties on their portfolio for their clients to view.
Also, various startups aggregate property listings from different sources and visualize them on their platforms. They offer solutions for various use cases from buying and selling property to renting them out. Apart from these, there are other online platforms like real estate crowdfunding and co-investing platforms. These enable people to invest small sums of money in real estate during this time of soaring property prices.
Bold Intelligence provides Rental Fund Acquisition & Underwriting Solutions
US-based startup Bold Intelligence provides real estate data and analytics solutions to help single-family rental funds find acquisition opportunities and efficiently underwrite deals. Its MLS listing product delivers near real-time unified data from multiple listing services. It provides property and market reports that allow clients to evaluate individual properties and enter new markets. An underwriting platform further allows users to search for properties, build comparables, and determine offer pricing.
Zeehaus offers a Co-Investing Platform
Zeehaus is a US-based startup that is reducing the cost of homeownership with the help of its co-investing platform. The startup enables its clients to apply for funding for their houses on its platform. Once a suitable investor is identified, the house is purchased under the ownership of a trust where both the homebuyer and the investor are trustees.
The homebuyer holds the occupancy rights of the property and the investor receives monthly rent on his investment. The biggest upside here is that as the property appreciates in value both parties get the rewards. While the investor gets monthly returns on his investment the homebuyer does not have to take out any mortgages.
9. Drones
Before making a purchase or investment, individuals scrutinize properties meticulously to ensure they meet their utility and aesthetic preferences. The advent of drone technology in the real estate sector has revolutionized this process, offering aerial perspectives for a comprehensive view.
This innovation not only enriches the property buying experience but also empowers buyers to make well-informed decisions. Beyond aiding buyers, drones serve a crucial role in property maintenance, and accessing hard-to-reach areas for inspection. This technology facilitates efficient maintenance planning for both commercial and residential properties.
Triad Drones facilitates Aerial Property Tours
Triad Drones is a US-based drone manufacturer that caters to the real estate industry. It offers two types of drone services to its clients, aerial photography and aerial videos. While aerial photography is useful to see a property from different angles and works as a great marketing tool, aerial videos offer assistance during property development and also in property maintenance. This enables real estate agents to offer a better customer experience and also allows property managers to address maintenance issues more effectively.
LibelLab offers 360 Degree Virtual Property Tours
French startup LibelLab is using drones to provide services to the real estate industry. Lib-Drone, the drone arm of LibelLab, offers services such as aerial photography, aerial videos, and aerial virtual tours. To create these virtual tours, the startup uses drones with 360-degree cameras and links photos taken by them. These virtual tours enable clients to look at properties in much more detail and allow them to project themselves into the space without even being there. This also makes the overall property-buying experience more interactive.
10. Data Security
From earlier trends, it is evident that despite the property industry being traditional in nature, it is transitioning towards new technologies. These new technologies lead to the creation of large amounts of data, which will only increase. From personal data about residents collected using smart devices to sensitive property documentation and transactional data, all need protection. Government regulations on data collection and use are one way of addressing these challenges but they are not enough.
Many startups are offering software solutions to monitor cyberattacks on buildings, encrypt data collected by IoT devices, and more. Blockchain is also playing a part in keeping property-related data secure in the form of tamper-proof blocks of code. This is a relatively new challenge within real estate and is a trend that is expected to gain a lot more prominence in the coming years.
LOUHE facilitates Situation Awareness for Property Development Professionals
LOUHE is a Finnish startup that gathers data from various sources to help customers extract untapped value from existing data and improve security management. LOUHE's technology is built around various data sources from campuses, industrial properties, and real estate. LOUHE then extracts and refines data with machine learning and explainable AI to provide a unique view to support situation awareness in the decision-making of security management and property development professionals.
KTech Labs advances Building Cyber Security
Ktech Labs is a Canadian startup that develops cybersecurity solutions for the real estate industry. 360 PropSecure is the methodology developed by KTech Labs to make buildings more secure. It includes a cyber risk assessment of the building and a SaaS-based continuous monitoring system. Some of its security features include vulnerability management, secure remote access to various systems, data backups, device security, and more.
This system provides multiple layers of security to the existing building systems with a single point of visibility, allowing security staff to easily operate it.
Explore the Innovation in Real Estate and PropTech
The use of predictive maintenance and IoT devices for security and automation are making buildings safer for owners and tenants. Real estate firms are also leveraging big data to better understand their client needs as well as the market to further improve their business processes.
The real estate industry trends and startups outlined in this report only scratch the surface of trends that we identified during our data-driven innovation & startup scouting process. Identifying new opportunities & technologies to implement into your business goes a long way in gaining a competitive advantage.
Looking for specific real estate startups & technologies?
✕