Changing consumer preferences in printing requires high-quality, customized, and on-demand solutions, which traditional printing methods are often unable to fulfill efficiently. Moreover, the high costs associated with older printing technologies and the lengthy turnaround times are further exacerbating these problems.
To overcome this, companies are developing innovations such as 3D printing, eco-friendly printing, and printing automation systems. These printing industry trends enable the creation of complex and customized printed products while also reducing waste, and optimizing resource use. Further, these innovations in printing technologies promote creativity and open new avenues for designers and manufacturers.
Innovation Map outlines the Top Printing Industry Trends & 20 Promising Startups
For this in-depth research on the Top Printing Trends and startups, we analyzed a sample of 939 global startups & scaleups. This data-driven research provides innovation intelligence that helps you improve strategic decision-making by giving you an overview of emerging technologies in the printing industry. In the Printing Industry Innovation Map below, you get a comprehensive overview of the innovation trends & startups that impact your company.
Top 10 Printing Industry Trends in 2024
These insights are derived by working with our Big Data & Artificial Intelligence-powered StartUs Insights Discovery Platform, covering 3 790 000+ startups & scaleups globally. As the world's largest resource for data on emerging companies, the SaaS platform enables you to identify relevant technologies and industry trends quickly & exhaustively.
Tree Map reveals the Impact of the Top Trends in Printing
Based on the Printing Industry Innovation Map, the Tree Map below illustrates the impact of the Top 10 Printing Industry Trends in 2024. 3D printing enables the detailed creation and production of complex objects and intricate designs while reducing overall material waste. Digital printing offers high customization and speed and caters to the growing demand for personalized and on-demand printing.
The adoption of eco-friendly inks further serves to make the industry more sustainable with advanced printing substrates creating smoother prints with a wider range of compatible inks. Laser and advanced inkjet printing are enhancing precision and quality, delivering high-resolution outputs.
Planographic printing advances printing with its ability to print on smooth surfaces at high speeds and resolution. The integration of printing & AI is enhancing operational efficiency, reducing errors, and ensuring consistent quality. Security printing focuses on anti-counterfeiting measures and safeguarding sensitive documents. Lastly, nanotechnology-based inks are enabling smart pigments and coatings.
Global Startup Heat Map covers 939 Advanced Printing Startups & Companies
The Global Startup Heat Map below highlights the global distribution of the 900+ exemplary startups & scaleups that we analyzed for this research. Created through the StartUs Insights Discovery Platform, the Heat Map reveals high startup activity in Europe, followed by the US and India.
Below, you get to meet 20 out of these 939 promising startups & scaleups as well as the solutions they develop. These 20 printing startups are hand-picked based on criteria such as founding year, location, funding raised & more. Depending on your specific needs, your top picks might look entirely different.
Interested to explore all 900+ printing startups & companies?
Top 10 Printing Industry Trends in 2024
1. 3D Printing
The printing industry faces limitations in design complexity and customization due to the constraints of traditional manufacturing methods that lead to increased costs and production time. Therefore, innovations in 3D printing are addressing this problem by enabling more intricate and tailored designs without the need for expensive molds or tooling.
Innovations in 3D printing are addressing this problem through technologies like selective laser sintering (SLS) and fused deposition modeling (FDM), allowing for the creation of designs that were previously not possible. Moreover, this broadens the scope of design possibilities and accelerates the prototyping and production phases.
Cloud 3D Print advances AI-based 3D Printing
Canadian startup Cloud 3D Print provides a cloud-based and AI-powered 3D printing solution to simplify 3D printing processes. Its platform manages and monitors 3D printing projects with failure detection. For this, the startup uses deep learning to continuously improve accuracy and auto-stopping print failures.
Besides, cloud-based project management ensures data security and responsiveness along with real-time control and monitoring of print jobs that provide updates on temperature and print progress. Cloud 3D Print's platform streamlines workflows and enhances productivity while offering remote management of 3D printing jobs. The solution is catered to educators, hobbyists, enterprises, and manufacturers.
3D Printer Technology creates a Deployable Additive Fabrication 3D Printer
Chinese startup 3D Printer Technology develops a deployable additive fabrication 3D printer, designed for adaptability. The startup's DAF3D printer is a modular device that features several disposable sub-assemblies, allowing for upgrades to improve functionality and capacity.
Moreover, the printer utilizes a wide array of materials, enabling the production of items using the most materially relevant constituents, from high tensile strength lynchpins to radiation shielding. 3D Printer Technology's solutions enable the construction of various essential items in space.
TRICEP innovates in Live Tissue-like Structure Bioprinting
Australian startup TRICEP develops 3D bioprinters and microfluidics systems, advancing technologies for healthcare research. The startup's bioprinter synthesizes multiple 3D printing technologies in one system. It features various modules, including syringe, FDM, and SLA, and offers bed temperature control and a touchscreen interface for real-time settings.
TRICEP also provides bio-inks, hydrogels seeded with cells, developed for high printing quality and biocompatibility, aiding in biological structure creation. The startup's bioprinters allow the creation of 3D structures using biological materials with applications including nutraceuticals, tissue engineering, biomedical engineering, and pharmaceutical technology.
2. Digital Printing
Analog and other printing processes are typically inefficient and costly, especially when dealing with short-run print jobs. This problem is being solved by innovations in digital printing, such as high-speed inkjet technology and advanced color management systems. Some innovations include high-speed inkjet printing that enables rapid and efficient printing, making it economically viable to produce short-run jobs.
Additionally, digital printing systems closely manage colors to maintain accuracy and consistency across prints at high speeds, enhancing the overall print quality. These digital printing innovations are optimizing production processes and reducing operational costs. They also offer flexibility and precision, allowing for a more responsive and adaptable printing industry.
ATIU develops an Advanced Transfer System
ATIU is an Italian startup that advances packaging decoration through its proprietary technology that transfers HD graphics directly onto various materials. The startup's advanced transfer system enables the transfer of HD decorations directly onto glass, ceramic, and aluminum bottles and flagons, overcoming the design limits of conventional glass decoration.
Moreover, its in-line advanced transfer system reduces wastage, is compatible with complex shapes from small or large sizes, and uses water-based solutions to reduce energy consumption. The startup's approach is particularly relevant to the printing industry, providing an alternative to conventional decoration techniques and expanding the possibilities in packaging design.
Quantix Digital builds Single Pass Printing Technology
Italian startup Quantix Digital specializes in high-speed direct-to-object (DTO) printing through its product Novum, a DTO digital inkjet printer. It employs single-pass technology to ensure higher productivity by printing pictures in one step, maximizing printing speed. Novum's design is modular and connected to the web.
The printer also allows printing on different containers, including metal and plastic, offering versatility in decoration and modification. Moreover, its printing technology promotes sustainability in the printing industry through reduced waste generation, VOC emissions, wasted heat, and energy consumption per print.
3. Eco-Friendly Inks
A large concern in the printing industry is the environmental harm from traditional petroleum-based inks. They release VOCs that cause air pollution and are often difficult to recycle. Therefore, the printing industry is adopting innovations in eco-friendly inks such as soy-based ink, water-based inks, and more that are emerging as sustainable alternatives.
For example, soy-based inks, derived from soybeans, are low in VOCs, renewable, and offer vibrant colors while water-based inks are non-toxic and reduce emissions. This provides a safer option for both the environment and human health. These innovations in eco-friendly inks are instrumental in reducing the ecological footprint of the printing industry. This promotes sustainability and paves the way for greener printing practices.
Edge Colours manufactures Eco-solvent based Digital Inks
Egyptian startup Edge Colours makes eco-solvent-based digital inks that are suitable for vivid color printing, exhibiting no toxicity, no pollution, and are odorless. Besides, the inks offer better adhesion, scratch, and UV light resistance than conventional inks while ensuring the longevity and durability of prints.
The startup's inks are also compatible with printers equipped with Epson printing heads (DX5, DX7), and feature high versatility and adaptability to print processes. Edge Colours' plug-and-play inks require minimal to no change in the printing machine parameters and also minimize the risk of clogging.
Nur Ink Innovations creates a Sustainable Water-based Ink
Israeli startup Nur Ink Innovations develops functional water-based pigmented inks for digital inkjet printing. The startup's core technology, Digital Sol-Gel, is based on advanced 3D cross-linking chemistry to create a new category of water-based pigment inks. The inks find various applications in direct-to-garment (DTG), direct-to-textile (DTT), and roll-to-roll printing of indoor and outdoor advertising.
Moreover, the inks are customized to specific printers to ensure compatibility and optimal performance. The startup is also developing white water-based pigment dispersion and additional functional inks for a wide range of applications spanning garments to advertising and wallpaper printing.
4. Laser Printing
Traditional printing methods struggle with their inability to efficiently print highly viscous inks and other compound materials over complex products and surface areas. Innovations in laser-based printing technology overcome this through the use of a nozzle to transfer functional materials from carriers onto a product.
This non-contact process allows deposition over both flat and uneven surfaces, enabling new product form factors and offering better resolutions and printing speeds. Additionally, laser printing innovations are significantly reducing operational costs, improving workflow efficiency, and removing the inherent limitations of older printing methods.
Pulsedeon advances Pulsed Laser Deposition Technology (PLD)
Pulsedeon is a Finnish startup that offers Li-ion battery solutions through its PLD technology. Its deposition technology is a thin-film production technique that is integral for producing coatings or layers of material with desired properties. It allows for the optimization of deposition conditions and is designed for large-volume industrial production, offering cost-effective upscaling possibilities.
The PLD process involves directing laser pulses to a source material, releasing coating material collected on the object to be coated. This ensures better adhesion between the coating and substrate while allowing deposition at close to room temperatures. It is highly beneficial in the electronics printing industry, especially in the deposition of multi-element materials found in LIBs, preserving target composition and stoichiometry.
Keiron Printing Technologies develops Laser-induced Forward Transfer Printing
Dutch startup Keiron Printing Technologies specializes in laser-induced forward transfer (LIFT) technology for depositing highly viscous functional materials. It reaches printing speeds of over 1,000,000 dots per second and stacks a wide variety of materials on top of each other. The technology is also topography-compatible, allowing printing over uneven surfaces and components, enabling new form factors and products with improved performance.
Keiron printing technology combines the benefits of conventional printing methods with improvements in speed and flexibility while being scalable, flexible, and capable of high-resolution printing. Moreover, the additive printing method of LIFT does not require the production of masks for new projects, reducing waste.
5. Advanced Inkjet Printing
The lack of versatility and adaptability in handling various printing substrates and materials leads to limitations in printing applications. This is addressed by innovations in advanced inkjet printing, such as the development of UV-LED curing technology and the introduction of high-viscosity inkjet inks. For instance, these innovations allow for the instant drying of inks on a wide range of substrates. They include heat-sensitive materials, expanding the range of printable surfaces and applications.
Advanced inkjet printers also enable the deposition of functional and decorative inks with high solid content, allowing for the creation of textured and embossed effects on prints. Such innovations are enhancing the adaptability and application diversity of the printing industry, allowing for more creative and functional printing solutions.
Neos enables High-Speed Digital Inkjet Printing
Italian startup Neos provides digital printing systems such as its Fighter FR series, a high-quality digital inkjet press. The press is capable of achieving production speeds up to 120 mt/min and is configurable up to 12 color/pinning stations. This series allows real-time configuration of color sequences, coatings, and variable data printing, ensuring optimal management of peripherals for printing with various inks.
Besides, Neos provides flexible label printing machines such as the Fighter F12UV series that combine flexo and digital methods. The startup's printing processes also feature color management that ensures uniformity of colors between different devices, addressing the challenges of color coherence in printing processes.
IMAGO Printer provides Nano-solvent Printers
Polish startup IMAGO Printer specializes in advanced small-format nano solvent printers that use nano-ink technology. The startup's Aquila NanoSolvent printer system features an active drying system that accelerates solvent evaporation and ink penetration. This results in enhanced color saturation and the printing of fine details, small fonts, and symbols.
Additionally, the printer's ink system is equipped with channels for cleaning fluid, mitigating issues related to the clogging of the print head and other consumable components of the device. Moreover, IMAGO's technology prints on a wide variety of materials, including wood, plywood, candles, and cork unlike traditional printers.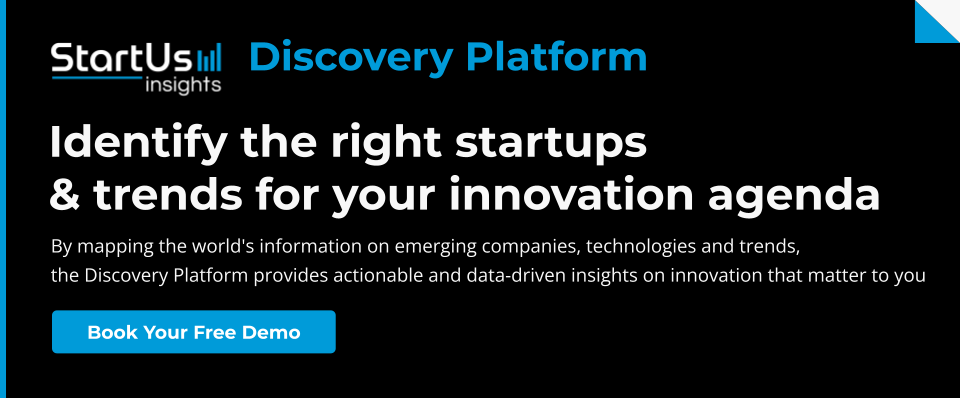 6. Planographic Printing
Conventional printing processes have a prolonged and cumbersome preparation process, leading to delays and increased production costs, and are not optimal for short print orders. This is mitigated by innovations in planographic printing through advancements like computer-to-plate (CTP) technology and the refinement of lithographic plates.
CTP technology eliminates the need for film and allows for direct transfer of digital images to printing plates. This significantly reduces preparation time and enhances image quality. The refinement of lithographic plates, including the development of more durable and sensitive plate materials, ensures longer print runs and higher-resolution prints.
These innovations and more in planographic printing are enabling precise color reproduction and faster setup times. They reduce the waste of materials and allow for the efficient production of high-volume and low-volume print runs.
ACME Rolltech specializes in Ceramic Roll Printing
Acme Rolltech is an Indian startup that manufactures anilox rolls and provides innovative ink and metering solutions. The startup's products include the AH60 Hexagon which provides a uniform cell structure for easy ink transfer with high durability. The AH80 Elongated Hexagon improves ink release and eases cleaning while also providing high-resolution and high-quality halftone printing.
It also offers diamond and tri-helical rollers for applications involving corrugated, flexible packaging, and UV coating, among others. The startup's roller products and services enhance print results and provide better print quality on a wide range of materials.
PeakJet manufactures Flatbed Inkjet Printer
PeakJet is an Italian startup that builds inkjet printers to enhance productivity and reduce costs in the printing industry. The startup's MiniFlatBed is a direct-to-screen (DTS) imaging system that simplifies the daily activities in print shops. The CTS scanning solution utilizes Hewlett Packard's thermal inkjet technology, allowing for optimal speed and quality.
The MiniFlatBed also features HP45 printheads filled with special absolute black ink UV-light-blocking that ensures accurate reproduction of halftoning and fine details in print. Peakjet's printing technology finds applications in various market sectors including textile, food, and more while addressing their diverse printing needs.
7. Printing Automation
The manual intervention required in overseeing printing processes leaves room for human errors, inconsistencies in print quality, and inefficiency in production. This is resolved through the implementation of printing automation and AI, such as intelligent print management systems and automated print production platforms. For example, these systems leverage machine learning algorithms to optimize print workflows, monitor print environments in real-time, and predict maintenance needs.
Through robotics and automation technologies that handle materials, load printers, and conduct post-printing processes, print companies maintain high printing quality while reducing downtime. These advancements minimize human intervention, optimize production processes, and provide high precision and reliability in print operations.
Cronus Modular innovates in Printing House Automation
Cronus is a Slovenian startup that offers a modular printing house automation system that focuses on enhancing efficiency in major processes like planning, execution, and control. It employs machine learning to optimize production processes through intelligent algorithms and big data analytics from calculation to end production. The system features optional sensor integration to capture contextual data important to the production process and offers the Cronus API for integration in third-party platforms.
Besides this, Cronus Air Quality Sensors monitor every machine section in real time, addressing temperature, humidity, and VOC, which are essential for maintaining print quality in the printing industry. Further, the startup's cloud-based system allows the integration and expansion of print shops of all sizes while ensuring security and providing mobile support.
PlanProphet creates a CRM Engine and Automation Software
PlanProphet is a US-based startup that develops a customer relationship management (CRM) engine and automation software for the printing and graphics industry. Its platform automates critical tasks and delivers advanced analytics with interactive dashboards to enhance efficiency in sales management and billing. The platform features automated customer experience, sales goals management, proof management, automated billing, and more.
Besides, the software's real-time operation aids in landing orders and reactivating dormant accounts utilizing automated marketing and customer experience workflows. PlanProphet's solution assists the printing industry by integrating with existing printing estimating platforms to automate and streamline various processes and ensure effective communication and interaction tracking.
8. Security Printing
Rampant counterfeiting and forgery of printed materials are among the leading causes of financial losses. This issue is being combated through innovations in security printing, such as the development of color-shifting inks and the integration of holographic watermarks. These technologies prevent forgery through a change in appearance when viewed from different angles, adding a layer of authentication that is difficult to replicate.
Similarly, advanced watermarks are printed into the substrate of materials, offering a high level of security due to their intricate designs and the complexity involved in their production. These innovations in security printing are crucial in enhancing the authenticity of printed materials. They, in turn, mitigate risks associated with counterfeiting and unauthorized reproduction.
DISTINKT specializes in Security Inks
Distinkt is a Spanish startup that utilizes nanotechnology to develop smart ink to prevent counterfeiting across various industries. Distinkt's fluorescent, high-security-level inks offer a dynamic and highly customizable solution that is difficult to counterfeit. Its ink materials Distinkt:LUM and Distinkt:COLOR produce a personalized effect under near-infrared (NIR) light, with adaptable effects tuned to produce various outcomes.
Unlike existing security inks, Distinkt's products react to multiple light sources, enhancing security measures in currency, documents, luxury goods, and tax stamps. This approach to security inks introduces an additional level of protection against organized crime, identity theft, espionage, and inflation.
Security Software & Solutions enhances Document Security
Indian startup Security Software & Solutions specializes in security print features through its document security printing services to prevent forgery and counterfeiting. It provides a range of security printing papers and incorporates overt and covert features to make documents tamper-proof, fake-proof, and verifiable.
Additionally, the startup uses secured design and print technology to create designs for base paper stock with multiple security features. Its SeQR document blockchain protects digital documents by making them immutable, instantly verifiable, and shareable with a dual verification system featuring an Ethereum-based polygon-matic system.
9. Nanotechnology
A substantial limitation in many printing processes is in achieving high-resolution and precise detailing in print, which compromises the quality and functionality of printed products. Nanotechnology, such as nanoparticle inks, allows for enhanced color saturation, durability, and finer detail. This enables the creation of products with increased visual appeal and longevity.
Additionally, nanoscale printing techniques, like dip-pen nanolithography (DPN), facilitate the deposition of materials at the nanoscale level. This allows for the fabrication of intricate nanostructures and the development of functional devices. These nanotechnology innovations are advancing printing capabilities, enabling unprecedented resolution and precision in the creation of both aesthetic and functional printed materials.
FineNano provides Nano Metal Particle-based Conductive Inks
FineNano is a South Korean startup that creates conductive inks and essential part manufacturing materials for various electric and electronic devices. The startup offers copper-based and silver-based nano conductive inks that find applications in displays, touch screen panels, metal mesh, semiconductor substrates, antennas, batteries, electromagnetic shielding, and more.
FineNano's products are beneficial for low-temperature sintering, especially when applied to flexible displays and flexible printed circuit boards. Further, its nanometal particles effectively dissipate heat. FineNano's inks address the need for secure and efficient conductive materials in various sectors.
n.able manufactures a Molecular Printer
n.able is a German startup that makes a molecular printer for direct and localized surface functionalization. The startup's Molecular Desktop Printer offers three different, easy-to-operate, and flexible printing techniques compatible with a variety of printing tools. It deposits a selection of molecular inks on various surface chemistries, enabling the fabrication of functional arrays, molecular sensors, and lab-on-a-chip platforms.
It also offers standalone modules to regulate the temperature and humidity conditions of experiments, enhancing the scope of applications. The startup's molecular printing offers significant possibilities in chemical reactors and printed electronics within the printing industry. Moreover, the printer facilitates biological and medical research, material science, and the creation of bio-interfaces, providing automation and flexibility during sample fabrication.
10. Advanced Printing Substrates
The constraints of printing on traditional substrates often limit the application, durability, and sustainability of printed products. This is addressed through innovations in advanced printing substrates, such as the introduction of synthetic paper and the development of eco-friendly, biodegradable substrates. Synthetic paper, made from polypropylene, offers enhanced durability, water resistance, and tear resistance compared to conventional paper, expanding the range of applications for printed materials in challenging environments.
Meanwhile, the advent of biodegradable substrates, derived from renewable resources like corn starch, contributes to the sustainability of the printing industry by providing environmentally friendly alternatives that reduce waste and ecological impact. These advancements in substrate technology are broadening the possibilities in printing, allowing for the production of more resilient, versatile, and sustainable printed materials.
GRDXKN facilitates 4D Textile Printing
GRDXKN is a German startup that develops 4D printing technology to create a functional textile solution. The startup's technology enables the printing of twelve different functions like shock absorption on textiles while maintaining low weight and high flexibility. It is also applicable to a variety of textiles like cotton, polyester, and nylon. The printing technology, combined with special printing pastes, allows the integration of various technical features, making textiles abrasion-resistant, shock-absorbent, and certifiable.
The startup's technology finds applications in creating aerodynamic surfaces on sportswear, improving performance in race cycling, skiing, skating, and tobogganing. GRDXKN also focuses on sustainability by using water-based, solvent-free printing pastes. This enables printing on sustainable materials while producing no waste byproducts.
Discover all Printing Industry Trends, Technologies & Startups
Bioprinting is an innovative development in the printing industry that allows for the fabrication of tissue constructs, contributing to advancements in regenerative medicine and pharmaceutical research. Additionally, the implementation of quantum dots enhances color and resolution in print materials, delivering superior visual experiences.
Further, advances in variable data printing (VDP) are enabling the production of personalized and unique prints in each run. The printing trends and startups outlined in this report only scratch the surface of trends that we identified during our data-driven innovation & startup scouting process. Identifying new opportunities & emerging technologies to implement into your business goes a long way in gaining a competitive advantage.
Interested to explore all 900+ printing startups?
✕
Looking for advanced printing startups & technologies?
✕
Interested to explore all printing trends & technologies?
✕