The nutritional supplement industry faces a growing challenge to ensure that products are safe, effective, and transparent for consumers, who increasingly rely on supplements to support their well-being. Therefore, innovations through research and development are leading to the discovery of new ingredients and formulations that improve the effectiveness of nutritional supplements. Advances in technology allow manufacturers to create more targeted and personalized supplements while techniques like micro-encapsulation and nanotechnology improve nutrient absorption and bioavailability. These advances expand the range of health benefits and increase consumer confidence in both supplements and ingredients.
Innovation Map outlines the Top 10 Nutritional Supplements Trends & 20 Promising Startups
For this in-depth research on the Top Nutritional Supplements Trends & Startups, we analyzed a sample of 1337 global startups & scaleups. This data-driven research provides innovation intelligence that helps you improve strategic decision-making by giving you an overview of emerging technologies in the health & wellness industry. In the Nutritional Supplements Innovation Map below, you get a comprehensive overview of the innovation trends & startups that impact your company.
These insights are derived by working with our Big Data & Artificial Intelligence-powered StartUs Insights Discovery Platform, covering 3 790 000+ startups & scaleups globally. As the world's largest resource for data on emerging companies, the SaaS platform enables you to identify relevant technologies and industry trends quickly & exhaustively.
Tree Map reveals the Impact of the Top 10 Nutritional Supplements Trends
Based on the Nutritional Supplement Innovation Map, the Tree Map below illustrates the impact of the Top 10 Nutritional Supplement Trends in 2023. Innovations in immune system fortification focus on promoting the body's natural defensive mechanism against viruses and infections. This forms the biggest trend in nutritional supplements. It is followed by probiotics, prebiotics, and digestive enzymes that improve the rate and efficiency of nutrition absorption. Biohacking and nutrigenomics also leverage advances in AI, machine learning, genetic engineering, and testing to create personalized nutrition profiles and supplement recommendations. Besides, nanoencapsulation and time-released supplements utilize barriers and coatings to ensure that the full effect of supplements is received by the body and avoid early deterioration. Lastly, additive manufacturing enables the production of highly complex supplements with varying ingredients, shapes, sizes, and functions.
Top 10 Nutritional Supplements Trends in 2023
Global Startup Heat Map covers 1337 Nutritional Supplements Startups & Scaleups
The Global Startup Heat Map below highlights the global distribution of the 1337 exemplary startups & scaleups that we analyzed for this research. Created through the StartUs Insights Discovery Platform, the Heat Map reveals high startup activity in the USA, followed by Europe and India. Below, you get to meet 20 out of these 1300+ promising startups & scaleups as well as the solutions they develop. These nutritional supplement startups are hand-picked based on criteria such as founding year, location, funding raised, & more. Depending on your specific needs, your top picks might look entirely different.
Interested to explore all 1300+ nutritional supplements solutions?
Top 10 Nutritional Supplement Trends in 2023
1. Immune System Fortification
The COVID-19 pandemic has raised awareness of the importance of maintaining a strong immune system. However, nutritional supplements often do not provide a complete and balanced nutrient profile, particularly when it comes to immunity. Advances in technology and immune system fortification address this issue by using advanced algorithms and AI to analyze genetic and lifestyle factors to create personalized nutritional supplements. Additionally, startups are creating immunity-boosting supplements to target specific immune system needs and address deficiencies. This provides consumers with personalized options for immune system support.
Happy Healthy You+ creates Detoxifying Superfood
Dutch startup Happy Healthy You+ manufactures superfoods that process and eliminate toxins, fortify the gut, and strengthen the immune system. Its product, H2Detox, contains a high content of chlorophyll, vitamins, antioxidants, nitrate, and betalains to strengthen the immune system and fight against inflammation. Besides, it combines minerals, essential fatty acids, phytonutrients, fiber, and glutathione with no additives to assist in the detoxification of the body.
Dragon's Miracle manufactures Plant-based Antibiotics
US-based startup Dragon's Miracle makes a monolaurin-based plant-extract blend that boosts the immune system. The monolaurin in the startup's products is a high-potency substance associated with traditional medicine in treating an array of pathogens. In addition to strengthening the immune system, the plant extract blend, Life Shield, contains 10 herbal ingredients to balance bacteria in the gut and prevent bacterial, fungal, and viral infections. Dragon's Miracle's products work with the body's own pathways and immune system responses to support healthy lung function without drowsiness or jitters.
Rritual provides Superfood Elixir
Canadian startup Rritual creates small-batch elixirs combining mushrooms, herbal adaptogens, and additional superfoods like cacao, ginger, and cinnamon. The elixirs support optimal immune system function and cognitive health as well as assist in stress management while maintaining a delicious taste. Rritual's Chaga Immune Supplements contains enhanced adaptogens like astragalus root and Schisandra berry to improve the body's natural defenses while eleuthero root boosts energy by providing whole-body stress support.
2. Lab-grown Nutrients
Among the main problems with supplements is the lack of the necessary amount of nutrients and inconsistent quality from batch to batch. Innovations in lab-grown nutrients solve issues by creating high-quality and consistent nutrient profiles that the body readily absorbs. The nutrients are grown in a controlled environment, providing optimal growth conditions that allow for the synthesis of high-quality, pure nutrients. Additionally, lab-grown nutrients are more environmentally sustainable as they reduce the need for traditional farming practices and their associated environmental impact. With the use of advanced technologies and scientific research, startups are developing lab-grown nutrients to provide reliable and safe options for nutritional support.
Solar Foods creates an Air-based Protein
Solar Foods is a Finnish startup that offers a natural protein called Solein, which is derived from a single-cell organism to replace traditional protein sources. Moreover, the microorganism is grown with electricity and air rather than with water and soil, thereby conserving resources. The ingredient features a high protein content, low fat, up to 15% dietary fiber, mineral nutrients, and a macronutrient composition similar to dried soy or algae. Solein also contains all nine essential amino acids required by the human body and provides iron, fiber, and B vitamins, making it a sustainable and versatile protein source for the food and supplement industry.
TurtleTree advances Precision Fermentation
TurtleTree is a Singaporean startup that develops LF+, a sustainably produced lactoferrin using precision fermentation technology. Lactoferrin is a bioactive milk protein found in milk that enhances the nutritional value of all food products but requires emissions-heavy cattle farming. However, TurtleTree's precision fermentation process use microbes and a bioreactor to create lactoferrin at a yield that is significantly higher than current cattle-based production methods. The startup's nutritional supplement LF+ finds applications in elderly, performance, and infant nutrition products.
3. Probiotics & Prebiotics
One of the challenges with nutritional supplements is the variability of absorption and efficacy among individuals. Moreover, the gut microbiome plays a crucial role in nutrient absorption and metabolism, and an imbalance in gut bacteria negatively impacts the efficacy of nutritional supplements. Probiotics and prebiotics solve this problem through targeted and effective support for gut health. It restores gut balance by promoting the growth of beneficial bacteria. Advanced probiotic and prebiotic products are being formulated to include specific strains of bacteria that have targeted health benefits, providing personalized support for individual needs. As a result, they allow individuals to optimize the absorption and efficacy of their nutritional supplements while supporting their dietary or health needs.
Enbiosis offers AI-based Personalized Prebiotics
UK-based startup Enbiosis develops an AI algorithm that analyzes the gut microbiome to develop personalized dietary recommendations. The ENBIOSIS algorithm processes DNA data to identify the bacteria groups present in the gut and determines the ecological and functional relationships between them. Using a "feed or starve the bacteria" strategy, the algorithm regulates the number of bacteria to achieve a healthier state. The algorithm also calculates optimal priority scores for different foods based on multiple nutrient components as well as bacterial strains and interactions. This way, the startup offers the most suitable and accessible probiotic and prebiotic options based on an analysis of commercially available supplements and gut microbiome.
Genbioma manufactures a Prediabetic Supplement
Spanish startup Genbioma develops probiotic supplements that target specific populations, such as those with prediabetic status, and regulates blood glucose levels. The startup's products include pA1c which is a benchmark strain with scientific evidence supporting its long-term blood sugar regulating effect. Its Reglubetic Reglubetic is a daily oral probiotic supplement based on pA1c that prevents and controls hyperglycemia.
4. Digestive Enzymes
The efficacy of nutrients is largely influenced by their proper breakdown and absorption in the body. However, many individuals suffer from an enzyme deficiency or reduction in enzyme production, which leads to an impairment in nutrient absorption. Digestive enzyme supplements leverage advanced formulations and delivery systems to ensure optimal absorption and efficacy of the digestive ecosystem. Additionally, startups are formulating digestive enzyme supplements to target specific types of nutrients, such as proteins or fats, to offer personalized support for individual needs.
FRISKA offers Food Breakdown Enhancers
US-based startup FRISKA makes a proprietary enzyme blend that assists the gut to break down food, eliminate toxins, and convert carbs to energy. Each FRISKA capsule contains at least 1 billion colony-forming units (CFU) of clinically proven probiotics, enzymes, and vitamin blends. They promote a healthy heart and immune system as well as botanicals tailored to different needs. The capsule also assists with bowel movements, occasional constipation, or diarrhea. FRISKA's products promote healthy digestion, boost immune systems, and build protection against illness and infections.
Access Nutrients offers Micronutrient-rich Capsules
Canadian startup Access Nutrients creates a digestive enzyme that unlocks micronutrients and assists the body with nutrient absorption. The digestive enzyme GoodPhyte unlocks micronutrients, such as zinc, iron, magnesium, and calcium, in food that is bound by anti-nutrient phytate. These micronutrients are essential for gut health, well-being, and a strong immune system. They provide people with more energy, better relaxation, improved recovery from workouts, and regular bowel movements, among other benefits. GoodPhyte also maintains stable blood sugar levels and offers better sleep quality.
5. Biohacking
Supplements have varying effects on different individuals due to genetic factors and other individual differences, which makes general supplement recommendations ineffective. Advances in biohacking solve this issue by offering personalized and targeted nutritional support based on individual biological makeup. It utilizes advanced technologies to optimize individual health and performance by understanding and manipulating biological processes. For example, genetic testing reveals specific nutrient deficiencies or sensitivities for biohacking strategies to address these issues through supplements and dietary recommendations. Additionally, biohacking solutions monitor and manipulate biological markers, such as blood sugar levels or hormone levels, to optimize nutrient utilization and absorption. By combining biohacking with targeted supplementation, individuals are able to maximize the efficacy of their supplements and improve overall health.
HUM2N aids Metabolism Acceleration
UK-based startup HUM2N specializes in scientific testing to understand a person's biology and health profile to create personalized nutritional programs. The startup utilizes data from over 768 biomarkers along with personalized medical-grade supplements to rebalance the body's biological system as necessary. Besides, the startup provides hyperbaric oxygen therapy, intravenous nutritional therapy, IV ozone, and more. The startup's bio-individual and bio-available supplements tackle a wide range of health issues, including stress, sleep, metabolism, fertility, cognition, and more.
Unfair provides AI-based Nutritional Recommendations
US-based startup Unfair creates a mobile application for biohackers that offers a library of evidence-based supplements. The app delivers AI-based personalized guidance and tailored supplement recommendations based on a user's needs and goals. The app also supports integration with Apple's HealthKit Watch for on-the-go recommendations, reminders, and feedback. Additionally, Unfair connects users with medical practitioners and retailers in their local area to offer a curated knowledge library featuring interviews with biohackers and self-optimization visionaries.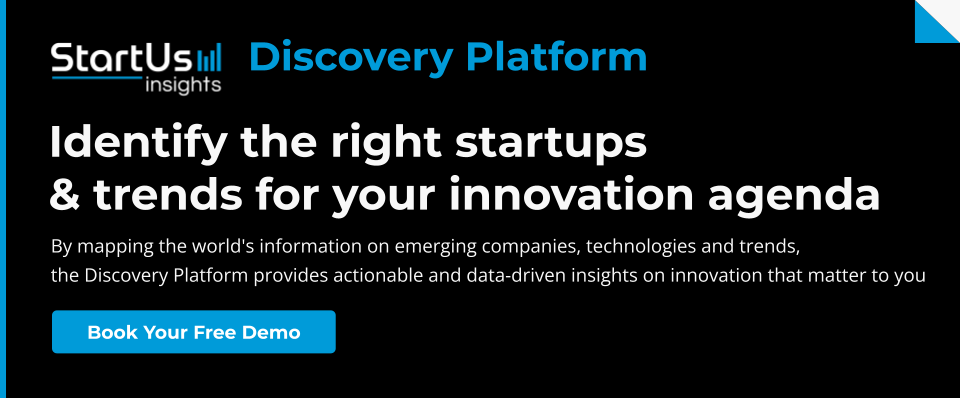 6. Nutrigenomics
A large concern with supplements is their interaction with other medications or medical conditions, leading to potential health risks. Therefore, startups are offering nutrigenomic solutions that use an individual's unique genetic makeup and health history. By understanding an individual's genetic variations and health history, personalized supplements and dietary recommendations are generated. This also minimizes potential health risks and maximizes the health benefits of supplements. Further, nutrigenomics involves the use of dietary recommendations and lifestyle modifications. This reduces the risk of potential interactions between supplements and other medications or medical conditions.
Karmacist balances Nutrition for the Brain
Karmacist is a UK-based startup that manufactures plant-based supplements for brain nutrition. Its supplements focus on eight core biological processes namely inflammation, gut-brain, mitochondria, epigenetics, Hypothalamic–pituitary–adrenal (HPA) axis, thiamine diphosphate (TPK) metabolism, neurogenesis, and oxidative stress. The startup focuses on the brain-gut-axis which is a key biological mechanism that affects a person's mood. Additionally, the supplements contain 34 botanicals, vitamins, and minerals that provide nutritional impact to the brain. Karmacist's supplements also utilize the principle of nutrigenomics to promote a nutrient-rich diet that results in the positive expression of genes.
Rootine develops Smart Multivitamin Formulas
US-based startup Rootine offers a smart multivitamin formula that analyzes multiple health data points to meet ongoing needs and optimize the mind and body. The precision multivitamin utilizes a formula that is optimal for the consumer and uses a microbead delivery system. This delivery system maximizes nutrient absorption and maintains optimal blood nutrient levels throughout the day with a slow-release mechanism. The natural coating is tasteless while the ingredients include raw nutrients, a cellulose matrix, and sustainably-farmed beeswax. Additionally, Rootine provides DNA, blood vitamins, and mineral test kits as well as a precision stress program that offers personalized recommendations based on stress hormone and cortisol levels.
7. 3D Printing
Modern mass drug manufacturing methods feature very limited customization and variability in the production of nutritional supplements. 3D printing overcomes this with the ability to create highly customized and personalized supplements with specific dosages, shapes, and formulations. It allows for greater precision and accuracy in the production of supplements, ensuring that each supplement is tailored to an individual's unique needs and preferences. This also enables the production of supplements using a wider range of materials and formulations, including those that are difficult or impossible to produce using traditional manufacturing methods. Additionally, 3D printing enables the creation of supplements with different textures and colors, making them more appealing and easier to consume.
Multiply Labs advances 3D Printing of Supplement Capsules
Multiply Labs is a US-based startup that creates robotic systems for capsule manufacturing. The robotic system manufactures precision capsular dosage forms at an industrial scale and produces fixed or personalized dosages in each compartment. Moreover, the parallel robotic system allows for the manufacturing of multiple precision capsule products at the same time, increasing efficiency and reducing costs. Multiply Labs creates capsules with each compartment containing different supplements or products, which will release at different times. The startup offers flexibility in supplement and nutraceutical production through the addition of compartments with thicker walls, which stores supplements for up to two hours.
8. Nanoencapsulation
One of the problems with oral supplements is that they may have poor bioavailability or may degrade before reaching the desired target site within the body. Nanoencapsulation addresses this issue by encapsulating supplements in nano-sized particles. This protects them from degradation, increases their stability and solubility, and enhances bioavailability. These nanoparticles are also able to target specific cells or tissues within the body to increase efficacy and reduce dosage. Further, nanoencapsulation benefits in overcoming taste and odor issues associated with supplements, making them more palatable.
Naive Innova makes a Nanocarrier Platform
Thai startup Naiva Innova creates a nanocarrier platform to optimize functional ingredients in pharmaceuticals, cosmeceuticals, food, and beverage products. The startup's specialized nanocarriers protect functional ingredients and enhance their performance in the body. Besides, the startup offers liquid concentrate and solid powder formats for easy integration into other products. Naiva Innova also offers custom nano-encapsulation services and scales up nanoparticle synthesis and processing for commercialization.
Smart Vitamins enables Active Compound Delivery
Smart Vitamins is a Spanish startup that develops a Smart Delivery of Nutrients (SDN) technology to enhance the delivery of essential nutrients to the immune system. The SDN's targeted approach avoids secondary effects and restores immune tolerance, making it an effective treatment for autoimmune and inflammatory diseases. Smart Vitamins' technology is also able to transport essential nutrients through biological barriers, such as the skin, and promote specific interactions with immune cells to achieve a beneficial effect without side effects.
9. Clean Labels
Consumers are increasingly being skeptical about artificial ingredients, fillers, and additives in supplements that may be harmful to health. Clean labeling is a rising trend in the supplement industry that aims to address this issue by using natural, minimally processed, and transparently labeled ingredients. Supplements with clean labels are free from synthetic colors, flavors, and preservatives, and do not contain genetically modified organisms (GMOs). Additionally, clean labeling emphasizes the use of whole food sources and avoids isolated nutrients that are often added to supplements. This approach increases consumer trust and transparency as well as health benefits and supplement safety.
AgroGrIN Tech produces Natural Ingredients from Food Waste
AgroGrIN Tech is a Portuguese startup that makes eco-friendly and cost-effective solutions to add value to fruit waste in the food industry. Its process transforms fruit waste into functional food ingredients and separates functional ingredients to promote a zero-waste approach. The startup's valorization of fruit waste creates new revenue streams and decreases environmental pollution and economic losses. The resulting natural enzymes, vitamin extracts, fruit flours, and dehydrated juices are completely safe and suitable for human consumption. This makes fruit production and processing businesses more sustainable. Moreover, the startup's functional ingredients serve as a source of clean-label ingredients for nutritional supplements.
PlantBaby manufactures a Supplement for Infant Formula
PlantBaby is a US-based startup that develops organic, plant-based foods and beverages to support infants during their early stages of development. The clean-label products are free from dairy, gluten, refined sugar, GMOs, preservatives, artificial and natural flavors, and glyphosate. The startup's products undergo stringent testing and are sourced exclusively from organic, climate-friendly whole foods. PlantBaby aims to create a portfolio of healthy foods and beverages that are plant-based, planet-forward, and pediatrician-approved. Moreover, its product avoids the problems of obesity and other health risks associated with traditional infant formula.
10. Time-Released Supplements
Certain supplements require a delay or control in their release as their effects may not last for a long time. Sometimes, the supplements may not be delivered in a sustained manner, limiting their efficacy. Time-released supplements avoid this problem through the release of active ingredients gradually over an extended period of time. This allows for a steady release of the supplement's active ingredients into the body, providing longer-lasting and more consistent effects. Time-released delivery is also particularly useful for supplements that need to be taken multiple times a day or that have a short half-life. They minimize side effects and reduce the potential for toxicity as the body is able to metabolize the supplement more effectively over time. As a result, time-released supplements offer a solution for improving the efficacy and safety of supplement products.
Heights provides a Smart Probiotic
US-based startup Heights develops Smart Probiotic, a delayed-release mechanism that features seven clinically researched strains to improve health. The supplement utilizes proprietary protective matrix shielding and double-barrier technology to increase nutritional uptake within the body. Heights' Smart Supplement contains essential vitamins, minerals, healthy fats, and antioxidants as well as ensures optimal absorption using its double-barrier technology. Through control-release technology and live bacteria, Heights ensures that supplements provide sufficient nutrition to the mind and gut.
Galventa makes Circadian Rhythm Supplements
Galventa is a Swiss startup that specializes in galenic formulations of supplements featuring high bioavailability and efficacy. Its products include B-SYNC ON, which is a wake-up pill that is consumable before sleeping with a delayed release mechanism to assist in waking up. B-SYNC OFF is another supplement for inducing sleep and promotes regenerative processes during sleep that also features faster substance action via oral mucosa absorption. Lastly, the energy supplement B-SYNC NOW lifts mood and energy with natural stimulants with a dual-release mechanism featuring an initial fast onset and then a slow release.
Discover all Nutritional Supplements Trends, Technologies & Startups
Innovations in biohacking, such as advanced testing methods and AI, are enabling consumers to make informed and personalized decisions in supplement intake. Additionally, 3D printing and microencapsulation are allowing manufacturers to create more targeted and custom supplements. Nutrigenomics and lab-grown nutrient startups are creating safer and more effective nutritional ingredients while also promoting sustainability. The nutritional supplements trends & startups outlined in this report only scratch the surface of trends that we identified during our data-driven innovation & startup scouting process. Identifying new opportunities & emerging technologies to implement into your business goes a long way in gaining a competitive advantage.
Looking for health & wellness startups & technologies?
✕