From advanced global positioning systems (GPS) and cloud-based navigation to wearable and voice-activated technology, the latest navigational technologies are making transportation and exploration more effective. This research focuses on the top 10 navigation technology trends in 2024. These trends include 3D navigation, domain awareness systems (DAS), and remote sensing, among others. Read more to explore each trend and how they make navigation easier, safer, and more efficient.
Innovation Map outlines the Top Navigation Technology Trends & 20 Promising Startups
For this in-depth research on the top Navigation Technology Trends and startups, we analyzed a sample of 829 global startups & scaleups. This data-driven research provides innovation intelligence that helps you improve strategic decision-making by giving you an overview of emerging technologies for mobility. In the Navigation Technology Innovation Map below, you get a comprehensive overview of the innovation trends & startups that impact your company.
Top 10 Navigation Technology Trends in 2024
These insights are derived by working with our Big Data & Artificial Intelligence-powered StartUs Insights Discovery Platform, covering 3 790 000+ startups & scaleups globally. As the world's largest resource for data on emerging companies, the SaaS platform enables you to identify relevant technologies and industry trends quickly & exhaustively.
Tree Map reveals the Impact of the Top 10 Navigational Technology Trends in 2024
Based on the Navigation Technology Innovation Map, the Tree Map below illustrates the impact of the Top 10 Navigation Technology Trends in 2024. Startups and scaleups are developing solutions for more precise and informative navigational experiences. One of the major trends in navigational technology is the use of 3D navigation systems that provide an immersive and accurate experience. Autonomous navigation and remote sensing enable vehicles, robots, and other devices to navigate without human intervention, improving safety and reducing travel times.
Additionally, cloud-based navigation, DAS, and advanced GPS provide users with real-time information about their surroundings while indoor positioning makes it easier to navigate inside buildings. Wearables further enable a more convenient and hands-free navigation experience. Voice-activated technology also improves safety by allowing users to interact with navigation systems without taking their hands off the wheel or eyes off the road.
Global Startup Heat Map covers 829 Navigation Tech Startups & Scaleups
The Global Startup Heat Map below highlights the global distribution of the 829 exemplary startups & scaleups that we analyzed for this research. Created through the StartUs Insights Discovery Platform, the Heat Map reveals high startup activity in West Coast US, followed by Western Europe and India. Below, you get to meet 20 out of these 829 promising startups & scaleups as well as the solutions they develop. These navigational technology startups are hand-picked based on criteria such as founding year, location, funding raised & more. Depending on your specific needs, your top picks might look entirely different.
Interested to explore all 800+ navigational technology startups & scaleups?
Top 10 Navigation Technology Trends in 2024
1. Autonomous Navigation
Autonomous navigation is transforming the field of navigational technology by enabling vehicles and other devices to navigate without human intervention. This technology combines sensors, cameras, and algorithms to enable devices to detect and respond to their environment in real time.
Autonomous navigation has numerous benefits such as increased safety, reduced travel times, and improved efficiency. Autonomous vehicles navigate more efficiently by avoiding traffic congestion and taking the most direct route to their destination. Also, it lowers the risk of accidents by detecting and responding to potential hazards.
SPAICE enables Autonomous Space Navigation
UK-based startup SPAICE offers sustainable space solutions for debris removal and satellite life extension. It combines AI and deep learning-based perception algorithms to enable autonomous space navigation, accurate positioning, and target tracking.
The solution reduces the cost of extending satellite lifespan, enhances space safety, facilitates space navigation for commercial use, and sustains space economy development. SPAICE allows satellite operators to tackle space debris by onboarding robotic manipulation solutions for on-satellite operations.
Automatika provides Robot Perception Systems
French startup Automatika develops software stacks for robot navigation. It offers simulation scenarios to enable testing and development of robot manipulation in crowded environments. The startup's robot perception system leverages data from multiple sensors for accurate scene understanding and integration with various robotic systems.
Automatika's robot path planning system allows robots to naturally navigate in unstructured spaces. With human behavior interpretation and intelligent control decisions, the startup enables robots to carry out autonomous navigation in dynamic environments like indoors, public spaces, and shopping centers.
2. Indoor Positioning
Indoor positioning provides users with navigation capabilities inside buildings and other enclosed spaces. Such solutions leverage sensors, beacons, and algorithms to determine the location of a device relative to its surroundings. By using indoor positioning, people navigate and track assets in enclosed spaces where GPS signals are not available or unreliable.
Indoor positioning is useful in environments such as airports, shopping malls, and hospitals, where navigation is challenging due to the complexity of the infrastructure layout. These systems also empower organizations to integrate location-based services such as personalized recommendations and targeted advertising.
Hidonix provides a Turn-By-Turn Indoor Navigation System
Italian startup Hidonix creates outdoor and indoor positioning systems to monitor the flow of people in and around the infrastructure. It offers ION, a platform to enable indoor and outdoor navigation in multi-level buildings by leveraging interactions between geomagnetic fields produced by physical structures and smartphone sensors. ION algorithms eliminate the use of hardware such as beacons or WiFi routers while tracking indoor and outdoor locations.
The system also supports online and offline operations as well as provides real-time location and geospatial coordinates of the assets inside commercial buildings. Hidonix enables businesses to track app users on a virtual map to implement real-time monitoring and security, improving crowd management.
Sentrax enhances Positioning inside Smart Buildings
Sentrax is a Swiss startup that develops IoT sensors and real-time location systems to enable positioning and navigation in smart buildings. The system aids real-time location of staff, automated check-ins and check-outs, and team management while enabling emergency assistance to lone workers. The startup's Zenix, a locator and gateway system, utilizes IoT-enabled hardware and software to provide sensing and communication for healthcare and other infrastructures.
Additionally, the startup offers Sensix, a multisensory low-power IoT device for climatic and environment sensing with Bluetooth and low-power wide-area network (LPWAN) connectivity. Sentrax thus provides smart cities and buildings, hospitals, and warehouses with solutions for inventory, asset, and visitor tracking and management.
3. Advanced GPS
Advanced GPS is a technology that uses additional sensors and algorithms over traditional GPS to track the exact location of a receiver with better precision. This enables real-time traffic updates, voice-guided directions, and lane guidance, providing drivers and other users with a more accurate and efficient navigation experience.
Additionally, novel GPS systems are helpful in other applications like tracking assets or monitoring the movement of people and vehicles. Advanced GPS technology thus improves asset management and safety while reducing travel times and enhancing overall productivity.
disquva manufactures Global Tracking Devices
disquva is a startup from New Zealand that makes small and light global tracking devices. It uses IoT signaling integrated with GPS navigation to track pets and valuable products. The small size of these devices allows users to implement the technology in a variety of areas such as warehouses, households, and indoor and outdoor tracking.
The technology offers an edge over the global system for mobile (GSM) and Bluetooth-based technologies. disquva caters to individuals as well as organizations or industries to keep track of luxury goods and valuables in real time.
Precision Navigation System offers Virtual Roaming Operators
Estonian startup Precision Navigation System provides virtual roaming operators for global navigation satellite system (GNSS) augmentation. Its high-precision positioning system, Stargate RTK, is reliable and features high accuracy. This ensures coverage and effective inter-provider compatibility when expanding transport operations to new locations.
This solution enables centimeter (cm)-level positioning and automatic GNSS corrections for accuracy-demanding applications such as robotics and geomatics. Precision Navigation System thus aids GNSS suppliers and fleet operators to deploy and manage fleets across diverse geographies.
4. 3D Navigation
3D navigation provides a more immersive and accurate experience, unlike traditional 2D maps. It allows users to visualize their surroundings and provides a more realistic representation of the world. The technology empowers navigation in urban environments where buildings and other structures obstruct the view of traditional maps.
By using 3D navigation, users better understand their surroundings and navigate with greater ease. Further, 3D navigation provides more accurate directions by taking into account elevation changes that impact travel times like hills or bridges.
Mowi Space offers 3D Outdoor Navigation
Italian startup Mowi Space creates applications to provide a digital experience in outdoor sports. It offers both online and offline 3D maps with real-time information on trails, slopes, weather conditions, lifts opening and closing, and local events. The startup develops Mowi Bike, a mobile application for bikers and families. Mowi Snow is an app for skiing, ski touring, and other snow activities.
These applications also provide location information about family or groups of friends while hiking and on other outdoor adventures. Mowi Space enables adventurers, families, and friends to locate and collaborate with each other and enhance outdoor experiences.
mOceanSense simplifies Nautical Athlete Tracking
Portuguese startup mOceanSense develops solutions for real-time performance evaluation of nautical sports athletes. The system acquires precise 3D navigational data of the sea to analyze statistical data of athletes' performance and surfboard optimization.
The startup also utilizes geo-referencing, attitude and heading reference systems, and 3D water flow sensors to measure the velocity, displacement, and direction of surfboards. mOceanSense empowers nautical board communities and water sports by providing insights on athlete performance.
5. GPS-denied Navigation
GPS-denied navigation provides an accurate and reliable navigation experience in areas where GPS signals are denied or unavailable. For this, such systems utilize sensors, cameras, and algorithms to detect and respond to the environment in real time.
By using GPS-denied navigation, tourists navigate through tunnels, urban canyons, and other GPS-scarce locations. It also enhances the accuracy of GPS signals in areas such as scattered factories and processing plants where GPS is not available or weak.
Odigia builds Advanced Localisation and Navigation Solutions
UK-based startup Odigia makes advanced localization and navigation (ALaN) solutions for GNSS-denied navigation on land. ALaN works on multiple platforms without re-training and offers the ability to extend to multiple visual sensor streams. It uses AI and machine learning to ensure reliability and accuracy in geo-localization and make it more accessible and affordable.
The technology assesses the entire observed space to allow for downstream analysis of multiple points of reference. This allows system-agnostic integration of GPS-denied navigation into micro unmanned aerial vehicle (UAV) platforms. Odigia caters to UAV service providers, aerospace applications, and automotive OEMs by providing safe and reliable navigation systems.
Archaius develops Sensors and Algorithms for GPS Protection
US-based startup Archaius manufactures sensors and algorithms for precise navigation in GPS-denied navigation. It offers Magnetic Velocity Positioning (MVP) that improves positioning accuracy and pinpoints the vehicle in its lane without using GPS. The technology aids car manufacturers and OEMs to build better-performing self-driving solutions and self-aware systems.
The startup also offers GPS Anti-Distortion (GADm), an anti-jamming system for military applications to allow GPS, Wi-Fi, 5G, and Link-16 connections. Archaius builds advanced navigation systems for aerospace, automotive, and military applications to allow GPS-free navigation.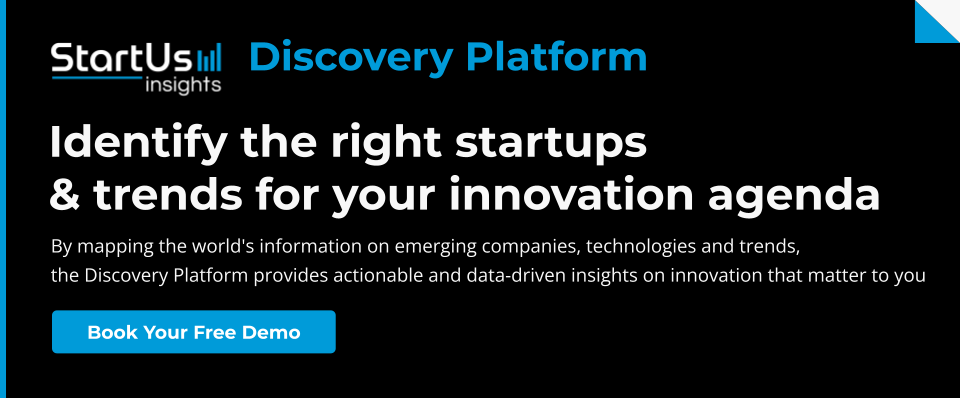 6. Remote Sensing
Remote sensing provides real-time information about surroundings using sensors, cameras, and radar systems to detect and analyze data from a distance. It analyzes traffic conditions, weather updates, and environmental factors that impact navigation to provide users with safer traveling.
The technology also monitors the movement of ships, aircraft, and vehicles to provide drivers with a comprehensive view of the surroundings. Remote sensing is particularly useful for navigation in remote and hazardous locations such as open oceans, flooded cities, and areas affected by natural disasters.
Qubic makes Quantum Microwave Systems
Canadian startup Qubic develops quantum technology of microwave transmitters and receivers for telecommunications and remote sensing applications. Its superconducting quantum electronics allow the development of signal processing tools and extract valuable information from weak signals. The technology is useful for navigation, securing spaces, satellite surveys, and wireless network communications to overcome frequency obstacles.
The startup enables accurate drone location detection to increase reliability and visual confirmation in distant operations and reduce the risk of false alarms. Qubic enables better noise filtering to detect weaker signals more effectively in the automobile, agriculture, and aerospace industries.
JASR Systems builds Remote Sensing and Autonomous Navigation Systems
US-based startup JASR Systems makes remote sensing and autonomous navigation systems for commercial applications. The systems use technologies such as physics-based modeling and simulation, computational imaging and laser radar, and synthetic aperture imaging. This enables the development of coherent and incoherent computational imaging, high-performance optical systems, and 3D imagery for both ground and airborne LiDAR systems.
The solution uses these technologies to gather information about objects without physical access by mounting the devices on aircraft and satellites. The startup also develops techniques and algorithms for multi-target tracking and super-resolution vision systems. JASR systems cater to the aerospace industry by providing advanced atmospheric simulations and mitigation technologies.
7. Domain Awareness Systems
DAS provides real-time information about the surroundings. It integrates data from a range of sources, including surveillance cameras, radar systems, and other sensors, to provide a comprehensive view of the environment.
The technology monitors the movement of ships, aircraft, and other vehicles in real time to make informed decisions about navigation routes and avoid potential hazards. DAS also monitors the activity of people and assets, allowing organizations to better manage their operations.
ALMA offers Motion Sensing for GPS-Free Navigation
Israeli startup ALMA provides mobile applications for motion sensing for GPS-free navigation. It detects mobile phone usage in real time, tracks the vehicle trajectory, and detects and identifies specific motion patterns without GPS. The solution allows transport industries to realize more value from existing sensors using deep learning algorithms.
It also identifies car positioning in tunnels, urban canyons, underground car parking, and rural areas and offers insights into driver behavior. ALMA assists last-mile delivery partners, fleet managers, and individual drivers with accurate road analytics and precise motion sensing.
SeaSatellites offers Maritime Domain Awareness
US-based startup SeaSatellites manufactures autonomous surface vehicles (ASVs) for ocean insights and data collection. It offers Lightfish, an ASV for ocean operations with two-person portability, multi-month endurance, and a modular payload bay. The system monitors and predicts harmful algal blooms as well as tracks marine mammals, undersea reefs, and vegetation.
It features a low profile and fast deployable nature that enables the development of intelligence, surveillance, and reconnaissance (ISR) and maritime domain awareness (MDA) systems. SeaSatellites caters to scientific, defense, and commercial sectors to acquire real-time insights into marine operations.
8. Cloud-based Navigation
Cloud-based navigation provides an accurate and efficient navigation experience by using data stored in the cloud. This data includes satellite imagery, traffic data, and weather information. Cloud-based navigation also offers real-time information about the user's surroundings, including traffic updates, road conditions, and weather forecasts.
Additionally, cloud computing allows utilities to store and share location data, enabling vehicles and drones to access navigation history and share location with others. Overall, cloud-based navigation provides travelers with a more secure and reliable navigation experience tailored to individual needs.
TJ LABS facilitates Indoor Localization
South Korean startup TJ LABS makes a cloud-based indoor localization platform based on surface correlation technology. It utilizes LTE, 5G, Bluetooth, WiFi, and magnetic fields to ensure accuracy and performance across regions. The platform offers vehicle navigation in tunnels and underground parking spaces, and indoor localization in shopping malls.
It offers barrier-free and precise navigation for mobility and visually impaired elders. TJ LABS caters to the smart city, aerospace, defense, and delivery industries by providing easy maintenance using crowd-sourcing.
AtlasNavi offers Drive-to-Earn Navigation Apps
Singaporean startup AtlasNavi develops AI-enabled drive-to-earn navigation apps for individuals and fleet operators. It uses technologies such as blockchain and machine learning for precise location and better routing. The apps offer real-time information on road and traffic conditions detected through a smartphone or a dashboard camera and AI as well as save data on the cloud.
The startup also enables drive-to-earn where the vehicle is represented by a non-fungible token (NFT), offering referral bonuses to the owners. It lets drivers earn tokens with each drive while using the application and increases the rewards by upgrading their vehicle NFTs. AtlasNavi empowers individual owners, groups, and fleet managers to track and manage their driving and navigation experience.
9. Voice-activated Navigation
Voice-activated technology in navigation offers a convenient and hands-free experience, allowing users to interact with the navigation system using voice commands. This eliminates the need for drivers to interact physically with devices and take their hands off the steering wheel and eyes off the road.
The technology improves safety and reduces distractions while providing drivers with real-time traffic updates, weather forecasts, and turn-by-turn assistance. Voice-activated navigation allows automobile drivers, walkers, and tourists to navigate in busy and congested areas without physical intervention with the device.
Routzz builds Tour-Guiding Solutions
US-based startup Routzz develops tour-guiding applications to make bicycle navigation safer and easier without the need for cell signals. Its app offers clear visuals and spoken turn-by-turn directions to reduce the need for physical contact of the rider with the device while riding. The application shows route descriptions, total distance, elevation gain, and points of interest to the rider at the time of touring to improve their experience.
The app also automatically recommends hotels, restaurants, and gas stations to allow guided bicycle tours without a human guide. Routzz caters to individual travelers and groups by providing self-supported route navigation and personalized travel experiences.
Autopass offers Voice Navigation
Autopass is a startup from Taiwan that provides mobility-related services to connect drivers, fleets, and shared vehicles. Its XSC-128 is a transaction identification solution that combines image and voice recognition, cameras, mic, and IoT-integrated devices. The solution identifies and manages payments and transactions on parking lots, gas stations, and charging stations.
The startup integrates voice-activated solutions with navigation technology to identify and secure payment experiences from a connected vehicle, reducing driver distraction. Autopass' platform allows fleet operators and managers to build modulable and flexible frameworks to meet location-agnostic requirements.
10. Wearables
Wearables, such as smartwatches and smart goggles, provide users with more convenient and accessible navigation, allowing them to navigate without smartphones or other devices. They provide navigators with haptic feedback, such as vibrations or alerts, to indicate when they need to turn or change direction.
This technology is useful for outdoor activities such as hiking or cycling, where athletes need to keep their hands free. Wearables make navigating easier and also improve safety and convenience for users.
SunQulp Tech provides Assisted Navigation for the Visually Impaired
Indian startup SunQulp Tech makes a wearable for assisted navigation for the visually impaired. It provides real-time spoken feedback to alert the wearer about incoming obstacles from both front and back. The startup manufactures Smart Canes, SmartVest, and Global Smart Devices, which are multi-sensor obstacle detection solutions with vocal and vibration feedback.
These wearables support easy navigation, people recognition, currency services, and road sign recognition to aid impaired people. SunQulp empowers visually disabled patients by providing an effective, versatile, and fashionable hassle-free commute.
Watch & Navy enables Land, Air, and Marine Exploration
UK-based startup Watch & Navy develops mobile and wearable applications to enable land, air, and marine explorations. It offers Thames Commuter, Wayfarer Compass, and RAMS Velocity – the navigation and transport apps for Google's Wear OS. They offer service timetables and maps on the wrist as well as a wearable compass, speedometer, and energy monitor in smartwatches.
The dashboard keeps track of road journeys, routes, mileage, and estimated travel time to enable obstacle-free navigation. Watch & Navy enhances outdoor adventures by leveraging smartphone and wearable technology to provide accurate route planning.
Discover all Navigational Trends, Technologies & Startups
From the emergence of autonomous vehicles to the use of AR in navigation, these trends will revolutionize the way we navigate our world. The integration of AI and machine learning has made navigation more efficient and accurate. Additionally, cloud-based mapping systems and connected infrastructure enable real time updates that ensure seamless navigation for users.
The navigation tech trends and startups outlined in this report only scratch the surface of trends that we identified during our data-driven innovation and startup scouting process. Identifying new opportunities & emerging technologies to implement into your business goes a long way in gaining a competitive advantage.
Looking for specific navigation technologies & startups?
✕