Medical treatments have come a long way in recent years, with advances in technology playing a crucial role in improving patient outcomes. The integration of technology in healthcare allows for more accurate diagnoses, more personalized treatment plans, and improved patient monitoring. Hospitals are using artificial intelligence (AI) and machine learning (ML) algorithms to analyze vast amounts of patient data and develop more precise treatment plans. The healthcare industry is also employing robotics and telemedicine to provide remote care and perform surgeries with greater precision. The proliferation of advanced techniques such as gene editing and nanomedicine therapy is revolutionizing the way doctors approach medical treatments and significantly improving patient outcomes.
Innovation Map outlines the Top Trends in Medical Treatments & 20 Promising Startups
For this in-depth research on the Top Medical Treatments Trends & Startups, we analyzed a sample of 3468 global startups & scaleups. This data-driven research provides innovation intelligence that helps you improve strategic decision-making by giving you an overview of emerging technologies in the healthcare industry. In the Medical Treatments Innovation Map, you get a comprehensive overview of the innovation trends & startups that impact your company.
These insights are derived by working with our Big Data & Artificial Intelligence-powered StartUs Insights Discovery Platform, covering 3 790 000+ startups & scaleups globally. As the world's largest resource for data on emerging companies, the SaaS platform enables you to identify relevant technologies and industry trends quickly & exhaustively.
Tree Map reveals the Impact of the Top Trends in Medical Treatments
Based on the medical treatments Innovation Map, the Tree Map below illustrates the impact of the Top 10 trends in medical treatments in 2023. Startups and scaleups in the medical industry are utilizing various innovative trends to advance medical treatments. They use telemedicine to remotely diagnose and treat patients, and develop therapeutic devices, such as wearables and implants to monitor and regulate bodily functions. Startups develop digital therapeutics to provide therapy and support to patients through software and are also developing personalized medicine to tailor treatments based on genetic makeup. Biohacking is also becoming prevalent among patients to enhance human performance and optimize health while manipulating the genes of individuals to prevent and cure diseases through gene therapy. Startups are also employing immersive treatments, such as virtual reality (VR)-assisted therapies, to treat mental health disorders. Further, minimally invasive surgery (MIS) reduces trauma and recovery time for patients. Lastly, startups are developing nanotherapeutics to deliver targeted treatments to specific cells and tissues while combination therapy maximizes the effectiveness of multiple treatments simultaneously.
Top 10 Trends in Medical Treatments (2023)
Global Startup Heat Map covers Medical Treatments Startups & Scaleups
The Global Startup Heat Map below highlights the global distribution of the 3468 exemplary startups & scaleups that we analyzed for this research. Created through the StartUs Insights Discovery Platform, the Heat Map reveals high startup activity in the US and West Europe, followed by India. Below, you get to meet 20 out of these 3468 promising startups & scaleups as well as the solutions they develop. These medical treatments startups are hand-picked based on criteria such as founding year, location, funding raised, & more. Depending on your specific needs, your top picks might look entirely different.
Interested to explore all 3400+ medical treatments startups & scaleups?
Top 10 Trends in Medical Treatments (2023)
1. Telemedicine
Telemedicine is transforming the way hospitals and medical institutions deliver and deploy medical treatments. Doctors use information and communication technologies (ICTs) to provide healthcare services remotely. This includes diagnosis, consultation, and therapy. Telemedicine thus improves the quality, efficiency, and accessibility of healthcare. It is especially useful for people who live in remote areas, have mobility issues, or face other barriers to access. Many startups are using technologies such as AI and wearable devices to create solutions that address various health challenges and needs. Startups are also setting up virtual clinics, online prescriptions, electronic health records (EHRs), tele-mental health, and remote patient monitoring. Telemedicine, an integral part of medical treatments, offers convenience, cost-effectiveness, and personalized care to patients.
KetaMD develops a Virtual Mental Health Platform
KetaMD is a US-based startup that provides a telemedicine platform to offer safe ketamine treatments for depression and related mental health conditions. The startup's program is fully virtual and HIPAA-compliant, allowing patients to receive medically supervised ketamine treatments in the comfort of their homes. It also assesses a patient virtually and then, based on the results, ships ketamine medication to the patient. KetaMD's mobile application acts as a virtual nurse to guide the patient throughout the treatment process and tracks the progress. This provides a convenient and cost-effective solution for mental health care providers by allowing them to offer ketamine therapy without having to invest in expensive infrastructure.
Telemedzip provides a Telehealth Platform
Filipino startup Telemedizip offers a complete telehealth electronic medical record (EMR) platform for hospitals, clinics, and other healthcare facilities. It enables health professionals to deliver quality care to their patients online, from teleconsultations to in-person consultations. The startup's platform enables doctors to easily manage their virtual patient engagements, schedule visits for lab and imaging tests, and promote their directory of online providers. It also helps patients follow their care plan by tracking treatment progress, offering reminders, and communicating with the doctor through the app, engaging them with treatment goals. The platform measures and analyzes key performance indicators (KPI) such as patient satisfaction and appointment adherence. This ensures that doctors and clinics provide timely care to patients.
2. Gene Therapy
Gene therapy is rapidly evolving to treat or prevent diseases by editing or manipulating faulty genetic material. It has shown promising results for several conditions like hemophilia, spinal muscular atrophy, and inherited blindness. Many startups are developing innovative gene therapy products and technologies, such as viral vectors, that carry the modified copy of the therapeutic genes into cells. Others are working on non-viral vectors using various delivery systems like nanoparticles, liposomes, and naked DNA to deliver the modified genetic materials into the cells. This enables precision alteration of the DNA sequence of genes. As gene therapy targets the underlying mutation of a disease, it allows for more effective and long-lasting treatment. In some cases, gene therapy has the potential to cure genetic disorders altogether by replacing or repairing the faulty genes responsible for the disease.
Jaguar Gene Therapy enables Accelerated Vector Delivery
Jaguar Gene Therapy is a US-based startup that develops gene therapies for severe genetic diseases using adeno-associated virus (AAV) vectors. AAV vectors are non-pathogenic and efficient at delivering functioning genes into the target cells, restoring the appropriate genetic function, and making a positive impact. The startup's initial pipeline of gene therapies JAG101, JAG201, and JAG301 cater to galactosemia, severe neurodevelopmental disorders, and type 1 diabetes, respectively. The startup leverages its manufacturing process to accelerate the traditional gene therapy development timeline while ensuring product purity and patient safety.
Atamyo Therapeutics advances Neuromuscular Gene Therapy
French startup Atamyo Therapeutics makes new-generation gene therapies for neuromuscular diseases, especially limb-girdle muscular dystrophies (LGMD). The startup's ATA-100 is a one-time gene replacement therapy for LGMD. It delivers a normal copy of the Fukutin-related protein gene (FKRP) using an AAV vector. Thus, it restores the production of functional FKRP protein in muscle cells. By doing so, ATA-100 stops or reverses muscle degeneration and improves the quality of life of patients with LGMD. Atamyo Therapeutics offers a new approach to gene replacement, designing better delivery systems for muscular dystrophies to decrease side effects.
3. Therapeutic Devices
The major advances in therapeutic devices target treating or managing various medical conditions. This includes chronic pain, diabetes, cardiovascular diseases, and neurological disorders. Medical institutions are deploying wearable sensors and stimulators to implantable pumps and electrodes to address the uprising of diseases. Therapeutic devices offer personalized and effective solutions for patients who do not respond well to conventional therapies or medications. Many startups are innovating in this field using AI, biocompatible materials, wireless communication, and more to create novel therapeutic devices. Some startups are working on deep brain stimulation (DBS) devices to treat Parkinson's disease while others develop transcranial magnetic stimulation (TMS) devices to treat depression and anxiety. Therapeutic devices are an integral part of medical treatments as they enhance the quality of life and health outcomes of patients.
Vilimed offers a Vibration Device for Hand Tremors
Vilimed is a Lithuanian startup that develops VILIM ball, a therapeutic device that helps people with hand tremors due to essential tremors or Parkinson's disease. The device uses mechanical vibrations to temporarily reduce the amplitude of hand tremors and improve hand coordination and movement. VILIM ball also leverages an AI algorithm that analyzes and adapts to each patient's individual tremor pattern. The device only requires 10 minutes of therapy per hand to achieve a lasting curative effect for hours. It is customizable and safe to use and has a rechargeable battery to allow the patient to carry it around. Vilimed thus allows patients to opt for a non-invasive and non-pharmacological mode to manage hand tremors.
NovusTX Devices facilitates Ultrasound Neuromodulation Therapy
Canadian startup NovusTX Devices provides a clinical ultrasound system for the treatment of neurological and psychiatric disorders, such as treatment-resistant depression and motion disorders. The startup's technology uses a patented biaxial driving technique. It enables precise targeting of sub-millimeter brain circuits with non-invasive transcranial focused ultrasound (tFUS). Moreover, it targets both superficial (cortex) and deep (sub-cortex) brain areas. Hospitals and healthcare facilities use the system as a platform for multiple neuromodulation therapies and as a research tool for exploration and patient screening. NovusTX Devices' solution offers a safe and versatile means to improve the quality of life of patients with challenging brain conditions.
4. Digital Therapeutics
Within the healthcare industry, software-based interventions aim to prevent, manage, or treat various medical conditions. Such digital therapeutics (DTx) solutions are becoming an integral part of medical treatments as they complement or replace traditional therapies. This improves patient outcomes and reduces healthcare costs. Many startups are offering innovative DTx solutions for various diseases and disorders, such as diabetes, mental health, chronic pain, and addiction. Digital therapeutics are painless and have fewer side effects than traditional therapies, making them a safer and more tolerable treatment option for some patients.
Raft Digital Therapeutics makes a Therapeutic Gaming Platform
Raft Digital Therapeutics is a Canadian startup that creates interactive video games to help patients with rare and degenerative neuromuscular diseases. The platform utilizes motion capture to track and respond to the player's movements. It also analyzes the patient's ability level and then provides guided exercises. Additionally, the platform uses gamification to encourage and monitor participation and provides a feedback mechanism for patients to track their progress. The startup's platform is prescribed by the physician and the patient gets access to personalized programs and a library of evidence-based exercises as the therapy. Raft Digital Therapeutics' games improve health outcomes by making at-home therapeutic exercise fun and engaging.
Resony offers an Anxiety & Stress Relief App
UK-based startup Resony develops a digital anxiety and stress relief application to help people living with mental health conditions get faster and in-home access to care. Resony's mobile app uses a mind-body approach using biofeedback and cognitive behavioral therapy to build resilience. The app connects to wearable devices, such as pulse oximeters, to measure patients' heart rate variability and provide real-time feedback on their emotional states. It also gives the patient a well-being score and then recommends therapeutic exercises for relaxation, better sleep, mood improvement, and resilience from the in-app library. Resony's app, in turn, improves patient well-being, productivity, and attention retention through evidence-based mental health interventions.
5. Personalized Medicine
Personalized medicine tailors medical treatments to the individual characteristics of each patient, such as their genetic profile, biomarkers, or drug response. By using diagnostic tests and big data analytics, personalized medicine improves the efficacy and safety of medicines while reducing costs and side effects. Many startups are working on personalized medicine for cancer, cardiology, neurology, and immunology. Some startups use cell-based assays to measure the functionality of diseased cells and their reaction to potential drugs. Some startups are also developing platforms that incorporate quantitative pharmacology and machine learning to provide individualized dosing recommendations.
GLX Analytix provides Biomarker-based Personalized Medicine
Danish startup GLX Analytix brings personalized medicine to healthcare by combining biomarkers and AI. The startup works on GLX Signature, a biomarker of specific patterns in which immune cells cleave off glycocalyx before they invade an organ and cause disease. GLX Analytix extracts the biomarker and assembles it from a blood sample, acting like a fingerprint for active disease. The GLX Signature helps with early diagnosis, prediction, and drug discovery for autoimmune and neurodegenerative diseases, such as multiple sclerosis. The startup provides an effective tool that enables personalized medicine and facilitates the discovery, development, and market approval of new and better therapies and medications.
EnlitenAI develops a Personalized Neurological Treatment Platform
EnlitenAI is a US-based startup that provides Neuroliten, a connected software-as-a-service (SaaS) platform. Neurologists employ the platform for effective management and personalized treatment of neurological conditions, especially epilepsy. Neuroliten leverages wearable devices, cloud computing, and AI to collect and analyze data from patients, caregivers, and neurologists. It enables caregivers to easily capture and share seizure event details using its interface and secure cloud platform with proprietary encryption. The platform also provides the patient history of seizure health, side effects, and medications. This aids in clinical management and allows neurologists to devise personalized treatment plans. Neuroliten thus reduces the cost burden of epilepsy care, improves patient outcomes, and facilitates timely interventions.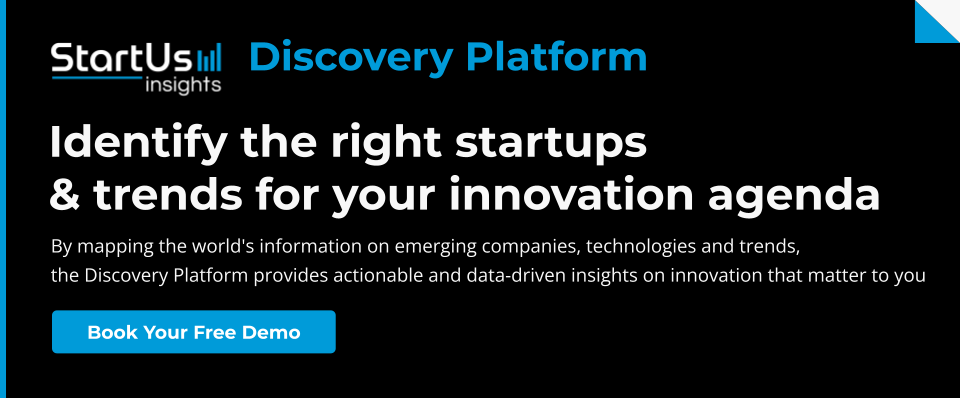 6. Biohacking
Patients and consumers use biohacking to enhance their health and well-being with do-it-yourself (DIY) treatments. It optimizes their physical and mental performance, prevents diseases, and extends their lifespan. Startups are providing innovative solutions for biohacking, such as nootropics, intermittent fasting, cryotherapy, and nutraceuticals. Some nootropics even enhance cognitive function. Further, biotextiles and osmotic fabrics lined with skincare products help treat the skin while sleeping. Biohacking is a rapidly growing trend as it challenges the traditional boundaries of medicine and biology. It also offers new possibilities for human enhancement and empowerment.
Biohacking ORB makes a Multisensory Wellness Platform
Biohacking ORB is a German startup that offers a touchless, self-administrable wellness platform. It leverages AI and evidence-based therapies to improve personal wellness. The platform consists of a reclined seat inside a circular pod. It delivers multisensory treatments using neuro-acoustic sound, chromotherapy, aromatherapy inhalation, and vibroacoustic therapy. The pod also utilizes near-infrared light therapy to trigger natural processes in the body on a cellular level. These treatments enhance energy, mood, focus, relaxation, recovery, and sleep. The platform also connects to a companion app that monitors biometric data and provides personalized recommendations. Biohacking ORB provides an efficient solution for people to biohack their way to a better performing, more relaxed, and healthier state of being.
Punarved formulates Curcumin-based Immunity Boosters
Indian startup Punarved creates Ayurveda-based therapeutic products for skin, hair, and general health improvement. CURECAN, one of the startup's products, is an immunity-boosting nutraceutical that uses curcumin. The major problem with using turmeric for many applications is the difficulty in curcumin absorption by the body. This is because it is not water-soluble, but CURECAN solves that problem using nano curcumin. Punarved develops nano curcumin by reducing its size and making it water-soluble, increasing its therapeutic application. Patients use nano curcumin as an antioxidant, anti-inflammatory solution, and medication for Alzheimer's disease and depressive disorders. Punarved's products are sustainable as well as have increased efficacy, long-lasting results, and no side effects. It emphasizes holistic wellness, which aligns with a growing trend toward natural and integrative approaches to health.
7. Immersive Treatments
Immersive treatments offer patients a way to experience realistic simulations of various scenarios and environments. This helps them cope with physical and mental health issues. Using augmented reality (AR), VR, and mixed reality (MR), immersive treatments create interactive experiences. This enhances the effectiveness of traditional therapies like exposure and cognitive behavioral therapy as well as pain management. Several startups are developing head-mounted displays, haptic feedback devices, motion tracking sensors, and biometric monitors to facilitate immersive treatments. These solutions offer a novel and engaging way to improve patient outcomes and well-being.
VR Coach offers VR-based Mental Health Therapy
Austrian startup VR Coach provides VR therapy for various mental health issues, such as phobias, anxiety, and depression. The startup combines a VR headset, a tablet, and a wireless controller to create custom scenarios and 360-degree films for their patients. The controller also incorporates biofeedback integration to collect heart rate variability, skin feedback, and temperature. This lets doctors better assess the patients' treatment of social phobia and speech anxiety in an environment tailored to medical needs and goals. VR Coach's system is compact, affordable, and easy to use, and enhances the effectiveness of traditional therapy methods.
Virtitec provides VR-powered Prosthetic Training
Australian startup Virtetic supports the prosthetics community through game-based virtual reality therapeutics (VRx). The startup uses evidence-based clinical interventions, ie, virtual reality (VR) devices to provide immersive and interactive treatments to acclimatize people living with limb loss. Virtetic's VRx solution utilizes wearable sensors and game-based data collection. This helps patients learn how to use a prosthesis, ease phantom limb pain, and regain their function and independence faster. The startup also studies the transfer of prosthesis use and motor skills from VR training to real-world prosthesis use. Virtetic's VRx thus provides clinicians with quantitative data to support their patients' progress, reduce rehabilitation costs and time, and improve patient satisfaction and outcomes.
8. Minimally Invasive Surgery
Doctors use minimally invasive surgery to operate with less damage to the body than open surgery. MIS generally offers less pain, shorter hospital stay, and fewer complications. The most common forms of MIS are laparoscopic and endoscopic surgery. One of the more advanced forms of MIS is robotic surgery, which provides a magnified, 3D view of the surgical site. Thus, helping the surgeon operate with precision, flexibility, and control. Doctors use MIS to treat a wide range of conditions, such as cancer, heart disease, kidney disorders, and gynecological problems. In recent years, many startups are offering innovative solutions and technologies to improve transoral surgery, involving accessing the inside of the throat through the mouth to remove tumors or other abnormalities with the help of computer vision. Some are also working on robot-assisted surgery where the surgeon controls the robotic arms from a console, allowing for more precise movements.
AiBo Medical Robotics develops an Interventional Surgical Robot System
AiBo Medical Robotics is a Chinese startup that creates a vascular interventional surgery robot system. It is suitable for percutaneous coronary intervention (PCI), peripheral vascular intervention (PVI), and neuro-intervention (NVI) surgeries. Over traditional surgical procedures, the startup's system ensures better precision and safety, shorter surgical time, and a reduction in radiation exposure. The startup also provides a VR-based surgical training system to shorten the doctor's training period and allow for easier integration of the robot into existing hospital workflows.
MATRIXLabs enables Minimally Invasive Laparoscopic Suturing
Taiwanese startup MATRIXLabs develops solutions for minimally invasive surgery, specifically laparoscopic suturing and knotting. The startup's LapKnot is an instrument-assisted device that enables easy and consistent intracorporeal knotting with various sutures. It also provides Calypso, an instrument-free device that reduces the complexity of knotting without compromising effectiveness and strength. The startup also develops Singer, an automated device that integrates needle passing and knotting in one single instrument for single port surgery. These procedures require greater manual dexterity and are hence a barrier to the adoption of minimally invasive surgeries. MATRIXLabs' solutions enable doctors and surgeons to transform laparoscopic suturing into a safer and more efficient procedure.
9. Nanotherapeutics
Pharmaceutical companies are now employing nanotherapeutics to design and deliver more effective medical treatments for various diseases. Nanoparticles, such as liposomes, micelles, and gold nanoparticles, enhance the efficacy of drugs by improving their solubility, circulation time, and release window. Doctors generally recommend nanotherapeutics in the areas of oncology, immunology, neurology, cardiology, and infectious diseases. Startups are using nanoparticles as contrast agents for medical imaging, allowing for more accurate disease diagnoses. Others are implementing nano-engineered medical dressings for accelerated wound healing. Nanotherapeutics also offer new possibilities for precision diagnosis and targeted medicine.
SUPERBRANCHE advances Nanoparticle Cancer Treatment
SUPERBRANCHE is a French startup that develops and produces nanomaterials for nanomedicine applications. It utilizes a proprietary dendronized magnetic nanoparticle to create theranostic products that combine diagnosis and therapy for solid cancers. The startup injects these nanoparticles intravenously and actively targets tumor cells for early and specific detection and treatment while reducing the side effects. SUPERBRANCHE also provides dendrimers and nanoparticles as research products to laboratories. The startup thus improves patients' access to more effective cancer diagnosis and treatment tools.
Plamic facilitates Microfluidic Nanomedicine Prototyping
Plamic is an Argentinian startup that develops precision technology in nanomedicines using microfluidics. The startup's nanomedicines operate as nano-sized drug carriers, improving the effectiveness and safety of therapies. Plamic offers a microfluidic platform for the prototyping and development of nanomedicines. Nanomedicines improve treatments and patients' quality of life by increasing drug solubility and localization in sick cells while decreasing side effects. Plamic's microfluidic platform offers precise control of mixes and homogeneous nanomedicines. For this, the startup uses the laminar flow inside the microchannel of a chip and addresses the limitations of traditional nanomedicine technologies. As a result, the startup's platform accelerates nanomedicine development timelines and enables better treatments.
10. Combination Therapy
Medical treatments employ combination therapy to increase the medical output by using two or more drugs or treatments in tandem. This enhances the efficacy of the medication and delays the resistance of single-agent therapies. Hospitals often use a combination of surgery, radiation therapy, and chemotherapy to treat cancer. They also use utilize multiple antiretroviral drugs to better treat human immunodeficiency virus (HIV). In recent years, many startups are offering innovative combination therapies like the combination of inhaled corticosteroids and long-acting beta-agonists to treat asthma. Some startups are also working on immunotherapy for cancer, stem cell therapy for genetic disorders, and antiviral and antibody therapy for COVID-19.
Hemerion Therapeutics offers a Laser Combination Therapy for Glioblastoma
French startup Hemerion Therapeutics develops a novel combination therapy for glioblastoma. The startup's technology combines a laser device and drug delivery system during surgery to destroy tumor cells and prevent recurrence. This therapy is complementary to existing surgery procedures. It involves a photosensitizing drug and a photonic device to selectively destroy tumor cells without harming healthy cells. The drug selectively bonds to the tumor cells and destroys them when exposed to specific laser light wavelengths. Hemerion's combination therapy offers an innovative solution to improve the survival and quality of life of glioblastoma patients.
MEDPNC provides Personalized Drug Combination Cancer Therapy
MEDPNC is an Israeli startup that develops personalized combination therapies for cancer treatment based on the analysis of protein networks in tumor cells. Using a diagnostic test called patient-specific proteomic profiling, MEDPNC identifies the unbalanced molecular processes that drive each patient's cancer using surprisal analysis. The startup then creates a barcode that predicts the optimal drug combination for them. By targeting the proteomic data that maintain the activity of individualized altered networks, MEDPNC offers patient-specific drug combinations that improve therapy efficacy and patient survival. This reduces treatment costs, increases patient satisfaction, and enhances clinical outcomes.
Discover all Medical Treatments Trends, Technologies & Startups
The future of medical treatments is promising with advances in technology and research leading to more personalized and effective treatments. Gene editing, stem cell therapy, and immunotherapy are among the cutting-edge approaches being explored to treat diseases like cancer, diabetes, and genetic disorders. Startups are also employing artificial intelligence and machine learning algorithms to develop more precise diagnoses and treatment plans. Such advancements ensure that patients receive more targeted and individualized medical treatments. This greatly improves patient outcomes and quality of life. The Medical Treatments Trends & Startups outlined in this report only scratch the surface of trends that we identified during our data-driven innovation & startup scouting process. Identifying new opportunities & emerging technologies to implement into your business goes a long way in gaining a competitive advantage.
Looking for medical treatments startups & technologies?
✕