Advances in medical diagnostics, like artificial intelligence (AI) and real-time patient monitoring, allow healthcare providers to identify the nature and cause of diseases or conditions. Telemedicine and point-of-care testing (POCT) further enable them to improve care delivery in remote areas. There are innovations in medical imaging that lead to faster and more precise diagnostics that are less invasive. This research provides you with an overview of the top 10 global medical diagnostics trends in 2023 based on our analysis of 3607 medtech startups. They include novel image diagnostics solutions, clinical analytics, bioinformatics, personalized medicine, and more. Read more to explore all trends and discover how they advance disease diagnosis and care delivery.
Innovation Map outlines the Top 10 Medical Diagnostics Trends & 20 Promising Startups
For this in-depth research on the Top 10 Medical Diagnostics Trends & Startups, we analyzed a sample of 3607 global startups & scaleups. This data-driven research provides innovation intelligence that helps you improve strategic decision-making by giving you an overview of emerging technologies in the healthcare industry. In the Medical Diagnostics Innovation Map, you get a comprehensive overview of the innovation trends & startups that impact your company.
These insights are derived by working with our Big Data & Artificial Intelligence-powered StartUs Insights Discovery Platform, covering 3 790 000+ startups & scaleups globally. As the world's largest resource for data on emerging companies, the SaaS platform enables you to identify relevant technologies and industry trends quickly & exhaustively.
Tree Map reveals the Impact of the Top 10 Medical Diagnostics Trends
Based on the Medical Diagnostics Innovation Map, the Tree Map below illustrates the impact of the Top 10 Medical Diagnostics Trends in 2023. Startups and scaleups are developing AI-based solutions for clinical decision support. They aid doctors to diagnose patients more accurately and forecast patient health while preventive medicine improves recovery rates. Applying big data and analytics to clinical and patient data ensures better diagnosis and enhances telemedicine systems. By leveraging internet of things (IoT)-enabled sensors, startups Further, bioinformatics tools aid in the detection and characterization of different types of pathogens. Advances in personalized medicine further the identification of specific genetic or molecular markers that indicate a patient's response to a particular treatment. This allows for more effective care. Startups also develop convenient and patient-centric solutions such as POC tests, wearables, mobile assistants, and more.
Top 10 Medical Diagnostics Trends in 2023
Global Startup Heat Map covers 3607 Medical Diagnostics Startups & Scaleups
The Global Startup Heat Map below highlights the global distribution of the 3607 exemplary startups & scaleups that we analyzed for this research. Created through the StartUs Insights Discovery Platform, the Heat Map reveals high startup activity in Western Europe and the US, followed by India. Below, you get to meet 20 out of these 3607 promising startups & scaleups as well as the solutions they develop. These 20 startups are hand-picked based on criteria such as founding year, location, funding raised, & more. Depending on your specific needs, your top picks might look entirely different.
Interested to explore all 3500+ medical diagnostics startups & scaleups?
Top 10 Medical Diagnostics Trends in 2023
1. Artificial Intelligence
Traditional disease diagnosis methods are manual and error-prone. On the other hand, using artificial intelligence in medical diagnosis reduces detection time and error rate. Such solutions analyze and interpret medical images, such as X-rays, computed tomography (CT) scans, and magnetic resonance imaging (MRI) scans. They help radiologists make more accurate diagnoses and identify potential issues faster. AI also simplifies the analysis of large amounts of medical data to assist doctors and medical professionals in decision-making. This enables them to prioritize and manage patient cases more effectively, improving efficiency. Besides, AI analyzes genomic data to assist geneticists in identifying genetic risk factors for personalized medicines. Lastly, analyzing patient data using AI provides physicians with clinical decision support, offering them real-time diagnoses and treatment recommendations.
Otologic Technologies advances AI-based Ear Disease Diagnostics
US-based startup Otologic Technologies develops an AI-based application for diagnosing ear diseases. It facilitates telemedicine and offers clinical decision support by suggesting similar ear cases to inform diagnosis. The app also uses recordings during ear exams to enhance images inside the ear and provide evidence-based insights. This allows better detection and classification of ear conditions. It also reduces the risk of incorrect diagnosis due to human error and assists doctors in the identification of infections.
DoMore Diagnostics simplifies Colorectal Cancer Diagnosis
Norwegian startup DoMore Diagnostics enables AI-based colorectal cancer diagnostics. The startup's marker, Histotype Px Colorectal, utilizes deep convolutional neural network algorithms to analyze histology images for colorectal cancer prognosis. It predicts the outcome of cancer for more precise treatment. This prevents over-and undertreatment of patients while improving patient care and making drug development more effective.
2. Diagnostic Imaging
Novel diagnostic imaging provides detailed images of internal body structures to reveal abnormalities that may not be detected by other methods. This minimizes intricate and expensive procedures. Some common types of diagnostic imaging include X-rays, CT scans, MRI scans, PET scans, ultrasounds, and more. They simplify the diagnosing and monitoring of a wide range of medical conditions, including cancer, heart disease, and injuries. Most imaging techniques are non-invasive, which reduces the risk of complications and makes the process less painful for patients. They improve patient outcomes by providing more accurate and earlier diagnoses. Diagnostic imaging also aids in monitoring disease progress over time to evaluate treatment effectiveness.
DeepSight Technology develops Non-invasive Medical Imaging
US-based startup DeepSight Technology improves medical imaging via its patented hardware and AI-based software. The startup's solution extends the depth penetration of medical diagnostic ultrasound. This influences the size of the examination window and the reproduction scale, optimizing ultrasound images. This way, the startup improves the potential and accuracy of ultrasound imaging to broaden its range in clinical applications like oncology, pediatrics, and obesity.
AI4MedImaging offers AI-based Cardiac Imaging
Portuguese startup AI4MedImaging creates AI4CMR, a software as a medical device (SaMD) for AI-based interpretation of cardiac magnetic resonance (CMR) imaging. It enables a fully automatic cardiac segmentation for the quantification of ventricular volumes, myocardial mass, and ejection fraction. It is also device-agnostic and features interoperability with other devices. This way, saves time for doctors while improving care delivery.
3. Big Data & Analytics
Big data and analytics-powered solutions analyze massive amounts of patient data in electronic health records (EHRs). This allows hospitals and physicians to identify patterns, improve diagnostic accuracy, and make treatment decisions. Startups also create predictive models that identify patients at high risks such as diabetes or heart patients, helping doctors take preventative measures. Further, machine learning algorithms identify patterns and make more accurate diagnoses. Big data also allows tracking the health of large populations for overall population health management. This improves the efficiency of diagnostics, thereby reducing healthcare costs.
iHridAI presents Cardiac Medical Imaging Analysis
Indian startup iHridAI makes a cloud-based clinic data analysis software for healthcare professionals. Its platform HarmonyCVI analyzes cardiovascular MRI scans for detailed visualization. Deep learning algorithms automatically quantify the diagnostic images without any manual intervention. This improves the speed, accuracy, and ease of use for clinicians. It also allows them to save time for other tasks and improves patient outcomes.
Ummon HealthTech aids Morphological Abnormality Analysis
French startup Ummon HealthTech develops Ummon, a deep learning-based cancer diagnosis software. It analyzes tissue architecture and abnormalities to offer oncologists insights into potential solid tumors. It also predicts the patients' response to therapeutics based on neural network computing. This improves disease screening and treatment planning for cancer patients.
4. Sensors
Continuous and real-time patient monitoring allows healthcare professionals to promptly detect patient conditions. For this, they leverage small and portable sensors for use in different settings, including homes and offices. They measure multiple body parameters to provide a more comprehensive view of patient conditions. This includes monitoring vital signs, heart rate, glucose levels, sleep, respiration, and more. Moreover, sensors are integrable into wearable devices, such as smartwatches, which enable patients to easily self-monitor and help doctors track their progress. Often, sensors do not require the need for invasive procedures, which is safer and more comfortable for patients.
EviroTECH makes Ultra-Fast COVID-19 Detection Sensor
US-based startup EviroTECH develops a nickel-based sensor for rapid detection of the SARS-CoV-2 virus. It analyzes the electrochemical interactions between its probe and the virus' spike proteins in the saliva. The startup is antigen-based and hence detects the virus even in earlier stages of infection. Moreover, saliva-based testing enables an easier, pain-free, and more comfortable patient experience. Faster test results allow hospitals, universities, and other institutions to test large populations quickly.
Bioherent delivers Drug Allergy Diagnosis
Spanish startup Bioherent creates photonic biosensors for drug allergy detection. It acts as a rapid plug-and-play solution for drug allergy tests. Pharmaceutical drug allergies are often difficult to identify, and time-consuming to prepare for. On the other hand, the startup's in-vitro low-cost medical biosensor allows physicians to diagnose drug allergies for timely treatment or precautionary steps.
5. Bioinformatics
Startups develop bioinformatics solutions to simplify the management, storage, and analysis of large amounts of biological data for making it accessible for research and diagnosis. They analyze data, such as DNA sequencing data, at high throughput to identify genetic markers for diseases and develop personalized treatment plans. This also enables the creation of predictive models that identify patients at high risk of diseases like cancer, allowing earlier diagnosis and treatment. By integrating data from different omics fields like transcriptomics, proteomics, and metabolomics, bioinformatics offers a more holistic view of the disease for accurate diagnosis. Such solutions also allow physicians to understand the complex interactions between genes, proteins, and other biological molecules that underlie disease development.
ImmuneWatch accelerates T-Cell-based Diagnostics
Belgian startup ImmuneWatch develops T-cell-based diagnostic tools and therapies using bioinformatics and AI. A single T-cell receptor profile allows the extraction of clinically actionable information about an individual's immune system. The startup's platform also delivers insights to make better predictions based on T-cells. This aids in the development of vaccines, therapies, and better diagnostics.
ELM Genomics provides Bioinformatics-based Clinical Decision Support
Turkish startup ELM Genomics commercializes genetic testing products for the screening of newborns, adults, and personality traits. The startup's test kit delivers a non-invasive salivary test, ensuring patient comfort. It incorporates DNA sequencing-based whole exome sequencing technology to diagnose lethal conditions in advance and prevent mental or physical conditions. Moreover, the startup's DNA analysis platform offers smart visualization for users to easily understand the likelihood of potential conditions.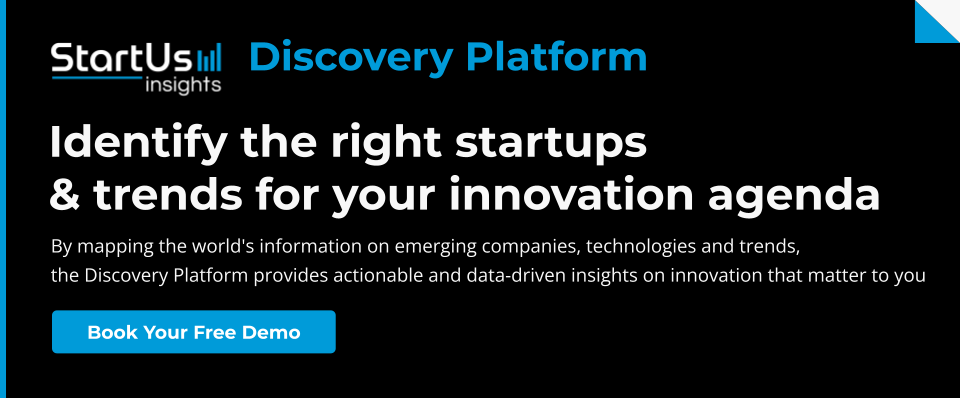 6. Personalized Diagnosis
Healthcare professionals now rely on personalized diagnosis means to take into account individual genetic, environmental, and lifestyle factors to tailor treatment to specific patient needs. This leads to more effective and targeted treatment plans, improving patient outcomes. By tailoring remedies, personalized diagnosis reduces the risk of side effects and improves patient comfort, satisfaction, and quality of life. It helps identify specific subtypes of diseases and underlying genetic or molecular causes, which aid in specific drug and therapy development. Additionally, personalized diagnosis solutions improve chronic disease management by providing specific recommendations based on genetic factors.
Egoo.Health offers a Personalized Diagnostics Platform
Danish startup Egoo.Health makes a personalized diagnostics platform using home-based blood tests. It consists of a proprietary system, app, and capsule. The capsule tests certain biomarkers, such as SARS-CoV-2, inflammation levels, phenylketonuria, and more. It is then inserted into the Egoo system for processing, and users access the data insights through the startup's app. This way, the startup enables self-testing and allows users to make informed decisions to ensure timely medical interventions.
Aveta.Life enables Personalized Hormone Monitoring
US-based startup Aveta.Life works on a smart diagnostics platform for personalized hormone care. The startup's device enables women to track their hormone levels at home. This allows them to deal with pregnancy planning, post-partum depression, and menopause more effectively. Monitoring hormones also facilitates the development of personalized medicine for hormone supplementation or hormone replacement therapy (HRT).
7. Wearables
Wearables, such as fitness trackers and smartwatches, find use in medical diagnostics to collect data on user health and activity levels. They continuously monitor heart rates, sleep patterns, stress levels, physical activity levels, and more to provide doctors with a more comprehensive understanding of patient health. This leads to early identification of warning signs, such as changes in heart rate or sleep patterns, and thus to earlier diagnosis and treatment. Wearables also increase patient engagement by encouraging patients to take an active role in their health management. Moreover, wearable device manufacturers make wearables tailored for use in everyday lives to improve wearer convenience.
Transdermal Diagnostics applies Continuous Biomarker Monitoring
UK-based startup Transdermal Diagnostics makes a wearable for glucose monitoring in diabetes patients. It combines a disposable adhesive skin patch and a rechargeable transmitter that connects to the smartphone app. It draws out biological substances through individual hair follicles, eliminating the need for pricks. This makes it convenient for diabetes patients to check their glucose levels on a daily basis, simplifying diabetes management.
Neurava supports Epilepsy Risk Monitoring
US-based startup Neurava develops wearables to track sudden unexpected death from epilepsy (SUDEP). They monitor the biological signals of epileptic patients for delivering timely alerts to caregivers. Moreover, this data is made available to physicians for effective symptom management. The wearables also offer accurate and timely alerts for nighttime monitoring. This reduces the risk of several complications, including seizures and SUDEP.
8. Point of Care Testing
At or near the site of patient care leverages point-of-care systems instead of centralized laboratories to quickly diagnose diseases. This eliminates unwanted patient commutes and saves time for both physicians and patients. Moreover, this is especially beneficial for those who are sick, elderly, or living in remote areas. Moreover, POCT enables faster test results to aid physicians in making quicker and more accurate diagnoses and treatment decisions. Some POCT devices are available for use by non-laboratory personnel. This decentralizes disease diagnostics. It also enhances patient satisfaction by reducing the need for multiple visits to healthcare facilities.
3a-diagnostics works on PoC Test Development
German startup 3a-diagnostics develops POC test systems designed for bacterial and viral infectious diseases. Its peptide-based biosensor screens microbial enzymes to detect stomatitis, periimplantitis, periodontitis, scarlet fever, and influenza. The startup's solution allows self-testing for the ease of patients, as well as sharing the data with physicians for remote consultation.
Aproxy simplifies PoC Testing
Singaporean startup Aproxy makes SimpleProx, a POC testing platform. It is a single-step immunoassay test based on a molecular switch design that adapts to different biomarkers. The focus area is on probing one's immune health, such as allergy testing via blood immunoglobulin E (IgE) quantification. The platform thus offers a faster and simpler alternative to lab tests, improving patient convenience.
9. mHealth
Mobile health, or mHealth, is rapidly evolving driven by the increasing demand for convenient and accessible healthcare. Innovations in mHealth include the development of new telemedicine platforms, AI-based apps, and integration with technologies like wearables or IoT. Further, advances in mobile payment and blockchain open up opportunities for secure healthcare transactions. mHealth also ensures better patient engagement and self-management. This facilitates data management and information sharing, leading to improved health outcomes. Additionally, mHealth increases health literacy and awareness while delivering clinical decision support and medical education.
Velmio advances Digital Therapeutics
Estonian startup Velmio creates Velmio Care, a digital health app for preventative healthcare. It connects data across multiple sources to build a digital twin of the individual's health profile. Using mathematical modeling and machine learning, the app then enables early detection and monitoring of health issues. This reduces the risk of adverse health outcomes. Moreover, Velmio Care supports women's healthcare via the management of appointments, symptoms, progress, and educational content. This allows women to leverage personalized healthcare and planning.
Health Care Central creates a Mobile Health Assistant
US-based startup Health Care Central develops HealthLy, a mobile health management system. It manages users' health data, physician reports, and records, and functions as a centralized hub of the users' medical information. It ensures medication adherence in patients by delivering timely alerts. The system also allows users to track their health over time. This enhances patient convenience and ensures timely corrective or preventive steps.
10. Preventive Medicine
Preventive medicine allows for the early detection of diseases for enhanced treatment and better patient outcomes. It improves the quality of life for individuals by identifying and addressing health issues before they lead to disability or premature death. This is particularly important for chronic conditions such as diabetes, high blood pressure, and cancer, which are often asymptomatic in their early stages. Preventive medicine further incorporates assessing individual risk factors based on their personal health and family history as well as lifestyle factors. This helps identify patients at high risk of medical conditions and target them for early intervention. Preventive medicine also focuses on counseling individuals on healthy lifestyle choices such as diet and exercise for the prevention of chronic conditions.
Ornament aids Health Monitoring
Swiss startup Ornament makes an app for health monitoring. It creates a digital profile for the user to assess health risks as well as recommend checkups, treatment, and more. The app analyzes users' lab results, lifestyles, and connected wearables to offer personalized recommendations. This enables patients to easily track their health and prevent adverse health events.
Livez develops Personalized Preventive Medicine
Israeli startup Livez creates an AI-based mobile app for preventive healthcare. It collects and stores patient medical data to automatically calculate their prevention needs. The app adapts to the patient's age, location, risk factors, and family history. It then provides personalized recommendations, allowing them to make proactive decisions.
Discover all Medical Diagnostics Trends, Technologies & Startups
Medical diagnostics is transitioning to AI-based workflows to automate back-office operations and accelerate disease diagnosis. The industry also witnesses the widespread adoption of technologies like big data, IoT, sensors, and wearable devices. Further, mHealth and POC testing increase patient comfort and timely management of symptoms. The medical diagnostics trends & startups outlined in this report only scratch the surface of trends that we identified during our data-driven innovation & startup scouting process. Identifying new opportunities & emerging technologies to implement into your business goes a long way in gaining a competitive advantage.
Looking for medical diagnostics startups & technologies?
✕