The internet of behavior (IoB) leverages data collection and analysis to improve the understanding and influence of human behavior. This provides insights into how individuals behave and make predictions that enable targeted marketing, personalization, digital security, and more. This article provides you with innovation insights based on our analysis of 1 766 internet of behavior startups & technologies and their impact on 10 industries. They range from marketing and retail to healthcare and govtech, among other sectors.
Tree Map reveals the Impact of Internet of Behavior on 10 Industries
Based on the Innovation Map, the Tree Map below illustrates the impact of the Internet of Behaviors on 10 industries in 2023. Targeted marketing is the most intriguing use case of IoB. Therefore, all the ten industries featured in this article use it to improve their marketing campaigns and ad placements. These industries also leverage customer-specific data to personalize their product and service offerings. Further, the healthcare industry utilizes it to improve patient engagement while the education sector enables adaptive learning with IoB. Tracking customer or consumer behavior also allows businesses to reward them for responsible practices and increase brand loyalty. Lastly, the government sector uses IoB to strengthen cybersecurity measures and mitigate the disruption of mission-critical operations.
Interested to explore all 1 700+ internet of behavior startups & scaleups?
Global Startup Heat Map covers 1 766 Internet of Behavior Startups & Scaleups
The Global Startup Heat Map below highlights the global distribution of the 1 766 exemplary startups & scaleups that we analyzed for this research. Created through the StartUs Insights Discovery Platform that covers 3 790 000+ startups & scaleups globally, the Heat Map reveals that the US has a high concentration of internet of behavior startups, followed by the UK.
Below, you get to meet 10 out of these 1 766 promising startups & scaleups as well as the solutions they develop. These internet of behavior startups are hand-picked based on criteria such as founding year, location, funding raised, & more. Depending on your specific needs, your top picks might look entirely different.
Impact of Internet of Behavior on 10 Industries
1. Marketing
In the context of marketing, IoB allows companies to personalize marketing efforts and product or service offerings to specific segments of their audience. For this, businesses analyze customer preferences and buying patterns using advanced analytics, artificial intelligence (AI), and machine learning. This results in more effective and efficient marketing campaigns, as well as improved customer engagement and loyalty. Additionally, startups develop IoB solutions that track and analyze consumer behavior in real-time to improve marketing strategies. However, growing concerns around data privacy and security also model how the marketing sector is integrating customer intelligence solutions. To aid this, some startups provide secure and privacy-compliant IoB platforms. Further, customer segmentation through granular behavioral analysis enables more targeted campaigns.
Sweet Analytics makes a Customer Analytics and Growth Platform
Sweet Analytics is a UK-based startup that develops a customer analytics and growth platform. It combines AI and machine learning to manage customer data and analyze user behavior. This allows marketers to better target marketing efforts. The platform also provides a single source of truth and a comprehensive view of customer behavior, preferences, and engagement. Further, it integrates into eCommerce platforms like Shopify. This allows retailers, brands, and marketing agencies to eliminate in-house app development and enable multi-chain marketing across sales channels, increasing revenue.
2. Retail
Similar to the marketing sector, the retail industry benefits from the insights into consumer behavior, preferences, and purchase patterns derived through IoB. However, the application of IoB in retail grows beyond online marketing and aids in-store consumer tracking, inventory management, store optimization, and more. For instance, some startups leverage computer vision or internet of things (IoT)-driven solutions that monitor foot traffic to optimize product placements. This allows retailers and brands to ensure better exposure for all products, increasing sales. Some solutions track and analyze social media trends using sentiment analysis and predictive analytics to forecast customer preferences and sales. As a result, such IoB solutions allow retail stores and eCommerce businesses to make inventory management more data-driven and avoid stock runouts.
AssetFloow provides In-Store Shopper Behavior Analysis
AssetFloow is a Portuguese startup that offers an in-store shopper behavior analysis solution. The startup's behavioral AI software analyzes store assortment to provide metrics on shopper movement. This enables retailers to avoid capital-intensive sensor or camera installations. Moreover, the software delivers more accurate insights into customer behavior without compromising their privacy. It allows retailers to make data-driven operational decisions, drive sales, and minimize loss.
3. Media & Entertainment
Behavior analysis offers insights into audience engagement. Media companies leverage it to evaluate and track their content as well as create personalized content and recommendations. Through this, they are able to better reach their target audience, increase audience satisfaction, and expand the audience pool. The entertainment sector leverages IoB to deliver exclusive content and personalized recommendations to customers while also using it for ad placements. Further, user-specific data from IoT devices, such as virtual reality (VR) headsets and smartphones, during virtual events provide better visibility into customer engagement and expectations. Startups utilize this data to drive content creation and marketing strategies.
Cookie3 delivers On-Chain Behavior Analytics
Cookie3 is an Estonian startup that provides on-chain behavior analytics. The startup's data engine aggregates, processes, and interprets non-fungible tokens (NFTs), smart contracts, and tokens across blockchains to better understand user behavior. For this, it uses artificial intelligence and machine learning. This enables Metaverse and Web3 companies to understand customer behavior based on their wallet history for better ad targeting and client segmentation while driving forecasts.
4. Finance
While other industries primarily utilize IoB for marketing, it enables more mission-critical use cases in the finance sector, including banking and insurance. By analyzing customer behavior using advanced analytics, fintech companies detect fraud, better manage risks, and improve credit risk assessment. For example, continuous monitoring of customer buying patterns or login attempts allows banks to flag or block transactions that deviate from standard customer behavior. This, in turn, enables them to promptly identify scams or theft, protecting customers and improving brand image. Additionally, financial services use the internet of behaviors to create targeted marketing campaigns, personalize product and service offerings, prevent cyber attacks, and more.
Qokka offers Cryptocurrency Sentiment Analytics
Qokka is a US-based startup that develops Crypto Sentiment Pro, a crypto sentiment analytics tool. It monitors, analyzes, and virtualizes cryptocurrency discussions on Reddit and Telegram. The startup also creates another tool, Crypto Trends, that identifies emerging keywords by analyzing numerous Reddit and Telegram communities. This allows retail and institutional investors to make crypto investment decisions more data-driven.
5. Healthcare
The healthcare industry analyzes patient information and electronic health records (EHRs) to generate insights into patient health status. Combined with patient monitoring systems, IoB enables prompt identification of health risks by tracking vital signs and medication adherence. By analyzing population-level health data, healthcare institutions are able to identify patterns of disease and risk factors for mitigating outbreaks. Tracking patient outcomes and satisfaction further allows them to improve the quality of care. Additionally, patient-specific data enables personalized healthcare and improved patient outcomes during clinical trials. Lastly, behavioral analytics aids administrators in optimizing resource utilization and costs while also mitigating insurance claim fraud.
Populi aids Patient & Consumer Marketing
Populi is a US-based startup that assists patient and consumer marketing. The startup's solution combines clinical, demographic, and socioeconomic data to enhance targeting and acquisition strategies while enforcing data compliance. It also enables healthcare businesses to improve patient segmentation while allowing them to connect digital media to healthcare transactions. This allows healthcare institutions to better understand market performance and strengthen customer relationship management (CRM) using claims-based analytics.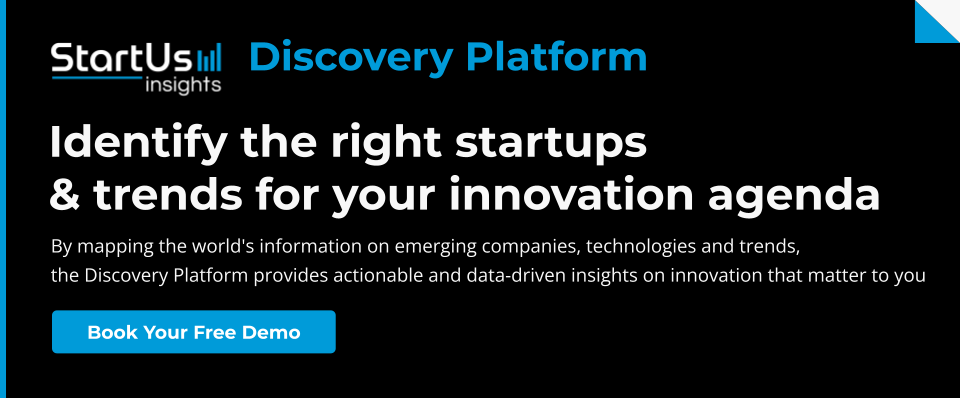 6. Education
Granular insights into learner behavior allow educators to personalize curriculum and apply the most compatible learning methods. That is why schools, colleges, and universities are integrating advanced analytics and AI into their student management systems. Similarly, IoB finds applications in the eLearning segment of the industry as it generates massive amounts of student data. For example, IoB solutions track learner engagement and participation to deliver insights into student behavior and performance. At the same time, behavior modeling allows educators to predict student outcomes and identify students at risk. On the administration end, startups provide IoB and behavior analytics that identify patterns in student dropout and absenteeism to improve learner retention.
Qualetics Data Machines develops an On-Demand AI Management System
Qualetics Data Machines is a US-based startup that makes an on-demand AI management system for eLearning platforms. It allows eLearning businesses to quickly embed data analysis and AI methodologies into their learning management systems (LMS). This enables them to analyze learner-specific cognitive, behavioral, and social aspect data, which is already available through LMS. With this data ingestion solution, eLearning providers are able to enable personalized and adaptive learning. It also allows them to leverage engagement tools like gamification to improve engagement and retention rates.
7. Utility
The transition to smart grids and infrastructures as well as the integration of smart meters provide utilities with massive amounts of customer data. With IoB and behavior analytics solutions, utility companies are able to generate insights into consumer behavior and energy usage patterns. This allows energy utilities to identify peak energy usage periods and implement demand-side management strategies. Customer data also enables businesses to personalize product and service offerings to increase revenue. For instance, water utilities incentivize consumers that use water responsibly to promote sustainable practices while improving their satisfaction.
Uplight facilitates Demand Response Program Monitoring
Uplight is a US-based startup that offers a software suite to monitor demand response programs and energy efficiency. It evaluates per program and per meter customer baseline loads to deliver insights on load sheds and load control events. This allows energy utilities to identify legacy load control devices and validate circuit level estimates. Further, the suite enables them to reward the best performers in voluntary load reduction programs and improve member outreach.
8. Food & Beverage
Similar to the retail sector, the food and beverage industry utilizes the internet of behaviors to improve product recommendations and ad placements. For example, analyzing the consumption patterns of customers dining in restaurants allows them to offer new dishes based on the customers' preferences. Apart from improving suggestions, behavior analytics drive brands and food chains to create customized meals or recipes, improving consumer satisfaction. IoB also improves food and beverage manufacturing efficiency by analyzing production data and inventory, optimizing workflows, and saving costs.
DYNE Technologies delivers Customer Sentiment Analysis
DYNE Technologies is a Canadian startup that offers customer sentiment analysis for restaurants. The startup's AI assistant tracks customer reviews to detect their sentiment automatically. It also analyzes revenue trends and provides revenue forecasts through a dashboard. Restaurants use the virtual assistant to dynamically price dishes based on demand and create loyalty incentives to boost off-peak traffic.
9. Travel & Tourism
The travel and tourism industry utilizes behavior data to generate insights into traveler preferences and improve their engagement. For this, travel agencies primarily integrate AI-powered chatbots into their booking and customer assistance platforms. This provides specific data on customer interactions and delivers customized travel itineraries and suggestions without manual intervention. Identifying patterns in behavior also allows businesses to better target marketing campaigns and offer convenient travel options. They also use it to promote climate-friendly travel options and incentivize climate positive efforts. For travelers and tourists, IoB enables them to better plan trips and find engaging destinations.
Rove offers Destination Analytics
Rove is a Canadian startup that creates TRAVELSAT Pulse, a platform for destination analytics. It collects, monitors, and analyzes various online conversations to benchmark traveler sentiment and reviews data for accommodations and attractions through Trip Advisor, Facebook, Google, and more. This allows travel companies to benchmark travel sentiment against similar regions, cities, and neighborhoods to identify improvement opportunities.
10. GovTech
City authorities integrate IoB into public infrastructure to analyze traffic patterns, energy usage, and more. This allows them to identify areas of improvement and better manage public infrastructures while optimizing resource consumption. At the same time, IoB improves security by analyzing deviations from the standard behaviors of users and connected devices, mitigating the disruption of mission-critical operations. Tracking and analyzing crime patterns and potential threats allow authorities to improve law enforcement and public safety. Lastly, real-time monitoring of citizen feedback and sentiments allows governments to better understand their issues and ensure their well-being.
LogSentinel improves Threat Detection & Response
LogSentinel is a Dutch startup that provides a threat detection and response solution for government institutions. It leverages rule-based and machine learning-based anomaly detection on multiple data sources to detect threats as well as analyze user behavior and risk profiles. Additionally, the solution automatically subscribes to threat intelligence sources to easily detect threats. This enables government institutions to prevent insider and outsider threats while minimizing efforts on audit, forensics, and fraud detection.
Discover All Internet of Behavior Startups
The internet of behavior is a growing technology and will see continued integration in various aspects of daily life, such as in smart homes and mobile devices. However, data privacy and security concerns are potential issues while the technology scales. To tackle this, startups and scaleups are developing compliant and highly secure IoB platforms. They prioritize transparency, data security, and consent to avoid the misuse of sensitive customer data. Get in touch to identify specific internet of behavior startups & solutions that advance your business!
Looking for emerging internet of behavior startups & technologies?
✕