Today's business environment is fast-paced and highly competitive. That's why companies must look for external innovation to access a wider range of ideas, technologies, and capabilities. This is how you can drive growth and stay ahead of the curve – and it's also why open innovation is on the rise. Open innovation is a process of actively seeking and leveraging external knowledge, expertise, and resources to drive innovation. And it begins with innovation mapping.
Mapping the global innovation landscape is a critical step in the open innovation process. It involves gathering, analyzing, and understanding information about the internal and external factors that influence innovation. These include data on major drivers such as startups and scaleups as well as market trends, technological developments, and competitive landscape. By understanding these factors, you can identify opportunities for innovation and design strategies to pursue them effectively.
Why Innovation Mapping is Key to Business Growth?
Mapping innovation is the process of gathering and analyzing information about the internal and external factors that influence innovation. The purpose of mapping innovation is to provide a clear and comprehensive view of a company's innovation ecosystem. This includes understanding your own innovation capabilities and opportunities, as well as identifying what you're looking for in potential partners and collaborators. By comprehending these factors, you are better positioned to identify opportunities for collaboration and co-creation with external partners and strategies to pursue them effectively.
Mapping Innovation Drives Innovation Opportunities
There are many advantages of mapping innovation for your open innovation strategy. Some of these include:
Discover new market opportunities: By mapping innovation, you can identify new areas for growth and development, and develop strategies to take advantage of these opportunities. This can include developing new products or services, entering new markets, or adopting new technologies or business models.
Identify potential startup partners: Monitoring emerging technology trends allows you to identify startups developing innovative products or technologies that align with your strategic priorities or address specific business challenges.
Improve customer-centric innovation: Mapping innovation often involves market research, customer data analysis, and gathering feedback from customers. This allows you to better understand the needs and preferences of your customers. In turn, it enables you to develop products or services that better meet those needs as well as design more effective marketing and sales strategies.
Gain a competitive advantage: Through mapping innovation, you get insights into threats and opportunities that will disrupt your industry. This improves your preparedness for disruptive events in the future. Moreover, by identifying opportunities to differentiate yourself from competitors, you stay ahead of the curve in terms of innovation and competitiveness.
Optimize decision-making and resource allocation: Mapping innovation provides a clear and comprehensive view of the innovation ecosystem. This enables you to make more informed and strategic resource allocation decisions. For example, it allows you to prioritize investments in areas that are most likely to drive growth and value.
How to Map the Innovation Landscape?
The journey from mapping innovation to competitiveness typically involves the following steps:
1. Define the Scope
This is an important first step in the innovation mapping process, as it establishes what you want to achieve and what you want to focus on. Defining the scope and goals of the process involves identifying the specific business challenges or opportunities you want to address. Often individual business units within your company may have specific challenges that may be tackled with new innovations.
By clearly defining the scope and goals, you ensure that your innovation mapping efforts are focused and targeted. This also allows you to measure the success of the process and increase the return on investment (ROI) over time.
2. Gather & Analyze Data
The next step in mapping innovation is to gather and analyze data from a variety of sources. This may include market research, customer feedback, and industry trends, as well as data on your own company and its products or services. By analyzing this data, you can get a better understanding of the innovation landscape and identify areas where there may be opportunities for innovation.
However, innovation data is spread unstructured over the internet. These data sources include patent databases, startup aggregators, new publications, and many others. Extracting actionable insights from these is expensive and time-consuming. Instead, you can leverage the Artificial Intelligence and Big Data-powered StartUs Insights Discovery Platform. Our SaaS Platform scans over 1,8 billion innovation data points to map the world's information on startups, technologies, and innovations. This ensures that you receive comprehensive and exhaustive insights that support your innovation journey.
Read this report: The Ultimate Innovation Intelligence Platform: Stay Ahead of the Curve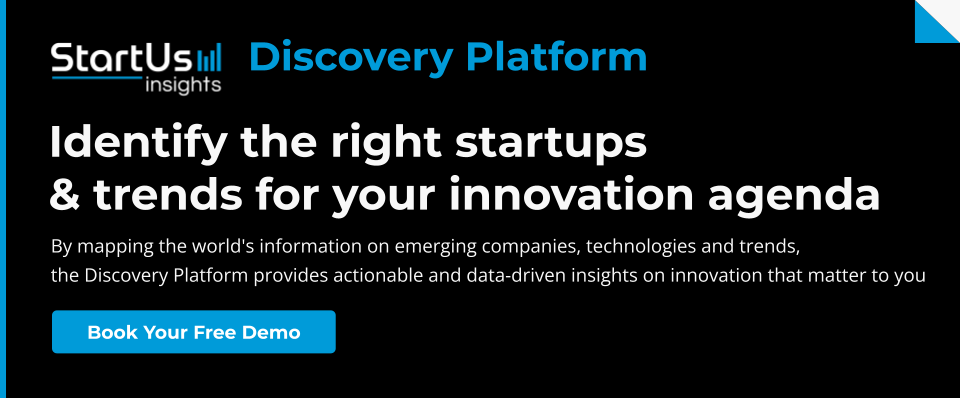 3. Identify & Evaluate Potential Solutions
Based on the data you have, you can identify areas in the startup ecosystem where there may be opportunities for innovation. This includes emerging technologies or business models that can disrupt your industry or tackle your business challenges. Next, you need to identify promising solutions, and the emerging companies developing them, to solve these challenges.
As startup activity increases globally, you have more choices than ever before. However, this also makes it difficult to pick the most relevant solutions. The Discovery Platform makes selection easy by enabling data-driven startup scouting. It features extensive data on over 3 million startups and scaleups globally, making sure that you don't miss out on any solution.
Read this report: Discover the #1 Startup Scouting Platform
4. Define a Startup Engagement Strategy
Using the insights from the data analysis and opportunity identification, you can develop strategies for pursuing innovation opportunities. This involves identifying how you will engage with startups and other external agents. This could take the form of a startup program, partnerships or collaborations, or investing in startups (build, partner, buy strategy).
Of all the startup engagement approaches, you need to pick the one that works best for you. To decide this, it is important to consider the resources and capabilities of your company as well as any potential barriers.
5. Evaluate Continuously
The innovation landscape changes constantly these days. Startups around the world are developing new technologies that will disrupt your industry. This is why it is important to perform innovation mapping on a routine basis. Within your company, create a culture of intrapreneurship so that individual business units are always on the lookout for potential improvements. Outside of your company, monitor the technology landscape to identify new trends before the competition.
You should also regularly evaluate the performance of your startup engagement approach. Is the startup engagement improving competitiveness? What is the return on investments in your startup collaborations? If your answers are no and not much, it may be time to rethink your startup engagement approach.
Map Innovation Exhaustively with the Discovery Platform
By following best practices and leveraging the Discovery Platform, you can effectively map the innovation ecosystems and drive open innovation successfully. The Discovery Platform enables the most comprehensive mapping of the innovation ecosystem. Here are a few reasons why:
Features over 3 million startups and scaleups globally: Our exhaustive database of startups, scaleups, and tech companies ensures that you don't miss out on any hidden gem.
Tracks over 23 500 technology trends: It provides insights into technology trends across all industries, no matter how niche or latent those trends are.
Proprietary knowledge graph: The Discovery Platform's knowledge graph maps relationships between technology trends and their drivers. As a result, it suggests similar startups, technology trends, and keywords.
Enables technology landscaping within minutes: It returns industry-wide technology trends within minutes. This allows you to focus on evaluating how those trends impact your business instead of spending time creating this landscape.
Mapping the innovation landscape provides you with a bird's eye view into the future of your industry.
Looking for emerging XXX startups & technologies?
✕