Recent advancements in medical implants provide real-time data and quality assurance. Startups specializing in implant devices are creating new solutions that enhance telehealth, prevent infections, maintain product quality, monitor patients, and deliver precision medicine. To achieve this, manufacturers are using small electronic components to incorporate high-throughput data processing, wireless connectivity, and other features into implantable devices. This industry report provides insights into the top 10 technology trends and innovations impacting the implant devices industry, ranging from drug delivery and energy harvesting to additive manufacturing and advanced surface coatings.
Innovation Map outlines the Top 10 Implant Devices Trends & 20 Promising Startups
For this in-depth research on the Top Implant Devices Trends & Startups, we analyzed a sample of 1145 global startups & scaleups. This data-driven research provides innovation intelligence that helps you improve strategic decision-making by giving you an overview of emerging technologies in the healthcare industry. In the Implant Devices Innovation Map below, you get a comprehensive overview of the innovation trends & startups that impact your company.
These insights are derived by working with our Big Data & Artificial Intelligence-powered StartUs Insights Discovery Platform, covering 3 790 000+ startups & scaleups globally. As the world's largest resource for data on emerging companies, the SaaS platform enables you to identify relevant technologies and industry trends quickly & exhaustively.
Tree Map reveals the Impact of the Top 10 Implant Devices Trends
Based on the Implant Devices Innovation Map, the Tree Map below illustrates the impact of the Top 10 Implant Devices Trends in 2023. Startups and scaleups are developing wireless connectivity solutions tailored for implantables to support patients in home healthcare. Further, drug delivery implants assure on-time and the right dosage of drugs for patients. Energy harvesting systems enable implant devices to operate without the need for batteries, improving patient convenience. Sensors also improve patient monitoring efforts and aid patient recovery. Surface coating and infection prevention make bioactive and infection-free implant insertion. Additionally, additive manufacturing delivers personalized implants for hospitals and surgical centers to enhance patient convenience. Moreover, neural implants are gaining interest in pain management. Lastly, nanomaterials further enable smaller implants while implant lifecycle management ensures material reuse and safe disposal of devices.
Top 10 Implant Devices Trends in 2023
Global Startup Heat Map covers 1145 Implant Devices Startups & Scaleups
The Global Startup Heat Map below highlights the global distribution of the 1145 exemplary startups & scaleups that we analyzed for this research. Created through the StartUs Insights Discovery Platform, the Heat Map reveals high startup activity in the US, followed by India and Western Europe. Below, you get to meet 20 out of these 1145 promising startups & scaleups as well as the solutions they develop. These implant device startups are hand-picked based on criteria such as founding year, location, funding raised, & more. Depending on your specific needs, your top picks might look entirely different.
Interested to explore all 1100+ implant device startups & scaleups?
Top 10 Implant Devices Trends in 2023
1. Wireless Implant Connectivity
Integrating wireless connectivity technologies, such as Bluetooth and near-field communication (NFC), enable medical implant manufacturers to improve wearer convenience. This allows healthcare facilities to collect and monitor patient health data remotely in real time. This approach empowers data-driven treatment plans, allowing them to diagnose problems early and improve patient outcomes. Connectivity technologies also make it possible to develop connected sensors and electronics to provide clinicians with more detailed and accurate information. This increased precision and accuracy leads to more personalized treatments and reduced healthcare costs. At the same time, the use of wireless connectivity reduces the risk of infection and other complications associated with invasive surgical procedures.
Impli develops an NFC-based Subdermal Implant
Impli is a UK-based startup that makes ImpliCaspian, an NFC-based subdermal implant. It allows patients to carry medical information at all times. Additionally, the implant connects with the startup's companion app to communicate the data. This functions as a medical passport and allows patients to make medical history data available in case of emergencies.
Vetchip creates Pet Health-Tracking Chips
Australian startup VetChip makes health-tracking chips for pets. The startup's biosensor microchip implant goes under the animal's skin and records its body temperature, heart rate, breathing rate, and more. VetChip's proprietary AI software then interprets the data from the chip to determine any abnormalities. Owners also receive automated notifications if abnormal health changes are detected. This way, the startup enables remote health monitoring for pets.
2. Drug Delivery
Although delivering drugs through oral or intravenous transfer is a common method, it brings challenges such as drug dissolving, distribution, and discontinuous delivery. On the other hand, implantable devices for drug delivery provide continuous, on-demand, and precise dosage. Medical professionals use drug-delivering implant devices in treating cardiovascular disease, renal disease, chronic pain treatment, and more. Implant-based delivery systems thus improve drug efficacy, reduce side effects, and lower healthcare costs.
ForCast Orthopedics creates a Remotely-Actuated Implantable Delivery System (RIDDS)
US-based startup ForCast Orthopedics develops a proprietary RIDDS. It delivers the drugs directly at the infection site through a less invasive process and eliminates the need for implant revision procedures. The startup's RIDDS enables local drug delivery into the knee or hip through an implantable pump and a reusable handheld controller. The implantable pump holds antibiotics for 1-2 weeks, allowing patients to rehabilitate at home and reducing the need for lengthy hospitalization. This also allows healthcare facilities to avoid unwanted hospitalizations and improve patient recovery rates.
Neurostech offers Nano-enabled Drug Delivery Systems
Spanish startup Neurostech makes proprietary nano-enabled drug delivery systems based on implantable devices. Drugs for neurodegenerative diseases do not pass through the blood-brain barrier and do not reach the central nervous system (CNS). On the other hand, the startup's solution simplifies cerebrospinal fluid (CSF) management and the intrathecal implants maximize therapy effectiveness. For this, patients go through minimally-invasive surgery and long-term drug delivery is enabled through percutaneous access afterward for easy dosing.
3. Energy Harvesting
The main power source for implant devices is currently batteries that require replacement and are prone to damage. To overcome these issues, startups are replacing batteries in implantables with energy-harvesting systems that generate power from the human body or through contactless charging options. This lowers the number of surgeries patients need to undergo. Novel solutions also utilize transcutaneous energy transfer and ultrasound to power implants. This way, medical implant manufacturers are able to extend product life while improving patient convenience.
Celtro advances Cell Energy Mining
German Startup Celtro harvests energy from the body to power medical devices such as loop recorders and cardiac pacemakers. Currently, medical electronic devices operate on batteries or external energy transfer. This necessitates secondary surgery and restricts the functionality of implant devices. Celtro's technology collects electrical energy from living cells to sense, communicate, and process electronic actions. It collects electrical energy from the action potential cycles in cells to power the implants. As a result, the startup's technology reduces the costs for surgical centers and enables novel designs for implant manufacturers.
ENERGYMINING offers Wireless Charging for Medical Implants
South Korean startup ENERGYMINING designs wireless charging for implants. The startup's product utilizes ultrasound-driven energy transportation for implantable medical devices (IMDs). This prolongs the IMDs' lifespan by extending their battery life. The hardware part of the product attaches to any implanted devices such as pacemakers or insulin pumps. Energy harvesting without invasive procedures makes implants safer and more convenient. It also reduces the burden on hospitals and medical professionals by minimizing the need for in-person visits.
4. Implantable Sensors
Tracking patient medical status is crucial for better treatment planning. For this, physicians rely on implanted sensors that offer real-time data on patient health conditions. Using external sensors for patient monitoring is less precise and requires frequent visits to hospitals. On the other hand, directly placed implantable sensors, such as soft neural sensors, monitoring microchips, and advanced heart sensors, examine signals more precisely and connect wirelessly with external reading devices to deliver the data. These sensors are also critical in treating health problems that develop in places difficult to reach like the brain, pelvis, and torso. As a result, implantable sensors bring cost reduction, precision, and remote healthcare for patients.
Axoft advances Brain-Machine Interfacing
US-based startup Axoft makes a malleable brain-machine interfacing. The startup's implant material mimics soft brain tissues and the signal-processing electronics enable amplification, compression, and wireless transmission. Its companion software also allows users to interpret neural signals and reduce the computational burden. The startup also offers the surgical tools required for the precise insertion and navigation of the implant into soft tissues. This allows pharma companies and healthcare institutions to improve therapeutics, patient outcomes, and human function.
NxGen Port advances Remote Patient Monitoring
US-based startup NxGen Port offers a remote patient monitoring solution for cancer patients that require implantable chemo-port catheters. For this, the startup combines a microchip and a sensor to monitor and report body function in vivo over the disease and treatment. This provides patients and medical professionals with real-time health status and actionable data to enable early intervention and efficient patient management at care centers and hospitals.
5. Surface Coating
Implantable devices have to withstand exceptionally harsh conditions inside the body including humidity, temperature, and chemical compounds while staying non-toxic and functional. To address these issues, implants utilize bio-interactive coatings. Further, antimicrobial coatings prevent infection in postoperative healing and the regeneration improvement function enables faster recovery times. For instance, implants leverage a porous coating to speed up bone ingrow. Implant surface coatings thus bring antimicrobial and anti-inflammatory properties to make operations safer and more cost-effective for surgical centers.
SPARTHA Medical manufactures Antimicrobial Coating
French startup SPARTHA Medical makes antimicrobial implant coating that consists of polyelectrolytes. It is derived from natural polymers, which makes the coating biocompatible, anti-bacterial, and applicable to various surface types. The coating's physical barrier system provides a long-lasting antibacterial effect and demonstrates a potential to combat antibiotic-resistant infections. Implant manufacturers utilize this technology to develop safer implant devices.
Novaurum Biosciences makes Cell-based Implant Coatings
US-based startup Novaurum Biosciences produces nano-biological coatings for implantable medical devices. The startup leverages augmented protection and enhancement coating (AuPEC) based on cell encapsulation. Further, it adds tissue-derived cells to the surface of the implant that allows it to attach and adapt. Cells proliferate on the surface of the implant and form a 2D tissue layer. Additionally, cells are subjected to chemically induced stress to trigger nanoparticle production that cross-links the membrane and forms AuPEC. This solution prevents microbial infections through bacteriostatic and bactericidal actions while promoting tissue regeneration and improving implant performance.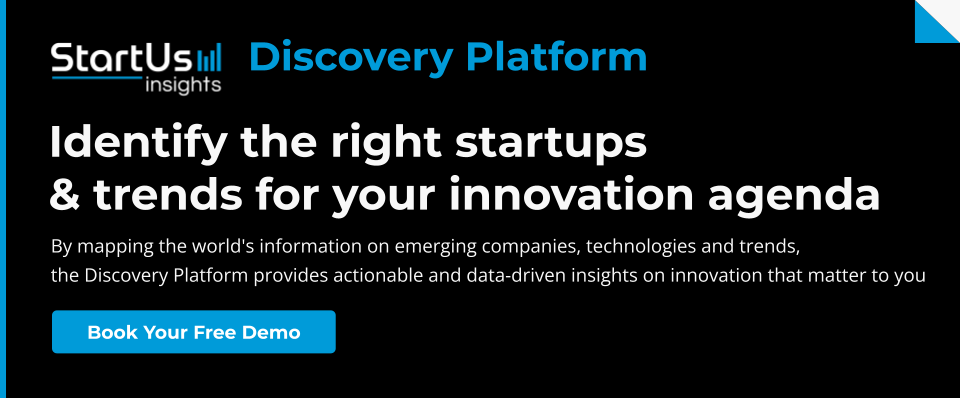 6. Additive Manufacturing
Additive manufacturing or 3D printing enables precision medicine and implants. Startups develop 3D printable and biocompatible materials to develop personalized implants. For example, polyether ether ketone (PEEK) is 3D printing bioactive material that closely resembles human bone. Additionally, fused filament fabrication (FFF) enables durable but low-density implants. Startups utilize these and other techniques, such as precise geometries and 3D modeling, to develop on-demand, cost-reduced implant devices. Hospitals and implant manufacturers leverage personalized implant devices while improving their reliability and accessibility.
Amnovis manufactures Personalized Implants
Belgian startup Amnovis offers a high-quality and fast-turnaround process for 3D printing patient-specific implants. The startup employs the left posterior fascicular block (LPFB) technique to print titanium medical devices such as orthopedic and spinal implants. Its implants based on stereolithography are durable and feature high strength. Amnovis thus removes hurdles in medical device development, validation, and manufacturing. Moreover, the startup's additive manufacturing workflow and production platform reduce cost and lead time for medical device manufacturers.
AIP Scientific prints Bioactive Biodegradable Implants
Armenian startup AIP Scientific creates implants with regenerative and bioactive properties. The startup's implant material, BioCer, is biodegradable and biocompatible to stimulate bone growth. Moreover, the material biodegradation is controllable and dissolves away based on the growth rate. This solution enhances the rehabilitation process and enables precision implants, improving care delivery.
7. Infection Prevention
Infection through bacterial diseases bear a lot of risks for the patient, such as sepsis, organ failure, and even death, as well as leads to implant failure. Infections after surgical procedures require further treatments such as antibiotics, longer hospital stays, and increased health care costs. To resolve these challenges, startups embed antibacterial properties in their implant devices. The three dominant methods in use are anti-attachment, antimicrobial, and biofilm prevention strategies. Startups develop solutions in all three methods to make implant procedures safer for patients and easier for hospitals.
Sterify creates an Antibacterial Film
Italian startup Sterify develops an antibacterial film for articular prostheses and trauma devices. The startup's product, Sterify Cleanse, is an aqueous bactericidal and anti-biofilm solution to treat prosthesis surfaces before implantation. Implant devices get infected mostly by bacteria that attach during transplantation. Sterify Cleanse creates a barrier between the implant and bacteria to cancel the attachment process. This accommodates any prosthesis before implantation and helps tissue regeneration.
Oxford Silk Phage Technologies develops a Silk-Bacteriophage Biomaterial
UK-based startup Oxford Silk Phage Technologies delivers antibacterial biomaterial technology by combining silk fibroin and bacteriophages. The natural silk fibroin scaffold replaces bodily function while holding the bacteriophages stably in place. Further, the bacteriophages eliminate bacteria before they proliferate. As a result, the startup's biomaterial minimizes the risk of infection, reduces antibiotic use, and cuts medical expenses for clinical centers.
8. Neural Implants
Treating chronic pain, incontinence, and other neuro-based conditions require specially designed implants. Such implant devices cure neural problems or mimic the actions of a healthy human. The most effective solutions are electrical stimulation of muscles or nerves directly. Startups are developing precise methods of care for each patient separately. This way, medical centers allow patients to overcome incontinence, chronic pain, sexual dysfunction, or movement problems.
RBI Medical makes Selective Neuromodulation Technology
US-based startup RBI Medical develops implantable selective neuromodulation technology. Hundreds of millions of patients around the world suffer from conditions such as incontinence, pain, and sexual dysfunction. This technology offers less invasive, safer, and more effective therapy options than current neuromodulation technologies. For this, RBI Medical uses its microchip to restore normal neural function. The microchip features high efficiency and wireless charging. This delivers modulation parameters that are not feasible with other technologies.
NEURINNOV offers Active Implantable Medical Devices (AIMDs)
French startup NEURINNOV provides AIMDs. The startup's selective muscle neurostimulation technology, HandyGrasp, treats tetraplegics by restoring hand function. This results in autonomy for patients with movement dysfunction in daily activities such as fork handling or object grasping.
9. Implant Lifecycle Management
Implant Lifecycle Management (ILM) involves management processes from conception, design, and manufacturing, to sales, and repairs. Advances in ILM are mainly software-based that use unique device identification, automated invoice processing, or implant tracking. It also ensures the safe disposal of toxic waste, because of precise tracking of used materials during manufacturing. Manufacturing companies as much as medical specialists and hospitals use IML solutions to cut down costs and be compliant.
Oxyledger develops an Implant Management Platform
French startup Oxyledger creates a platform for implant traceability. It enables unique device identification (UDI) of all implant devices. Further, its IT interoperability standards simplify the collaboration between manufacturers, healthcare institutions, and patients. Additionally, the platform facilitates collaborative document management to share medical knowledge and operating practices. By doing so, Oxyledger ensures traceability and cuts costs for facilities that handle implant devices.
ORX Surgical aids Automated Billing for Implant Charges
Canadian startup ORX Surgical offers an automated bill-only surgical supply charge capture process for healthcare facilities and medical vendors. The startup's platform allows vendors to log implants and charges, reducing paperwork and errors. Facilities issue purchase orders (PO) and track implant charges and reimbursements while also improving charge accuracy and reducing billing lag time. The platform also speeds up PO issuance as well as features built-in implant pricing, and same-day invoicing while keeping patient information secure.
10. Nanomaterials
Nanomaterials are a frequent choice in implant device manufacturing due to their bioactive properties, such as antibacterial or tissue growth enhancement. Startups use nanomaterials to produce whole devices, parts, and coatings. Implants designed from nanomaterials possess different surface structures such as structured porosity, hydrophobicity, or hydrophilicity. Startups specialize in creating new solutions with nanomaterials for hard-to-reach areas in the human body due to their size and precision.
Avisi Technologies advances Eye Nerve Damage Treatment
US-based startup Avisi Technologies makes a nanotechnology-powered treatment for glaucoma. The startup's product, VisiPlate, utilizes an ultra-thin nanoplate design for strength and flexibility while its multi-channel design creates outflow redundancy. This allows continuous intraocular pressure (IOP) control over time. Further, VisiPlate is composed of alumina and Parylene-c. Both non-fibrotic materials reduce the risk of scars and clogs throughout the implant's lifetime. This results in faster recovery times and precise glaucoma treatment for patients.
NanoRegMed manufactures Biodegradable Nanomaterials
UK-based startup NanoRegMed produces a range of biodegradable and non-biodegradable graphene-based nanocomposites. The startup makes its materials with reduced graphene oxide and functionalized graphene oxide to repair or replace damaged or missing organs. They feature properties like high strength, conductivity, elasticity, and hydrophobicity. In this way, surgical centers and hospitals save costs and ensure longer-lasting implants.
Discover all Implant Devices Trends, Technologies & Startups
The main objective of the implant device industry is to enhance patient health in a cost-effective manner. The technologies highlighted in this research such as implantable sensors, nanomaterials, and ILM have a significant influence on implant efficacy and long-term sustainability. Further, healthcare providers and patients are investigating the potential of using neural implants as an alternative to medication and to manage medical conditions. The implant devices trends & startups outlined in this report only scratch the surface of trends that we identified during our data-driven innovation & startup scouting process. Identifying new opportunities & emerging technologies to implement into your business goes a long way in gaining a competitive advantage.
Looking for implant devices startups & technologies?
✕