The furniture industry faces challenges that require manufacturers to adapt to the changing market conditions. Resource waste and a high carbon footprint stand out as major concerns. Advancements in technology are reshaping this industry by allowing manufacturers to produce practical, sustainable, and affordable items. The emerging furniture industry trends span 3D technologies, AI, augmented reality, virtual reality, and touch commerce, among others.
Startups and scaleups develop innovative solutions that revolutionize furniture design, production, and usability. AI is used in the concept of generative design to enhance human resources by utilizing algorithms to automate design logic. Overall, the furniture manufacturing process sees significant improvements through digitalization and automation.
What are the Trends in the Furniture Industry?
Innovation Map outlines the Top 10 Furniture Industry Trends & 20 Promising Startups
For this in-depth research on the Top Furniture Industry Trends and startups, we analyzed a sample of 1344 global startups & scaleups. This data-driven research provides innovation intelligence that helps you improve strategic decision-making by giving you an overview of emerging technologies in the furniture industry. In the Furniture Industry Innovation Map, you get a comprehensive overview of the innovation trends & startups that impact your company.
These insights are derived by working with our Big Data & Artificial Intelligence-powered StartUs Insights Discovery Platform, covering 3 790 000+ startups & scaleups globally. As the world's largest resource for data on emerging companies, the SaaS platform enables you to identify relevant technologies and industry trends quickly & exhaustively.
Tree Map reveals the Impact of the Global Furniture Industry Trends in 2024
Based on the Furniture Industry Innovation Map, the Tree Map below illustrates the impact of the Top 10 Furniture Industry Trends in 2024. With the increasing emphasis on environmental protection, furniture makers are adopting recyclable materials to embrace sustainable production processes. Further, multifunctional and modular furniture designs are trending for space-saving. Startups employ IoT technologies to produce furniture that allows users to control features using smart devices or voice commands.
Moreover, emerging companies leverage 3D printing for quick prototyping and customization of furniture design, allowing manufacturers to reduce production costs. Immersive technologies like AR and VR also provide 3D furniture models for enhancing the purchasing experience. Robotics further streamline manufacturing processes by automating repetitive human tasks, boosting efficiency and productivity. Other trends such as furniture e-commerce, advanced inventory management, and data analytics aid furniture companies in improving decision-making, sales, and profits.
Global Startup Heat Map covers 1344 Startups & Scaleups working in the Furniture Industry
The Global Startup Heat Map below highlights the global distribution of the 1344 exemplary startups & scaleups that we analyzed for this research. Created through the StartUs Insights Discovery Platform, the Heat Map reveals high startup activity in India and Western Europe, followed by the US.
Below, you get to meet 20 out of these 1344 promising startups & scaleups as well as the solutions they develop. These furniture startups are hand-picked based on criteria such as founding year, location, funding raised & more. Depending on your specific needs, your top picks might look entirely different.
Interested in exploring all 1300+ furniture startups & scaleups?
10 Innovative Furniture Trends in 2024
1. Sustainable Furniture
Furniture production causes a large global carbon footprint. With the increasing demand for better ecological life cycle assessments, there has been a significant shift towards sourcing eco-friendly materials for furniture production. Further, furniture companies continuously contend with raw materials shortages. Therefore, implementing recycling and upcycling processes optimizes the use and lifespan of the resources. For instance, bio-based materials serve as a promising alternative to plastic in furniture production and its components.
Moreover, startups produce furniture from recycled materials and renewable resources such as old wood fibers, polyethylene terephthalate bottles, and bamboo, cotton, and algae, respectively. Using injection molding, manufacturers produce furniture fittings, glides, wheels, and castors made entirely from renewable materials. This allows furniture companies to achieve sustainability goals by sourcing materials responsibly while avoiding the use of toxic chemicals.
Calico Sol specializes in Sustainable Furnishings
US-based startup Calico Sol develops sustainable home furnishings to reduce the overall carbon footprint and support concepts of reuse and recycling. The startup offers custom furniture with stain-resistant and durable textiles that are cost-effective, convenient to dispose of, and environmentally sustainable. All the company's furnishings are produced entirely from natural, less resource-intensive, and nontoxic materials. Its circular design further assists furniture manufacturers in minimizing waste and keeping materials in use.
Gravity Wave creates Recycled Furniture
Spanish startup Gravity Wave manufactures recycled furniture to preserve the environment and reduce ocean pollution. The startup transforms the ocean's plastic waste into sustainable furniture such as recycled tables, benches, and pots. The material's versatility facilitates adaptability to a wide array of shapes and spaces, catering to diverse needs in interior design and architectural decorations. Lastly, the solution uses a circular furniture manufacturing process to promote sustainability in the industry.
2. Furniture E-Commerce
With the rise of online shopping, furniture e-commerce has emerged as a trend to accommodate new ways of reaching customers. Startups harness technologies such as 3D product visualization, chatbots, and virtual showrooms to provide customers with seamless omnichannel shopping experiences. Furniture visualization tools allow customers to see how furniture appears in realistic 3D environments, enabling them to make more informed purchasing decisions. This increases customer engagement, maximizes sales, and reduces the number of returns due to mismatched expectations.
Intelligent virtual assistants use natural language processing (NLP) along with predictive analytics to address customer queries and offer personalized furniture recommendations on a 24/7 basis. Further, machine learning algorithms personalize the e-commerce customer experience by collecting, analyzing, and synthesizing the consumption behavior of each target group. Furniture retailers leverage technology to satisfy customers while minimizing overhead costs and maximizing profits.
Zolak Tech offers a 3D Furniture Visualizer for E-Commerce
US-based startup Zolak Tech provides 3D furniture visualization software for furniture retailers to boost their customers' confidence. The startup combines AI and computer vision to create a virtual furniture showcase. It allows customers to explore and customize furniture in various realistic interiors.
Further, the online furniture visualizer autonomously personalizes content for individual website visitors in real-time. This eliminates the need for the direct involvement of marketing and sales personnel. The technology allows furniture companies to increase sales and maximize their profits.
Fegno develops a Furniture E-Commerce Platform
Indian startup Fegno offers an e-commerce platform for furniture sellers to boost their online presence and efficiency. The platform enables streamlined and intuitive online trading. Furniture sellers access features like bulk product management, product additions, and strategic product arrangement to enhance buyer discoverability and seller productivity.
3. Multifunctional Furniture Design
As property prices rise and cities become more crowded, optimizing living space using durable furniture becomes crucial. Multi-functional furniture designs incorporate advanced technology to produce space-saving and aesthetically appealing furniture. Emerging startups create furniture with modular designs and advanced folding mechanisms to ensure maximum storage.
For instance, multi-functional desks convert into wall-mounted shelves or fold into compact units when not in use. Materials like aluminum, steel, wood, and even cardboard are being utilized to produce such furniture. Further, startups and scaleups use natural resources to produce sustainable furniture that is foldable, stackable, and transformable.
Flowfactory offers a Multi-functional Window Seat
Austrian startup Flowfactory makes a window seat that hangs inside a working space and serves as a multifunctional table or shelf. When folded, it transforms the window recess into a mini-balcony alternative, enabling comfortable and secure seating at the window. The startup sells multifunctional furniture for optimal use of living space, offering employees additional space to relax and concentrate.
Hoek Home specializes in Modular Furniture Design
US-based startup Hoek Home produces modular furniture design powered by patented snap-lock and flat-pack systems. The snap-lock system enables businesses to easily assemble and disassemble furniture without tools or long instructions. Moreover, the flat-pack system ensures that each furniture component packs into an easily transportable item.
This solution is equipped with a slim wall cleat to allow users to hang the furniture and save space when not in use. The startup's quick-assembly furniture is ideal for multiple purposes such as a desk, table, bookshelf, and more.
4. Smart Furniture
Furniture manufacturing companies strive to keep up with the changing preferences of the customers. In this regard, the Internet of Things (IoT) is transforming furniture manufacturing. Companies make smart furniture embedded with sensor technology to monitor real-time user data. Merging technology with furniture seamlessly blends functionality and design.
Smart furniture features include wireless charging, built-in speakers, health monitoring systems, and more. Additionally, voice-enabled furniture pairs with Wi-Fi, Bluetooth, and home IoT devices. For instance, smart beds employ biometric sensors to track parameters such as breathing rate, heart rate, and restfulness. IoT integration enables furniture manufacturing companies to achieve longer furniture lifespans by identifying potential malfunctions and maintenance needs.
Invisible Tech makes Furniture with Embedded Audio
Hong Kong-based startup Invisible Tech creates furniture with embedded audio to deliver high-end audio performance. The audio system allows easy wireless listening through up-to-date connectivity, ensuring a hassle-free user experience. The startup also upcycles waste wood materials into a smart audio system for the furniture pieces, thus enhancing product sustainability. Invisible Tech also customizes its products to match customer preferences to address the growing demand for enhanced smart living experiences.
NextErgo manufactures a Smart Ergonomic Desk
US-based startup NextErgo develops an AI-powered smart desk equipped with ergonomic posture correction and built-in presence detection sensors. The company employs thermal imaging and hand-level detection that allows users to set up an ergonomic standing posture.
Further, the desk integrates voice control through Google Assistant and a touchscreen to facilitate user interaction. This enables them to set reminders for taking a break, drinking water, eating snacks, and moving certain parts of the body using both on-screen and vocal notifications. Consequently, it improves user posture, energy levels, and overall productivity.
5. Additive Manufacturing
The integration of additive manufacturing in the furniture industry reshapes conventional production methods to enhance design flexibility, reduce costs, and provide customized furniture. 3D printing also streamlines furniture production by addressing issues like shape, material choice, functionality, and hierarchical complexities. Additive manufacturing applies to the mold-making process of furniture items by rapidly prototyping complex shapes and reducing the costs of furniture molding links.
The common 3D printing technologies used in furniture production include photocuring molding and selective laser sintering (SLS). Moreover, it solves problems of slow product update speed and long R&D and production cycles. Novel 3D furniture printing enables manufacturers to produce more intricate and innovative designs at reduced costs and shorter timelines.
C3D Printing specializes in Long Format 3D Furniture Printing
UAE-based startup C3D Printing produces large format 3D printed furniture using plastic granules. Large format 3D printers allow manufacturers to produce bigger, more complex, and detailed furniture pieces at a faster pace. The startup uses fused deposition modeling to make strong and durable furniture components.
Further, it uses a stereolithography technique that uses liquid resin for high-resolution prints. This solution enables furniture manufacturers to create intricate, customized, and high-quality large furniture with reduced costs and environmental impact.
Labec Design advances Furniture 3D Printing
Italian startup Labec Design leverages 3D printing to produce furniture. It utilizes techniques such as fused deposition modeling (FDM) and selective laser sintering (SLS). The startup's high-performance 3D printers leverage surface tessellation language files to ensure a seamless transition from digital design to physical product.
Moreover, 3D printers process a variety of materials, including polylactic acid (PLA), thermoplastic polyurethane (TPU), and acrylonitrile butadiene styrene (ABS). The startup's solutions allow furniture manufacturers to prototype furniture using sustainable materials.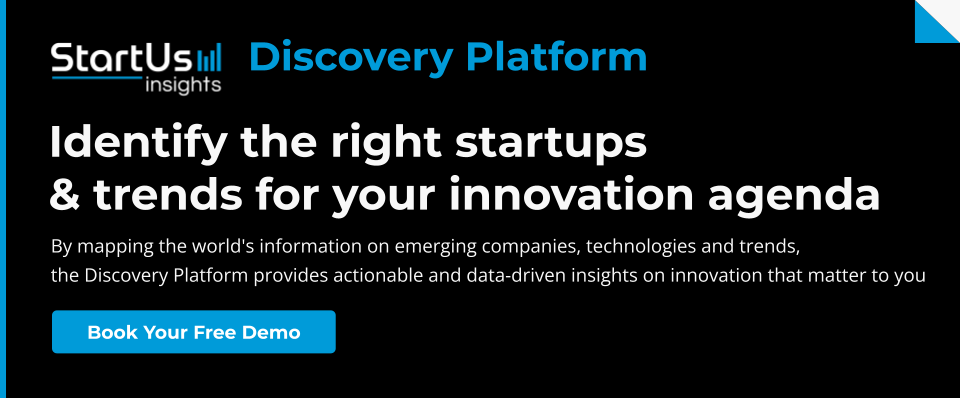 6. Immersive Technologies
Technological advancements have paved the way for furniture companies to appeal to customers and display products photorealistically. Furniture manufacturers leverage immersive technologies such as virtual reality, augmented reality, and extended reality (XR) to deliver realistic simulations of furniture. This allows buyers to virtually try them out before buying, enhancing the buying experience.
The photo-realistic renderings and precise product representations offer customers a comprehensive view of the product, allowing them to see it from all angles. Customers also have the option to verify whether the furniture dimensions suit their available space and if the colors harmonize with their surroundings. Further, the adoption of an immersive marketing strategy assists furniture companies in enhancing the in-store experience, bridging the gap between physical stores and online retail.
Ruupi offers VR for Product Demonstrations
Lithuanian startup Ruupi utilizes virtual reality for product demonstrations and immersive shopping experiences. It enables furniture manufacturers and salesmen to enhance the online buying experience for customers. Moreover, it incorporates a marketplace that showcases a catalog of furniture items available for visualization and purchasing.
NXT Interactive provides a Web-AR Furniture App
Singaporean startup NXT Interactive develops a web-AR furniture app that showcases real-time 3D models of furniture to facilitate purchasing decisions. It employs augmented reality to envision furniture within customers' personal spaces.
This interactive experience ensures that customers make informed decisions about their furniture choices without stepping into a store, enhancing customer shopping experience. Consequently, the startup increases sales and minimizes returns since customers preview furniture before purchase.
7. Furniture Logistics
Furniture companies consistently encounter logistics challenges like long-distance deliveries, driver shortages, and high freight charges. Startups leverage technologies to reduce costs, boost customer satisfaction, and increase sales for furniture retailers and logistics providers. For example, GPS and radio-frequency identification (RFID) enhance supply chain visibility, allowing for precise furniture tracking from the manufacturer to the customer. Further, companies utilize IoT and AI to optimize vehicle routes, speed, and fuel consumption.
Management information systems further improve the efficiency of various processes and streamline personnel management in the delivery phase. Warehouse management platforms and automated material handling equipment boost the efficiency of the supply chain. Moreover, biometric devices ensure high safety standards and security. Furniture companies also leverage electric vehicles, renewable energy sources, and hydrogen fuel cells to decrease the carbon footprint of furniture logistics.
ezTruck Logistics aids in Mini Truck Booking
Indian startup ezTruck Logistics makes a furniture logistics platform that allows companies to easily book trucks for local relocations and deliveries. This solution addresses the issue of transportation hassles by allowing seamless optimization of omni-channel logistics.
Moreover, it offers flexibility and efficiency in accommodating high-volume demands. ezTruck Logistics provides furniture businesses with hassle-free truck rental, transparent pricing, and enhanced safety of the products.
Beeontrade aids in Furniture Logistics
US-based startup Beeontrade builds an AI-powered supply chain platform for optimizing customer service and managing suppliers. The platform identifies which manufacturers are short on deadlines, allowing businesses to adjust orders. Further, it updates customers with precise arrival times to prevent cancellations and increase transparency in the purchase process.
The smart integration between suppliers and manufacturers results in notable freight cost reductions. Beeontrade platform enables them to efficiently manage logistics and production schedules while providing customers with real-time updates and reliable delivery forecasts.
8. Robotic Furniture Manufacturing
Due to high demand and competition, furniture companies utilize automated solutions for material handling and efficient order fulfillment. They deploy AI-powered robotics, like autonomous mobile robots (AMRs), and automation to revolutionize the furniture manufacturing process. Robots equipped with computer vision and AI algorithms also perform complex tasks such as cutting, shaping, and assembling furniture components with high precision.
For example, automated drilling machines ensure that holes maintain precise depth and angle, leading to consistent quality and reduced waste. Automated systems further monitor production lines in real time to proactively detect and address issues, boosting productivity. They gather insights on production workflows and pinpoint areas for improvement utilizing sensors and data analytics. Lastly, robotics enables furniture manufacturers to reduce manual errors and labor costs while enhancing quality control.
Flumio offers AI-Powered Text to Robotic Fabrication
US-based startup Flumio provides an AI-powered system that generates a variety of furniture design iterations through text-to-image technology. The startup combines generative AI and a robotic fabrication process to convert digital designs into tangible furniture.
The AI-chat interface facilitates real-time customization by rapidly converting designs into parametric models, generating the necessary data for the robotic production system. Flumio presents an innovative approach to manufacturing desired furniture with high speed and precision.
Gani Robotics optimizes Furniture Leather Production
Indian startup Gani Robotics builds a machine vision-based leather edge trimming robot to automate and optimize furniture leather production. The robot, mainly used for wet blue and crust leathers, is highly precise and reliable.
Further, the startup offers an all-in-one solution for the photo-digitization of patterns, a leather hide scanner, automatic leather nestling, and digital die cutting. It allows furniture leather factories to attain sustainable and efficient furniture leather production.
9. Advanced Inventory management
Furniture companies struggle to manually handle, count, and transport large inventories. Traditional inventory management systems often lack robust forecasting features. As businesses expand their operations, keeping inventory available for customers presents another challenge. Startups thus provide inventory management platforms to efficiently manage stock, reduce costs, increase profit margin, and streamline the entire process.
Companies leverage enterprise resource planning (ERP) systems to track inventory in real-time, build forecasting models, and boost overall supply chain efficiency. Automated forecasting utilizes workflows for better purchasing practices with less cost and time spent to manually calculate purchase orders. This, in turn, frees up capital that is invested in other business operations. Advanced furniture inventory management enables furniture companies to optimize stocks, cut costs, as well as track and manage inventory flawlessly.
Palats enables Circular Inventory Management
Swedish startup Palats offers a circular AI-integrated platform for interior designers to streamline inventory management for office relocations. QR codes enable a seamless connection between the physical furniture and their digital twins, simplifying information management and updates.
Once the furniture is digitized, the platform generates detailed reports on the environmental impact and economic savings. Further, furniture companies coordinate work directly from the platform by creating tasks for the staff, ensuring efficient inventory administration. Palats empowers them to optimize their assets, save money, and contribute to a more sustainable future.
Retrac specializes in Digital inventory Management for Furniture
German startup Retrac develops a digital inventory management platform for tracking tasks and costs associated with furniture. Property managers use a QR code to access all furniture information, take notes, or sign off a task. This AI-powered platform aids them in tracking the condition of furniture by flagging issues ahead of time.
Further, it stores all inventory details, inspections, historical repair work, costs, and furniture quality insights. This provides smart data-driven insights to automate daily workflows and optimize inventory performance.
10. Furniture Enterprise Analytics
The furniture industry faces a plethora of challenges starting from market competition, shifting consumer preferences, cost management, and changing retail landscape. Therefore, startups develop data analytics platforms for furniture retailers to access data and generate insightful reports. They assist in business strategy planning, streamline marketing strategies, and maximize profits. AI-powered predictive analytics also enables them to analyze customer data and historical sales patterns to optimize pricing.
Further, data manipulation technologies harness distributed data storage and processing to analyze a vast amount of data points quickly. Using qualitative data further streamlines and personalizes the furniture shopping experience. This allows furniture retailers to predict trends for a defined period and manage their items accordingly. By aligning furniture supply and demand, furniture enterprises reduce costs, improve operations, and maximize sales opportunities.
Monitora offers Sentiment Analysis for Furniture Businesses
Italian startup Monitora develops a web-based platform that allows furniture brands to analyze customer reviews using semantic analysis. Manually analyzing reviews is time-consuming and might yield inaccurate results. The platform enables them to access accurate, updated, and easy-to-interpret data.
Customer feedback is analyzed in terms of rating and through textual interpretation of comments by identifying the positive/negative opinions bundled according to the topic. Further, it evaluates the brand's online score on the web across time and compares it with the score of its main competitors. Monitora assists furniture brands in conducting better market research and marketing strategies to outperform their competitors.
Revalize offers Data Analytics for Furniture Brands
US-based startup Revalize provides data analytics software tailored for furniture manufacturers and retailers. The solution streamlines the quote-to-cash process for custom furniture items. Further, it allows manufacturers to view data quickly, to configure and price furniture while reducing errors and maximizing deal sizes.
By accessing representative data, manufacturers track real-time quoting activity on the furniture and streamline the reporting to their representatives. Revalize assists furniture retailers in making informed decisions by providing insights into sales forecasting, product development, and market shifts.
Discover all Furniture Industry Trends, Technologies & Startups
Embracing these technology trends improves business strategy planning, quality control as well as customer engagement and satisfaction. As technology continues to evolve, the furniture industry promises even better eco-friendly and customer-friendly products. However, adopting these technologies requires mastering new skills and developing strategies to seamlessly incorporate these innovations into their operations.
The emerging furniture industry trends and startups outlined in this report only scratch the surface of trends that we identified during our data-driven innovation & startup scouting process. Identifying new opportunities & emerging technologies to implement into your business goes a long way in gaining a competitive advantage.
Interested in exploring all 1300+ furniture startups?
✕
Looking for emerging furniture startups & technologies?
✕
Looking for specific furniture industry trends & technologies?
✕